Behind-the-Scenes Star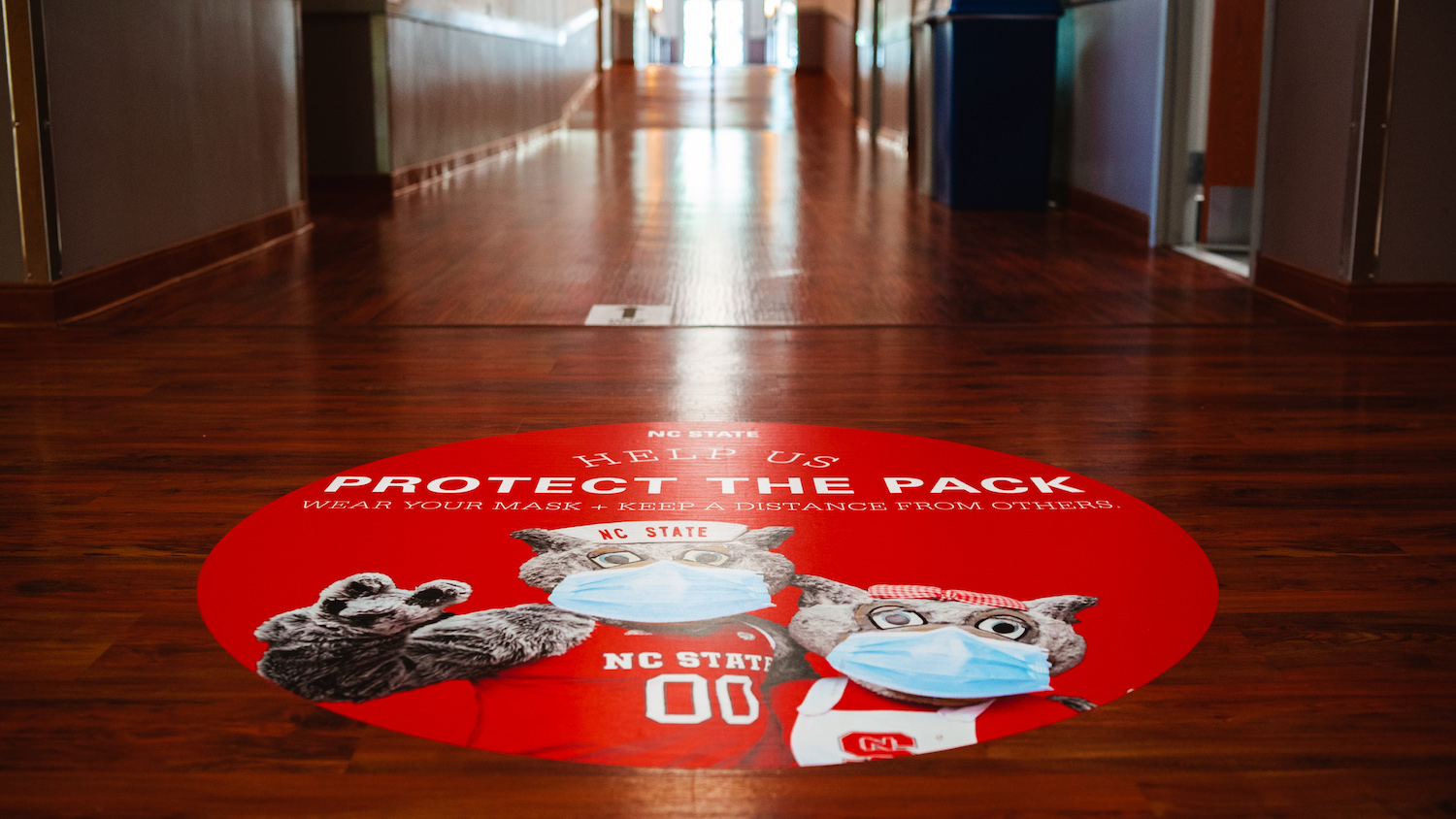 By Lea Hart
In a crisis, there are people who work behind the scenes to ensure Poole College of Management is ready to face the challenges.
Kimberly Whitfield is one of those people, facing the effects of the COVID-19 pandemic head-on and ensuring the college was prepared.
Whitfield is the executive assistant to both Dean Frank Buckless and Richard Warr, associate dean for faculty and research, and professor of finance. She also served as the building liaison for the college until recently. She played a key role in preparing the college's buildings for the fall semester and in resuming many of the college's operations in the midst of the pandemic.
In speaking to Whitfield, it's clear she prefers her place out of the spotlight, but also takes a great deal of pride in Poole College, where she's worked for the past two years. That pride drives her to do her part to ensure the college's success.
"The leadership we have is really phenomenal," she said. "It's an honor to be able to be a part of Poole College and to be able to contribute to the wonderful things we have going on in the college."
Poole College's transition to the "new normal" couldn't happen overnight and involved attention to details, big and small. Whitfield jumped in with both feet to guarantee everything was ready when the campus reopened to faculty, staff and students.
"Kimberly led the task force for getting our building, Nelson Hall, ready for students to return," Warr said. "There are so many details that needed to be managed – from where to put signs to getting hand sanitizer – Kimberly worked tirelessly in this regard, ensuring that we met all the safety protocols from the university."
When the pandemic began to require changes in March, Whitfield ensured the necessary signage was up in the buildings, and that the college was fully operational, even if faculty, staff and students couldn't be on campus. In planning next steps, she worked with others to develop a new building flow that encouraged social distancing, thinking about entry and exit doors, or removing seating that didn't allow for social distancing, for example, and making other necessary changes such as plexiglass barriers in areas where they were needed.
Her work also involved increasing the outdoor space available to students, so they could gather safely under tents to collaborate.
Whitfield spearheaded the task of finding supplies as well – sometimes a time-consuming and challenging process. She was in charge of ensuring the necessary PPE was available for faculty and staff coming to campus, and made sure critical products such as sanitizer and wipes were on-hand.
"Kimberly was always available to answer the million questions we had as a college," said Maggie Merry, assistant dean of finance and administration for Poole College. "As everyone is painfully aware, bleach wipes were incredibly difficult to find and often had limits.
"We knew we needed them to help people feel safe upon returning to campus and Kimberly had to make 21 trips inside a store to get us the 21 containers we needed. She always will go above and beyond like that."
Yet Whitfield will say it was just another day on the job.
"Preparing the building for the fall semester re-opening was pretty seamless thanks to the input and help of everyone on the task force," she said.
Buckless said that attitude sums up Whitfield's work for the college.
"Kimberly comes to work each day with a positive attitude no matter the challenges and is committed to creating an inclusive environment that brings out the best in all of us," he said.
As Poole College settles into a routine for this unusual fall semester, Whitfield is quick to highlight the team effort that brought the college to this point.
"I'm proud of the way we came together as a college," she said. "The way that everyone worked together to make sure the building was operating, that the faculty were able to provide courses, that deliveries could still come into the building, deposits were still being made – just that people were getting what they needed."
This story is part of the "Resilient Pack: Employees Going the Extra Mile During COVID-19″ series that celebrate NC State employees doing "extraordinary ordinary" things in the face of the COVID-19 crisis.
This post was originally published in Poole College of Management News.