Centennial Campus
Preserving Lake Raleigh's 100-Year Legacy With Fisheries Partnerships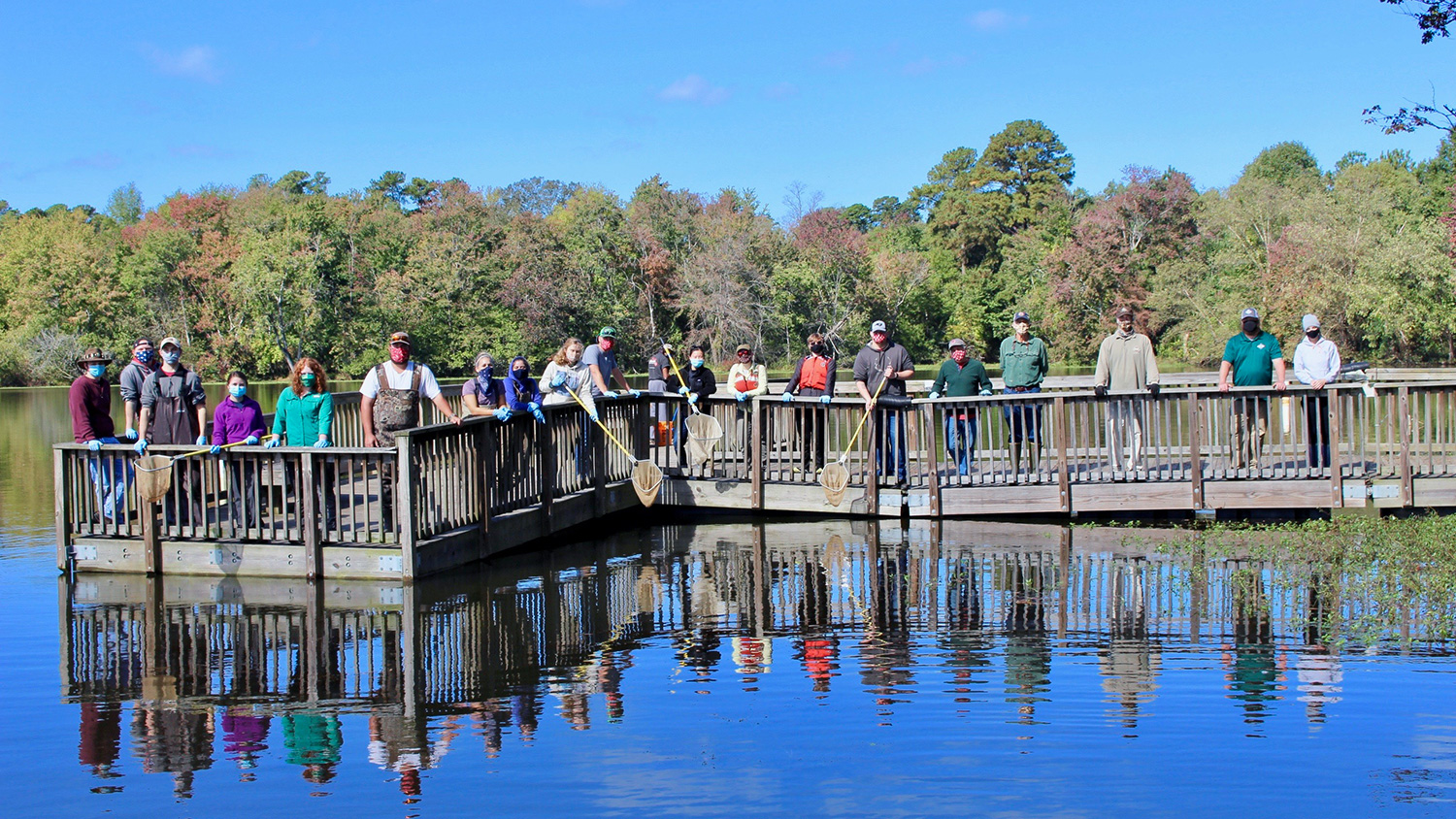 If you head south along Main Campus Drive past Hunt Library, you'll suddenly come across the serenity of Lake Raleigh, the natural centerpiece of Centennial Campus. For 120 years, Lake Raleigh has been a productive natural resource for the greater local community. First used as the main water supply for the Raleigh metropolis from 1913 until 1986, it is now a publicly accessible source of fishing and recreation. It is also an active research area where many NC State fisheries and ecology students get their first field experience, ultimately shaping their future careers.
NC State and the NC Wildlife Resources Commission (NC WRC), located on Centennial Campus, created a partnership to manage Lake Raleigh in 2006. This included the development of a joint undergraduate and graduate course led by Thomas Kwak from NC State's Department of Applied Ecology and NC WRC's Kirk Rundle for students to learn the basics of fish, water and habitat management, right here on campus.
The capstone field day experience is a fish sampling day at Lake Raleigh, where students get to try their hands at several methods of catching the lake's abundant fish that include four types of netting gear, and boat and backpack electrofishing. These include 11-pound channel catfish, largemouth bass and even the occasional American eel — a species that migrates from the Atlantic Ocean south of Bermuda to thrive in Walnut Creek below Lake Raleigh. The students count, weigh and measure each fish before returning them unharmed to the water and these data, along with water quality measurements, are used to inform the lake's management plans.
"At the end of the semester, the students present a summary of the data and their suggested management actions for the NC WRC Chief and biologists of the Inland Fisheries Division," says co-instructor and Ph.D. candidate Bonnie Jean Myers. "This is a great opportunity for the students to gain experience interpreting and applying scientific data to management decisions. Plus, these data have been collected since 2006, providing a long-term dataset to the Commission to use in tracking changes in the fishery over time."
The class is also responsible for several improvements around the Lake, including interpretive signage detailing the natural history of the lake and the newly installed fish feeder near the fishing piers. This is especially important at Lake Raleigh, which serves as an easily accessible urban fishery that several underserved communities utilize for sustenance fishing, as well as more skilled anglers.
While this class may have looked a bit different from years prior, health and safety are key components to any field sampling day, so adding masks, Clorox wipes and sanitizing protocols folded in easily to what are normally rigorous safety precautions. Lake Raleigh's ideal location on campus also made for easy accessibility and all students were able to take part in the socially distanced, outdoor field day.
"We were glad to get approval and safely meet with the class for hands-on experience with different fisheries sampling techniques," says Myers. "Zoom is no match for electrofishing fish from a stream, putting your fish identification skills to the test or getting your hands slimy from weighing and measuring fish all day."
Many of the students who take this course pursue careers in research, teaching, consulting or state and federal appointments. Alumna Jessica Baumann was one of the first students to take this course in 2006.
"I definitely fell back on the concepts learned in Tom's class during my interview at NC WRC to be a fisheries biologist, where I worked for over a decade," says Baumann. "I'm now back at NC State as an Extension Associate with the Aquatic Plant Management Program and get to guest lecture for Tom's class. That's what I call a full circle!"
The success of Lake Raleigh, a highly utilized natural resource open to all, is a testament to the strength of NC State's 30-year partnership with NC WRC. Kwak's class, "Management of Small Impoundments," is offered every fall semester of even years.