Campus Life
Lonnie Poole Sets Record as Golfers Play Through Pandemic
Golfers took to the links on Centennial Campus in record numbers last year, making the most of a rare opportunity to enjoy fresh air and exercise during the pandemic.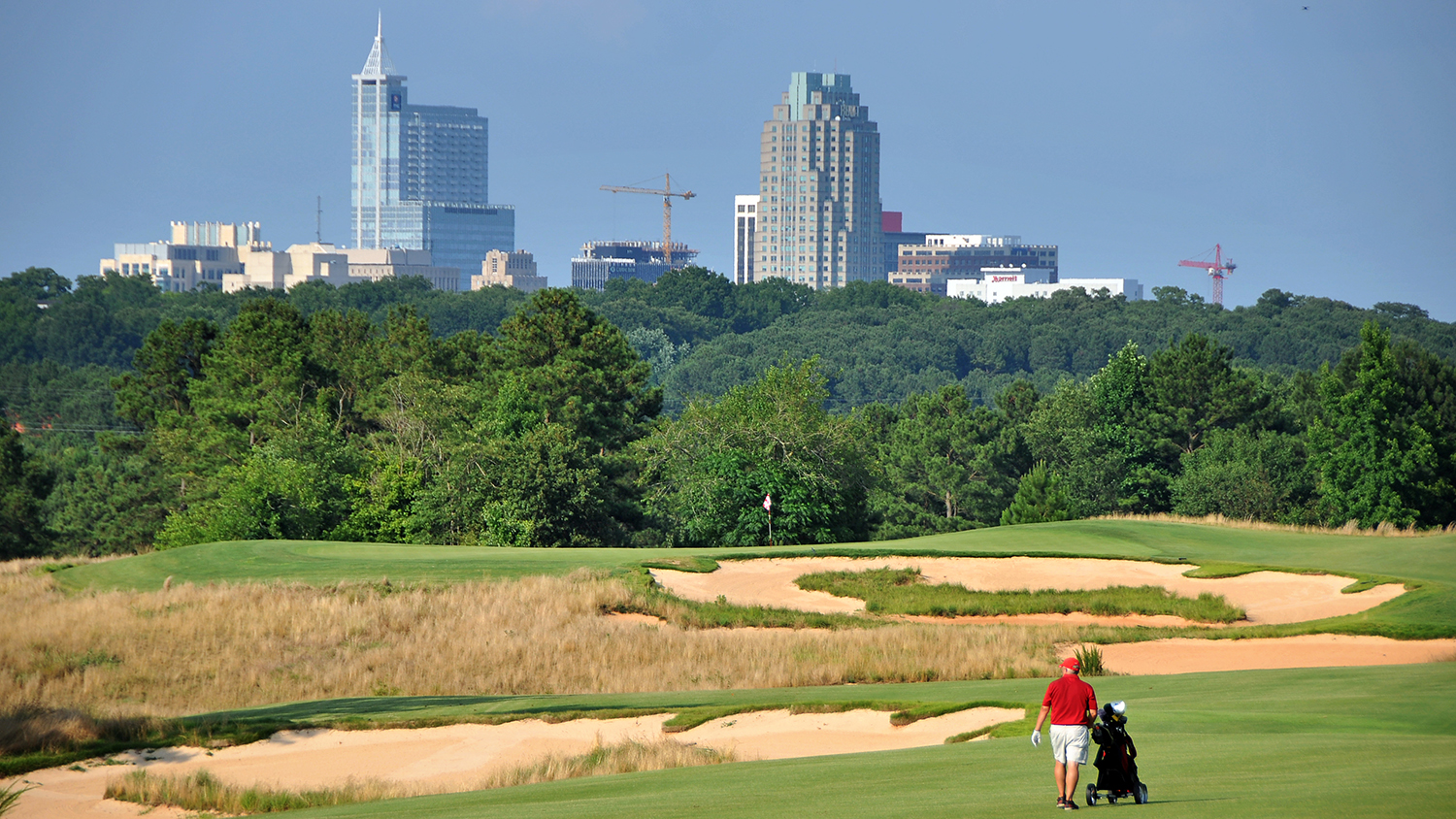 A year after North Carolina Gov. Roy Cooper deemed playing golf "an essential outdoor activity," NC State's Lonnie Poole Golf Course can rightly claim it has been an essential outlet for those looking to get out of the house during the state's partial shutdown during the COVID pandemic.
Regular players played more, new players took up the game and dormant players emerged like Bermuda grass in the spring, reviving a recreational business that has been struggling to maintain its fan base in recent years.
Like most other golf courses nationwide, LPGC saw a huge upsurge in the number of rounds played in the last 12 months, an increase of more than 15% to a record of more than 44,000 rounds since mid-March last year. Since opening in 2009, the Arnold Palmer-designed course on Centennial Campus had previously averaged about 38,000 rounds per year.
Nationally, the National Golf Foundation reports that 2020 saw the biggest increase in play since 1997 — the year Tiger Woods became the sport's biggest global sensation since Palmer in the 1960s.
General manager Chip Watson attributes the course's increase to the fact that it didn't close for anything other than weather last year.
"There wasn't much anyone could do except play golf," Watson says. "I'm a good example: I didn't play much at all for about 10 years, but last spring I started hitting practice balls and by the summer I was practicing up to 45 minutes a day and playing once every couple of weeks.
"Most of my friends are the same way."
The golf course and driving range were also one of the few places to escape virtual video conferences and meetings.
"The social interaction I used to have in my office, golf shop and hallways of the clubhouse switched to 'driving range talks,'" Watson says. "It was great for business and networking, not to mention my golf game."
For NC State women's golf coach Page Marsh, returning to the game she has played her whole life was practically transcendental, a way to reconnect with former golf buddies in a safe environment.
"I was able to use golf and yoga in a way to stay strong mentally," says Marsh. "It's always been there for me, but I was able to meet with playing partners I've had for years in a way that was meaningful for us all.
"It was different, but it was needed."
That doesn't necessarily mean the LPGC turned a bigger profit: it lost most of its special events and tournaments, which are generally strong money-makers for the course. Golfers who purchased annual play packages normally play once or twice a week, but in the last year they were playing four or five times a week, which brought no additional income.
The course lost its on-site dining facilities, which were closed most of the year, except for the snack bar window.
And it lost most of its merchandise sales because the pro shop was closed to golfers, who checked in for their tee times on the outdoor patio and were not allowed to enter the Carol Johnson Poole Clubhouse other than to use bathroom facilities.
Expenses were about even. Since Watson's Carolinas Golf Group is a contracted supplier to the university, responsible for all golf course personnel and operations, it did not have to follow mandatory furloughs that most employees of Campus Enterprises faced. A full staff, Watson says, was necessary to enforce all the cleaning and setup needed to follow mandatory university, state and CDC guidelines for remaining open.
"Especially in the beginning, we worked hard to strictly follow the 'Back2Golf Operations Playbook,' created by golf's governing bodies," Watson says. "Restrictions went up and down over the past year but all-in-all we could keep people outside and physically distanced.
"There were some savings because the clubhouse was closed, but maintaining COVID protocols is expensive, when you need extra staff to sanitize and clean carts, restrooms and other areas around the facility."
Allowing one person per cart for safety and distancing purposes helped kept LPGC open for business, but all courses in the area scrambled to lease additional electric golf carts in order to follow that policy. Older carts in the fleet took longer to charge, which meant some customers had to wait longer than expected before they could tee off.
The pandemic has definitely left long-term impacts on the game, with no-touch regulations on the course, though some of those restrictions are on the way out. While flags still remain in the holes, rakes are returning to sand traps, benches are returning to tee boxes and on-course bathrooms are reopening.
Players were still out on the course every day the weather allowed and golf, as a sport and recreational activity, enjoyed a much-needed generational revival.