Campus Life
Finding Your Wolfpack: The GLBT Center
No matter where you are on the continuum, this inclusive space has something to offer.
Located on the fifth floor of Talley Student Union, NC State's GLBT Center is a bright space that bustles with energy. In typical academic years, it's often packed with students occupying every chair and spilling into floorspace to join activities and conversations already in progress.
Formally founded in 2007, the GLBT Center's stated mission is to engage, develop and empower members of the gay, lesbian, bisexual, transgender and queer (LGBTQ) communities and their allies.
In practice, it does much more.
"A specific picture comes to mind of what the center is and who it's for, but it's really for all of NC State," says Jonathan McCorey, the center's director. "You don't have to be out to wonder who you are as a person. We offer services for those who are out, people who are allies, and those who can't be out — no matter where they are on the continuum."
You don't have to be out to wonder who you are as a person.
Now 13 years on campus, the center hosts events and workshops to engage and educate the Wolfpack community, as well as identity- and health-related information and resources. Professional and leadership-development programs help traditionally marginalized students pursue their full potential.
Resources go beyond campus tools — like counseling groups and a gender-inclusive restroom list — to include LGBTQ-specific and LGBTQ-inclusive local and statewide resources, plus tips on navigating Raleigh.
While the center provides a safe and welcoming place on campus, remote learning and working models have allowed the center to reach community members through streaming events and online training modules.
McCorey is passionate about inviting the greater NC State community into the fold. "We are here for students, for faculty, for staff, no matter where they are on their journey. Whether you're completely out, questioning, or you can't be out at all, we're still here for you," he says.
"For those who may be asking, 'Is the center for me? Am I part of the community?' I am here to tell you, unequivocally — yes."
For those who may be asking, 'Is the center for me? Am I part of the community?' I am here to tell you, unequivocally — yes.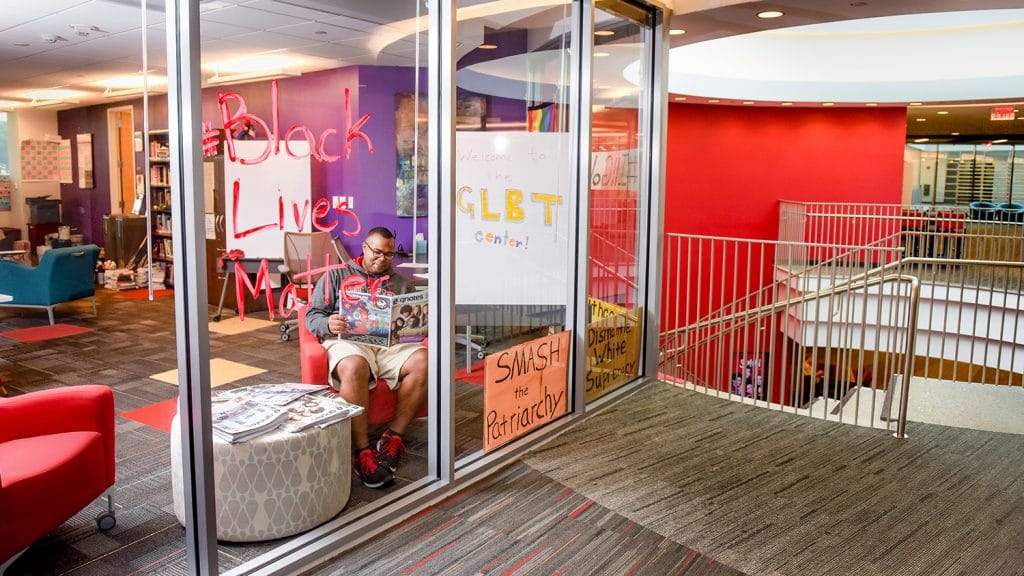 Meeting Students Where They Are
The GLBT Center hosts a variety of events throughout the academic year to foster connection and engagement.
Symposium is held the first week of classes to welcome incoming students. It gives them a chance to meet the staff and familiarize themselves with the center — and it reinforces that they aren't alone.
"We like to do ice breakers and play board games," says Lynn Locklear-Fisher, program assistant at the GLBT Center. "So many students are introverts, and they want to make friends. Symposium can help draw them out a little."
McCorey notes that "for our students of marginalized identities, Symposium is a chance to connect visibly with others who share some of those identities."
A returning-student panel is on hand to answer questions new students may have. "Sometimes what they really want to know is 'How am I going to feel? Is this a place for me?'" says McCorey.
Having a student perspective is critical.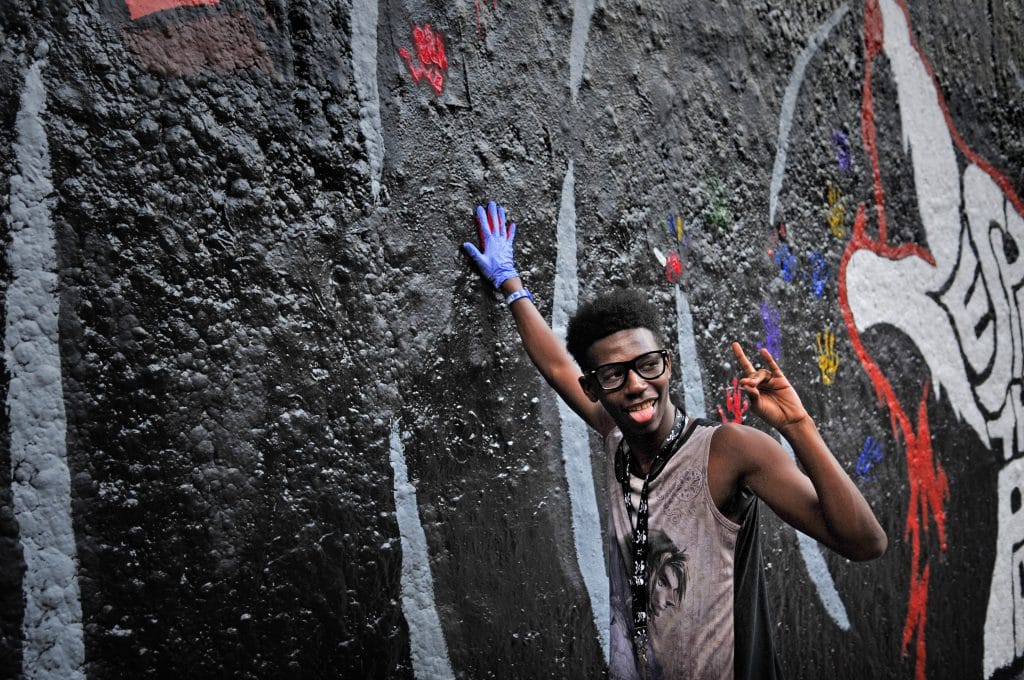 "Honestly, they want to hear from their peers," says Locklear-Fisher. "We invite all of our student organizations to come and talk, so students get an idea of what they can expect, and not just from our perspective."
Symposium is streamed for remote viewers and recorded for those who may need to view it privately in a safe place.
The center also participates in NC Pride in Durham each September, offering some students their first chance to publicly celebrate their identity with the support of a community behind them.
The center hosts events for LGBT History Month, centered around National Coming Out Day on October 11. Workshops, guest speakers, film showings and discussions all explore pioneering people and moments in LGBTQ history.
The center gathers student input to curate the events, which are often eye-opening and challenge prevailing narratives.
"There's a lot that's not commonly taught or celebrated," says McCorey. "For example, many of our rights were pushed for by trans individuals of color, and the policies we have now have their roots in the civil rights movement. Or the fact that there was another incident prior to the Pulse Nightclub massacre, in New Orleans in 1973. The AIDS epidemic in the 1980s wiped out a lot of community elders, so some of these stories are just beginning to be told."
The month is also a chance to reflect on challenges within the community and uncover strategies for fostering change.
"There's a common misconception that once you enter the rainbow, a lot of the oppression stops for folx of color," says McCorey. "That's just not true. But without that awareness, nothing can change."
"All of our students get something really different and personal out of these events," says Locklear-Fisher. "The people that we highlight, the documentaries, the speakers we bring in — we're trying to show the queer community as it really is."
One of the most popular events is the holiday potluck. "A lot of students are going home to places where they can't fully be themselves," says Locklear-Fisher. "This is an opportunity to bring their whole selves to the table."
"This is an opportunity to bring their whole selves to the table." 
The center provides food in partnership with the GLBT Faculty and Staff Network, so students get to enjoy each other's company and see the faculty and staff members who support them. In 2020, the event was held in hybrid format; grab-and-go catering and interactive virtual rooms ensured a feeling of togetherness.
The Lavender Graduation ceremony wraps up the academic year with a chance to honor graduating LGBTQ and allied students and acknowledge their achievements. For many marginalized students, earning a degree demands exceptional persistence in the face of discrimination both subtle and overt. The ceremony is celebrated annually at campuses across the nation.
Fostering Advocacy
Advocacy training has the potential to extend the GLBT Center's reach beyond their small but mighty staff in Talley.
"NC State is a big school," says McCorey. "We want students to be able to see where they can find support in different spaces.
The center administers a certificate workshop called Project SAFE Ally, as well as two advocacy programs, one for faculty and staff, and one for students.
"None of our training is required, but we invite everyone to participate," says McCorey. "For example, University Housing does a great job of encouraging their staff to take the Project SAFE Ally training. And it's wonderful that they do, because we're talking about students' homes while they're here. It really matters."
The Project SAFE Ally workshop teaches the basics of LGBTQ advocacy and knowledge, with the goal of inspiring workshop attendees to take the next step and become a recognized, yearly renewing advocate.
The GLBT Advocate Program is centered on ally education and connection among faculty and staff. "We help advocates build their own capacities, so they're prepared for that moment when a student comes to them," McCorey says.
Advocates must participate in both a workshop and event yearly, though most do more. Annual engagement keeps advocates apace with LGBTQ issues — and demonstrates dedication to the student community.
"Being a faculty advocate is extremely important to me," says Michelle Falter, assistant professor of English education. "LGBTQ students need to know that there are faculty members who care about them, are willing to support them, are knowledgeable and are easy to find."
Falter also extends her advocacy to her curriculum. "For many of my undergraduate students, I'm the first professor to assign texts that feature non-cisgender or non-heteronormative characters and people. I try to create a safe space for students to be their true selves both inside and outside the classroom; that's an honor."
I try to create a safe space for students to be their true selves both inside and outside the classroom; that's an honor.
A list of participating advocates and where to find them is updated annually. Currently, participation in the program is at 9%; the center hopes to raise that number to 25% for every college, to help provide greater visibility and commitment to affirming students' identities.
"When you sign up for the GLBT Advocate program, you show that you're committing to students on campus every year," says Locklear-Fisher. "It shows solidarity and support."
A new GLBT Advocate roundtable meeting helps advocates reflect on what they're hearing from students and develop ways to address concerns. McCorey notes that familiarity with issues allows advocates to take more responsibility. "The end goal," he says, "is to get institutional change."
The end goal is to get institutional change.
In the GLBT Student Advocate Program, students learn how to recognize problematic behaviors, policies and comments within their campus community. The next step is skill development to help challenge discrimination and harassment, and identify concrete ways to be allies.
Navigating the Future
Perhaps most essentially, the GLBT Center helps students become advocates for themselves.
"Oftentimes, if a student is coming to us with an issue, they've already tried to navigate it themselves — in the classroom, the residence hall, wherever," says McCorey. "We ask them to come along on the journey to a solution. We want students to gain the tools they need to navigate a situation themselves. Because they're not always going to be at NC State."