Research and Innovation
NC State Student Supports Wildlife Conservation in Africa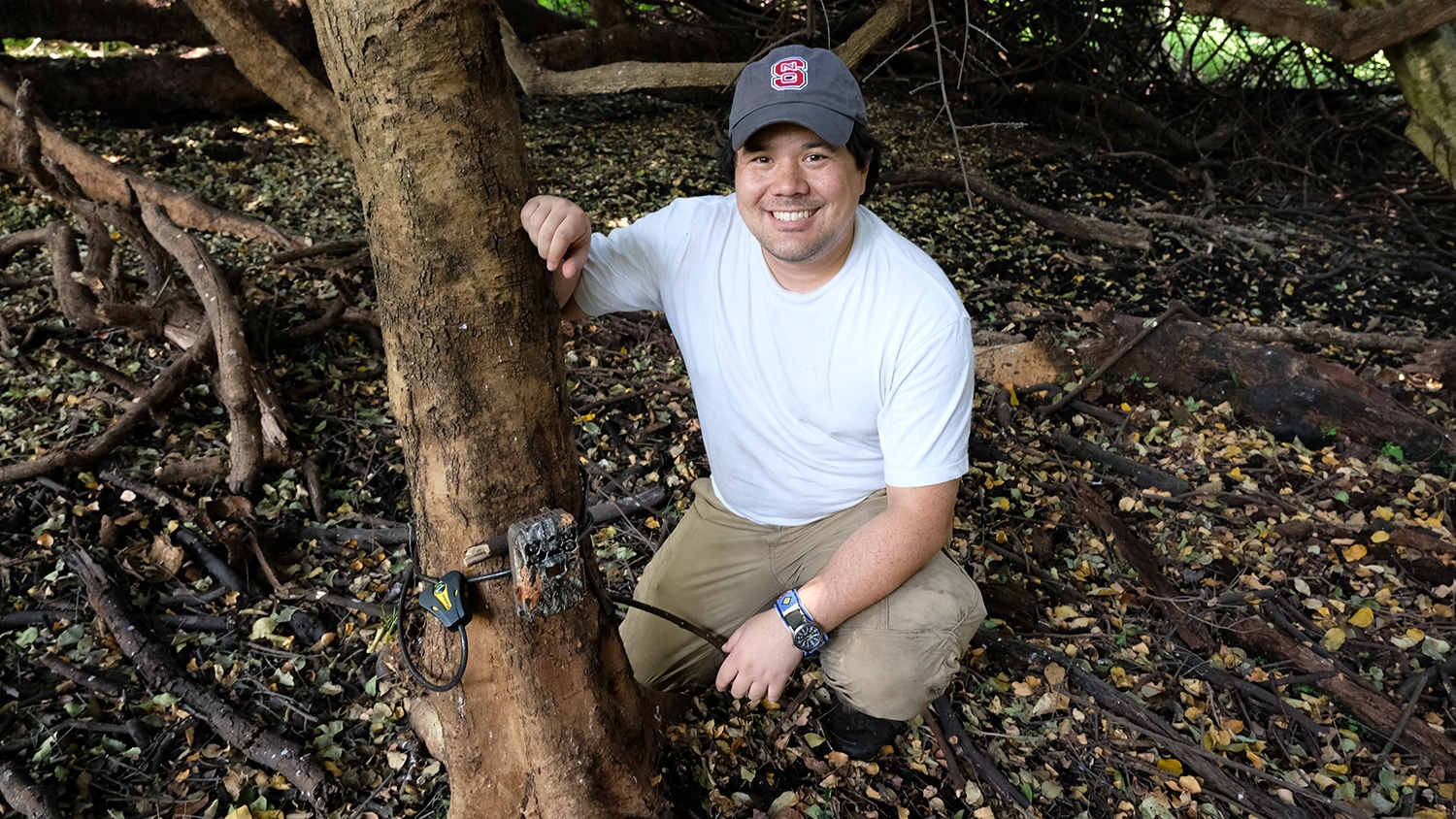 On a warm August day at Kasanka National Park in northern Zambia, Matt Snider exits the backseat of a Toyota Land Cruiser and walks into a nearby patch of forest. As he hikes through a maze of low-hanging branches and intertwined roots, Snider periodically stops to install camera traps on surrounding trees. The cameras will act as Snider's eyes in the coming months, snapping images of animals as they walk, climb or crawl by.
Snider, who is a doctoral student studying fisheries, wildlife and conservation biology at NC State, is utilizing the cameras to examine Kasanka's wildlife for his dissertation and to aid the park's conservation initiatives. That includes a project focused on understanding how local predators react to the yearly arrival of straw-colored fruit bats at the park.
Between October and December each year, an estimated 5 to 10 million straw-colored fruit bats from around the world congregate in Kasanka's evergreen swamp forest where they feed and rest. "This migration is very unique," Snider says. "It's the only event in the world where such a large number of migratory mammals come together in one place."
Research conducted by scientists at the Max Planck Institute for Ornithology shows that the annual migration provides many ecosystem benefits, including reforestation. In fact, as the bats eat throughout their stay in Kasanka, they disperse seeds into deforested areas. These seeds eventually grow into trees and other types of vegetation.
Unfortunately, the migration is facing increasing pressure from habitat loss and other threats. In fact, according to the Kasanka Trust, which manages the park, commercial farming operations have already cleared more than 24,000 acres within a 3.2-mile buffer zone surrounding the park.
Since arriving at Kasanka, Snider has installed more than 50 camera traps within the park's swamp forest in an effort to capture images of mongooses, genets and other animals known to prey on straw-colored fruit bats that roost there. The images will help Kasanka's wildlife management team gain a better understanding of how predators might respond to shifting bat populations within the park as habitat loss continues.
"The migration really creates a resource glut for predators. So there's some concern that a disappearance of these bats could cause local predator populations to decline," Snider said.
Predators are an important part of a healthy ecosystem, controlling the size of prey populations and reducing the intensity of competition within a community. By providing Kasanka's management team with a better understanding of how predators respond to the straw-colored fruit bat migration, they can enact conservation measures aimed at protecting the park's evergreen swamp forest and the surrounding natural landscape from habitat degradation, ensuring that both fruit bat and predator populations remain healthy.
In addition to studying Kasanka's predators, Snider has also deployed some 30 camera traps across the park to gauge the presence and population health of several antelope species, including Defassa waterbuck, Sable antelope, Roan antelope, and Lichtenstein's hartebeest. These species, which are already rare and seldom seen in Kasanka, face increasing pressure from habitat loss and poaching, the latter of which is especially prevalent.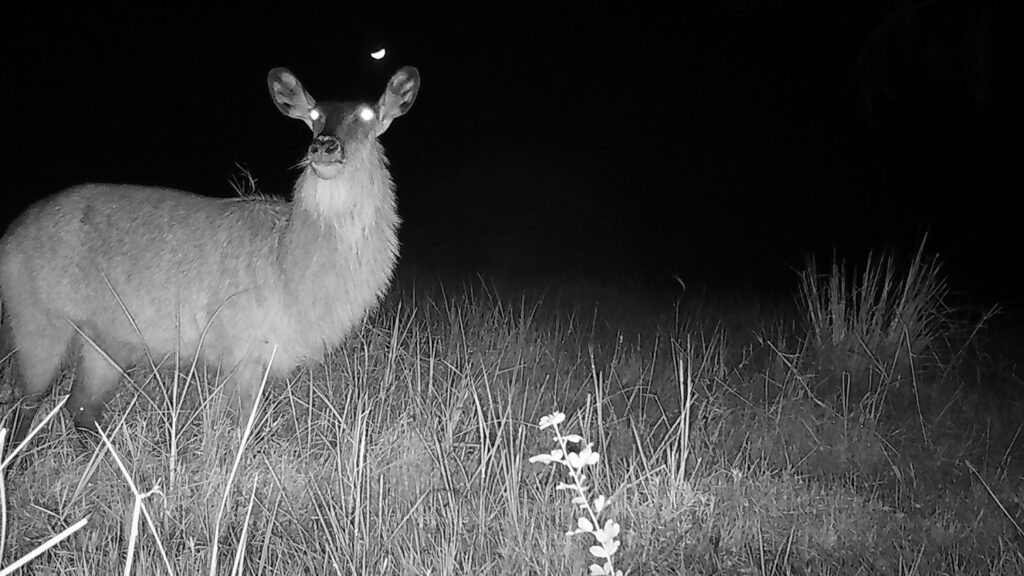 Poaching for wildlife is at its peak during the rainy season in Kasanka, with poachers primarily targeting small antelopes for meat and income. The park currently employs more than 25 law enforcement scouts that work in five-man security patrols. Since 2019, the park's patrols have made more than 45 poaching-related arrests and removed more than 850 snares.
Snider regularly analyzes the camera trap images for poachers and reports his findings to Kasanka's law enforcement scouts. That includes information about the location, timing and frequency of poaching activities. "Some of my data from the camera traps has been really helpful for law enforcement within the park," he said. "A number of my cameras have actually detected poachers in parts of the park where poaching activity was less well-known."
The images from Snider's park-wide cameras will ultimately help Kasanka implement effective anti-poaching and conservation measures for areas where antelopes and other species of concern are prevalent.
Upon departing Kasanka, Snider plans to leave the camera traps for park management. He's currently training scouts to use the cameras and to manage the data through Wildlife Insights, a new online platform that utilizes artificial intelligence to automatically identify animals in camera trap images.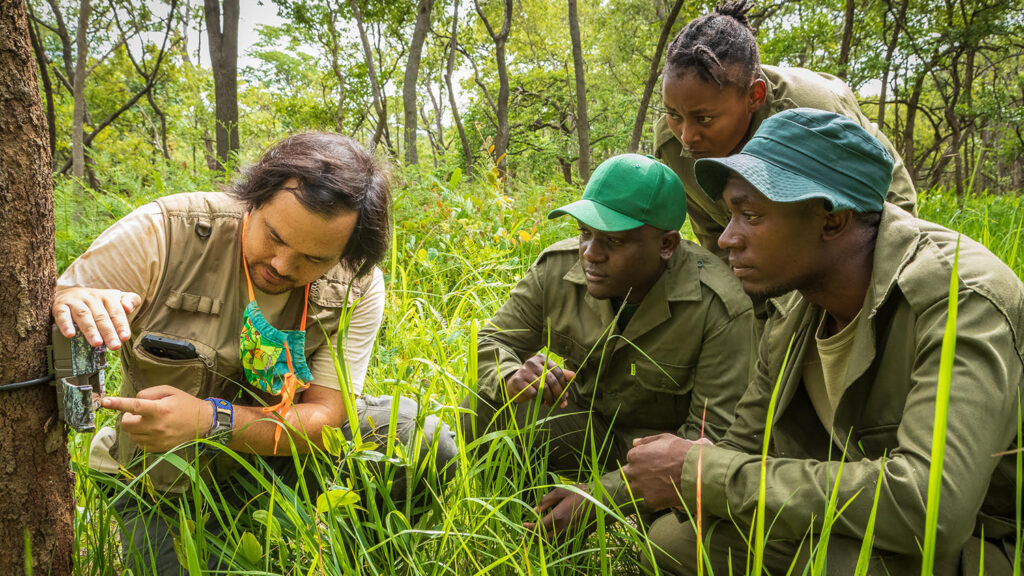 "The research cycle no longer has to rely on a scientist like myself," Snider said. "Scouts can now be the enduring presence on the ground and continue the camera trap projects to benefit conservation efforts as time goes on."
Snider added, "Capacity building like this is critical to breaking the colonial model of outside researchers coming in to conduct research but not leaving the skills or tools for sustainable conservation practices, spearheaded by locals, after they leave."
This post was originally published in College of Natural Resources News.