Campus Life
WISE Village Raises Voices, Representation
Women studying STEM at NC State have been historically underrepresented. The Women in Science and Engineering (WISE) Village is changing this by providing a community in which they can thrive. 
In 1921, Lucille Thomson, an electrical engineering major, became the first woman to enroll at NC State as a full-time student. Student publications referred to her as "our coed," as female students were called at the time. She likely did not encounter any female faculty members, as there was only one at the university at the time. She's not known to have graduated.
When Katharine Stinson — the first woman to graduate with a degree in engineering from NC State in 1941 — first tried to enroll as a mechanical engineering student, she was told that "girls don't study engineering."
Just over 100 years after Thomson's enrollment, women in science, technology, engineering and mathematics (STEM) areas of study at NC State can count on more support and representation on campus, with programs like the Women in Science and Engineering (WISE) Village designed to increase the recruitment, retention and graduation rates of women in STEM at the university.
"We want to definitely increase the number of women in the pipeline, the number going to graduate schools and the number in key positions, as well as in the workforce," said Katherine Titus-Becker, director of WISE.
Sarah Rajala, former associate dean of the College of Engineering, Susan Grant, retired director of University Housing and Jo-Ann Cohen, a professor of mathematics who was associate dean of the College of Physical and Mathematical Sciences (now known as the College of Sciences) at the time, founded WISE in 2003. The program started with 53 students and now has 382 members.
WISE, which works closely with University Housing, is located in Lee Hall and offers a unique opportunity for first- and second-year female-identifying students in STEM areas of study to live and work together. Juniors and seniors can choose to stay involved as work-study students or mentors.
Although most WISE students come from the program's five partner colleges — the College of Agriculture and Life Sciences, the College of Engineering, the College of Natural Resources (CNR), the College of Sciences and Wilson College of Textiles — students from other colleges and majors are also accepted when there is room availabile.
"If somebody wants to live here and participate, we want to welcome them," said Titus-Becker.
First-year members are paired with upperclassmen resident mentors to help them transition smoothly into college. Academic advisors from the village's five partner colleges drop in weekly to meet with students, and tutoring is available three times a week for calculus, physics and chemistry.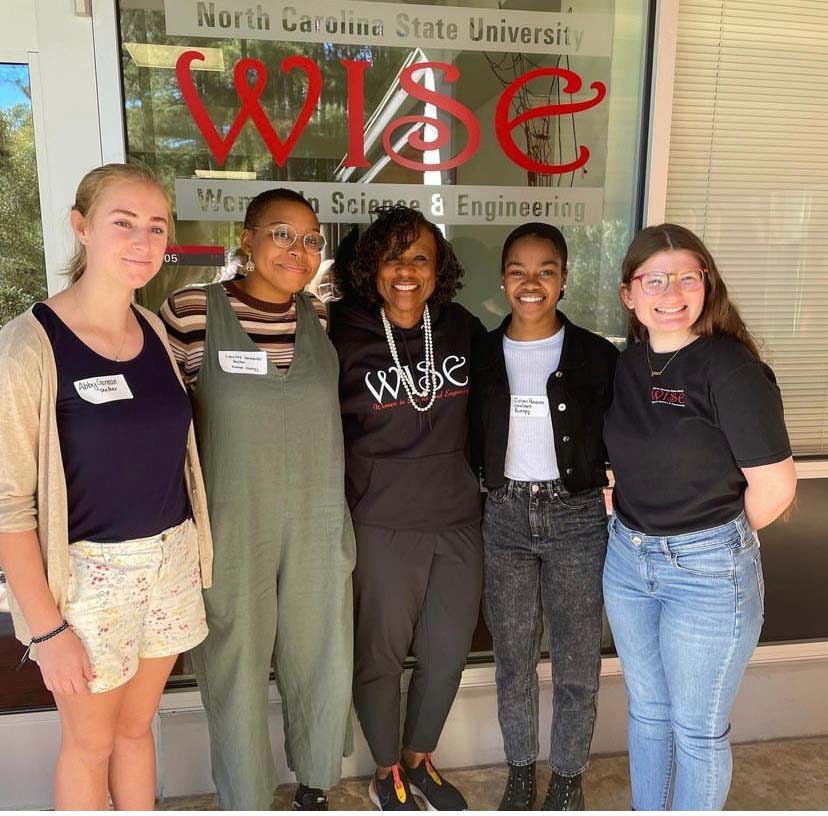 Among the students' favorite WISE-sponsored events is the speaker series, in which faculty members and alumni share their experiences as women in STEM. Students have heard from Carrie Thomas, teaching professor of marine, earth and atmospheric sciences, about her Antarctic research; from Laurie Degernes, retired professor of avian medicine, about what it's like to perform surgery on birds; and from NC State alum Mona Lisa Pinkney, senior director of governance, risk, compliance, engagement and geos at Nike, about her career.
They've also attended tours of the nuclear reactor on campus given by Lisa Marshall Bedward, outreach, retention and engagement program director and senior lecturer and advisor of nuclear engineering.
"Being a woman in STEM is definitely different. There are definitely many days of 'Am I cut out for this? Can I really do this?' And it's nice to see people that have been in your shoes when you are just in the nitty gritty of it," said Ginny Roman, a WISE mentor and sophomore biological sciences major. "This community helped me to just say, 'You're meant to be here. You can do this.'"
A Community Within a Community
In March 2021, as a high school senior looking for a pre-med track, Cyrani Houston was torn between two schools — NC State and the University of Maryland. While touring NC State's campus with her parents, a chance encounter at Talley Student Union with Markita Briggs, graduate extension assistant at WISE, and Bri Hart, former assistant director of WISE, convinced her that NC State was for her.
"Talking to them about WISE and how it would help me get acclimated to the school, that's kind of what helped me make my decision for NC State in general," said Houston, who is now enrolled in the Life Sciences First Year Program with plans to major in human biology. "Now, I have a community of people within a small community on campus that I can relate to."
Houston isn't the only one who's found a community in WISE. The mentorship program allows the members to form relationships and find support in one another.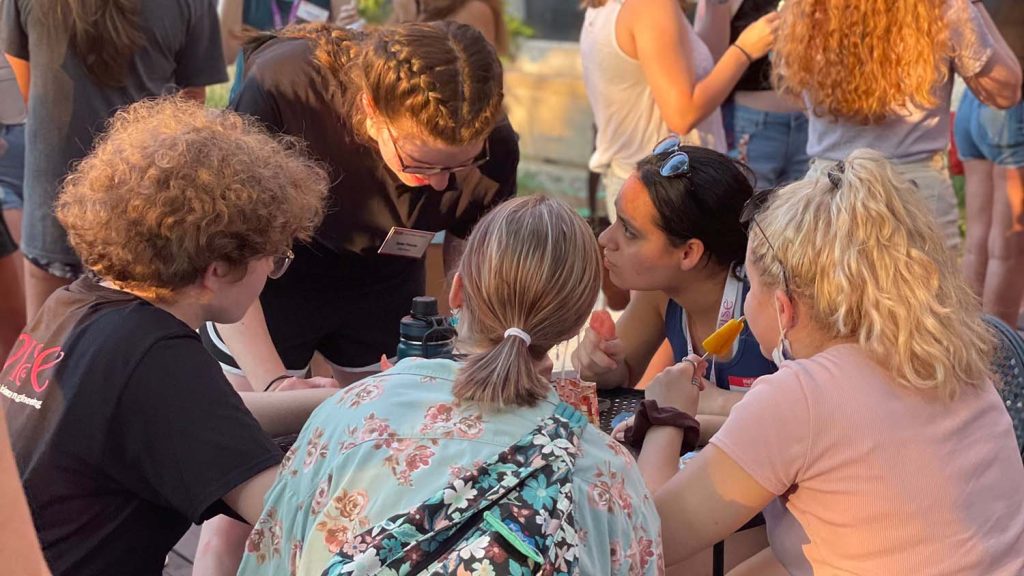 Roman mentors 20 first-years, helping them figure out everything from the logistics of doing laundry in the residence hall to learning how to get involved on campus. She hosts get-togethers such as cooking events and craft nights to help them get to know each other.
"I love getting to know my mentees and being their older sister by just trying to help them navigate college," said Roman. "At our events, they get to meet other villagers — sometimes they'll meet others in the same major or from the same hometown — which is really nice."
Houston said that having a mentor allows the villagers to get to know each other personally and find resources on campus.
"Every mentee has someone that they can go to, especially with NC State being such a big school. It's kind of easy to feel small in it."
For Isa Preston-Crosby, a junior meteorology major and former WISE mentor who remains involved with the program as a work-study student, the most impactful aspect of WISE is the solidarity she finds in fellow members.
When you see hundreds of us, it reinforces that you can pursue a career in sciences.
"Most of my friends that I have at NC State right now I met through WISE, so having that atmosphere of all these other women who may also be struggling with whether or not they want to stay in STEM — just having those people around me to encourage me to stay in, and knowing that I'm not alone in those feelings — has been encouraging," said Preston-Crosby.
Sophomore Gracie Athus, president of WISE student council, found that the encouragement of the WISE community reinforced her love for the sciences. She came into NC State as a psychology major, but was keen on joining a group of women who shared an interest in science.
"It's not like I wasn't exposed to girls in science before, but not to the extent or magnitude that you find in the village," said Athus. "When you see hundreds of us, it reinforces that you can pursue a career in sciences."
She is now a biological sciences major.
A Supportive Space
The camaraderie among WISE members has made the village a safe space to discuss broader topics beyond STEM and find their voices as women in STEM.
Houston has found that WISE has provided a support system not only as a woman in STEM, but as a minority in STEM and on campus.
"Since I've been here, WISE has made it known that there are so many people that I can reach out to, so many places where I can find the support that I need whether it's as a woman in STEM or as a minority on campus," said Houston.
"I think WISE does an amazing job of including everyone and making sure everyone has a place."
The program itself gives students the freedom to discuss non-STEM topics that are important to them. February's Wise Wednesday — a monthly event for WISE students to come together and discuss various topics — featured a "Watch & Talk" for Black History Month, in which WISE students discussed an episode of "Blackish" that touched on protests, racial injustice and police brutality.
"Things like this kind of bring a discussion to the whole WISE community, so that we know that this is a safe place to talk about these things," said Houston. "This is a place where we touch on even sensitive issues, because they are important to bring up."
It is inspiring to see a collective group of women work on having a voice so that when it comes time for us to voice an opinion in a space where we're not well-represented, we'll have the confidence to do so.
The supportive and encouraging environment has also helped other WISE students boost their confidence as they pursue STEM careers.
As president of WISE student council, Athus plans WISE events and has taken the initiative to start building relationships with other organizations on campus to broaden WISE's reach. The leadership skills and confidence she has gained in her role have empowered her to speak up in male-dominated spaces.
"When you get into the workforce, especially as a woman in STEM, a lot of times it's male-dominated," said Athus. "It is inspiring to see a collective group of women work on having a voice so that when it comes time for us to voice an opinion in a space where we're not well-represented, we'll have the confidence to do so."
For Titus-Becker, seeing WISE students find their voice and their path is what the program is all about.
"I really want students to find their passion and to help them be successful while they're here at NC State — academically and personally," said Titus-Becker. "We take a holistic approach with the students, because we know one informs the other."
Bridging the Gap
WISE and its partner colleges have brought NC State a long way in its continuing journey to make the historical underrepresentation of women in STEM a thing of the past.
When Stinson graduated in 1941, female enrollment was below one percent. In 1942, the university sought to increase female enrollment, especially in engineering, as male students left to fight in World War II.
By 1945, 58 women were enrolled at NC State, with many taking advantage of special scholarships to provide engineering training to women. In 1983, women made up about 35 percent of the student body, with this number climbing to 38 percent in 1986.
Nowadays, NC State is no exception to the nationwide trend of women earning a higher percentage of bachelor's degrees overall, but still earning a lower percentage of STEM bachelor's degrees than men. While disparities in female enrollment in STEM majors still exist, the program's partner colleges have successfully leveraged WISE to help even out the male to female ratio over time.
<1%
Female Enrollment in 1941
35%
Female Enrollment in 1983
53%
Female Enrollment in 2021
Each of the partner colleges promotes WISE at open houses and works with the village to recruit prospective students through information sessions and email targeting.
The efforts have made a difference. The incoming fall 2021 class at the College of Sciences was 62 percent female.
But underrepresentation is still an issue in some of the college's departments. Women are the majority in the undergraduate chemistry, biological sciences and marine, earth and atmospheric sciences programs, but they are still the minority in statistics and mathematics. In physics, they remain significantly underrepresented.
CNR has seen a slight increase in female enrollment over the past few years, with 44.4 percent of its undergraduate students being women. However, disparities exist within the college's STEM programs. For instance, the environmental science and natural resources program is 65 percent female, while the forest management program is only about 15 percent female.
"The WISE program has helped us recruit and retain some female undergraduate students, and we hope to leverage it more in the future for our forest management program specifically," said Melissa Pasquinelli, associate dean for academic affairs at CNR.
WISE also works closely with Women and Minority Engineering Programs, sponsored by the College of Engineering's Academic Affairs office, on recruitment efforts. Together, the two programs lifted the college's female enrollment from 14 percent in 2014 to 28 percent in 2021, well above the national average of 18 percent female enrollment in engineering.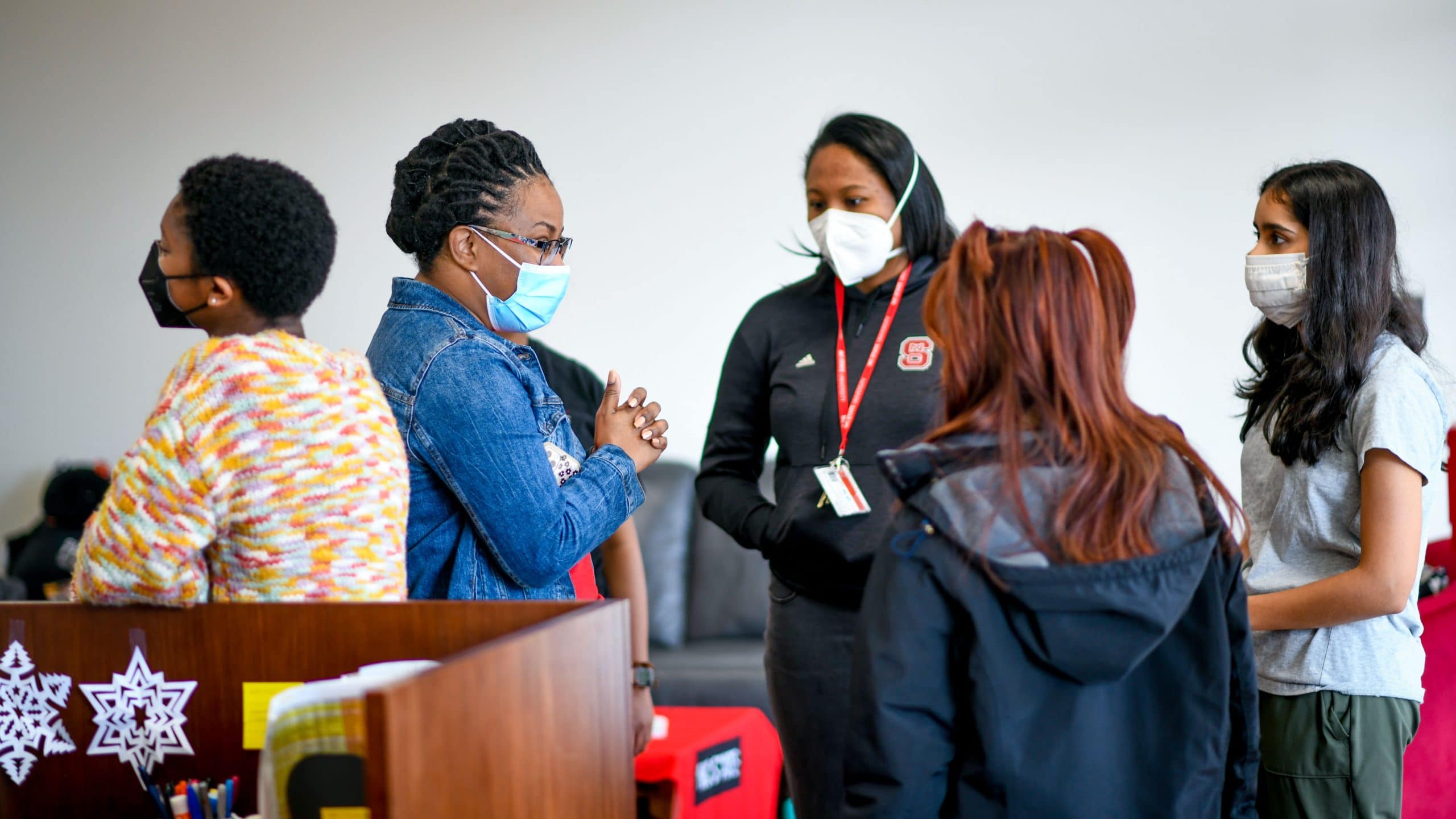 They accomplished this by breaking away from standard recruitment practices.
"We stopped doing what everybody else was doing," said Laura Bottomley, director of Women in Engineering. "We stopped treating women as if they needed to be fixed so that they would fit into engineering. We started looking at engineering as something that needs to be fixed for women."
Despite the tremendous accomplishment, Bottomley said there is more work to be done.
"We need to take the next step now and get to 50 percent," said Bottomley. "I won't be satisfied until we do. And maybe not even then."