Faculty and Staff
Where's the Wolf? In Ice Cream Paradise
In our contest for NC State employees, Titilayo Osho with University Housing makes the correct guess — and unlocks a special memory.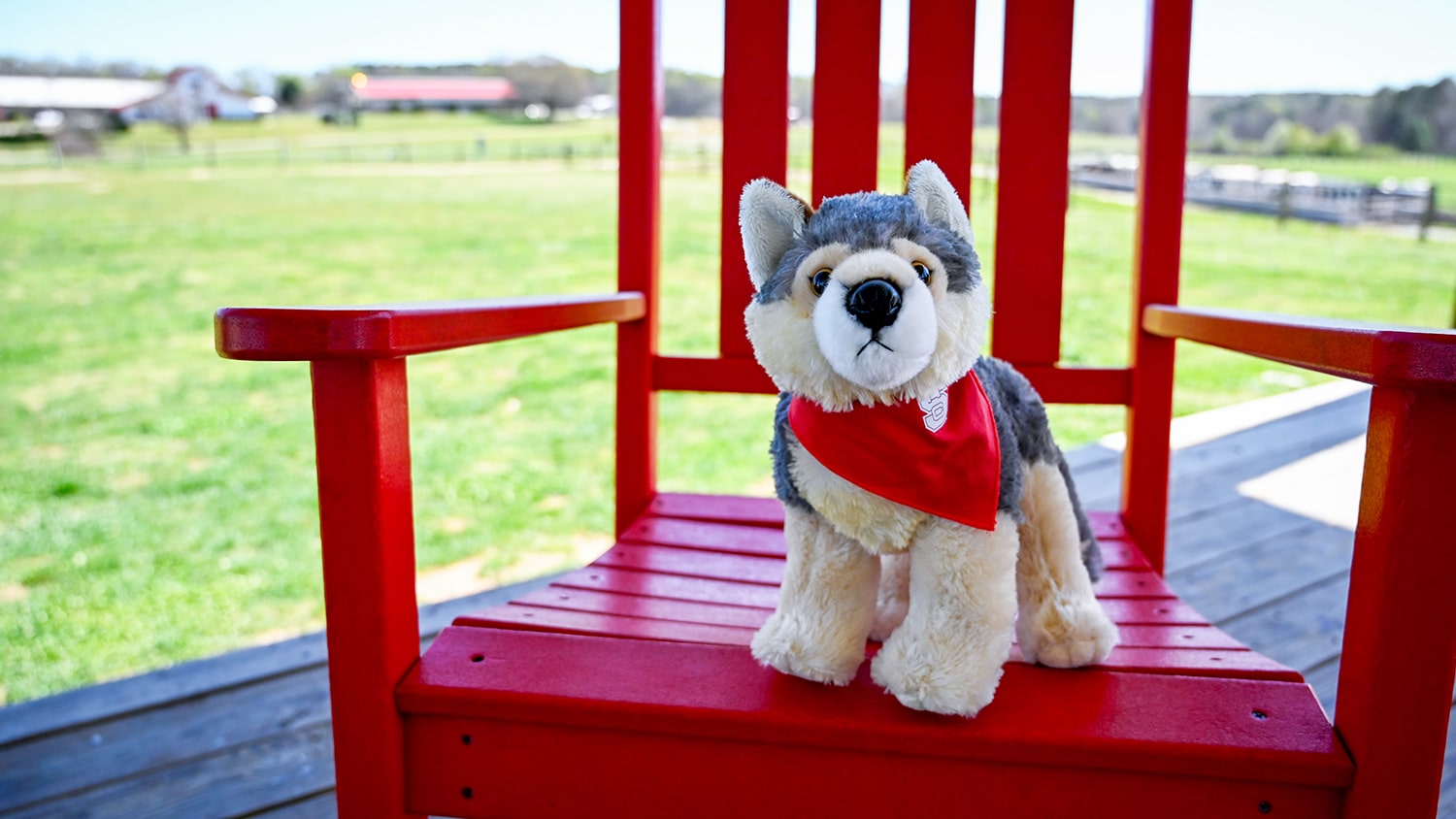 Our furry friend's location holds special meaning for the winner of the latest "Where's the Wolf?" installment.
"When I moved to Raleigh in 2020, the Howling Cow Creamery was one of the places my husband took me in the area where we got to enjoy our ice cream on those red rocking chairs," says Titilayo Osho, the housing support specialist for University Housing.
There's hardly a better spot to enjoy a spring afternoon than on the shaded porch of the Howling Cow Dairy Education Center and Creamery, ice cream in hand, taking in the beautiful views as dairy cows graze in nearby pastures.
The scoop shop features homemade Howling Cow flavors served most any way you can imagine — in cups or cones, as sundaes, shakes or specialty drinks. If you're extra hungry, check out the "Howling Cow Pattie" with your favorite flavor sandwiched between two warm chocolate chip cookies and served with whipped cream. Feeling adventurous? Try the "Howling Elvis Split," which features chocolate ice cream wedged between two bananas, covered in peanut butter sauce and topped with toasted bacon pieces.
Keep up with the latest Howling Cow updates here, including creamery hours of operation, new flavor creations and visits with dairy cows like Marilyn, Pepper and Blanche.
In addition to this little slice of heaven, Osho says Talley Student Union is one of her favorite spots on campus — and not just because Howling Cow ice cream is served there.
"It really shows all the different walks of life that come through this university," she says. "I especially enjoy the prayer space in Talley thats allows me to observe my Muslim faith throughout the day."
As she approaches her one-year work anniversary with NC State, Osho says she appreciates all that the university has to offer.
"As an employee I love that NC State has many opportunities for professional development and staying connected with the campus community outside of your role."
For those curious about our "Where's the Wolf?" contest methodology, we use an online random number generator to determine the winner after the entry deadline passes. Each winner receives an NC State prize pack. Stay tuned to the Bulletin for your next chance to participate.