Textile Bowl in National Spotlight
When No. 10 NC State and No. 5 Clemson play Saturday evening, it will be the Wolfpack's first time playing in a game with two top-10 teams, shining a light on the innovations both schools have made in textile research, manufacturing and education.
In the late 1970s, the textile manufacturing industry that had long propped up the economies of North and South Carolina and employed more than a million workers in both states took a couple of major hits.
On March 2, 1979, 20th Century Fox Studios released director Martin Ritt's Norma Rae, a fictionalized account of the real-life struggle of Crystal Lee Sutton to unionize the J.P. Stevens clothing mill in Roanoke Rapids, North Carolina, and to get her co-workers to join the Amalgamated Clothing and Textile Workers Union.
The film was nominated for the Academy Award for Best Picture that year (losing to Kramer vs. Kramer), and Sally Field won the Best Actress Oscar for her portrayal of Sutton, a single mom with three children making $2.65 an hour folding towels at the plant, who led the dangerous organizing campaign in notoriously anti-union North Carolina.
In 1980, the Charlotte Observer assigned a half-dozen reporters and four editors to investigate the textile industry in both states for high incidences of byssinosis, a rare asthma-like respiratory disease caused by breathing dust particulates from unprocessed cotton.
Comparable to coal workers pneumoconiosis, or "black lung disease," among coal miners, the incurable affliction became known as "brown lung disease."
On April 14, 1981, the Observer won the Pulitzer Prize Gold Medal for Public Service for its series "Brown Lung: A Case of Deadly Neglect," in which a total of 22 articles and eight editorials exposed the lack of industry control and concern for the health of its workers, many of whom sought disability compensation for lost wages after contracting the disease.
Needless to say, the textile industry that provided more manufacturing jobs than any other industry in the two states at the time needed a major positive publicity boost to take it back to the pre-World War II days when textiles accounted for 40% of the state's workforce.
A Football Solution
The North Carolina and South Carolina Textile Manufacturers Association came up with an idea: The Textile Bowl, a regular-season college football game pitting NC State and Clemson together at the culmination of Textile Week in both states. They even got the Greenville, South Carolina-based Textile Hall Corporation, the longtime promoter of the Southern Textile Basketball Tournament, to provide a trophy for the winner. The NCTMA and the SCTMA also kicked in $500 for each of the school's textile scholarship funds.
At the time, both NC State and Clemson were among a dozen universities around the nation that had textile programs that offered a full range of textile degrees, from undergraduate to Ph.D., to improve the design and production of clothing goods and textile manufacturing. The biggest and most important of those schools were NC State, Clemson, Georgia Tech, Auburn and the Philadelphia School of Textiles.
The day before that inaugural game, hopes were high, as one industry official said, that both states were in "the early stages of a new textile revolution."
Oh, how that prediction came true — but not in the way the industry leaders wanted.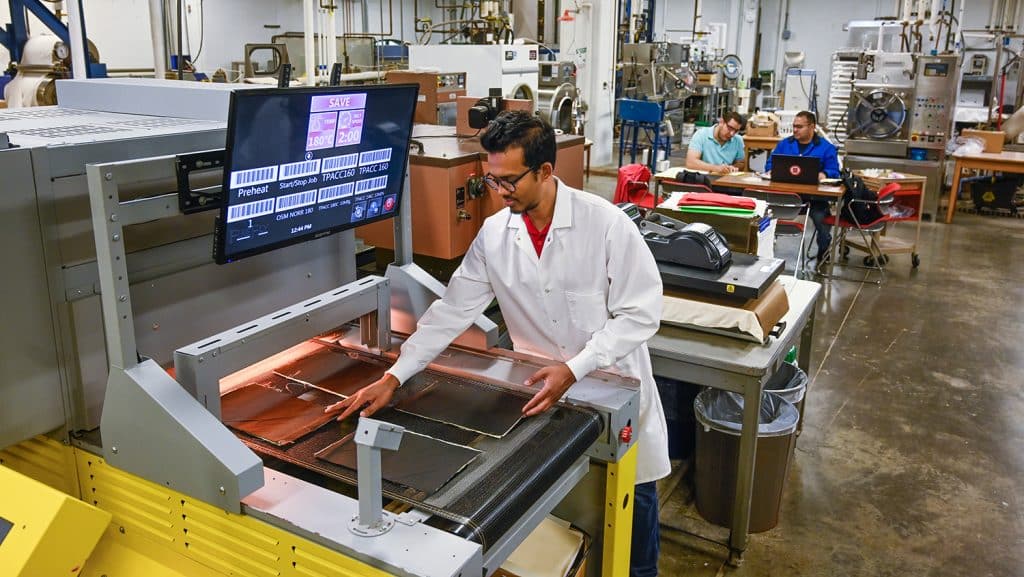 Despite and because of multiple interventions from federal leaders in Washington, the textile industry began a rapid decline throughout the 1980s, losing jobs to Asian manufacturers with low-cost goods and depressed labor costs. Hundreds of textile manufacturing plants in Upstate South Carolina and western North Carolina were shuttered, as jobs and raw goods were shipped overseas.
Following the passage of the Canadian-U.S. Free Trade Agreement in 1988 and the North American Free-Trade Agreement in 1994 — created to eliminate trade barriers within the participating countries — textile manufacturing in both states cratered. In 2003, the Fieldcrest-Cannon plant in Kannapolis, once the world's largest textile manufacturing facility, shut down for good. Overnight, 5,000 employees lost their jobs.
When the Great Recession of 2007-09 hit, there seemed to be no hope for ever seeing textiles return as a major manufacturing sector for Southern economies. Clemson even shut down its textile school and folded its textile degree programs into departments within its engineering college, following the model of many other universities. It still does groundbreaking work in the field, but without a separate college devoted to it.
Seeking Innovative Solutions
That left NC State as the only university in the country with a school or college devoted solely to textiles, with more than 1,000 degree-seeking students enrolled annually. That has led, according to Wilson College of Textiles Dean David Hinks, to NC State leading the way in a new era of textile manufacturing, production and innovation.
Slowly, it has led the way in restoring the once-dominant industry through advanced technology.
"While I regret that other universities felt like they should eliminate their schools of textiles, we did benefit from that," Hinks says. "We doubled down in the times of hardship, and we helped steer the industry through some of those hard times.
"Right now, the future is bright. I'm really optimistic about NC State's leadership in providing research innovation."
That innovation includes a wide variety of applications, from finding more environmentally sustainable ways of dyeing blue jeans (once North Carolina's biggest textile product) to developing safer shelters for firefighters trapped in wild fires.
Famously, A. Blanton Godfrey, former dean of NC State's College of Textiles, said in 2012: "Norma Rae would have trouble getting a job [at a textile plant]. But if she wants to sit at a computer terminal and program the reboot, that's different. It's a very different world."
Higher transportation costs, tariffs and rising wages in China and other countries helped revive domestic interest in textiles, along with an emphasis on "Made in America" brands by big-box retailers.
In 2004, NC State even joined forces with UNC-Chapel Hill, Duke, six other research institutions and industry partners to create the North Carolina Research Campus on the site of the former Fieldcrest-Cannon manufacturing plant in Kannapolis. It is a thriving 350-acre research park devoted to studying human health through nutrition and developing safer, healthier foods.
In 2018, thanks to a $28 million gift by Frederick "Fred" Eugene Wilson Jr. and three generations of the Wilson family, the College of Textiles was renamed in the family's honor, becoming just the second named college at NC State.
In recent years, the college shares some of the responsibility for a modern resurgence of the textile industry — in the state, nationally and internationally — thanks to a concentration on technological efficiency, sustainability and advancement, plus the development on Centennial Campus of the world's first Nonwovens Institute.
Several programs specifically are helping reestablish textile manufacturing in North Carolina towns that once relied heavily on local mills for employment by creating partnerships with local community colleges to produce workers trained in new technologies. Earlier this year, the Wilson College of Textiles signed agreements with Gaston Community College in Dallas and Catawba Valley Community College in Hickory, creating 2+2 degree programs that allow students who complete two-year associate degrees at those schools to be automatically accepted at NC State. A separate agreement also allows the two schools, among the oldest in North Carolina's community college system, to be part of NC State's growing dual-enrollment Community College Collaboration program.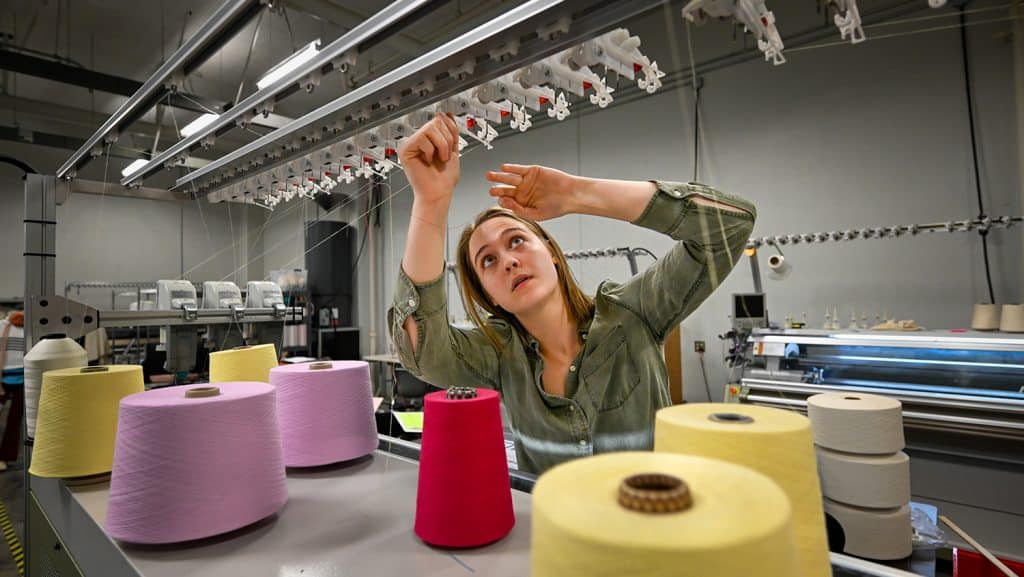 In August, those schools joined forces with the Central American Technological University in Honduras to begin textile training courses, with certificate programs, associate degree programs, bachelor's and graduate degree programs and funding for scholarships, fellowships and internships.
When the COVID-19 pandemic hit in February 2020, Wilson College pivoted quickly to help companies increase production of personal protective equipment and continues to develop new and efficient processes. Now, North Carolina's 600-plus textile and nonwoven manufacturing plants export a national leading $2 billion in goods and products.
"There was a perception that the textile industry was almost done in the U.S., and that was never really the case, to be honest," Hinks says. "It may be a shadow of what it used to be based on employment and for sure many companies either went offshore or didn't survive competition.
"But we have seen a resurgence in U.S.-made textiles. It's coming back much more automated, with much better technology and with much better-paying jobs."
Again in the National Spotlight
But what about football? Wasn't that the point of the Textile Bowl?
Well, 41 years ago this year, NC State jumped out to an early lead in the inaugural game, thanks to a 13-yard Larmount Lawson touchdown run in the first quarter, the first rushing touchdown given up by the Tiger defense in its first seven games.
Clemson rallied with 10 points in the second quarter, held the Wolfpack to just 63 yards of total offense and cruised to a 17-7 victory. It was the seventh consecutive victory en route to winning the school's first of three football national championships.
In recent years, the Tigers were dominant in the series, which dates back to 1899, by winning eight in a row. The Wolfpack, however, broke the streak last year with a double-overtime victory at Carter-Finley Stadium, moving the overall record in games known as the Textile Bowl to 28-11 in Clemson's favor.
Both teams are currently ranked in the Top 10 of the Associated Press college football poll, Clemson at No. 5 and NC State at No. 10, and they will meet in the 41st annual Textile Bowl at 7:30 p.m. at Clemson's Memorial Stadium. It's the first time the Wolfpack has ever played as part of a game with two top-10 opponents.
The game will be broadcast nationally by ABC in its featured 7:30 p.m. timeslot and ESPN will host its popular pregame show, GameDay, from the site from 9 a.m. to noon at the stadium and immediately prior to the game.
The two football programs will always be rivals on the field, but it is the institutions' collaboration, cooperation and commitment in the worlds of textile research, education and outreach that have helped the textile industry's revival in both states.