Academics
Integrative Sciences Initiative: Fostering Cross-Discipline Collaboration at NC State
The Integrative Sciences Initiative and Integrative Sciences Building will bring together students and scholars across various disciplines to transform STEM research and education.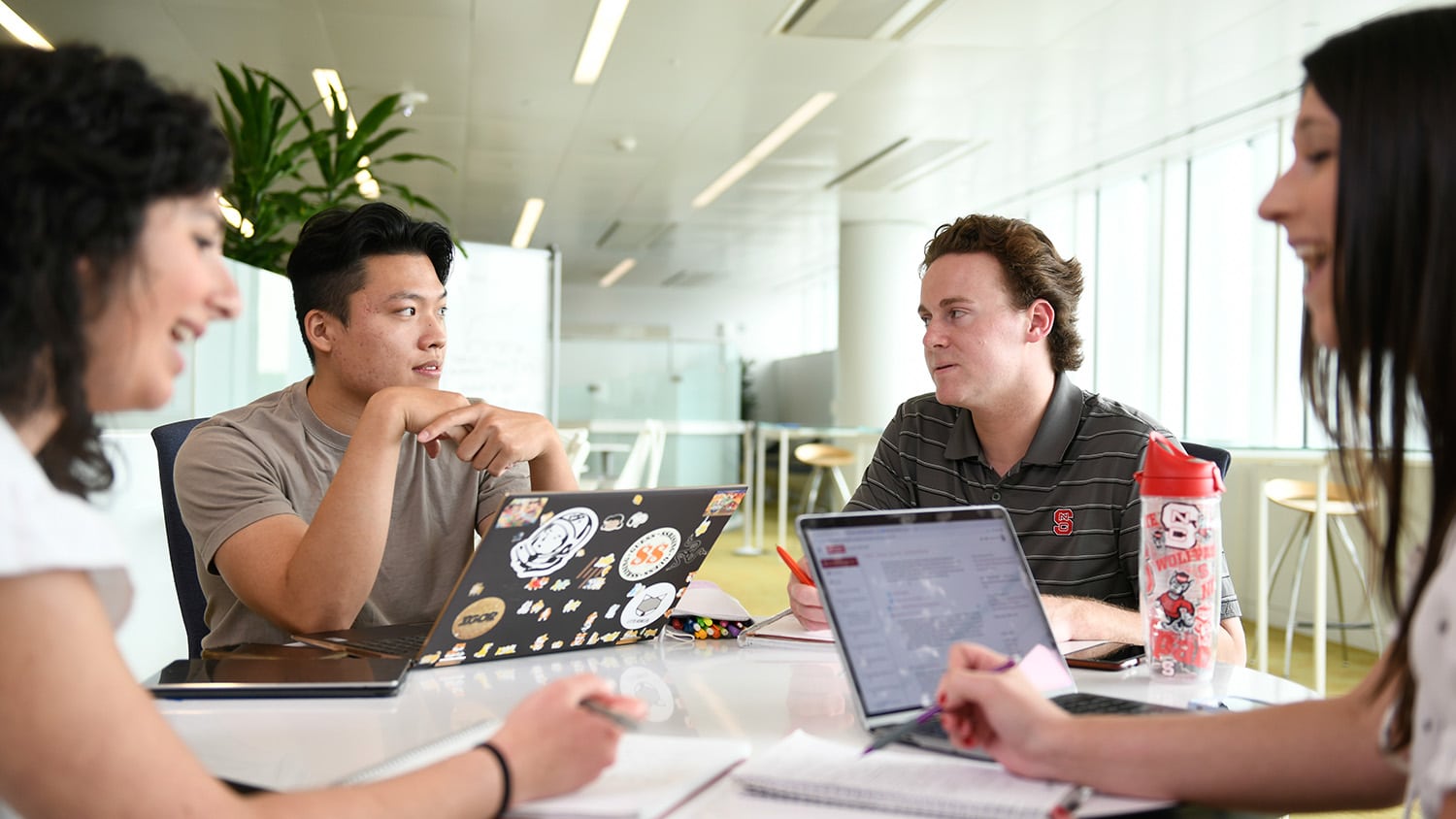 In this century, the biggest discoveries in science — and the most significant practical innovations — will require different disciplines to work together. NC State is leading the way in this integration with a new Integrative Sciences Building (ISB). This new building will unite chemistry, biochemistry, biology, physics, engineering and other fields in the study of the living world's core building blocks, what one might call the chemistry of life. The ISB is part of an even more expansive undertaking, a campuswide effort called the Integrative Sciences Initiative (ISI).
The ISI and ISB will facilitate new synergies in research and education to solve some of the world's grandest challenges and rise to its greatest opportunities. The building will serve as the physical core of the initiative, which is aimed at integrating the molecular sciences across NC State's campus.
A History of Interdisciplinarity
This is far from the first strategic initiative NC State has put in place to foster opportunities for scientists and other scholars to work together across disciplines. The ISB and ISI will build on the Chemistry of Life program, which was developed as part of the university's Comparative Medicine Institute (CMI) in July 2020. The program is an effort to fuel education, training and research at the interface of chemistry and life sciences. The program builds bridges between colleges and departments invested in molecular sciences — and engages students across campus in research, training and education.
More broadly, "NC State's historic support for interdisciplinarity includes our faculty clusters, the Plant Sciences Initiative, three academies and more," said Executive Vice Chancellor and Provost Warwick Arden. "With the Integrative Sciences Building and Initiative, we're taking the next step in breaking down barriers to solve great societal issues."
The Chancellor's Faculty Excellence Program, started in 2012, combined the strengths of more than 80 faculty across 20 interdisciplinary clusters, some focused on techniques and tools that transcend disciplines and others on problems that are too big for any one discipline to tackle on its own.
We're taking the next step in breaking down barriers to solve great societal issues.
Initiatives like these paved the way for the ISI and ISB, which will also enjoy the leadership and experience of Joshua Pierce, a University Faculty Scholar who is the director of ISI and co-director of the CMI; Rob Dunn, senior vice provost for University Interdisciplinary Programs; and Duane Larick, senior vice provost and professor emeritus. In addition to Pierce, Melanie Simpson, professor and head of the Department of Molecular and Structural Biochemistry; and Yevgeny Brudno, assistant professor in the joint NC State and UNC-Chapel Hill Department of Biomedical Engineering, serve as theme leaders.
Together, they're working to unite scholars and students from departments in at least five colleges, all leveraging molecular insights to address societal grand challenges in research and workforce development.
A Space to Innovate
NC State produces a full third of the total STEM graduates in the 17-campus UNC System, and more and more students matriculate to the university each year to pursue a world-class education. Because of the area's reputation for higher education excellence, major technology and pharmaceutical companies choose to put down roots in and around North Carolina's Research Triangle. NC State is also the only institution in the system to offer a biochemistry major.
A key part of the building's vision is that all of the floors are highly interactive and there isn't a divide between research and teaching.
The ISB will build upon NC State's longstanding success by creating a transformative new space for lab-based science programs — specifically chemistry, biochemistry and biological sciences. Coming in at five stories and more than 150,000 square feet, the building will stand in the former location of Harrelson Hall, at the heart of NC State's campus.
"A key part of the building's vision is that all of the floors are highly interactive and there isn't a divide between research and teaching," said Pierce. "The types of teaching and research laboratories in the ISB will be distinct from those in other modern buildings on campus, so the science we can do in this building and the composition of teams we can bring together will fundamentally transform the way we teach chemistry, and engage with the STEM disciplines more broadly."
The building will house a mix of teaching, research, collaboration, amenity and support spaces, with a goal of eliminating the divisions between these areas. It will share outdoor spaces — including the Brickyard — with the nearby D.H. Hill Jr. Library.
Chemistry at the Core
At its core, the ISI is built upon key Chemistry of Life themes. Each theme embraces interdisciplinary research and teaching through the use of technology, core facilities and other shared spaces within the ISB, which further supports a collaborative research environment for undergraduate and graduate students, faculty and staff.
The overall focus of the initiative is to bridge these core themes with other molecular-relevant efforts across NC State, including the Biotechnology Program, Comparative Medicine Institute, Plant Sciences Initiative, Carbon Electronics Cluster, Bioinformatics Program, Ecological Natural Products/Synthetic Biology, Translational Biomedical Sciences, Data Sciences Academy, Genetics and Genomics Academy and more.
A Student-Focused Initiative
The ISI will equip students for lifetime success through innovative science teaching alongside a community of interdisciplinary scholars. The curriculum will support creative research and problem-solving skills, with an ultimate goal of transforming the educational and research environment for science students at NC State.
"Students will gain a greater understanding and appreciation for the role of chemistry, and more generally the study of molecules, by being exposed to physics, biology, engineering, medicine and more," said Pierce. "One of the ways we're doing this is through the Integrative Sciences First Year Program, the goal of which is to have students apply to NC State, and introduce them to topics related to molecular sciences. The first-year program will be highlighted by cohorts of students in new courses designed to integrate early knowledge development across disciplines. We envision infusing multiple traditional scientific disciplines, but will begin with biological sciences, chemistry, biochemistry and physics courses."
The program is an excellent fit for prospective students who know they are interested in chemistry and other sciences, but who want to experience a variety of STEM disciplines in an inquiry-based curriculum with interdisciplinarity at its core. The hands-on learning that will take place — in state-of-the-art facilities, with specific focus — allows for more data-driven career decisions in the future, which doesn't often happen in the first year of undergraduate studies.
Students will gain a greater understanding and appreciation for the role of chemistry, and more generally the study of molecules, by being exposed to physics, biology, engineering, medicine and more.
The curriculum will include engagement with industry partners, which will give students experience of what it looks like to be a scientist in industry and help them make informed decisions about which STEM area to focus on before they commit to a major. The curriculum will also flow into future years of study, which will continue to include transformational courses even as they become more focused. Moving into the second year, there will be differentiation based on students' interests.
Each year, students will be taught skills and approaches to STEM that will be crucial as they move into the workforce. Courses will also enhance undergraduate research experiences, both in the ISB and otherwise. Later, industry partners will be directly involved in instruction, making a direct impact on students' preparedness for industry.
"The way this program is designed decreases the artificial barriers in place that prevent students from getting degrees in STEM," said Pierce. "There's a lot of literature showing that programs like these can help increase representation in STEM, help make students feel like they can embrace and thrive in the STEM disciplines. By exposing students to an integrative approach, they can be more successful with rigorous content, and continue on in the program, whereas before that might not have been possible."
Current students have already greatly benefited from NC State's support for interdisciplinarity on campus. This includes Laney Kimble, a senior majoring in biochemistry with a minor in statistics. Kimble's undergraduate research focuses on the electrochemical detection of the neurotransmitters dopamine and glutamate in intact, anesthetized rats. From the start of her time at NC State, she has worked in labs in departments different from her major, the Departments of Chemistry and Biological Sciences. She is also part of the Beckman Scholars Program in the Chemistry of Life.
"The way this program is designed decreases the artificial barriers in place that prevent students from getting degrees in STEM."
"Interdisciplinarity has provided me with training and exposure to both chemical and biological techniques used to test hypotheses of interest within a neuroscience context," said Kimble. "To be well versed in the current chemical and biological techniques used to investigate neuroscience questions is imperative to understanding the field broadly."
Familiarizing young researchers with the tools and techniques common to the fields of biology and chemistry enables researchers to identify well-suited, strong methods to dissect and interrogate biological phenomena. Interdisciplinary education and exposure is essential for students to understand current approaches to problems, questions, and challenges at the interface of chemistry and biology. This is cutting-edge research, and students exposed to it will be competitive applicants for both graduate programs and industry jobs upon graduation.
Micah Mallory, a Ph.D. student in biomedical engineering and a NIH T32 student in the Chemistry of Life Training Program, maintains a similar sentiment to Kimble. His research focuses on using click chemistry techniques (part of research that recently won the 2022 Nobel Prize in Chemistry) to create local drug depots that can be implanted at the desired treatment site and be subsequently refilled with immunotherapies, chemotherapies and other treatment options to treat a variety of diseases, including pancreatic cancer and glioblastoma.
"Without interdisciplinary collaborators, my research would be dead in the water. My work heavily depends and thrives on great collaborators that help at every step from identifying potential new classes of drugs to test to synthesizing and modifying linkers and molecules to enable the click chemistry," said Mallory. "My work stands on the shoulders of incredible chemists, biologists, veterinarians, and numerous others. As an engineer, I look towards the application and new ways to combine scientific principles to create therapies. Without the synthetic prowess and chemical knowledge of my collaborators, the ideas in my lab could not come to life."
He noted that meaningful progress in any area of life occurs far faster and has a more lasting impact in the world when a diverse set of people with different areas of focus, expertise, experience and perspectives join together to tackle an issue. By encouraging interdisciplinary collaboration in education, students can be trained on how to interact, communicate and build relationships with people across the fields — learning from each other, cultivating curiosity, prompting lateral innovation and generating novel ideas.
"The earlier this collaboration can happen and become a normal experience, the better every field of science will be. The world is becoming increasingly interdependent and interdisciplinary," he said. "By having exposure as a part of our education, we will not only be highly marketable when leaving NC State but also be highly capable of communicating across fields, appreciating people with different expertise and solving the pressing issues facing society as a whole."
Both students feel that having a program like the ISI, as well as a physical building to house it, will help break down the walls that hold back collaboration.
"It can be intimidating to cold email a potential collaborator about a project idea with no guarantees of a response. Seeing people in the hall every day, sharing a lab space and being physically together breaks down those walls to make it more likely to share ideas, create relationships and have repeated conversations and interactions," said Mallory. "More smiles in the shared spaces lead to more interactions and more conversations. More conversations lead to better relationships and deeper cross field knowledge, prompting more curiosity and more ideas. These programs and spaces will equip students to integrate collaboration into their normal thought process and day-to-day research, making it second nature — driving more robust meaningful science while also preparing them for success."
Preparing Graduates for the Workforce of the Future
The ISI and ISB will change the way science is done at NC State — and have lasting impact beyond campus. Through experiential education, students will acquire increasingly sought-after knowledge and skills that will help them excel professionally.
Seeing people in the hall every day, sharing a lab space and being physically together breaks down those walls to make it more likely to share ideas.
Much of this is possible because of NC State's existing strength in partnership. An industry advisory panel will work with ISI leadership to provide students with relevant transferable skills, familiarity with industry protocols, and experiential opportunities that lead to distinction in a competitive job market. Funded research and internships will be created to further partnerships in Research Triangle Abroad and nationwide. And key partners will expose students to applied science and engineering, along with the development of molecular-focused education and training across campus.
What's Accomplished, What's Next
In January 2021, NC State selected Moseley Architects and ZGF Architects, along with a team of consultants, to complete advanced planning for the ISB. Construction is slated to begin in the summer of 2023, with completion scheduled for fall 2026.
The ultimate vision for the ISI and ISB, as support continues to grow, is to have an impact on all incoming NC State students. By working across a wide variety of departments and units on campus, the ISI and ISB will truly change the way science is done at NC State — and set a standard for how to embrace and foster interdisciplinarity in higher education.