Students
First in the Pack: Meet Some of Our Newest Alumni
As we get ready for fall commencement, take a look back — and forward — with four first-generation college graduates.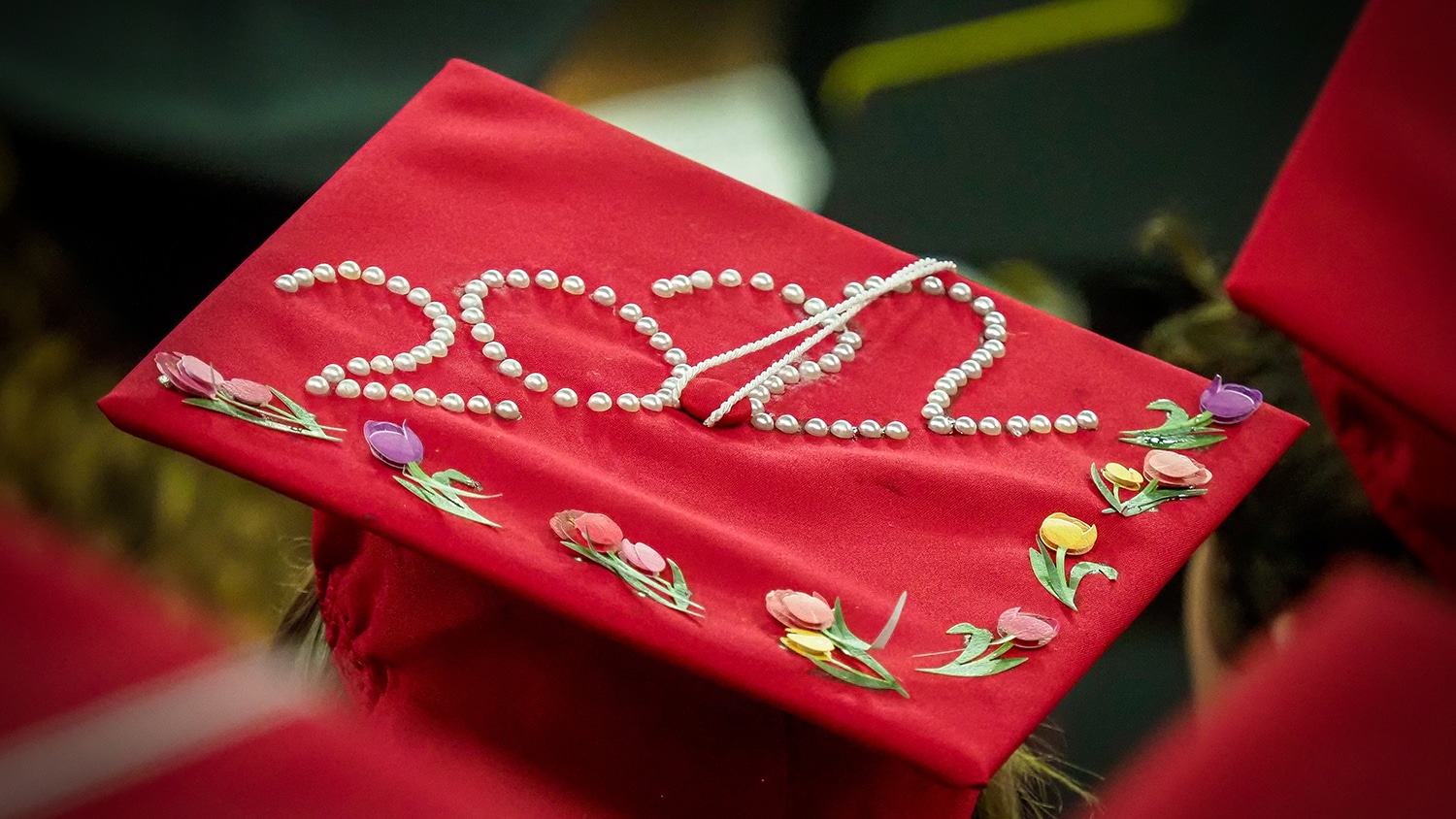 Graduation is a milestone to celebrate — an ending of one chapter and the beginning of another. This December, NC State will award 3,653 degrees to 3,508 students during our fall commencement ceremony. Our graduates came to NC State from 56 countries and 37 U.S. states, and they range in age from 19 to 67.
12.6%
first-generation graduates
85
graduating student veterans
654
international graduates
The fall 2022 graduating class also includes 441 first-generation college graduates. For these graduating students, their achievement carries special significance — not just for them, but for their families as well. 
As we look forward to graduation, we talked to four first-generation graduates about the transformative power of higher education, the impact of their time at NC State and their plans for the future.
---
Maab Aldulimy: On a Mission to Heal Refugees
Maab Aldulimy transferred to NC State to study chemical engineering, but an emergency trip to her home country of Iraq during the height of the COVID-19 pandemic led her to switch gears.
"When I went to Iraq, I passed by an institution that looked like a prison. Then I saw the UNICEF flag waving over it and I realized it was a refugee camp. And that really, really hit me," said Aldulimy, who came to the U.S. as a refugee in 2010. "I thought to myself, 'How am I going to be able to help refugees as a chemical engineer?' I know there are other jobs that are beneficial to humanity, but to me what felt most meaningful was either building the right infrastructure in Iraq or healing the refugees."
Aldulimy switched her major to biochemistry, with the goal of attending medical school and eventually joining Doctors Without Borders to provide medical care to refugees. To prepare, she spent last summer shadowing doctors at a hospital in Iraq.
"I couldn't know how realistic my goal was until I went out there and I experienced it, right? It wasn't all fun and nice, but I like to think of it as a positive experience," said Aldulimy. "The doctors deserve so much for the amount of work they do. During surgery, the electricity would turn off and they would have to wait for the backup generator or come up with other creative ways to complete the procedure."
As a first-generation college student, the Goodnight Scholars program provided the community and resources she needed to navigate NC State and work toward her goals.
"The Goodnight Scholarship was my support system, period. The advisors and students in the program helped me with things like figuring out how to get a parking pass and how many credits were feasible to take each semester," said Aldulimy. "Small things like coming through the Goodnight Scholars lounge every other day and seeing people work on their homework and struggling in classes together, it brings out a community."
Now that she's completed her coursework, the next step is commencement. She'll not only be graduating, but she'll be taking the stage as the student speaker. She hopes to inspire her classmates to take a leap of faith and chase their goals, no matter how out of reach they appear.
"Apply for NASA. Write that book. Apply for medical school," said Aldulimy. "Trust that you are ready. NC State has more than prepared you."
---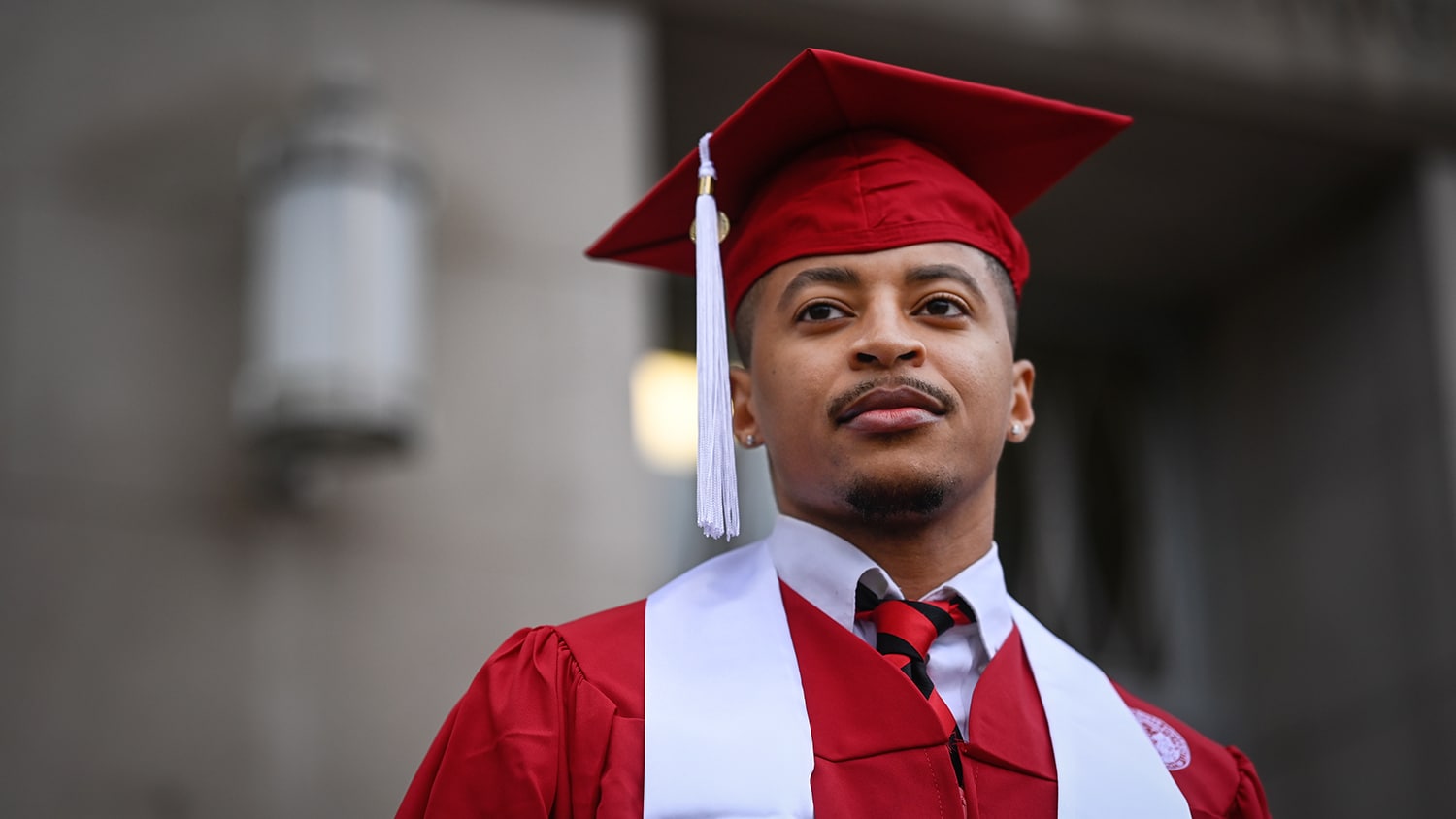 Marlon Boyd: Beyond the Comfort Zone
Coming into NC State in the exploratory studies program, Marlon Boyd was unsure which major he wanted to pursue. He had always loved technology, and his family encouraged him to major in computer science. Ultimately, he realized his passion was rooted in communicating with people about technology. He changed his major to business administration with a concentration in information technology. 
"As a first-generation college student, you're coming in with this mindset that I just want to graduate and make sure that this is done for my family," said Boyd. "You forget that you're also here for yourself. And I think having advisors and finding mentors helped me to understand how to navigate the resources available to me. These resources helped me to research effectively, and attend various events and meetings that captured my interest at NC State.
It's definitely an emotional roller coaster to know that I'm going to change the direction for the next generation of my family.
"The hardest thing for me was figuring out what I wanted. But the only way to do that was for me to get uncomfortable, a little bit. Actually, I feel like I've had to be uncomfortable a lot," he added with a laugh. "The most valuable thing I've gained is being able to be myself in those uncomfortable positions that I put myself in. I feel more confident now in what I have to offer."
Finding his communities on campus gave him a sense of belonging and helped him learn to be himself in any setting. Boyd joined the Black Male Initiative Living and Learning Village, where he was introduced to other welcoming spaces for Black students on campus, like Multicultural Student Affairs. He also joined Alpha Kappa Psi, the co-ed business fraternity, and got involved with Poole College of Management's student advisory team for diversity, equity and inclusion, where he helped plan events and revive the Black Business Student Association.
His internship with SAS has been another important source of community and growth, which ultimately led to a job offer. He eventually wants to come back to NC State to pursue a master's in data analytics and merge his interests in technology, business, psychology and music to start his own business, creating sound frequencies that can help people manage anxiety.
As commencement approaches, Boyd is ready to celebrate with the 20-plus members of his family who are coming to the ceremony.
"It's definitely an emotional roller coaster to know that I'm going to change the direction for the next generation of my family," he said. "Being in the position to come out of college with a job, to have an internship and be self-sufficient throughout college, to build up the money to pay off student loans — that was a blessing to me, to be able to have those opportunities. I think my mom feels like I outdid myself. She worked very hard to get me here, and I'm so happy to be sharing this accomplishment with my parents and my family."
---
Monica Meza: Supporting Fellow First-Generation Students
As a graphic designer at a newspaper, Monica Meza used to frequent high school career fairs, explaining her job to students. She noticed a trend: Several students asked her not about design, but about pursuing higher education. Meza used to ask these questions herself — she was the first person in her family to attend college and earn an associate's degree.
"This got me interested in working with first-generation students who don't know how to find the resources to continue school, because I didn't as well," Meza said. "I wonder myself, 'What would have been helpful for me at the time?'"
Inspired to help fellow first-generation students succeed in college, Meza decided to change careers and went back to school to earn a bachelor's degree in communication studies. She then enrolled in NC State's College of Education, and she's graduating with a master's degree in higher education administration.
I hope to be a resource for underrepresented students.
Meza completed two internships during her studies. One was with NC State's Pre-College Programs, which cater to younger students' academic interests and goals.
"I learned a lot during that internship, how high school students can prepare through summer programs," she said. "The programs teach you how to research colleges, how to apply for financial aid, how to write admissions essays."
Her second internship took her across the world to the Czech Republic. At the NC State European Center in Prague, she helped staff and students with programming and logistics. She also worked on an independent study that focused on first-generation students' barriers to studying abroad.
Her internship was filled with significance, for multiple reasons. She was the center's first graduate intern. She fulfilled her dream of participating in a study abroad program, which she couldn't do while earning previous degrees. Her internship also symbolized how far she had come on her educational journey: Meza grew up poor in Mexico, and before moving to the United States at age 11, she was prepared to leave school to support her family.
"Working in Prague, I kept thinking about what a difference education has created for me," she said. "The future that I thought of in the past is not the future I have now."
Meza will share her wisdom at the College of Education's commencement ceremony — she's the student speaker. After graduation, she wants to continue supporting students in higher education, cultivating resources for them and fostering their success.
"I hope to be a resource for underrepresented students," Meza said. "I'd like to give them the hope, the chance, the resources to help them meet their goals."
---
Daniel Toole: A Gift for Learning, a Passion for Giving Back
Growing up on a small farm in Brevard, in southwestern North Carolina, Daniel Toole spent hours with his father outdoors, learning to grow crops and raise livestock. Watching his dad perform these duties while facing the challenge of a medical disability sparked Toole's early interest in medical science — and his enduring passion for helping others.
"My parents were incredibly supportive of me," said Toole. "They told me, 'We want you to do your best, and if you're doing your best, then it's impossible to fail.' Because of their support, I really started to see myself as someone who had the ability to go to college."
He began investing heavily in his education, building strong bonds with teachers, joining the North Carolina FFA Association (NC FFA) and excelling in classes from English to math. Toole's commitment to academics earned him a Park Scholarship from NC State, where he arrived in 2018 with a plan to study biological sciences, then attend medical school. He dove headfirst into his Wolfpack experience, joining the Musical Empowerment club, engaging with campus ministries, interning with leading agricultural science companies and traveling across the nation and beyond as state FFA president for the NC FFA.
"Those opportunities helped me grow," he said. "They helped me develop even greater public speaking ability, greater leadership potential. They gave me confidence and taught me teamwork."
The breadth of his experiences broadened Toole's understanding of himself, and fueled a new aspiration: to become a physician assistant, a vocation he believes will offer a quicker path to helping others through the medical field and a better work-life balance. He switched his major to agricultural business management, and now aims to enroll in a physician assistant program after graduation — a combination that will empower him to leverage the business mindset he's gained from his courses to make his mark on community health.
For Toole, who has spent the past six months working as a medical scribe in a urology office, his desire to help others has come full circle, back to his family and community. He's already seen his journey as a first-generation graduate inspire his young nephew to dream of following in his footsteps, and he hopes to serve as a similar example for others.
"That's something I can be proud of — looking back and seeing that I was a first-generation college student, that I maintained a good GPA, that I gave back to my campus and I've encouraged other people to go to college," said Toole. "I've encouraged other people, just like my teachers and family have encouraged me."