Easterling Remembered as a 'Master Motivator'
Don Easterling coached some of NC State's best swimmers, including 40 All-Americans and seven future Olympians, while leading Wolfpack teams to 17 ACC titles in 24 years. The legendary coach died Saturday at his Virginia home at the age of 90.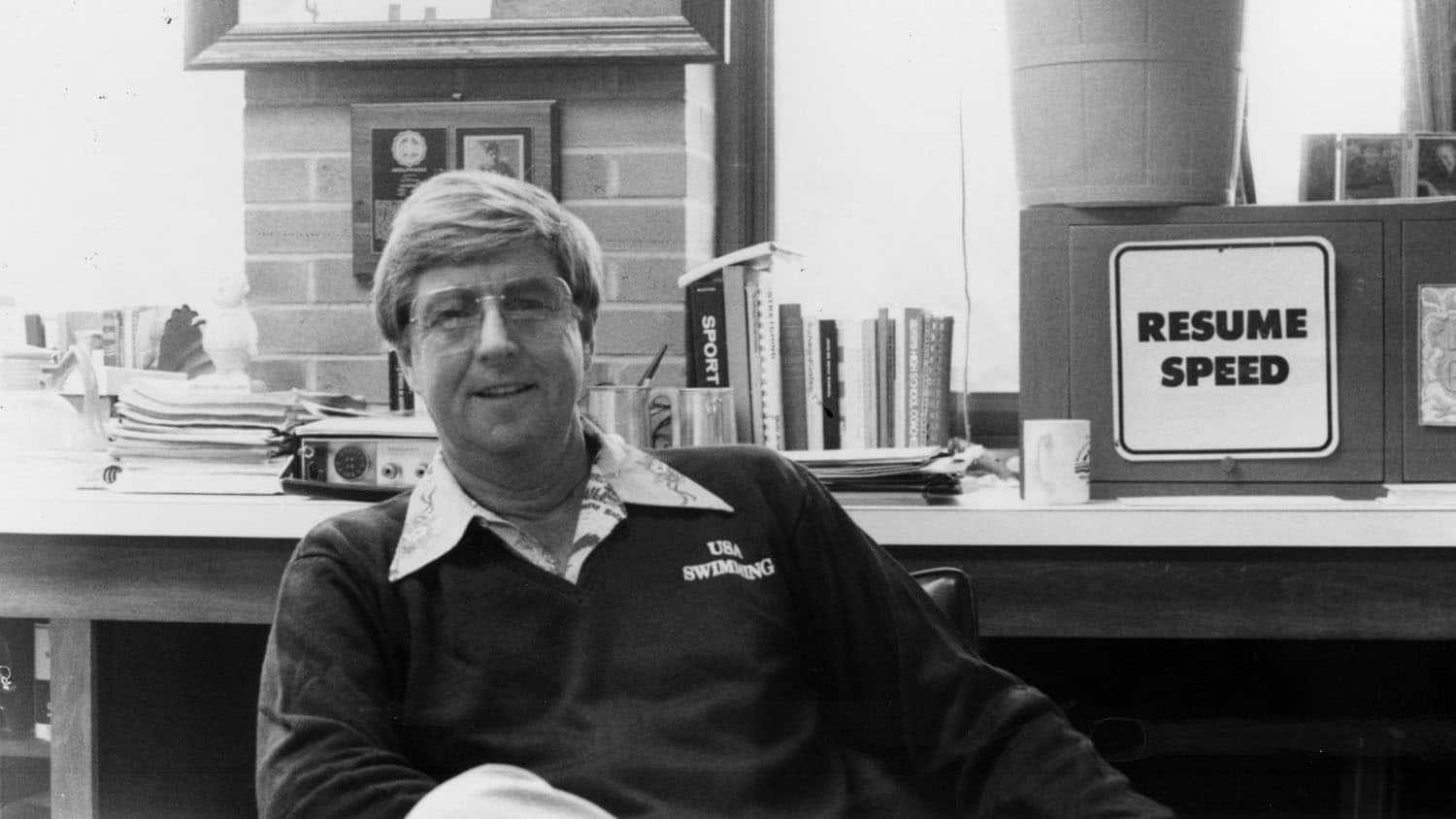 For the longest time, Don Easterling did not know that he had been selected to succeed legendary Willis Casey as NC State's swimming coach in 1969.
Easterling, a successful youth and college coach in Texas, had flown to Raleigh to interview with Casey, who built a nationally prominent program with multiple national champions, Olympic swimmers and ACC championships in his quarter century as the Wolfpack coach before he was promoted to athletics director.
Easterling waited for weeks for the phone to ring, but it never did. Little did he know that an offer letter from Casey was waiting in the University of Texas at Arlington mailroom, in a mailbox Easterling never checked.
Once they finally connected, Easterling came to NC State to build a legacy of championships from 1970-94 that superseded almost all of Casey's accomplishments. His teams, swimming under the banner of "Red Legend Pride," won 12 consecutive ACC titles from 1971-82, including a perfect conference meet in 1972 in which the Wolfpack won all 17 events, a feat that has never been matched.
Easterling died Saturday at his home in Virginia after brief illness. He was 90.
'The Letters Never Stopped'
"Coach was a master motivator," says David Fox, one of Easterling's NCAA and Olympic champions. "He constantly wrote and spoke to his athletes. He wrote small notes to each swimmer on their weekly practice logs.
"I would get longer, handwritten notes when he thought I needed them and always before my big meets. Even after I was gone from NC State, the letters never stopped coming. I've still got them and reread them on occasion — they mean the world to me."
In his 24 years as coach, Easterling's swimmers won 15 men's titles and two women's titles after he started that program in 1978. He had a career record of 328-118 and he won 71.7% of his competitions against ACC opponents.
Through the years, he coached 40 All-Americans (24 men, 16 women), seven future Olympians and four Pan Am Games medalists. He was named ACC Coach of the Year four times, the National Collegiate and Scholastic Swimming Coach of the Year in 1993 and was inducted into the NC State Athletic Hall of Fame in 2016.
He was a demanding, old-school motivator, for his athletes and himself.
"I remember the time he was in the hospital for kidney stones," Fox says. "He was in excruciating pain all night long passing stones. The next day, he was on the pool deck for practice at 6 a.m., white as a ghost and barely able to stand.
"But he coached us as hard as ever that day — maybe harder. That's who he was, a coach every day of his life."
Room at the Top
He coached some of the best swimmers in NC State history, from Great Britain gold medalist Duncan Goodhew to U.S. silver medalist Steve Gregg, an NCAA 200-yard butterfly champion and member of the NC State Athletic Hall of Fame. Goodhew swam in two Olympics, won gold in 1980 in the boycotted Moscow Games and eventually became a member of the British bobsled team.
Easterling's swimmers went on to do big things outside the pool as well. Former swimmer Bill Toler, who earned a degree in business administration from the Poole College of Management, had a successful career as a CEO of several major companies.
In 2014, Toler took over bankrupt bakery Hostess Brands, rebooted the business and returned all of its defunct products —including the iconic Twinkie snack cakes — to store shelves. When he retired four years later, Hostess was a $2.3 billion company.
"One of the quotes that found its way into my letters regularly was 'There is room at the top, and you're going there — all the way,'" says Fox, a Raleigh native who is a financial analyst for Goldman Sachs. "I recently re-read the letter he wrote me after I signed with NC State. He touched on both academic and professional success, making it to the top of the sport in the NCAAs and in international competition and building my closest friends for life in my teammates.
"Everything he said would happen in the letter came true. He had a lot to do with all of it."
Braden Holloway, NC State's current men's and women's swimming coach and former Wolfpack championship swimmer, has built on the success of Casey and Easterling since following in their footsteps as head coach in 2011.
"We will all miss the fiery, passionate, and unique coach, Don Easterling," says Holloway, who has been named ACC men's and women's coach of the year eight times. "He was a pioneer of the sport, wore his heart on his sleeve, and influenced so many at NC State.
"The stories about him still echo today."
Funeral arrangements are pending.