Campus Life
Carter-Finley's Biggest Events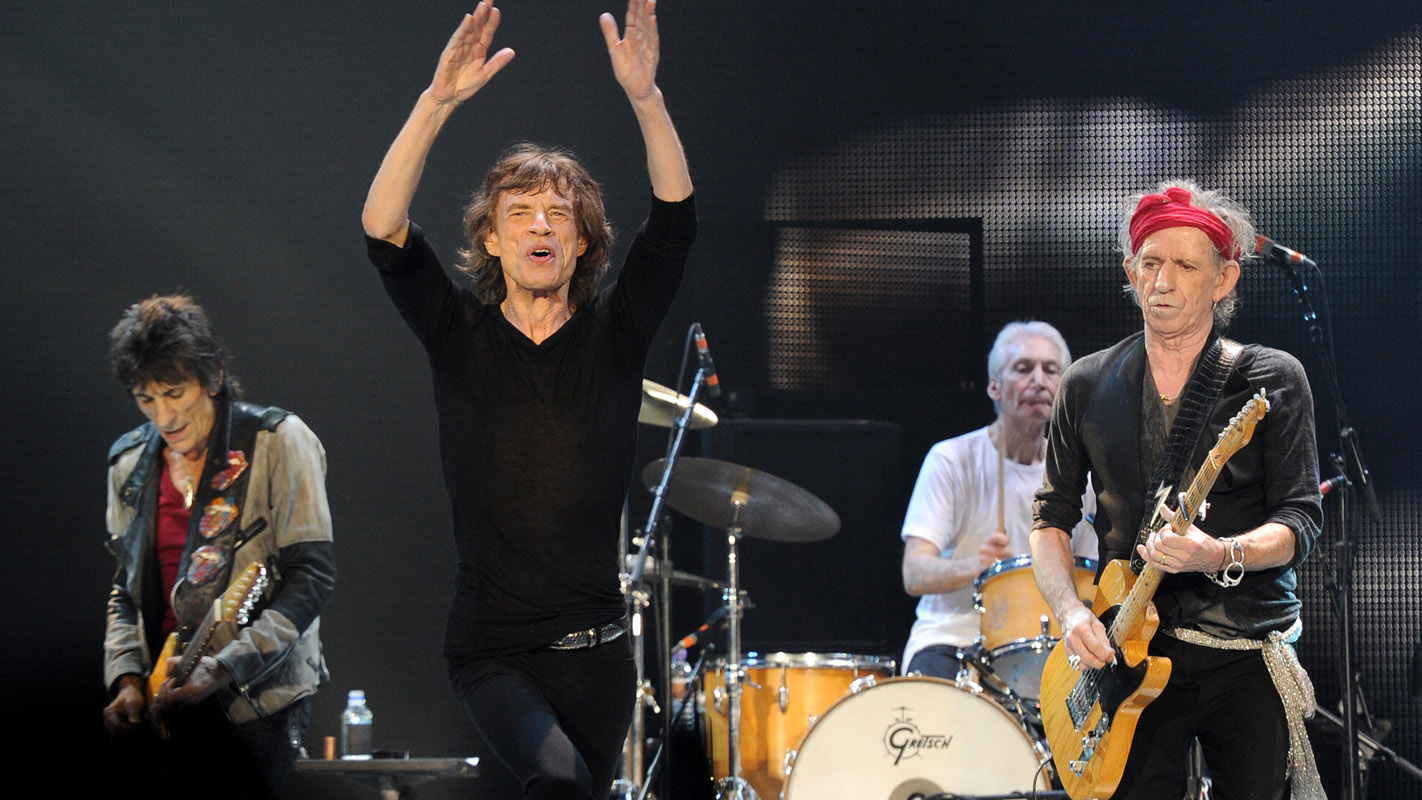 When it was built in the 1960s, based on the design of NC State professor Charles Kahn, Carter Stadium was not exactly intended to be a multipurpose facility.
Through the years, however, it has been host to various important events that needed an expansive stage and a seating capacity of more than 50,000.
Here are the biggest non-college-football events at Raleigh's largest entertainment venue:
Aug. 19, 1967: The first night event at what was then known as just Carter Stadium was an NFL exhibition game between the Washington Redskins and the New York Giants, as the school tried out a lighting system that was installed between the stadium's 1966 debut and the start of the Wolfpack's memorable 1967 season. The game was delayed for 10 minutes because of traffic issues around the stadium. It was the first of four consecutive preseason charity games staged by the Raleigh Jaycees to raise funds to commission a feasibility study to decide the location of the North Carolina Zoological Park. (They hoped it would be Raleigh.) The game was a homecoming of sorts for Wilmington-born Sonny Jurgensen, who played collegiately at Duke and was the starting quarterback for the Redskins; former North Carolina linebacker Chris Hanburger of Washington; and NC State's own offensive lineman Darrell Dess of the Giants. The game featured three NFL Most Valuable Player quarterbacks in Jurgensen, Earl Morrall and Fran Tarkenton. Washington won the preseason exhibition game 31-13 in front of 33,525, the largest crowd to see an NFL preseason game in the Southeast. Tickets were available by mail only and were $6 per ticket, with a 50-cent handling fee.
Aug. 24, 1968: An ailing Jurgensen did not play in Washington's second preseason game at Carter Stadium, and Chicago running back Gayle Sayers did not carry the ball from scrimmage, held by the coaching staff to just five punt and kickoff returns. Bears linebacker Dick Butkus did, though, and was dominating in holding down Washington's rudderless offense in a 45-13 victory in front of 26,800 spectators. Sayers' backfield partner, former Wake Forest star and ACC Player of the Year Brian Piccolo, was also held out of the game because of an unspecified illness. Tickets were available at the Reynolds Coliseum box office for $6 each.
Sept. 6, 1969: The Detroit Lions beat the Philadelphia Eagles on "John Baker Day," which honored the longtime Lions defensive lineman from Raleigh who was near the end of his 12-year NFL career. "It had always been my ambition to play before the home folks as a professional, and I'm glad I had the opportunity before the end came," Baker said two weeks later when he was released by the Lions. "I'm looking forward to getting home and going to work." The former North Carolina Central standout was later elected sheriff of Wake County, where he served for 24 years. The Lions' Errol Mann kicked the last of his three field goals to give the Lions a 23-21 victory over the Eagles, which were led by former Wake Forest quarterback Norm Snead. Tickets were $6 each.
Sept. 5, 1970: Legendary quarterback Johnny Unitas brought the Baltimore Colts to Carter Stadium for the fourth annual (and final) Jaycees Charity Classic to face the Detroit Lions. In front of 34,500 fans, the 37-year-old Unitas completed 11 of 24 passes for 102 yards, including an 8-yard go-ahead touchdown pass to Tom Mitchell late in the game. The Colts went on to finish 14-2-1 that season and to win Super Bowl V over the Dallas Cowboys in Miami.
Sept. 23-30, 1973: While Lou Holtz took his Wolfpack football team to Nebraska and Georgia, world-famous North Carolina-born evangelist Billy Graham arrived in Carter Stadium for an eight-night Central Carolina Crusade, a Christian revival for area teenagers. Beginning with 29,000 followers on opening night, the crusade soldiered on every night from Sunday to Sunday. Spiritually inspired, perhaps, the Wolfpack football team returned to win seven of its final eight games to claim its only ACC title under Holtz.
June 2, 1979: Making its national tour debut, rock band Van Halen was an opening act for the first concert ever held at soon-to-be-renamed Carter-Finley Stadium. The all-day Summer Jam began at noon with Poco, followed by Van Halen, Boston and headliner The Outlaws. The musical experiment at Raleigh's biggest concert arena went off without a hitch, mostly, except when VH lead singer David Lee Roth stopped mid-lyrics to confront front-row concertgoers who were tossing red stadium cups into the air. Tickets were $10 in advance and $12.50 the day of the show.
May 7, 1987: The university finished a yearlong celebration of its centennial by moving its traditional spring commencement exercises from Reynolds Coliseum to Carter-Finley Stadium to accommodate the largest graduating class in school history. Chancellor Bruce Poulton gave the commencement address. Speakers for the outdoor exercises in subsequent years included poet and author Maya Angelou (1990), the first female commencement speaker in school history; Sen. Elizabeth Dole (1994), a North Carolina native; children's television host Fred Rogers (1996); and U.S. Army Gen. Hugh Shelton, Chairman of the Joint Chiefs of Staff and an NC State alumnus. Commencement exercises were moved back indoors in the winter of 1999 with the opening of PNC Arena.
July 17, 1987: A varied selection of North Carolina-native musical performers were part of the largest Carter-Finley crowd in its history to that point as part of the Olympic Sports Festival Opening Ceremonies. Among the Old North State-born artists performing for the crowd of 61,000 were Asheville's Roberta Flack, Charlotte's The Embers and Wilmington's Charlie Daniels Band. The elaborate ceremonies, directed by actor and theater director Ira David Wood, were broadcast statewide on television. Athletes from all over the country spent two weeks participating in the Olympics-styled games at locations across the Triangle.
May 4, 1988: Some 45,000 fans were dazzled by a laser show, special effects and an inflatable flying pig as Pink Floyd filled the stadium despite a driving rain. The British band performed a show similar to the one it had played at Chapel Hill's Smith Center six months before. Tickets for the show were $22.50.
July 27, 1989: The Who's 25th-anniversary tour came through Raleigh for 53,000 spectators at Carter-Finley Stadium. Dampened by a preconcert shower, the crowd was wowed by the three-hour show and guitarist Pete Townsend's newfangled ear protection.
Aug. 20, 1989: The Philadelphia Eagles faced the New York Jets in an NFL exhibition game called the "Carolinas Kickoff," which was organized by Charlotte businessman Jerry Richardson as part of his push to attract an NFL team to the state. Other games were slated in subsequent years for Chapel Hill and Columbia, South Carolina. A near-sellout crowd of 52,855 spectators saw the Jets take a 19-10 victory. Tickets cost $18 and $21.50. In 1994, the Carolina Panthers played their inaugural season, playing all home games at Clemson's Memorial Stadium.
Sept. 16, 1989: The Rolling Stones returned to NC State's campus for a sold-out outdoor show for 44,000 fans almost a quarter century after the band played at Reynolds Coliseum in 1965. Living Colour was the opening act. However, Mick Jagger and company were criticized for record-breaking ticket prices for the "Steel Wheels" tour: $28.50 for advance tickets, with a $1.75 service charge. That was 50 cents more than tickets for the Jacksons five years earlier. "No one in the world is worth that amount of money," said the show's promoter, "except the Rolling Stones."

July 10, 1990: A midsummer concert by the Grateful Dead was interrupted by a severe thunderstorm that cut power in the middle of the band's rendition of Chuck Berry's "Promised Land." To accommodate the Dead's devoted tie-dyed followers, NC State reserved a portion of its parking lots for campers and tents for $15 a night. Bruce Hornsby and the Range opened the show. More than 100 people were treated by medical personnel, mostly for heat exhaustion on the 100-degree day. More than 100 arrests were also made, mostly for drug possession.

July 22, 1990: Paul McCartney appeared in the stadium as part of his first American tour in 13 years. He had no opening act. Traffic again was a problem because of ongoing construction, turning Hillsborough Street into a "Long and Winding Road" for concertgoers. Tickets were $30.

April 6, 1991: Jerry Lee Lewis played a sparsely attended free concert before the home debut of the Raleigh-Durham Skyhawks of the World League of American Football. A crowd of 17,300 saw the Skyhawks lose their inaugural game 26-14 to the Barcelona Dragons. The team, coached by former Wolfpack quarterback Roman Gabriel, lost all 10 games in their only season. Twelve NC State students from Spain, visiting as part of NC State's study-abroad programs, waved their country's flag throughout the contest in support of the Dragons. The pregame concert was included in the price of the football tickets, which were $9, $17 and $25.

May 10, 1994: Pink Floyd played on an eight-foot-tall stage, surrounded by an elaborate laser show and an overwhelmed fog machine. Despite multiple requests, the British group still refused to change the lyrics of its 1970s hit to "Another Brick in the Brickyard." Tickets for general admission seating in the stands were $32.50.

Sept. 7, 1994: Aging rock band The Rolling Stones returned for the "Voodoo Lounge" tour, which was dubbed by the British press as the "(I Can't Get No) Circulation" tour. Many speculated that 51-year-old lead singer Mick Jagger and 50-year-old guitarist Keith Richards couldn't possibly continue touring at the same pace as they had for more than 30 years. Lenny Kravitz opened. Tickets were $39.50 and $50.
May 27, 1997: Irish rock band U2 was slated to make its Raleigh debut at the stadium, but high winds at its show in Washington, D.C., three days earlier damaged the group's multimillion-dollar video screen. The concert was canceled and not rescheduled.
May 30, 1998: George Strait's Country Music Festival 1998 was a daylong affair in wilting mid-90s heat. The 10-hour show included individual performances by country stars Tim McGraw, pregnant Faith Hill, Lee Ann Womack, John Michael Montgomery, Lila McCann, Asleep at the Wheel and Claire Small. Tickets were $22.50, 32.50 and $45.
July 4, 1999: Some 47,000 Parrotheads rode out a severe thunderstorm and celebrated Independence Day at Jimmy Buffett and the Coral Reefer Band's only stadium show on his 1998 tour. Little Feat opened. While the Raleigh fireworks show was canceled, Buffett's three-hour show didn't miss an island-themed beat, which ended with James Taylor's "Carolina in My Mind." Day-of-concert tickets were $37 through Ticketmaster.
June 26, 1999: Emceed by comedian Billy Crystal, the Special Olympics Summer World Games held its opening ceremonies at Carter-Finley. Featured participants included singer Stevie Wonder, poet and author Maya Angelou, singer Shirley Caesar, evangelist Billy Graham and basketball player Grant Hill. Some 7,000 athletes representing 150 countries participated in the 12-day event, competing in 19 sports across the Triangle.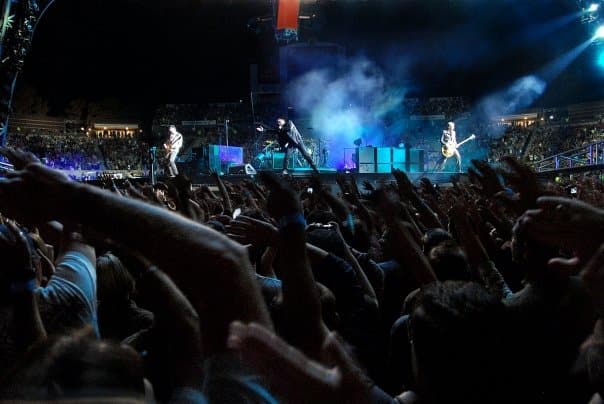 Oct. 3, 2009: Twelve years after its originally scheduled show, U2 debuted at Carter-Finley with the most elaborate staging in stadium history. A total of 51 tractor trailers delivered the group's 360-degree tour stage, which took nearly a week to install in the middle of football season. Muse opened the show, which drew an estimated 60,000 fans. It was the first concert since a $150 million expansion and upgrade to the stadium. Tickets ranged from $30 to $250, plus a LiveNation convenience charge. Traffic, which snarled ticketholders entering and exiting the stadium, has finally begun to clear.
July 28, 2011: As part of the second World Football Challenge — which featured 13 teams from seven countries playing friendly matches in 14 North American cities — Juventus of Italy and Guadalajara of Mexico played the first soccer match in Carter-Finley history. Juventus' Leonardo Bonucci scored the game's only goal in the 12th minute, in front of a crowd of 16,124 spectators. Tickets ranged from $25 to $150.
July 1, 2015: The Rolling Stones, celebrating the 50th anniversary of their first Raleigh appearance in Reynolds Coliseum in 1965, played in Carter-Finley for a third time, following appearances at the stadium in 1989 and 1994. The Avett Brothers opened. Tickets cost between $59.50 and $350. Midway through the show, Mick Jagger asked the crowd the age-old question: "Do you support the Wolfpacks?" Now in their 70s, the Stones have played at Carter-Finley more than any other musical act and can't possibly return for another Raleigh show. Can they?
May 3, 2016: For weeks, fans and ticketholders weren't sure if Beyoncé would actually perform her scheduled stop at Carter-Finley, since many artists canceled concerts in the wake of the passage of North Carolina's controversial HB2 transgender-specific bathroom law. Once the show started, without an opening act, no one knew if she would finish it because a spring thunderstorm added fireworks to the show. When the skies opened up, more than 38,000 attendees took cover in their parked cars, the Close-King Indoor Practice Facility and PNC Arena, all following the singer's advice to "Bey careful out there." The singer eventually returned to the stage after about an hour's delay at 11:20 p.m. to continue her show, which finished well after midnight, Raleigh noise ordinance be danged. Ticket pricing levels were $45, $70, $95, $155 and $280. All tickets were sold out shortly after the show was announced, just after the singer's halftime performance at Super Bowl 50.
Feb. 18, 2023: The NHL's 37th outdoor hockey game (and 13th under the Stadium Series brand) will be played between the Carolina Hurricanes and the Washington Capitals at Carter-Finley Stadium at 8 p.m. Saturday. It's the sixth outdoor game played at a college stadium, joining Michigan, Notre Dame, Navy, Air Force and Minnesota. Standard tickets range from $330 to $355, but most have been sold out for months.