New World Order
Josh Eure, once a high-school dropout with no direction in life, took an unlikely path to NC State, where he earned an MFA in creative writing and critical acclaim for his science fiction. Learn how he made peace with the past and what he plans for the future.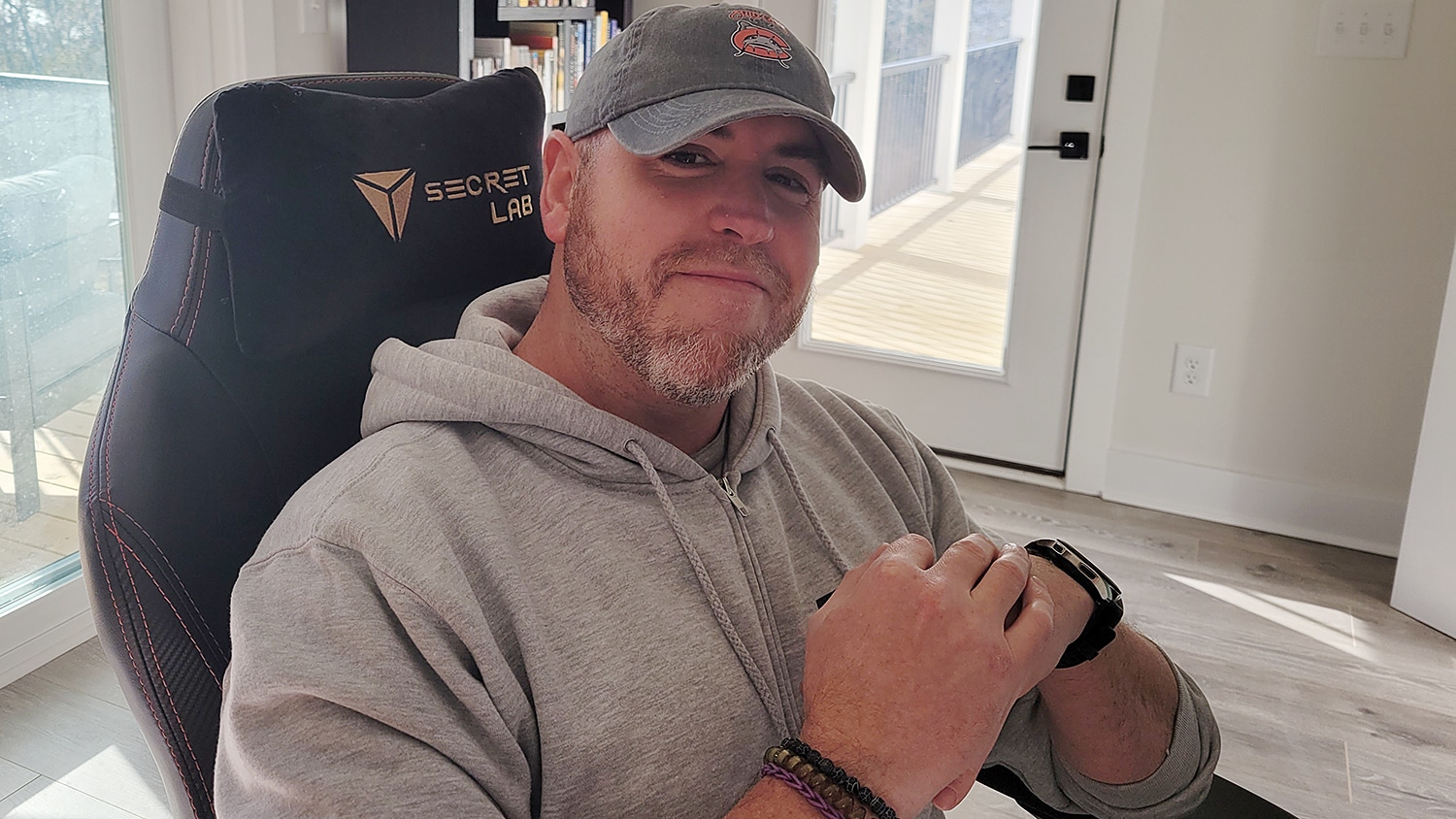 When I met Josh Eure in 2009, he was a young writer with a troubled past and a promising future. His present seemed secure enough. The 28-year-old had a steady job fueling airplanes at Raleigh-Durham International Airport, and he had just been accepted into NC State's Master of Fine Arts in Creative Writing program.
Then came the heady news that this one-time high school dropout had nabbed one of the top prizes in science fiction writing — the Dell Magazines Award for Excellence in Undergraduate Science Fiction and Fantasy Writing.
I wasn't sure what to make of his low-key demeanor when we met for an interview and photo shoot to publicize the award.
"If he were a character in a story, Josh Eure wouldn't necessarily be all that endearing," I wrote at the time. "He's quiet, for one thing, and in a way that makes you want to add, 'too quiet.'"
But his story seemed tailored to NC State, an institution founded for the express purpose of opening the doors of higher education to the sons — and later the daughters — of working-class families.
Not that those doors opened right away. First, he had to get a GED to make up for not finishing high school. Then he spent two years in community college, earning enough credits to apply to NC State as a transfer student.
Even with a 4.0 GPA, it still took three attempts to get accepted.
"I wanted to get into NC State so badly," he says. "I never saw the rejections as final. It never occurred to me that I shouldn't keep trying."
Back to the Woods
Today, Eure is working from home as an editor and raising a family in the same small town he couldn't wait to leave when he was a teen, giving his story the type of circular narrative arc that writers love. What brought him home to Hertford, North Carolina — a place where he once felt like an outsider?
"Surprisingly, the pandemic put a lot of things into perspective for me; and being in a place where family could be around and that wasn't so crowded with traffic made us just want to kind of get away," he says. "Back to the woods."
If there's unresolved conflict in Eure's story, it's related to his aspirations as a writer.
"I wish my writing career had done a lot more, but I'm still plugging away," he says.
He especially regrets not making an effort to network with established writers after he won the Dell Award.
"I went to the ceremony in Orlando where I got to go up on stage and accept the award, and I kind of felt like this big shot," he says. "There were all these famous people there, but I was a little cocky, so I didn't appreciate it the way that I should have."
Facing the Future
Regrets aside, Eure is relying on his trademark gritty determination to move forward with his dreams. And he's not facing the challenges alone. Eure has partnered with NC State English professor Cadwell Turnbull and a group of science-fiction writers — including many alumni of the university's creative writing program — to write and promote a collection of original stories. Their works are posted on the group's website, Many Worlds.
As envisioned by Turnbull, some of the group's stories — although set in different worlds — could be connected in a kind of storytelling multiverse.
"If I have a novel and he has a novel, why couldn't there be a character that travels between our two worlds?" Eure asks. "We're all making these interesting story worlds. What if they could be connected?"
The idea got traction from Brooklyn-based Radix Media, which will publish the group's first anthology in June. And Blackstone Publishing has inked a deal with Eure and four other writers in the collective to publish a science-fiction trilogy they penned under the pseudonym Darkly Lem.
With his eyes trained on a hopeful future, Eure glances back at the path that led him from a lonely existence and a dead-end job on the Outer Banks to the fulfilling life he has today. The path runs straight through NC State.
"If I hadn't come to NC State, I wouldn't have met [professors] Wilton Barnhardt and John Kessel and Jill McCorkle," he says. "I wouldn't have written all my insane stories. I wouldn't have a novel that I'm shopping. I don't even think my wife would've married me. She wouldn't have taken me seriously.
"My whole life would be different."
Or, to put a sci-fi spin on it, he might have spent the last 20 years in an alternative dystopian reality where dreams never come true and you can't go home again.
I like Eure's version better.