Voices
Cause for Celebration
Monday's Play4Kay game at Reynolds Coliseum was powerful medicine for cancer survivors like NC State staffer D'Lyn Ford.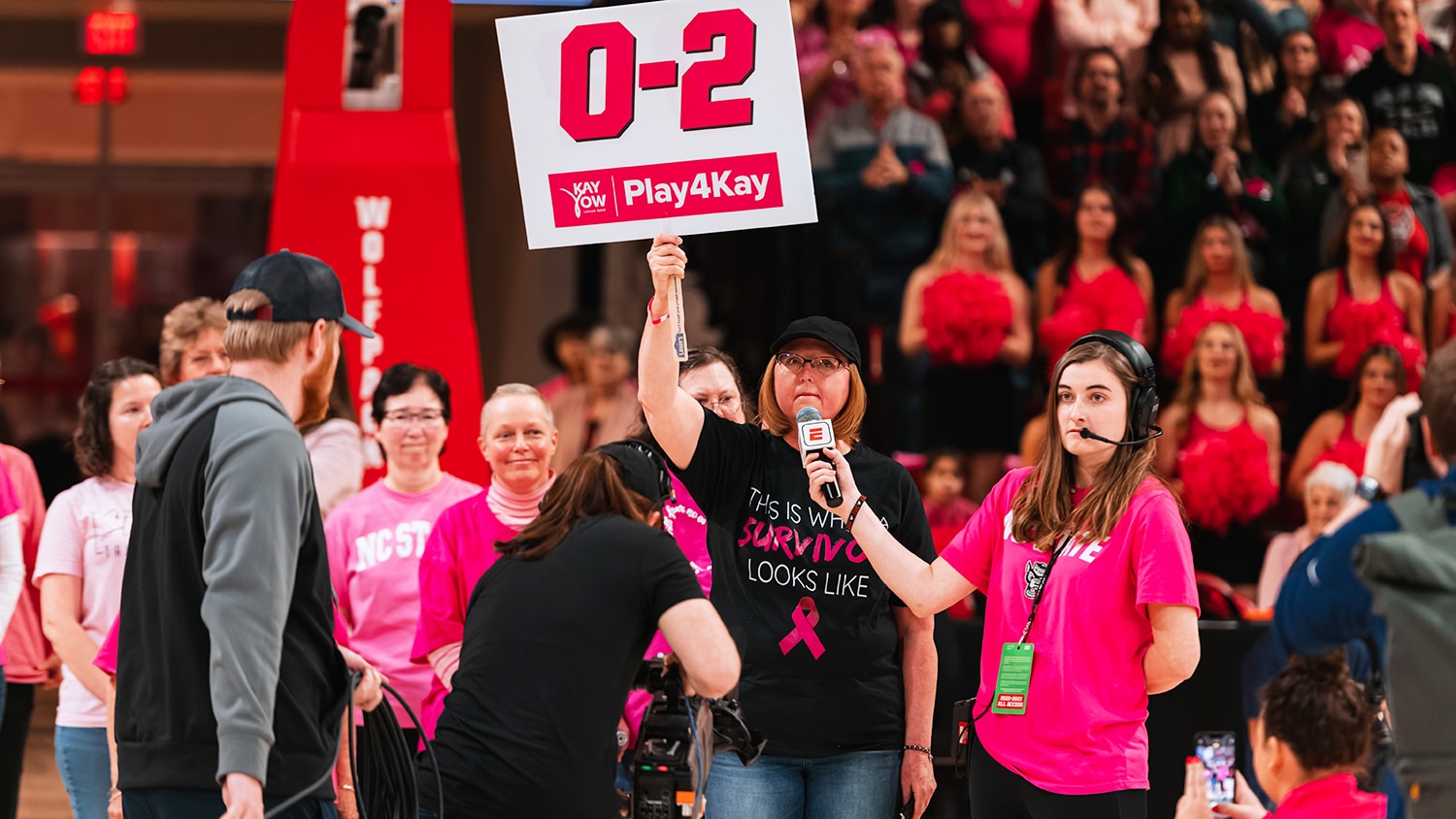 Voices is a series of first-person narratives written by members of the NC State community reflecting on experiences that have shaped their personal and professional lives. D'Lyn Ford, a writer and editor with NC State's College of Agriculture and Life Sciences, shares her experience participating in NC State's annual Play4Kay game as a one-year breast cancer survivor.
My heart pounded as I led a line of women onto Kay Yow Court, hoisting the "0-2 Years" sign. I was grateful I had healed enough that it didn't hurt to raise my arms.
Dozens of us streamed onto the floor, dressed in a palette of pinks, as the crowd at the Play4Kay game surrounded us in applause.
I paused at the ACC logo near the basket, took a deep breath, and spoke into the microphone, praying I could get the words out.
"My name is D'Lyn Ford and I'm a one-year survivor of breast cancer," I said, as my words echoed over the arena at halftime.
"During treatment last year I visualized being here with all of you."
Life Goals
At previous Play4Kay games, watching with my family, I'd listened intently to the survivor recognition ceremonies. I couldn't tell you the scores or opponents in those games, but I could close my eyes and see the women in pink on court.
On Monday night, standing with them, it was a completely different experience. I knew no one in the group before the game, but we had a natural camaraderie based on our common opponent.
We shared our most raw emotions in front of 5,500 people. After I choked back tears, a woman spoke calmly of her faith. A longtime survivor told us of her devastating new diagnosis of metastatic cancer, as our faces fell and emcee Debbie Antonelli wrapped her in a hug.
We were somber, remembering those cancer had taken. And we rejoiced with the longest survivor, who was 31 years past her diagnosis, giving us hope of many ceremonies to come.
I came to the game with my daughter, Danielle, to celebrate a year of successful treatment, an all-clear at my check-up the previous week and a recent birthday on a wonderfully normal Wednesday.
Play4Kay was powerful medicine for us as survivors. We left knowing that everyone there had helped support research and outreach for many others through the Kay Yow Cancer Fund.
Ongoing Legacy
Kay Yow has made a difference in my life, though I never had the opportunity to know her. I interviewed for my first job at NC State just before she passed away on Jan. 24, 2009, after fighting multiple rounds of breast cancer over 22 years.
During our move to Raleigh that April, my daughter and I stopped at the Women's Basketball Museum in Knoxville, Tennessee. Near her induction information, a floral wreath honored Coach Yow.
We were grieving the loss of my mom a few days before, at 66, the same age as Kay. Somehow, paying our respects in Knoxville felt proper.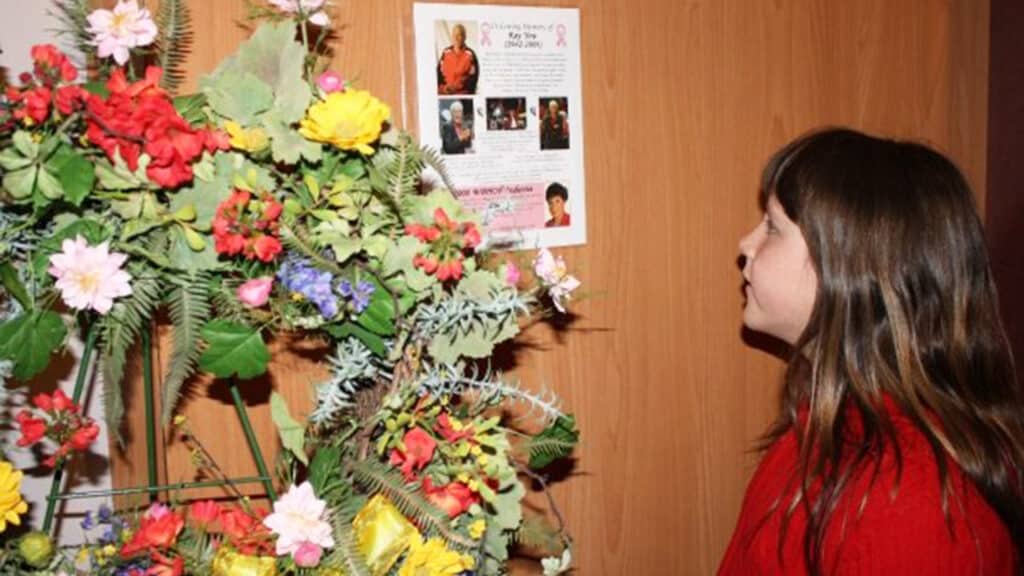 Danielle, who played basketball from second grade through high school, went on to attend NC State basketball camps, playing on the original Kay Yow Court.
At Play4Kay events through the years, we collected an array of pink T-shirts, mini towels and a large poster with Kay Yow's advice: "When Life Kicks You, Let It Kick You Forward."
I completed a regular cancer screening on campus in a mobile mammography unit that's painted with Kay's portrait.
On Monday, we stopped by the coach's statue near Reynolds before the game to celebrate her legacy.
Teaming Up
Danielle came up with the metaphor I use to explain my treatment: I majored in cancer last year.
In the spring semester, I took chemotherapy. Summer session was surgery. Fall brought weekday radiation, along with continuing antibody infusions. Being diagnosed with the kind of cancer I had was bad news 10 years ago. Now it's considered very treatable, thanks to new targeted therapies like the ones I had.
I was fortunate to see early signs that the cancer was responding, but I still had to make it through treatment.
They say that you're stronger than you think. In my case, I don't believe it. But I learned to ask for help, and the generous, just-in-time responses strengthened my faith.
Danielle, who was at my side for weeks at a time, brought her biology knowledge and determination to countless medical appointments, remembering the details I was too foggy to take in.
No matter how cranky, confused or tapped out I felt, she provided encouragement and humor. She laid in a supply of hats to keep my bare head warm and surprised me with what we called the "chemo panda" lamp — an orb with a painted-on face and an uncanny resemblance to me during treatment.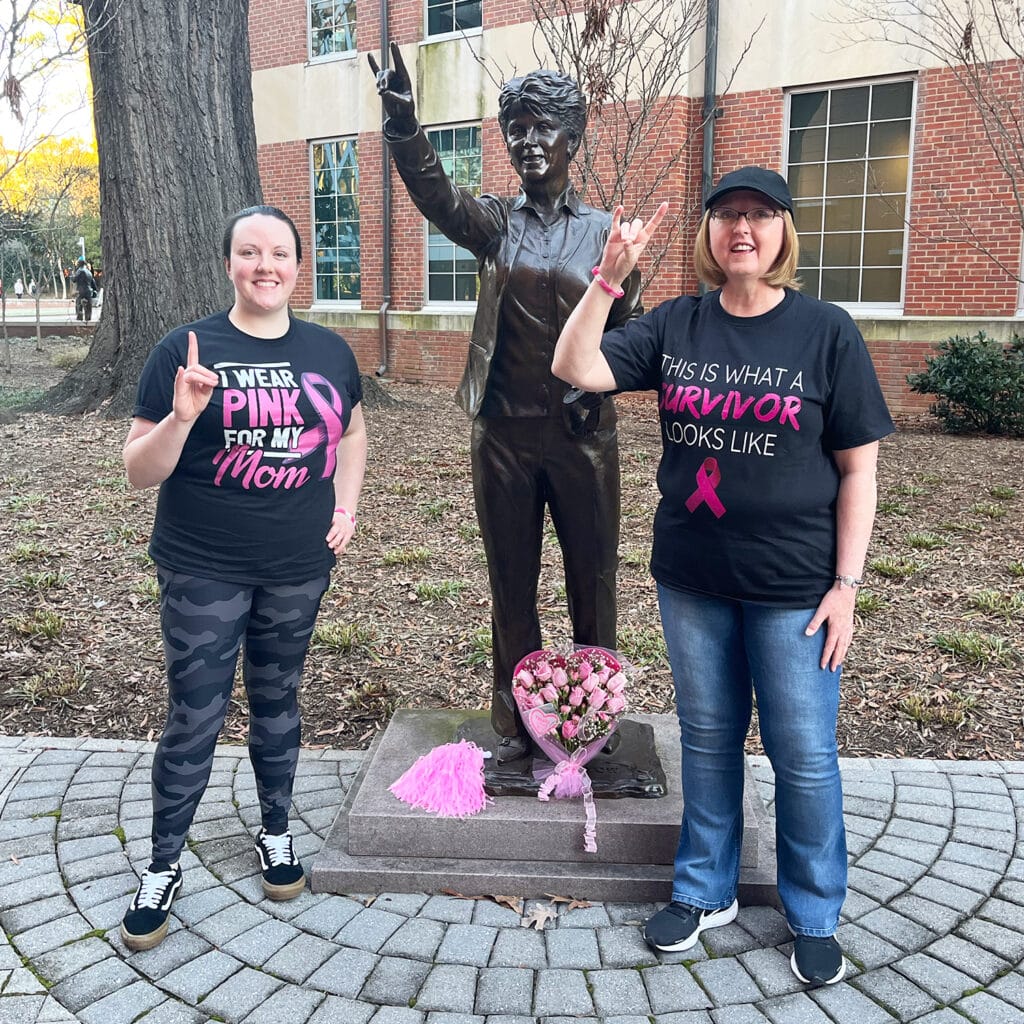 I drew hope from talking to survivors about their experiences. My NC State friends sustained us with meals, fresh-picked strawberries and homemade desserts. My brother came for a week during surgery and a close friend from Wisconsin visited me before radiation.
To keep me company on anxiety-producing radiation days, my church family signed up for what I called "lunch with the cancer lady." My best friend from Texas planned a post-treatment trip so that I had something to look forward to.
In the final days of 2022 I crossed off my last infusion appointment on the calendar and had my chemo port removed. Months before, I'd bought two tickets to the Feb. 6 Play4Kay game, signing up so far in advance that they asked me to be a line leader.
Campus Connections
For 14 years I've been a writer at NC State, but I don't have words to explain the strength and hope I gained this week.
Moving forward, I'd like to share that sense of community with my co-workers who are going through cancer treatment, returning to work or caring for a family member with cancer.
As Play4Kay demonstrated so powerfully, we can support each other through life's toughest experiences.
Let's get together on campus to talk over coffee or lunch. Reach out to me via email (dcford@ncsu.edu), and we'll make arrangements to meet.
The cancer lady is in.