News Releases
NC State Announces 321 Coffee Partnership
NC State University announced today the start of a new partnership with alumni-owned and -operated 321 Coffee to produce an officially licensed co-branded coffee. The "Greater Good" blend will be available for purchase directly from 321 Coffee and Wolfpack Outfitters beginning on April 11, with preorders opening today. The medium roast coffee features NC State branding and barista Sam, one of 321's first employees and a lifelong Wolfpack fan. 
The partnership with 321 Coffee is many years in the making. The company was founded in 2017 by Lindsay Wrege and Michael Evans, who met during their freshman year as Park Scholars at NC State. From the beginning, the goal was to create an accepting community — and an inclusive company — around coffee.
The company's first sales were made on campus, and it grew with support from the Wolfpack community and with the help of NC State-provided resources, including the Andrews Launch Accelerator. In 2021, Wrege and Evans also received Miller Fellowships, which provide a monthly stipend to support new NC State alumni ventures.
321 Coffee currently employs more than 50 adults with intellectual and developmental disabilities (IDDs). While the company started out in dorm rooms at NC State, it now has four locations in the Triangle, with plans to expand even further. All locations aim to provide meaningful work for people with IDDs.
"This coffee represents so much of the 321 Coffee and NC State story. As Park Scholars who started 321 during our freshman year at NC State, Greater Good embodies the support NC State has given us as young entrepreneurs looking to make an impact on the community," Wrege said. "We're so excited to feature Sam on this bag of coffee, as he's been part of that story every step of the way."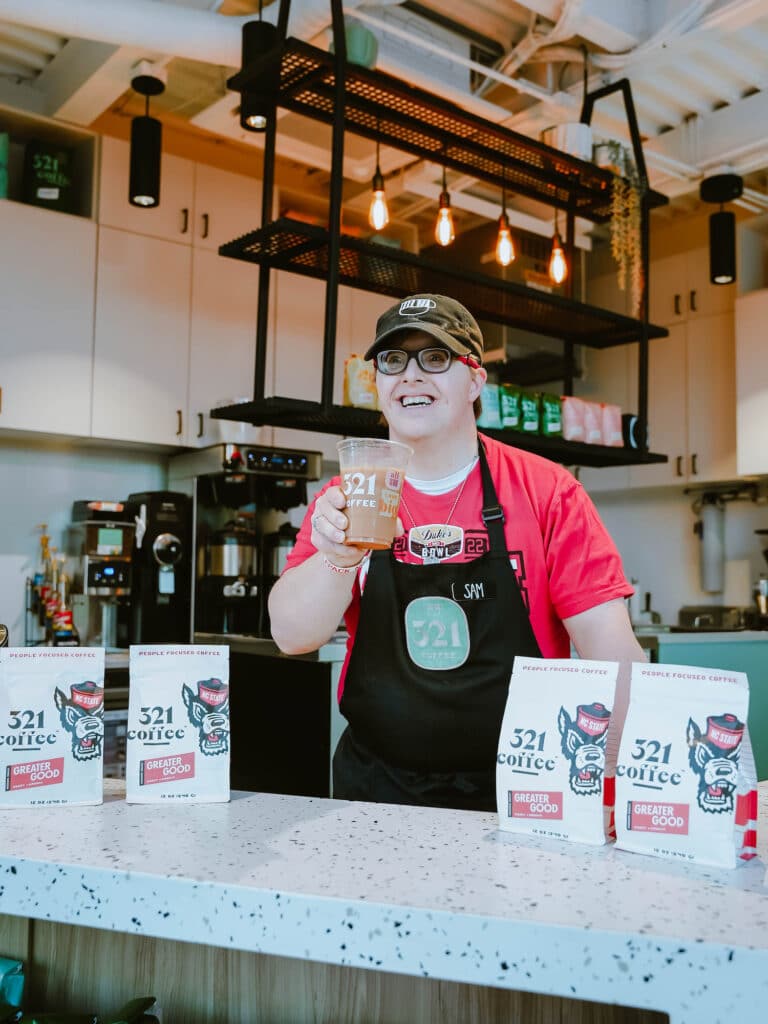 The name Greater Good is a nod to NC State's vision statement. It embodies the efforts of both 321 Coffee and the university to make a meaningful impact on society and supports the missions of both entities.
"At NC State, our students are encouraged to think big and do extraordinary things," said Chris Boyer, assistant vice chancellor for strategic brand management at NC State.
"The 321 Coffee story is an impactful example of how NC State sets students up to succeed and thrive. The company's founders saw a need and worked to not only meet it, but to innovate for future growth. It's truly remarkable what they've accomplished so far, and we're proud to partner with them on a co-branded initiative that will continue giving back to NC State as well as bringing greater good to the communities we both aim to serve."
A portion of the proceeds from Greater Good 321 Coffee sales will go to support NC State student scholarships in the areas of need, merit, study abroad and athletics.
###