Bulletin Board
321 Coffee to Open Centennial Campus Location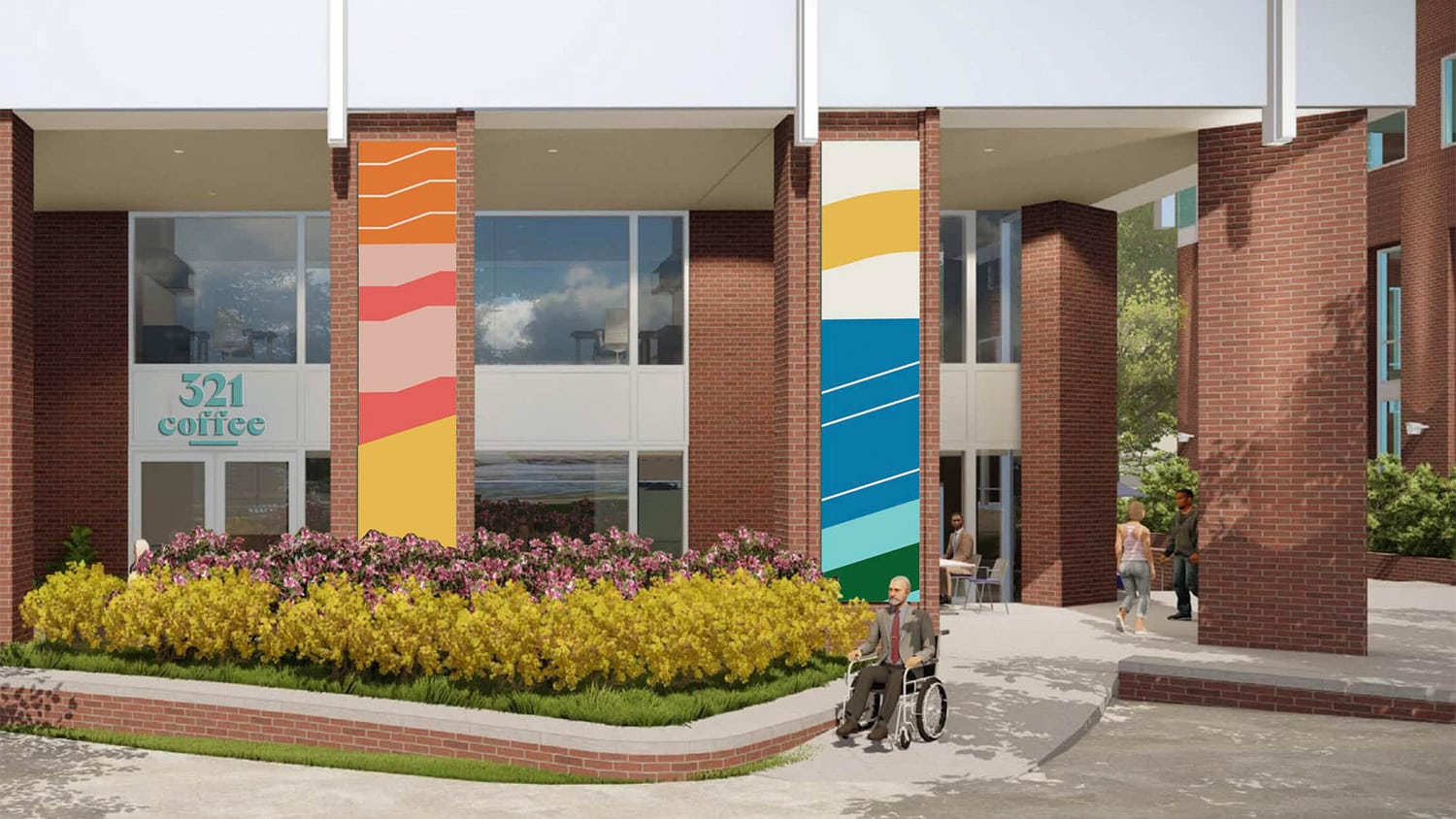 321 Coffee, an alumni-owned and -operated local coffee shop and roaster that employs individuals with intellectual and developmental disabilities (IDDs), is launching a new location on NC State's Centennial Campus. Projected to open in early 2024, the cafe will be set in the Venture Place courtyard on Main Campus Drive and feature a full coffee menu with rotating specials and light food offerings. The Centennial location will also host ample indoor and outdoor seating, including a reservable conference room.
"We are very proud that 321 Coffee will join Centennial Campus," said Alicia Knight, NC State's associate vice chancellor for real estate and development. "Centennial is home to more than 70 industry, government and nonprofit partners who work alongside NC State faculty and students. The cafe provides a unique amenity to the campus community."
David Connor, senior vice president with Lincoln Harris, the project's developer, added: "321 Coffee is not only providing a much-needed amenity, but they are becoming part of a much larger activation program at the Venture/Alliance complex on Centennial Campus that also includes a 4,200 square foot state-of-the-art fitness center and a variety of outdoor gathering and dining spaces. We are thrilled to partner with 321 Coffee to bring the vision for Centennial Campus to life."
Opening a shop on NC State's campus is particularly meaningful to the 321 Coffee team. The company was founded in 2017 by Lindsay Wrege and Michael Evans, who met during their freshman year as Park Scholars at NC State. The company's first sales were made on campus, and it grew with support from the Wolfpack community and with the help of NC State-provided resources, including the Andrews Launch Accelerator and Miller Fellowships.
"NC State has been part of our journey every step of the way. We are excited for the opportunity to bring 321 Coffee home and to engage with students, faculty and the business community on Centennial Campus," said Wrege.
Earlier this year, 321 Coffee launched Greater Good — an officially licensed co-branded coffee with NC State that represents the partnership's shared value of working in pursuit of the greater good. A portion of the proceeds from Greater Good 321 Coffee sales supports NC State student scholarships in the areas of need, merit, study abroad and athletics.
While the company started out in dorm rooms at NC State, the newest shop on Centennial will be 321 Coffee's fifth location across the Triangle — following their original shop at the State Farmers Market, a private cafe in Pendo headquarters, a standalone shop in the Bloc[83] development of Downtown Raleigh and their most recent location in Downtown Durham. All locations aim to provide meaningful work for people with IDDs. 321 Coffee currently employs more than 50 adults with IDDs, and the Centennial Campus expansion will enable the company to hire and develop new talent, as well as offer growth opportunities for current staff.