Alumni
Cowher Comes Home for Ring of Honor Induction 
Bill Cowher '79, Super Bowl-winning coach and member of the Pro Football Hall of Fame, became the 12th member of NC State's Ring of Honor last weekend.
During his career, NC State College of Education graduate and former football linebacker Bill Cowher did big things.
The biggest things possible, in fact, in his chosen field of professional football: After leaving NC State in 1979, a degree in education in hand, he made an NFL roster and spent five years as a player in the league.
He was named the head coach of his hometown team, the Pittsburgh Steelers, at the age of 33, and five years he later became the youngest coach to take his team to a Super Bowl appearance.
He won the Super Bowl title in 2006, becoming a hero in the city where he grew up among the blue-collar steel mills.
He was enshrined in the Pro Football Hall of Fame in Canton, Ohio, in 2020, the only Wolfpack football alumnus to ever earn that honor.
Cowher, however, made it clear during a visit last weekend that all of his successes in football were rooted in his time on the field and in the classroom at NC State. He was one of legendary head coach Lou Holtz's final recruits and a linebacker under late head coach Bo Rein and defensive coordinator Chuck Amato.
"My time here shaped my entire life," Cowher said before he was officially added as the 12th member of NC State's Ring of Honor.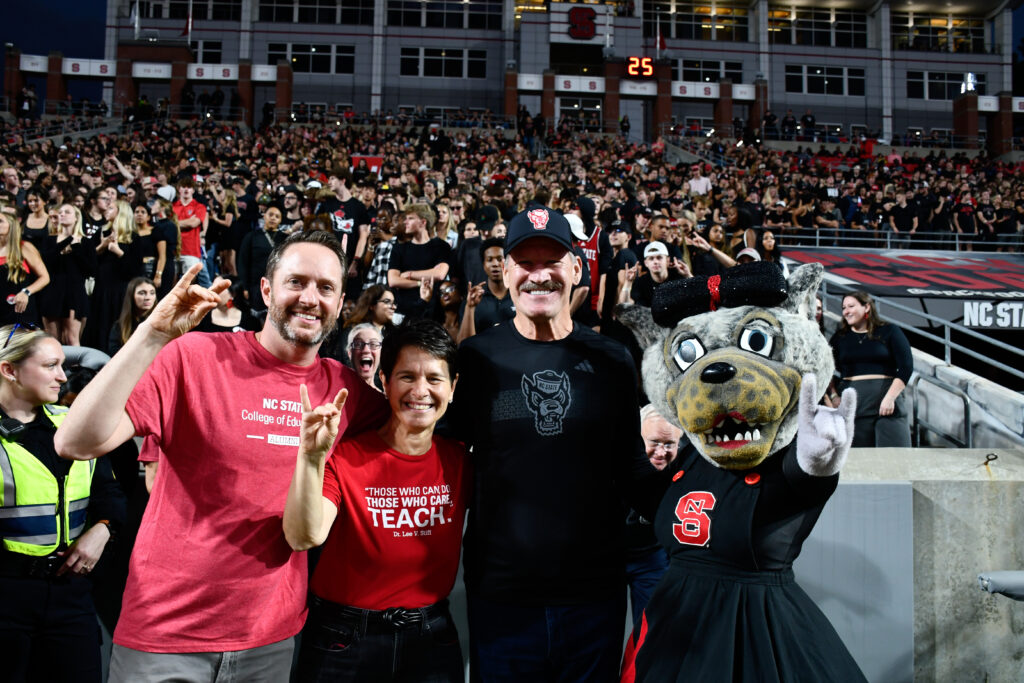 Finding a Home in Raleigh
Cowher met his late wife, Wolfpack women's basketball player Kaye Young, during his student days. She's the mother of his three daughters, who are the mothers of his seven grandchildren.
He made lasting relationships that were evident during a lunchtime social with more than 50 of his former teammates, who gathered to revel with the guy they knew as "Billy" when he was a player from 1975 to 1978 and when he was a graduate assistant in 1979. That's when he finished his degree by doing student teaching and coaching in Chapel Hill after being cut by the Philadelphia Eagles.
"The memories, friendships and the relationships we've had with you all are an integral part of my life," the Crafton, Pennsylvania, native told the lunchtime crowd of players, coaches and spouses, which was organized by his former roommate David Horning. "I've said before, probably the most formative part of my life was here in Raleigh.
"I love you all to death."
Among the many lessons Cowher learned while at NC State were about overcoming the rejection of his home-state teams, Penn State and Pittsburgh, to build new relationships in a place that at the time seemed a world away. State beat both those national programs during Cowher's time here, often with a little inspirational help from the defensive leader.
"What I will always remember about my NC State teammates is the camaraderie we had, the brotherhood we had, and the fact that we had each other's backs, then and now," Cowher said.
Completing a degree in education was just as important to his post-playing career as his time on the NC State football field.
"Coaching is teaching," he said. "I learned so much from being with Lou, Bo and Chuck, but also from my time in the College of Education. The 4 1/2 years I spent here shaped everything that followed."
Reuniting with Friends
Longtime friend Kyle Wescoe, who was part of a fearsome linebacker tandem with Cowher, spoke for his teammates and coaches following Friday's ceremonies.
"The college years, as we all know, develop some of the best friendships," Wescoe said. "It was always such an honor to play alongside Bill, in good times and some difficult times, during those years. His enthusiasm and energy was an inspiration to everyone who came into contact with him."
It was the first time many of the former players had been back together in decades. Among those former teammates in attendance were twins Dave and Don Buckey, first-team All-American offensive lineman Bill Yoest, Outland Trophy winner Jim Ritcher and defensive lineman Simon Gupton, to name a few, as well as assistant coaches Darrell Moody and Amato.
"The greatest thing about football is that you laugh until you cry or cry until you laugh," said Horning, longtime strength and conditioning coach and senior associate athletics director. "We did all of that. Once you are together with your teammates, you quickly go back to the days where we all shared youthful sacrifices."
Cowher, a television analyst for CBS for the last 16 years, now lives in New York City with his wife Veronica Stigeler-Cowher and spends time with his growing extended family.
"It was such a special experience to have a firsthand glimpse into another chapter of Bill's remarkable story," said Stigeler-Cowher, his wife since 2014. "We had an incredibly warm welcome from everyone involved and it truly felt like a homecoming."
Last weekend, however, was a trip home and a trip back in time for one of NC State's most decorated football alumni.