Podcast: Halloween and Fall Food Safety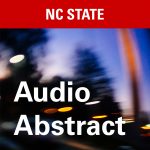 Fall is full of opportunities for sharing food and fellowship, and Halloween kicks it off.
Ellen Shumaker is an extension associate and the director of outreach for Safe Plates at NC State, and she is sharing some basic tips for keeping everyone safe – whether trick-or-treating or gathered around a family fire pit.
So what should parents watch out for in their kids' goody bags?
"The first thing that you want to check for is to make sure that no foods or packaged foods have obviously been tampered with," Shumaker says.
And if your children receive homemade treats, it's important to be sure that they are fully baked and don't have fillings, like cream, inside.
Does cotton candy keep? What about other fair treats, like candy or caramel apples? Shumaker recommends consuming open treats quickly, and in the case of the caramel or candy apples, refrigeration.
Finally, if you're attending a fall potluck or just hanging around a fire pit, remember to wash your hands before handling any food, and be sure to keep hot foods hot and cold foods cold. Perishable foods should be discarded if they've been left out for more than four hours.