Campus Life
Almost Famous
Friday Institute employees take first place in VMware's video contest.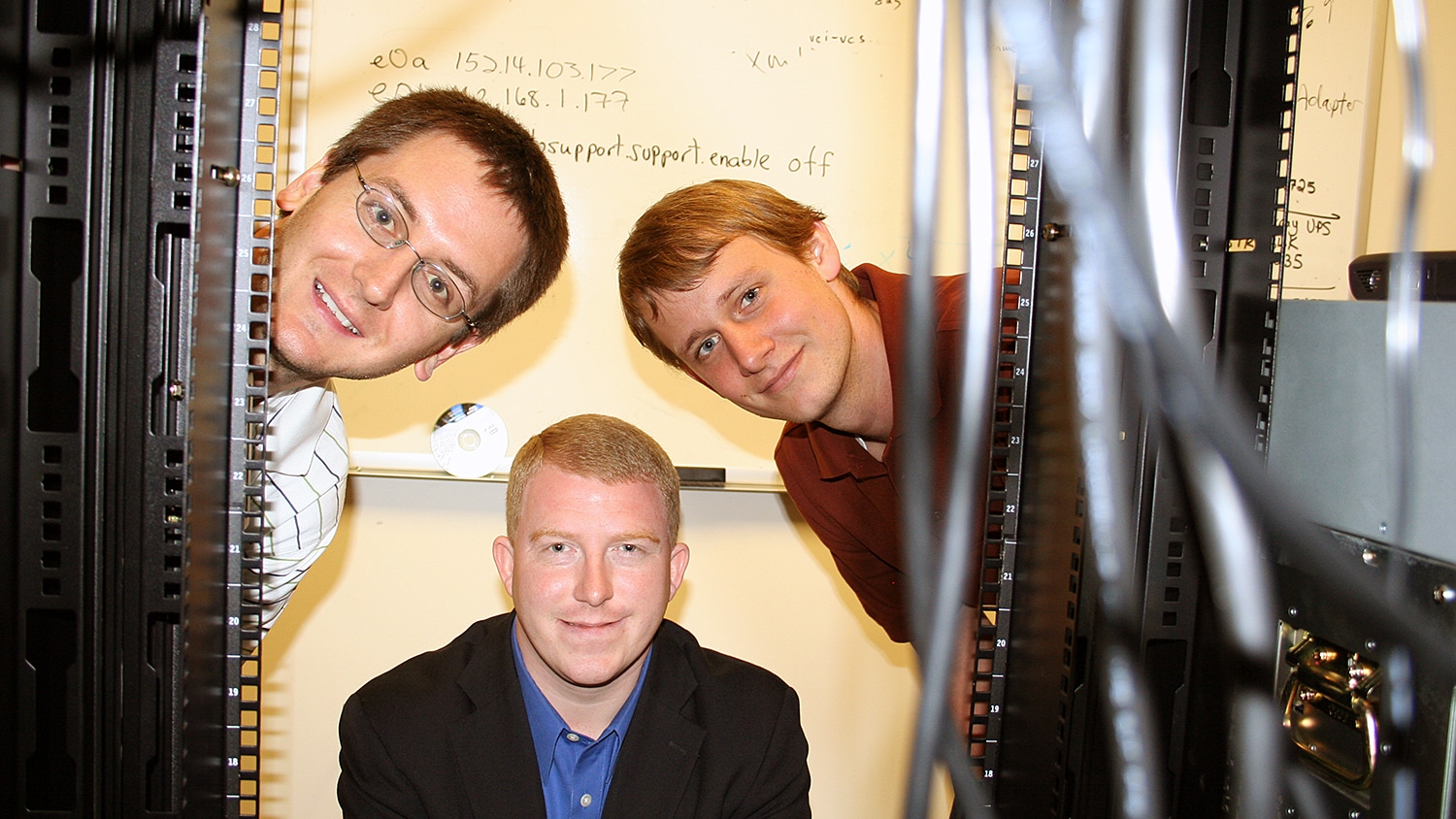 Ever feel like bursting into song at work? The guys in the technology group at the Friday Institute did and now they're virtually world famous. Techies Lodge McCammon, Brian Bouterse, and Sammie Carter wrote and produced a music video that won the grand prize in the VMware video contest in September.
Take a minute to check out the catchy video here.
Go ahead and crank it up. It is work-related, after all.
Our heroes' video earned them celebrity status at VMworld, the giant trade show in San Francisco, where they hung out with Smash Mouth, rubbed elbows with VMware CEO Diane Green and generally walked around in a daze.
"People were really excited to meet us," says Bouterse.
"It was fun walking down the street in San Francisco and having people point at us," adds Carter.
Producing the video involved the kind of cross-functional collaboration that we love here at NC State. McCammon, an accomplished musician with his own home recording studio, wrote and performed the song. Carter appeared on camera at the opening and closing of the video as the inquisitive question guy. And Bouterse lip-synched the lyrics in a rhythmic shuffle as the camera followed him from the ground floor of the Friday Institute to the ultra cool "virtualized hardware hotel" up on the second floor.
The production was a decidedly low-tech activity. McCammon created a makeshift steadicam by placing a camcorder on top of a cardboard box on top of a cart. He used his laptop as a teleprompter, positioning it on the cart with the lyrics displayed on the screen, facing Bouterse. During filming, McCammon played the song through the laptop's speakers at half speed so Bouterse could easily mouth the words as he walked around the building.
"We did it in one take," McCammon admits. "It was right after work and I had to meet some people at 5:30."
"If we'd known we were going to win, we probably would have done a second take," Bouterse says.
He then launches into an explanation of how YouTube has changed the aesthetic of corporate video, putting more emphasis on creativity and less on production values.
"That's a point I want to make," McCammon agrees. "It's not how it looks – it's the idea behind it and the underlying message. It's not Lord of the Rings, but I think people can connect with it."
The grand prize included a cash award of $15,000, which the guys donated to the Friday Institute to underwrite projects to support teachers throughout North Carolina.