SBP Andy Walsh: Welcome to the Fall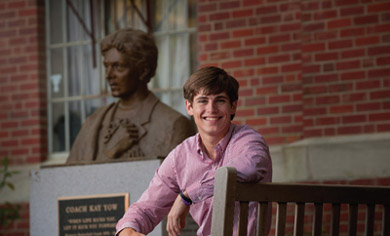 Fellow Wolfpack,
I hope that all students have settled onto campus and into their classes. My name is Andy Walsh, I am a senior majoring in Political Science and I am the Student Body President this year. I am so excited to serve in this role and to support the needs of all students in our diverse NC State community.
We have been hard at work in Student Government this summer preparing for what is our 125th Anniversary year here at NC State, and I hope the projects and work from our organization over my term will be exciting and accessible to students. In order to stay in close communication with the student body, I have decided to compose a series of weekly blogs throughout the year.
The blogs will contain general updates and information on what we are working on in Student Government for you. A comment section will also be available to ask questions and provide feedback.
Communication is important, and one of the main things I want to change on campus is the way Student Government communicates with the student body. I want to hear all of your thoughts, ideas and comments concerning the work Student Government is doing. The more you speak out, the better we can serve your needs. We are here to serve students first!
There will be many changes in the coming year and they are all exciting ones. We are working to better various programs and events on campus to enhance the student experience. One of the first new things we have to offer you is the newly updated "Current Students" page, which can be found on the school website.
The "Current Students" tab, found on the homepage of ncsu.edu, will contain important information for students. An easily accessible academic calendar can be found there, as well as a comment box and links to the Student Government Twitter and Facebook accounts. This page will be updated frequently, and will house my weekly blog you can also follow my personal twitter: @Walshpack. These all provide good opportunities for students to stay closely connected to the happenings of the University as well as give feedback to my team.
I look forward to hearing your thoughts in the coming year and serving as your Student Body President. We have an exciting year together ahead and I hope to bring great changes with it.
In the spirit of the Wolfpack,
SBP Andy Walsh