Campus Life
Red-Collar Research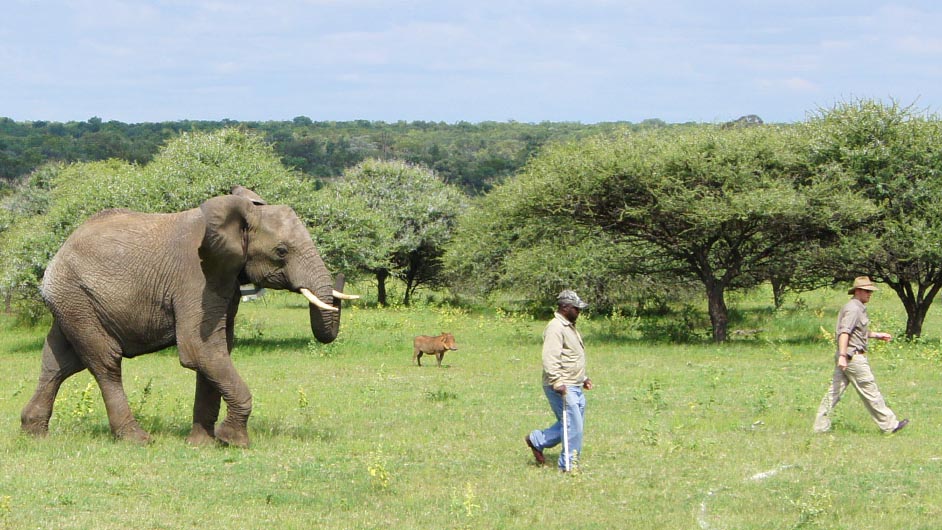 Thanks to the real-world ingenuity of NC State textile and engineering students, there's a passel of elephants in South Africa who'll find it impossible to forget which villages they're supposed to avoid.
Kristi Barnes, Keegan Ray and Caryn Siggins applied their textile engineering and technology muscle to create a rugged collar to steer pachyderms away from African villages, where bull elephants in particular do considerable damage.
The collar, created in collaboration with electrical and computer engineering students Layne Whaley, Peter Panburana, Courtney Comeford, Emma Besaw and Justin Keaton, transmits sounds and vibrations that mimic bees and ants, which elephants avoid. Powered by solar-panel-charged batteries, the waterproof collar has GPS tracking capability and uses a strategy similar to an invisible pet fence.
With support from the U.S. Army Research Office and a partner agency, Adventures With Elephants, the NC State team headed to South Africa over spring break to try out two prototypes on the animals — a real think-and-do challenge.
The students faced big obstacles, starting with detours caused by flooding. The powerful, water-loving elephants gave the collar and its electronics a serious workout, too, forcing students to improvise on the spot.
"You can't just run down to Lowe's for replacement parts," Barnes says.
Hampered by a balky Internet connection in the field, enterprising team members had to figure out their own ways to make the device work. All of the students' work led up to the moment when results played out in real time. As an elephant approached a GPS-mapped boundary, team members activated the collar and held their collective breath.
"The elephant heard the sound and felt the buzz on the side of the neck, and turned away," Ray recalls with a smile.
The results lasted longer than the students had hoped.
"Almost two months later, the elephant still didn't want to go back to the area," Besaw says.
The project was such a success that Siggins, who was born in South Africa, is still there working this semester, the first extension of its kind for a textiles engineering senior project.
Impressed with the workable prototype, the Army Research Office decided to invest in the next phase of development.
Siggins will follow up by making improvements based on her field tests in South Africa. She's working on fully integrating the collar's electronics into a more durable package that can withstand the elements of Africa.
Group adviser Jesse Jur, a faculty member in textiles engineering and chemistry, says the project is a prime example of the benefits of hands-on learning.
"An experience like this puts you out of your comfort zone and changes the project requirements completely," Jur says.
Textile engineering, chemistry and science senior design advisor Russell Gorga and electrical and computer engineering senior design advisor Rachana Gupta also worked with the students.
High expectations are built into textile engineering and textile technology students' senior design classes. Barnes, Ray, Siggins and their teammates brought home lasting affection for elephants and the confidence that comes from knowing their design held up to the demands of a harsh environment.
In addition to winning honors at the Senior Design 2014 event, their project gives the 2014 graduates an attention-grabbing accomplishment for job interviews — an elephant story no recruiter can forget.