Campus Life
Silver Chariot Brings Golden Opportunity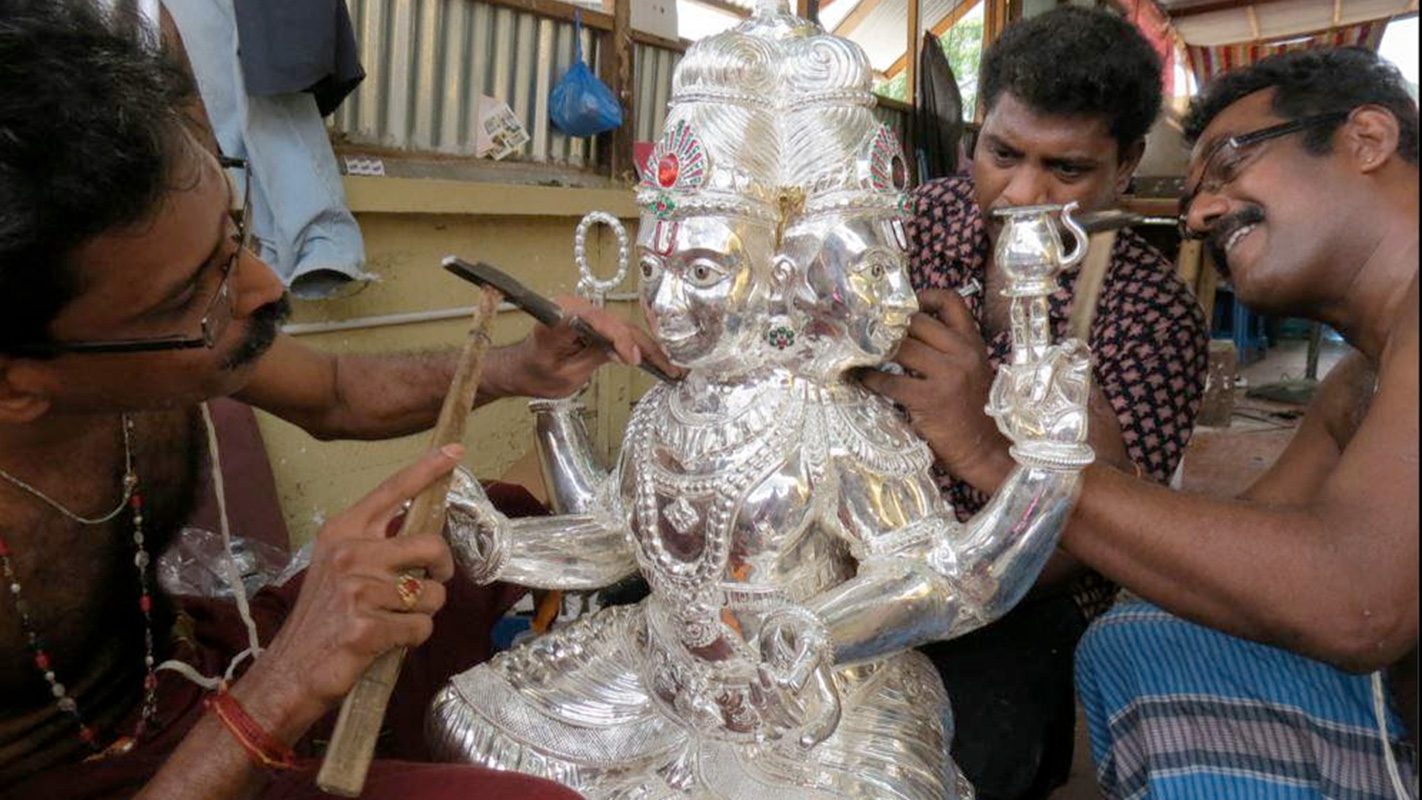 Sydney Scherr is the first woman ever allowed to participate in building a special kind of rolling Hindu religious masterpiece: a temple chariot towering 22 feet tall, encrusted with jewels and clad with 1,760 pounds of burnished sterling silver.
In a free lecture at the McKimmon Center, 6 p.m. Wednesday, June 24, the Raleigh master metalsmith will reveal how she was invited to join an all-male team of Malaysian and Indian silversmiths in Kuala Lumpur to construct a spectacularly glittering "palace on wheels" that honors the elephant-headed Hindu deity Ganesha.
This is the only Hindu temple chariot in the world embellished with enameled jewels made using the ancient medieval techniques of cloisonné and champlevé, 102 of which Scherr herself created. Thousands of other chased and repousséd silver ornaments cover the vehicle, hailed as the finest silver chariot ever built.
Metaphor for Life's Journey
Hindu scriptures use such chariots as metaphors to describe human existence. The vehicle itself represents the human body, while the passenger riding inside is the soul—the body's precious cargo. The driver holding the reins and choosing the route is the conscious self, and the reins represent the mind or individual will. The five horses pulling the vehicle stand for the five senses, and the road it rolls along signifies the world one encounters in the course of time. For a successful journey through life, the body, soul, mind, self and senses must all be in harmony.
During certain Hindu festivals ornate (and often huge) temple chariots are pulled through the streets of their communities bearing representations of major deities. The chariot that Scherr helped build honors Ganesha, revered as the remover of obstacles, patron of the arts and sciences, and deity of intellect and wisdom.
Scherr has exhibited her metalwork internationally and has received awards from both the American Jewelry Design Council and the North Carolina Jewelers Association. The daughter of celebrated Raleigh artist Mary Ann Scherr, she teaches at the Raffles College of Higher Education in Kuala Lumpur, Malaysia, where she has been named outstanding educator.
The lecture is sponsored by NC State's Gregg Museum of Art and Design.