Campus Life
Pack Pride Drives Rise in Rankings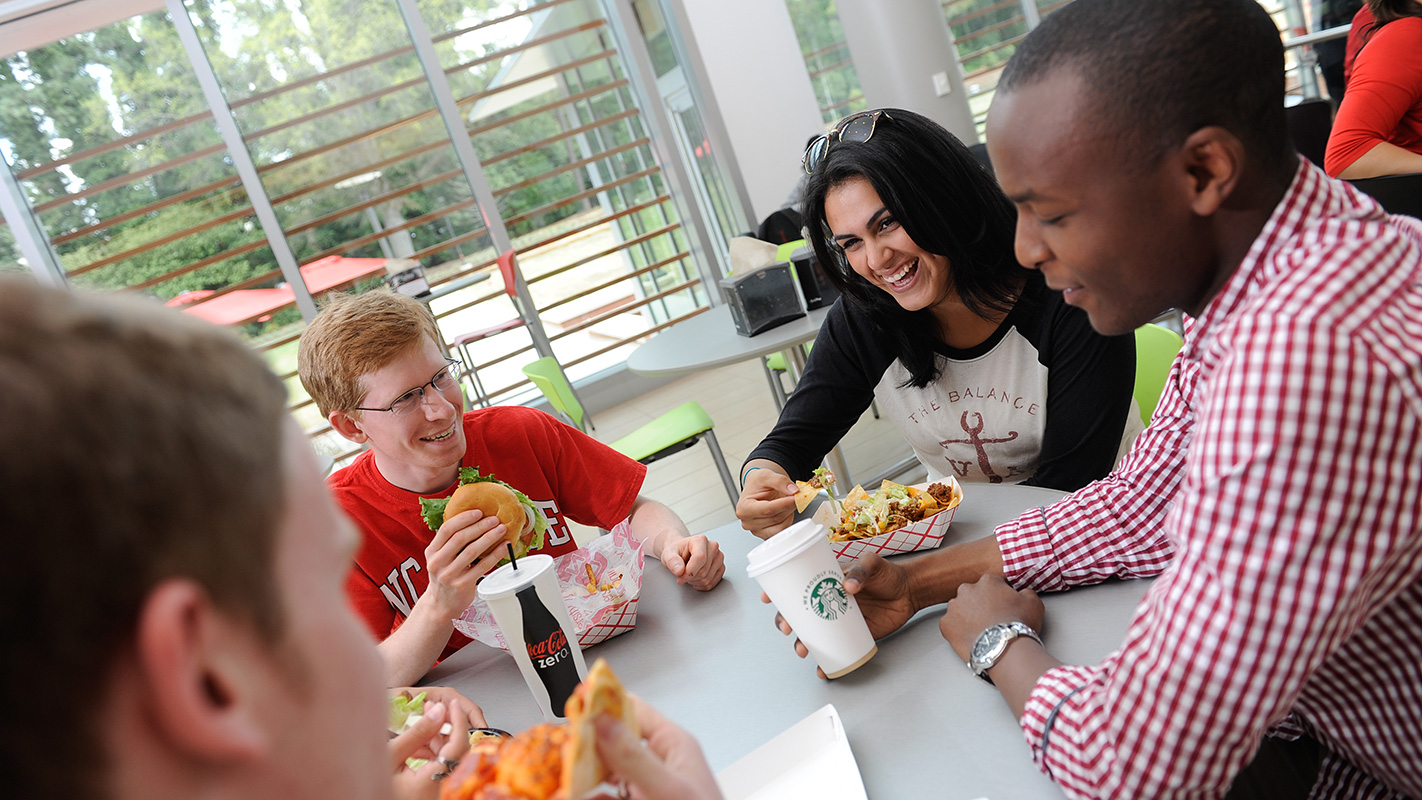 NC State scored rave reviews in the Princeton Review's annual guide to the nation's top colleges and universities, reflecting a high degree of student satisfaction with faculty, campus culture and alumni support.
"Students are happy," the publication declared in a synopsis of NC State's performance, released Aug. 3.
The array of rankings in 62 categories, compiled from a survey of 136,000 students at 380 institutions, is designed to help applicants find the best college for them.
NC State was a standout in four categories, ranking ninth in student health services (up from 16th place last year), 15th in campus enthusiasm for athletics, 25th on a list of high-impact schools and 25th on a list of schools with the strongest alumni networks. In other words, applicants seeking a school where students are healthy, spirited, supported and making an impact should look no further.
The university also made the lists of "colleges that pay you back," best colleges in the southeast, best public schools and best green colleges.
On a scale of 60 to 99, the university scored 93 for quality of life, 97 for sustainability, 97 for fire safety and 91 for selectivity. All four measures showed gains over last year.
Something for Everyone
In comments submitted with the survey, students praised NC State's academic rigor, campus climate and diverse student body.
The university offers "world-renowned faculty who conduct innovative and cutting-edge research in a plethora of scientific fields," a student wrote. "My professors are extremely knowledgeable about the course material and bring in practical demonstrations to bring the lecture to life," another added. It's evident "professors and teaching assistants here love their jobs" and "want you to succeed," others wrote.
Survey respondents also lauded NC State as the most diverse public university in the state, drawing students from across the United States and 117 countries, and offering "opportunities to fit every single type of person, no matter their interests." And they found the student body friendly and down-to-earth, welcoming everyone from "hipster to farm boy."
Students praised the variety of campus and community activities available, including athletics, entertainment and dining. "NCSU is huge, so every person can find a spot – and when you do, you find a family," a student wrote.
Culture of Service
It's no surprise NC State made the short list of 25 high-impact schools, says Mike Mullen, vice chancellor and dean of academic and student affairs. He ticks off a seemingly endless list of service projects organized for and by students, including the Krispy Kreme Challenge that raises money for North Carolina Children's Hospital, Shack-A-Thon that benefits Habitat for Humanity, the campus food pantry and an ambitious meal packaging event for Stop Hunger Now.
CSLEPS, the Center for Student Leadership, Ethics and Public Service, has grown into a service powerhouse in recent years, sponsoring an array of service-learning opportunities for students, including an annual alternative service break program that has spearheaded trips in partnership with communities from Alaska to Guatemala. The center also sponsors an annual blood drive and a variety of leadership programs.
"It's not just about giving students opportunities to volunteer," says Mike Giancola, associate vice provost for student leadership and engagement. "We empower students to think creatively and to engage with the issues they care about. We focus a lot on skills development, and on giving them opportunities to reflect on their roles as both a local citizen and a global citizen."
For example, students working on projects with Habitat for Humanity are encouraged to explore the issue of affordable housing, he says.
"This institution places a high value at all levels on being engaged in the community," he explains. "After all, our students are the future leaders of our community."
Community engagement is built into virtual every aspect of campus life at NC State, from student government to living and learning villages. Members of fraternities and sororities alone perform more than 65,000 hours of service every year, raising $200,000 or more for charitable causes.
Students embrace a wide range of issues through service-learning, Mullen notes.
"They're involved in water and sanitation, housing, civil rights, environmental issues and LGBT rights – among others," he says. "Our students think about the grand challenges facing society and then apply themselves to finding solutions while getting a great education. It's the embodiment of our 'Think and Do' philosophy. It's an ethic that our students embrace and that they take into their careers."
NC State's reputation for offering high-impact student experiences is growing. The university nabbed two spots on the prestigious President's Higher Education Community Service Honor Roll last year, earning recognition for its efforts in both community service and economic opportunity. In 2012, NC State was one of just two universities to receive the honor roll's highest award for community service.
Strong Alumni Networks
NC State's debut on the list of 25 schools with the best alumni networks is no accident. Randy Ham, the Alumni Association's associate executive director for outreach, works with 45 alumni networks across the country, from Seattle to New York City. Nine groups have been organized in North Carolina, home to more than half of NC State's 200,000 living alumni.
The groups host events called Wolfpack Freshman Welcomes every spring to introduce new students to alumni in their area.
"We tell the students how proud we are of them for being accepted to the best university in the nation," Ham says. "We want them to leave the event knowing two or three people they didn't know before. We tell them that it's never too early to begin building your alumni network."
That message is reinforced by the Princeton Review, which advises students that schools on the list "have fantastic alumni networks that can help you land that first big break."
Alumni networks not only help students find job opportunities and internships, they support graduates long after they've left school. Alumni relocating to a new state often join the local alumni network, easing their transition to an unfamiliar place.
Alumni networks also offer members opportunities to participate in local service projects, such as stocking shelves at a food bank or assisting with construction on a Habitat for Humanity project. Alumni also support students by giving to the university to fund academic programs, scholarships and fellowships.
Pack Pride
Student enthusiasm for Wolfpack athletics is a defining characteristic of university life, according to the Princeton Review. Students told the publication that "spanking the UNC Tar Heels at football" is a treasured Wolfpack tradition.
Basketball and football games are "almost required" activities, one wrote. And several praised the "large tailgate culture."
No one appreciates the fans more than Athletics Director Debbie Yow. "There is no student section more loyal than NC State's," she says. "They come early, cheer loudly and stay for the entire game."
Healthy Progress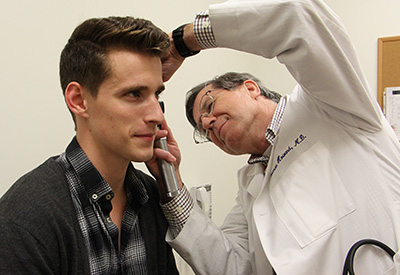 Advancing into the top 10 on the Princeton Review's list of best health services is welcome news inside the 67,000-square-foot Student Health Center, a gleaming modern building on central campus that underwent an extensive renovation in 2011.
"We are thrilled," says Director Leah Arnett.
Like the facility, Student Health Services is a thoroughly modern operation, with a professional staff of nearly 100 that includes board-certified physicians, physician extenders, pharmacists, physical therapists, nurses, registered dietitians, lab technicians and administrative support.
The team offers a wide range of services to eligible students, including primary care, women's health care, physical therapy, nutrition counseling, pharmacy, massage, and immunization and travel services. Specialty care is available for dental, orthopedics and gastroenterology, with dermatology and ultrasound services slated for later this year.
All of this goes toward one purpose: supporting the health of NC State's large and diverse student population.
"Our data demonstrates that a healthy body and mind contributes to academic success and retention thus all our efforts are aimed at assisting students in attaining and maintaining a healthy lifestyle," Arnett says.