Students
Prime Mover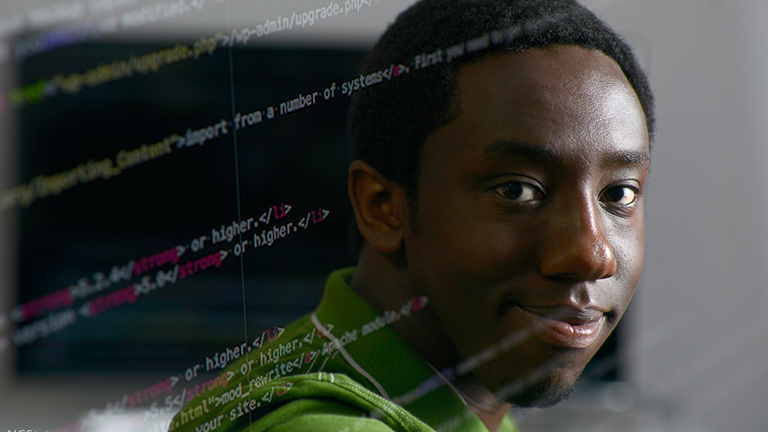 When NC State graduate student Xavier Primus was a kid, his parents decided he was spending too much time playing video games.
"You can either go outside," his father said, "or you can learn how to make them."
Primus chose the second option, and his parents packed him off to camp to do just that. It was one of many summer camps Primus attended before college, including an NC State engineering summer program he undertook as a high school freshman. While he has since decided not to become a game developer, his first impressions of NC State stayed with him.
The red bricks and train tracks of campus instantly evoked Primus' home in Chesapeake, Va., while the people of Raleigh were warm and friendly, unlike some he had met at other colleges on the East Coast.
"One person perfectly explained it to me," says Primus. "This is MIT with a heart. It's a research institution that also cares about its students."
For a military brat who had spent his childhood bouncing from city to city, that heartfelt connection with NC State proved decisive. When it came time to head to college, Primus applied to a long list that included the Massachusetts Institute of Technology, Georgetown, George Mason, the University of Virginia and Duke. He got into all of them. And then he chose to come to NC State.
Primus arrived in Raleigh with support from the Park Scholarships program, which recruits exceptional students like him and prepares them for lifelong contributions to their nation and the world. The program has provided extensive mentoring and leadership training, ensuring Primus has never lacked for opportunities to prove himself.
"That investment is humbling," he says. "Being given that opportunity, being told that people believe in your potential, believe in what you can do … it means more than the world."
As an undergraduate, Primus sought out internships with NASA, Fidelity Investments and the Laboratory for Analytic Sciences, a $60 million big-data research initiative that NC State leads on behalf of the National Security Agency. After graduating in computer science a semester early last year, he has continued at NC State's College of Engineering in an accelerated master's program. Last July, Primus even started his own software consultancy firm — Apptus Development — as a side project.
"I feel like this is my home," he says. "That's why I wanted to stay here. Being a military brat, it's a little difficult to call one place your home. But since I've been here, the people have been wonderful, and the opportunities have been phenomenal."
Primus' current work at the Laboratory of Analytic Sciences is a continuation of his undergraduate senior design project: an interdisciplinary collaboration with NC State's Department of Communication to analyze social interactions. By mapping human bodies with an array of Microsoft's Kinect sensors, he's enabling social science researchers to replay and remotely study facial expressions, body posture and other nonverbal communication.
"[That research] has helped me cultivate a varied mindset," said Primus. "I'm happy to have had these interdisciplinary experiences. When I sit down at the table, I'm not just talking about one thing; I'm able to contribute to all facets of the conversation."
Primus has also benefited from the service learning projects he's pursued as a Park Scholar. He's helped build and maintain the website for Service Raleigh, the annual citywide day of service started in 1998 by the Park Scholars and NC State's Student Government. He also pursued a civic engagement project with CASA — a nonprofit affordable housing developer — to create a podcast that tells the stories of long-term homelessness.
Those projects have guided Primus's personal ambitions, which include making the world of information technology less exploitative, more ethical. They've also confirmed his teenage intuition that NC State is a place that tackles real challenges — and tackles them as a community.
"There's a willingness to actually come together," Primus says. "A lot of places up north that I visited, people's heads were down. They were focused on their tasks. But there has to be that will to talk about what you're working on, what you're doing. Get people excited about it. Bring people on board. Get things done. And I've found that here."