Events
State Leaders Promote Proposed Bond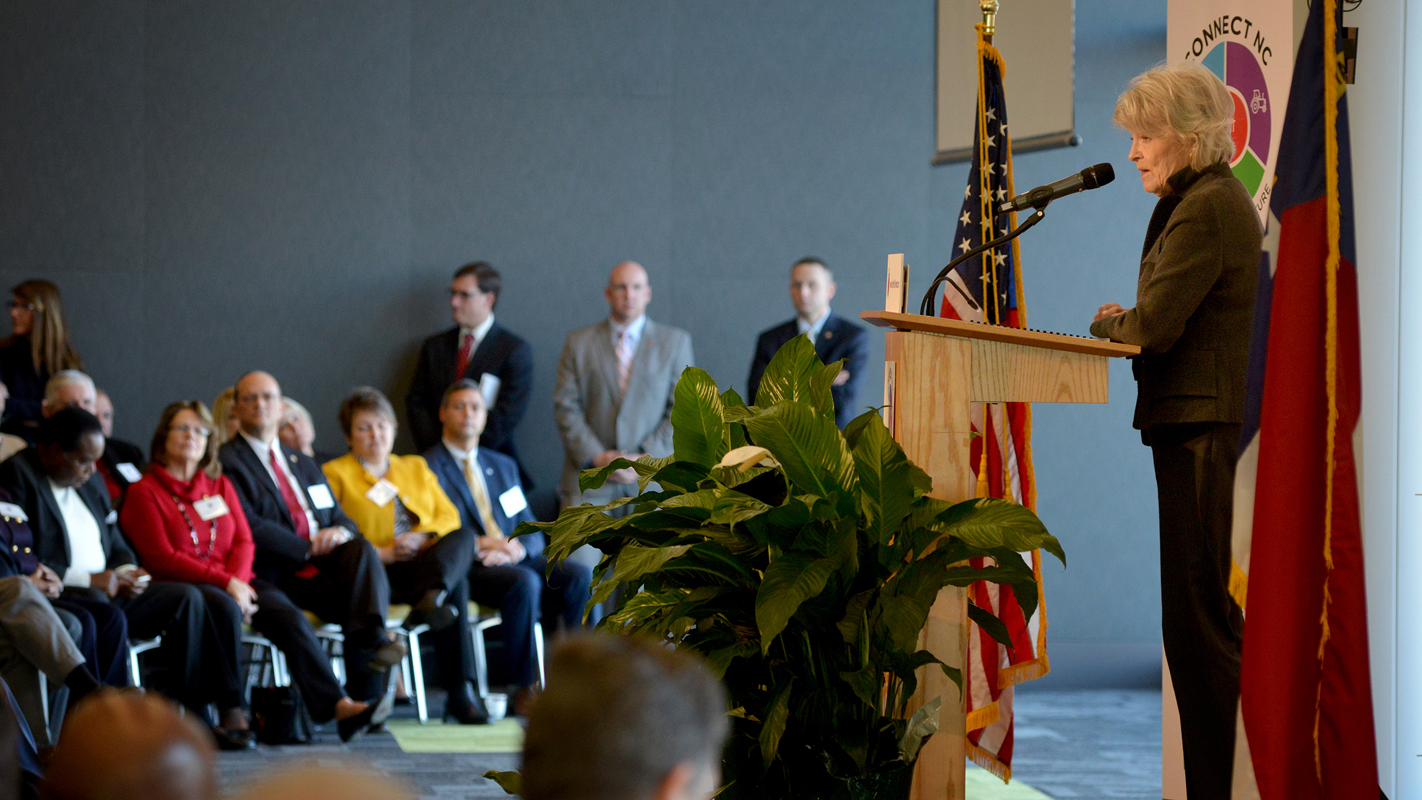 NC State Trustee Ann Goodnight was listing all the ways the Connect NC bond will help companies across the state of North Carolina fill future high-skill jobs Tuesday morning when she realized she had just too many numbers in front of her.
Those numbers highlighted double-digit growth in multiple economic sectors related to science, technology, education and math; a bigger need for postsecondary education for all citizens of the state and a startling lack of training for jobs that will drive the state's future economy.
All are things that Goodnight and others believe will be addressed by Connect NC, a proposed $2 billion bond that will be on the ballot in North Carolina's primary election on March 15.
"I think I've probably given you too many statistics," said Goodnight, director of community relations at SAS Institute, the analytics software giant in Cary founded by her husband James Goodnight.
Education and statistics, however, are what the Goodnights are known for.
"Let me just say, that these funds are incredibly important to provide a significant economic boost to North Carolina, generating millions of dollars in the sale of goods and services for our businesses and creating thousands of jobs," Goodnight said. "By passing Connect NC, we will demonstrate our commitment to improving our educational system and thereby attract businesses and talent to North Carolina.
"It is critical that we take this opportunity for targeted long-term investments that are vital to NC competing successful in the global economy."
Goodnight joined NC State Chancellor Randy Woodson, North Carolina Gov. Pat McCrory and other speakers on Tuesday at the Hunt Library on Centennial Campus to kick off statewide public support for the bond referendum. Hundreds of bipartisan supporters were on hand to promote the first statewide bond in more than 15 years.
"It is clear we need this bond for the future of our great state," Goodnight said.
Woodson said the bonds will "provide critical support for our university system and community colleges," with more than $1.3 billion of the package going to higher education, while McCrory touted the positive impacts it will have on the National Guard, the state park system and water and sewer infrastructure across the state.
"The impact of this bond will be felt across the great state of North Carolina," Woodson said. "If passed, Connect NC will help keep our state strong now and into the future, decades into the future."
NC State stands to receive more than $160 million from the proposed bond for agriculture and engineering, two of North Carolina's biggest economic sectors. Those funds, along with an additional $145 million to be raised by NC State donors, are designated for two new buildings on Centennial Campus, the Engineering Oval and the Plant Sciences Initiative.
More information on the bond, and its impact to both NC State and the state of North Carolina, is available here.