Engineered for Speed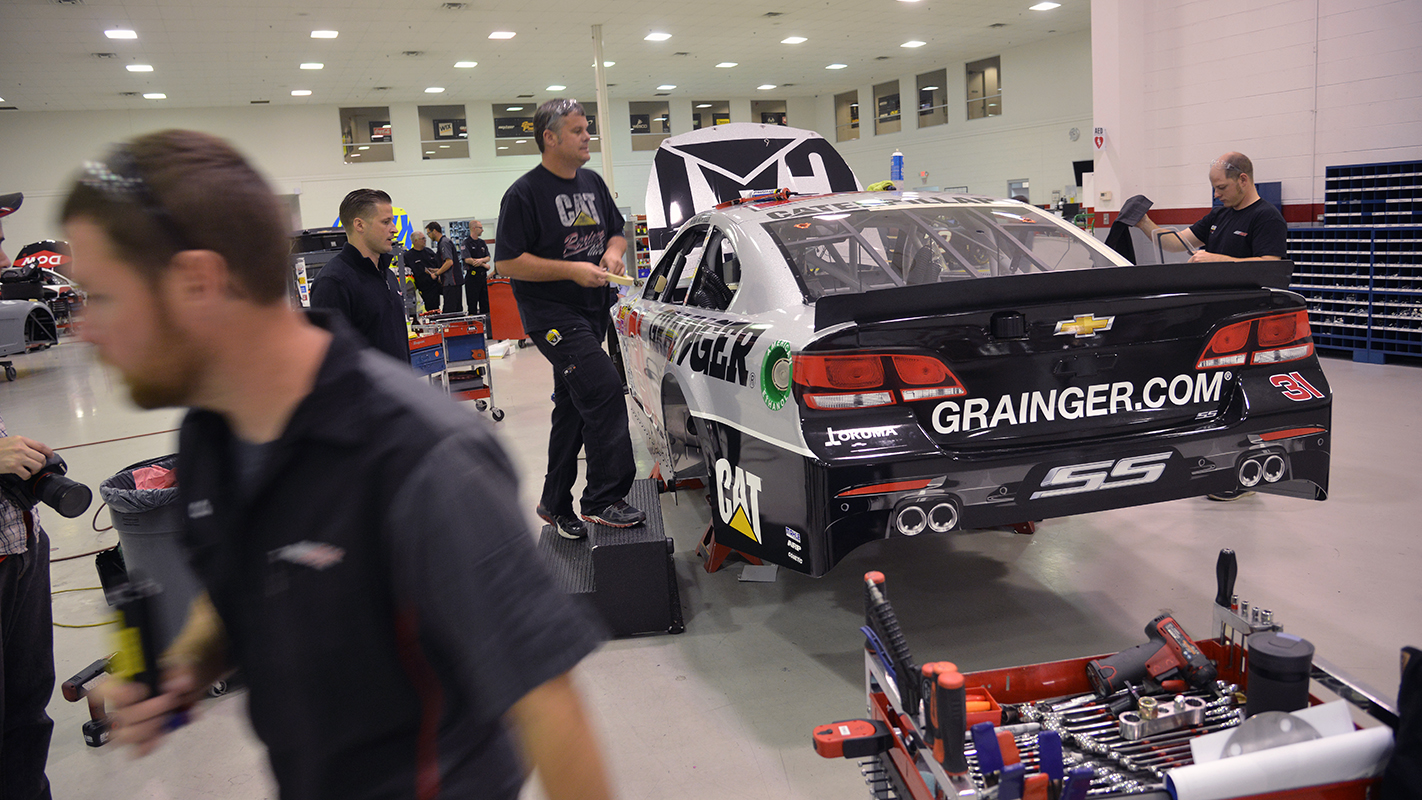 More than anything else, Herb Fishel wanted to be a master auto mechanic, like his uncle Bill.
Growing up in Winston-Salem in the 1950s, Fishel was obsessed by cars, those in the backyard shop and those on race tracks around the world he heard about on the radio and read about in the local newspaper.
His parents insisted that their son learn more about engines than how to change points and plugs, so they sent him off to NC State to study mechanical engineering. When he graduated in the spring of 1963, Fishel still wanted nothing more than to work on cars, so he sent letters to NASCAR legends Lee Petty, Junior Johnson and Bondy Long, asking for a job on their racing teams.
At the time, NASCAR was proud of its stock-car status, taking factory-built frames and engines and racing against each other. To be honest, drivers mostly trusted mechanics who carried wrenches, not college diplomas; pit crew members wore coveralls, not caps and gowns. Most of the letters Fishel sent were never answered.
So he headed off to Detroit to work for Chevrolet Engineering as an engine designer, eventually becoming one of the most influential voices in auto racing.
Just as racing didn't hire engineers, Chevrolet didn't participate in racing. Fishel spent the next four decades changing that, eventually creating what is now known as GM Motorsports, perhaps the most successful racing technology company in the country.
Fishel has left a legacy for other NC State engineers, who are now an intrinsic part of North Carolina's Speed Month, as May is typically called. Last weekend, the Charlotte Motor Speedway, or CMS, hosted the Sprint Showdown and the Sprint All-Star Race, preludes to the biggest weekend of the year, featuring Saturday's Hisense 4K TV 300 and Sunday's Coca-Cola 600.
NASCAR itself is based in Daytona, Florida, but 90 percent of all race teams are headquartered in North Carolina and racing—like NC State—pumps more than $6 billion into the state's economy, according to a 2014 study. The NASCAR Hall of Fame, recently opened in downtown Charlotte, tells racing's storied history in the state, with help from executive director Winston Kelley, a magna cum laude graduate from NC State with degrees in business management and economics.
https://www.youtube.com/watch?v=LwPny8i0adg
NC State's story in the sport will be told at 140 decibels this weekend, as senior business major Harrison Rhodes, a three-year veteran of NASCAR's Xfinity series, will drive the No. 97 car in Saturday's race. The red-and-white Camaro will be adorned with logos promoting the university, the College of Engineering and Wolfpack athletics.
CMS is an asphalt laboratory for mechanical and aerospace engineers, as the sport has evolved from its earliest days of running moonshine to modern days of running advanced analytics.
Over the last two decades, NASCAR teams have hired more than 400 engineers, a huge increase since 1982, when NC State graduate Bobby Hutchens became the sport's first college-educated engineer. The trend took off with the late Alan Kulwicki, a University of Wisconsin-Milwaukee graduate who was famous for being the first driver with an college degree, and fully exploded with the 1990s success of crew chief Ray Evernham and Jeff Gordon, who built their 1990s success with a garage full of trained engineers.
Daniel Knost, who first earned an NC State mechanical engineering degree before getting graduate degrees at Virginia Tech, now works for driver Danica Patrick and is NASCAR's first crew chief with an engineering Ph.D.
"There is not a team that can compete today without a strong engineering organization," says Eric Warren, the competition director for Richard Childress Racing. "Not one."
Warren, a native of Mount Airy, North Carolina, is one of the growing number of engineers with doctorates in the sport. He and engine builder Doug Yates, who graduated with a mechanical engineering degree from NC State in 1990, were recently inducted into the College of Engineering's MAE Hall of Fame.
Another NC State classmate, Patrick Canupp, has two NC State degrees and a doctorate from Stanford. Canupp, the director of aerodynamics for Joe Gibbs Racing, was the featured speaker at this year's MAE commencement exercises.
https://www.youtube.com/watch?v=TCGwI4b573Q
Warren—who has an undergraduate, a master's and a doctorate in aerospace engineering from NC State— never intended to work in racing. In fact, he had never attended a race until he started working in the sport. He had hoped to work in military aircraft design or for the space program after working on computational fluid dynamics research at NASA-Langley Research Center during graduate school at NC State.
His career choice puzzled his professors, including aerospace engineering professor Hassan A. Hassan, a noted expert in hypersonic aerodynamics.
"When I first got into it, Dr. Hassan thought I was throwing my education away," Warren says. "It didn't appear to be very technical from the outside, but we do a tremendous amount of research and development."
RCR, Warren's employer, relies on more than just the engineering done in its Welcome, North Carolina, headquarters. It has also sponsored mechanical engineering senior design projects the last two years and just completed its first project with NC State's Institute for Advanced Analytics.
"That's the next wave for our sport—looking deeper into all the numbers we collect every weekend," Warren says.
NC State has a preparatory program for engineers looking to get into racing called Wolfpack Motorsports, a student-run organization that designs, builds and races in annual international competitions sponsored by the Society of Automotive Engineers, or SAE.
Advised by mechanical and aerospace professor Eric Klang, the voluntary club has earned multiple top 10 finishes in both the Baja and Formula divisions.
The program's alumni have had remarkable success after leaving Raleigh.
Luke Lambert and Jonathan Diuguid both worked with Wolfpack Motorsports their entire college careers, as did both their future wives.  (Diuguid's wife, Katherine, is a professor in NC State's College of Design and the co-director of the student fashion show, Art2Wear.)
Lambert is now the crew chief for RCR driver Ryan Newman, who will drive in both Charlotte races this weekend. Diuguid went in American racing's other direction, working on Indy cars. Now the crew chief for three-time Indianapolis 500 winner Helio Castroneves, Diuguid will be at The Brickyard (the speedway in Indianapolis, not plaza in front of D.H. Hill Library) for the weekend's other big race.
Scores of other engineers have come through the program, a point of pride for Klang, who will retire next spring after 31 years in the MAE department.
"Wolfpack Motorsports is one of those things where we can teach practical experience to go along with students' engineering training," Klang said. "They spend a lot of hours after class and on weekends doing this, but they all get good jobs when they graduate."
It may have taken a while for race teams to warm up to degreed engineers, but the sport is all-in now. Computational fluid dynamic equations and wind tunnels have as much to do with trips to victory lane as trained pit crews.
"Drivers will listen to anyone who will help them go faster," Fishel said in a panel discussion in February sponsored by the NC State Alumni Association and the College of Engineering.
And there are dozens of Wolfpack voices at the track to listen to.
Editor's note: Read more about NC State alumni involved in auto racing in this Summer 2013 issue of the NC State Alumni Magazine.