Pack Impacts, Off the Track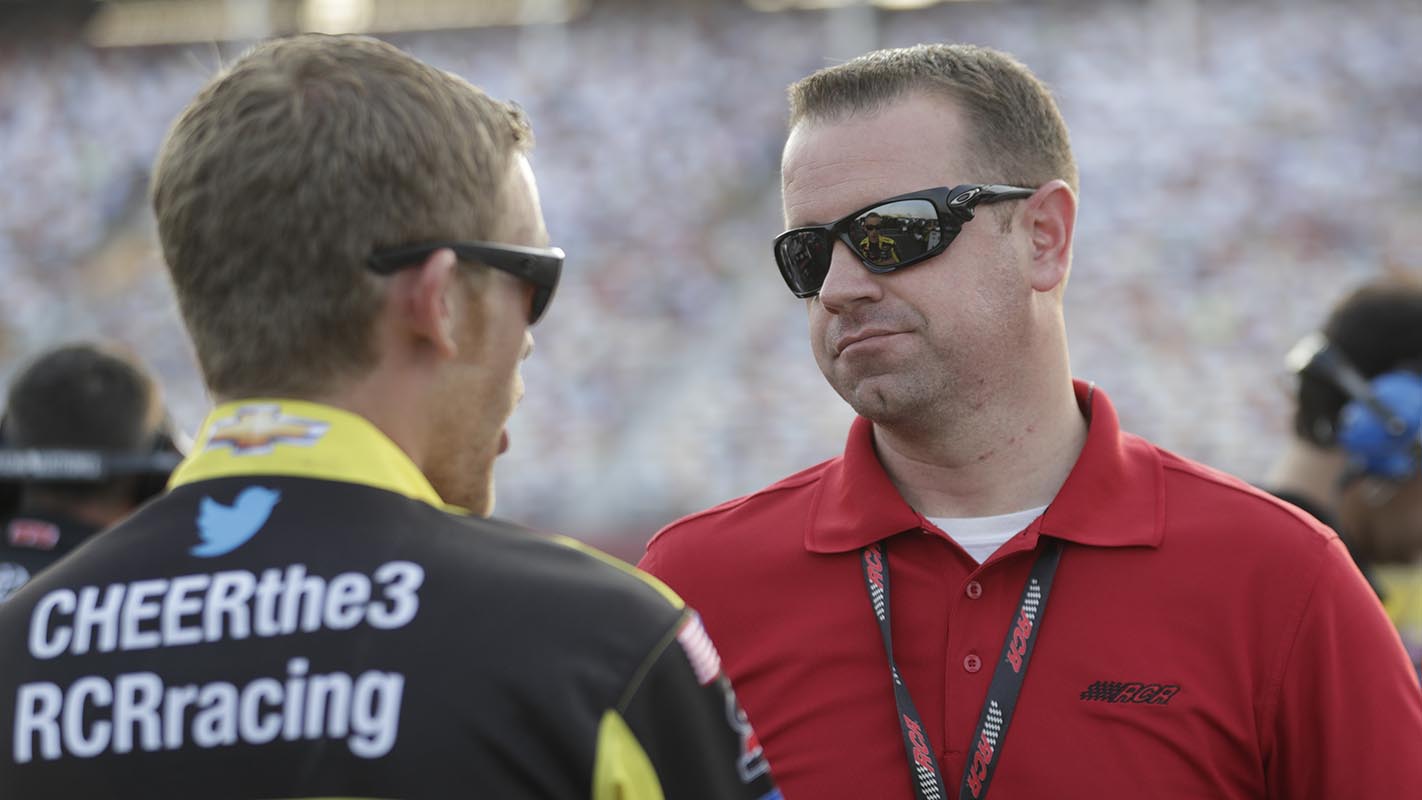 NC State is a steady presence in the shops of NASCAR racing teams. Engineers who trained on campus play a key role in preparing drivers and tweaking cars ahead of each week's races.
Pack grads are also a big part of the off-track machinery that drives NASCAR. From the marketing and public-relations departments of racing teams to the NASCAR Hall of Fame itself, they shape the way fans follow the sport today and will remember it tomorrow.
Meet two of those NC State alums:
Winston Kelley: Serving Streakers, Strollers and Studiers
Ever since he was a 6-year-old, business alum Winston Kelley has been a NASCAR fan. His history with the sport dates to the 1964 Daytona 500. Kelley attended the race with his father, a Charlotte Motor Speedway public relations man and NASCAR public-address announcer. Winston met NASCAR legend Richard Petty and was immediately hooked.
"If your dad hunts and fishes, you tend to hunt and fish," Kelley said. "In my case, Dad went to the race track."
Concord native Kelley carried his passion for stock car racing through his time at NC State. As a freshman, he planned to study computer science but switched to business after taking a career inventory. When he graduated in 1979, Kelley looked for ways to work around NASCAR, but the modern media machine surrounding the sport didn't exist then.
For the next quarter-century, NASCAR remained a hobby for Kelley, who worked weekends as a raceday radio announcer as he worked his way up the corporate ladder at Duke Power (later Duke Energy).
"I had great jobs at Duke Power, and for my weekend hobby to be broadcasting races was something I thoroughly enjoyed," he said. "I got to enjoy the people as much as the races, over time."
After 27 years at Duke Energy — during which Kelley ultimately became vice president of government and business relations — Kelley got the full-time shot at motorsports that he'd sought after college. In 2006, he was hired as the first executive director of NASCAR Hall of Fame.
Kelley said his decade leading the hall of fame has felt like two different jobs. The hall didn't open until May 2010, so he spent his first four years envisioning the museum and leading the effort to build it from the ground up: fundraising, hiring a staff and touring other halls of fame to get ideas for what the finished building would look like.
Since 2010, his focus has turned to sustaining the hall and helping it grow. He manages relationships between the hall and its industry and government partners (as part of the Charlotte Regional Visitors Authority, the hall is a city-owned facility) and generally "[makes] sure my staff has the resources it needs."
That staff is overwhelmingly responsible for the exhibits that appear at the hall of fame. Because he was present for so much of the history documented at the hall, though, Kelley occasionally gets a chance to weigh in. His deep connections in the industry have also brought in exhibits that otherwise may not have appeared there.
The goal for everyone at the hall of Fame is to preserve NASCAR history and showcase it to a range of audiences, from people with a passing interest in the sport to lifelong fans. Kelley and his staff describe the groups as "streakers, strollers and studiers" — people who pass through the museum quickly, those who dig deeper into the exhibits and diehards who hunker down in the hall for hours.
Were he a museum visitor, rather than its director, Kelley would place himself in that last group. And the hall still surprises him.
"I've been around NASCAR since 1964," he said. "And I learn something every day about the history of the sport."
Jeremy Burleson: Maintaining Sponsorships and Speed
Even the keenest NASCAR fan may watch every Sprint Cup race and never see Jeremy Burleson. But it's impossible to miss the products of his work.
As vice president for partner marketing and communication at Richard Childress Racing (RCR), the 2002 Poole College of Management grad's chief responsibility is maintaining the relationships that keep RCR cars wrapped in sponsors' logos — and on the road.
Sponsorship support generates more than half of a race team's income, Burleson said. A business major at NC State, he managed seven sponsor accounts when he started working for RCR in 2007. In his vice president's role, which was announced in mid-May, he oversees 38 accounts, as well as a staff of 12 people.
Some of those partnerships are invisible to the fan's eye: they help teams develop engine and body technologies. Other, multi-million-dollar deals are written all over Ryan Newman, Paul Menard and Austin Dillon's stock cars: major agreements with equipment giant Caterpillar, Menard's department stores, Dow Chemical, plumbing supply manufacturer Moen and others.
Each partner has different needs, but they all need to see impact from their investments.
"We constantly look for new and different ways for partners to innovate," he said. "I'm responsible for seeing that they get a return on their investment."
Burleson's role at RCR merges two of his long-time loves, one that's been with him since childhood and one he discovered in college. Growing up in Locus, just outside of Charlotte, Burleson played baseball and found an early love of sports. As a student at NC State, he developed a passion for the intersection of sports and business.
"What I appreciated and what I learned in classes at State was that I loved watching businesses succeed with sponsorships in sports," he said.
Burleson is one of 15 Wolfpack alumni working across RCR. Many of them, including two of the team's three crew chiefs, are engineering graduates who ensure that the cars are in peak condition. But several, including Chief Financial Officer Scott Frye and Vice President of Business Development Mike Brown, are products of NC State business and accounting programs.
"Five years ago, I couldn't have listed five people I knew (in racing) who had graduated from NC State," Burleson said. "Particularly on the engineering side, a lot more are emerging … I would go back to NC State in a heartbeat, if I could."