A Matter of Respect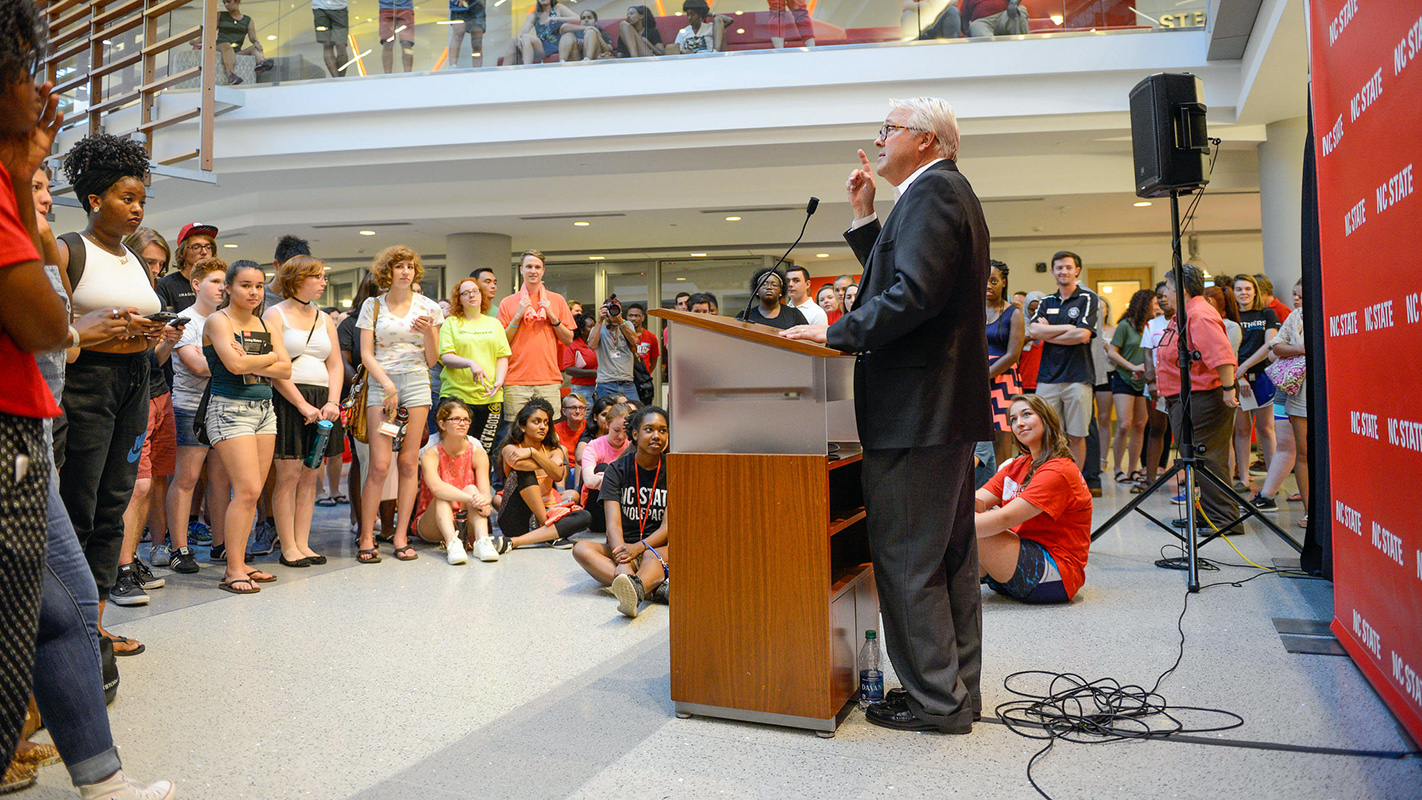 Nearly 100 events take place during Wolfpack Welcome Week, but few carry the weight of Respect The Pack. Participants in the annual event come together to share a message of diversity and inclusivity that organizers hope will resonate with the campus community.
"You are all here to pursue your dreams," said Chancellor Randy Woodson. "And you deserve to do that in a safe and welcoming environment."
This year, students, faculty, staff and university administrators gathered in Talley Student Union enjoyed student performances and a chance to engage with groups including the GLBT Center and the Muslim Students' Association. Their message was clear: How we respect the Pack matters.
Timira Conley, a junior and director of Student Government's Diversity Outreach Department, echoes that sentiment.
"The message of Respect the Pack reaches greater audiences than our student body alone," said Timira Conley, a junior and director of Student Government's Diversity Outreach Department. "Our administration, students and faculty are passionate members of the Wolfpack that are striving to make sure we all feel a sense of community here as one."
Other student government representatives, including Student Body President Paul Nolan and Student Body Vice President Brayndon Stafford, urged students to think critically about how their words and actions impacted others.
"Individuals and groups deserve equity and respect," said Nolan. "That starts with NC State and the Wolfpack community."
Matthew Wright touched on what diversity means to him and how individuals may experience diversity. "Every person is at the center of their own Venn diagram with lots of overlapping circles," he said.
Wright is a junior graphic design major who identifies as an African-American male, and is a musician, dancer, mentor and more. That's just one example of the rich diversity that can exist within an individual.
"There is beauty in diversity. There is unity in diversity. We can strengthen the Pack by embracing every facet of its wolves" — Matthew Wright, junior, graphic design.
During the event, the GLBT Center worked with students in an exercise that demonstrated how to show respect for all gender identities by using a person's preferred pronouns in conversation. The Muslim Student Association encouraged others to respect the diversity of religions on campus and to create community instead of division within the university.
Students at Respect the Pack spoke with one another on other aspects of diversity. They focused on race, level of ability/disability, social background and how individuals may be a part of several or many different groups.
NC State has made great strides to embrace diversity, but members of the university community must continue to work together to make NC State welcoming for all, noted Conley.
"We are not there yet…but we are all committed to making sure this university is a safe and inclusive learning environment for all and the initiatives that will come from Student Government this session are built on these motives," she said.