Athletics
Home Moments to Remember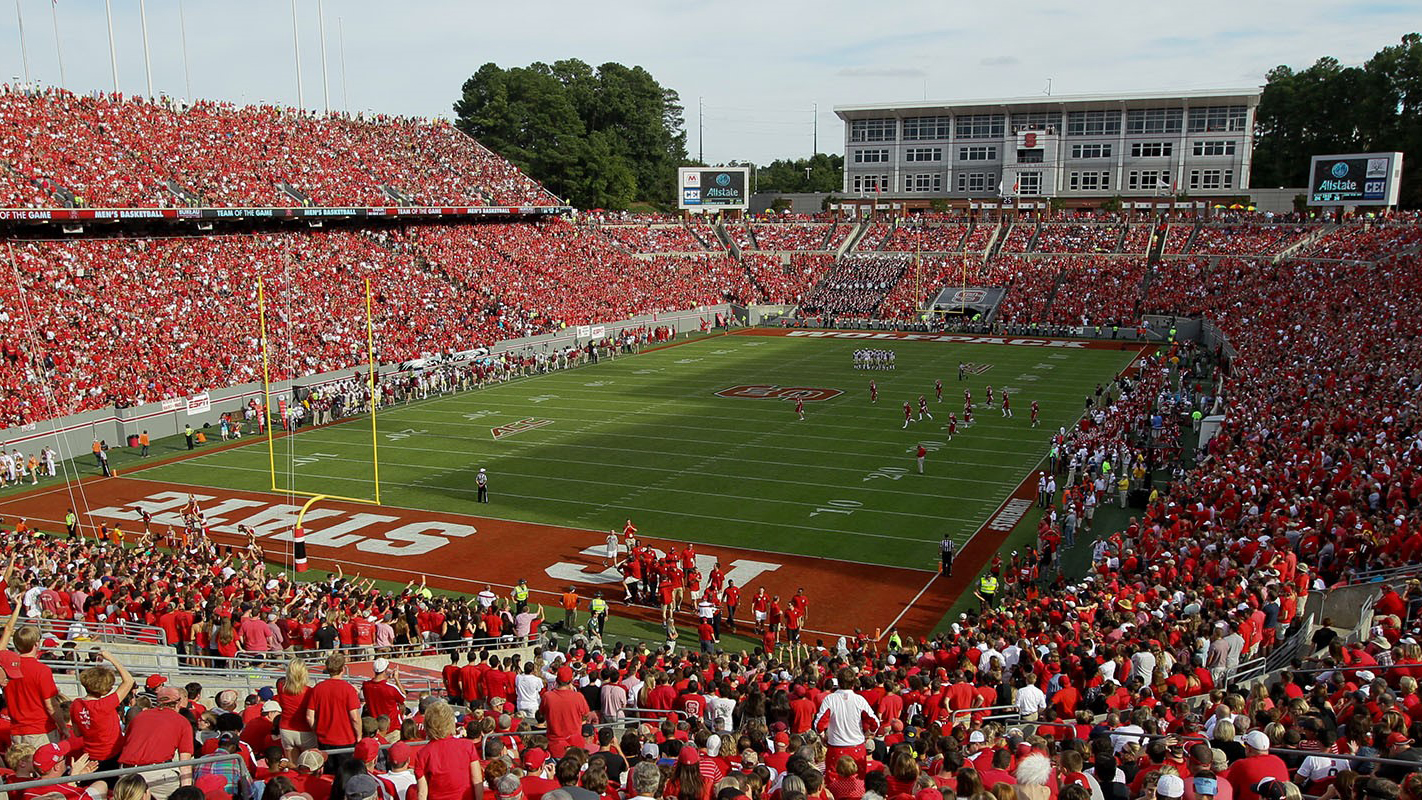 As Carter-Finley Stadium celebrates its 50th anniversary as the home of Wolfpack football, fans and alumni are reflecting on all the great moments they witnessed during the facility's first half century, from extraordinary upsets on the gridiron to the Billy Graham Crusade to the international broadcast of the Special Olympics Opening Ceremonies. The stadium has not only hosted more than 300 football games; it has also been the home of commencements, concerts and special events.
Here are a few highlights from Carter-Finley's illustrious history: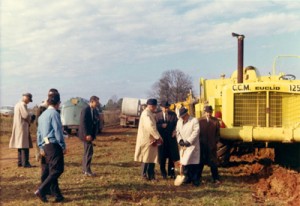 Dec. 14, 1964: On the site of a former research pond adjacent to the North Carolina State Fairgrounds, a crew broke ground for construction of a facility that would replace NC State's obsolete on-campus Riddick Stadium. The 75-acre tract had also been used to grow alfalfa and corn for the NC State agriculture department, on what for decades had been called the Prison Farm. The large tract of land — originally owned by Raleigh founder Joel Lane — had been passed down and sold as farming land for more than a century until the federal government turned much of it into Camp Polk, the U.S. Army's only tank training grounds during World War I. (Some of the same land had been part of Camp Mangum, a Confederate Army training grounds commanded by Maj. Gens. D.H. Hill Sr. and Stephen Ramseur.) The land was all turned over to the North Carolina Prison System on Jan. 1, 1920, and was later subdivided among Polk Youth Center, the North Carolina State Fairgrounds, Meredith College, the North Carolina Art Museum, the NC State School of Veterinary Medicine and research farms. Fundraising for the new stadium was spearheaded by the NC State Stadium Development Committee, which was chaired by Raleigh businessman Walker Martin.
Oct. 8, 1966: Named in honor of brothers Nick and Harry Carter, graduates of NC State's School of Textiles, the Wolfpack's state-of-the-art steel and concrete stadium opened in front of a crowd of 35,000 spectators on Dedication Day. It was a dream come true for longtime head coach Earle Edwards, who pushed to get a new stadium for football in the same manner that basketball coach Everett Case pushed to get Reynolds Coliseum. Sociology student Dianne Davis was named "Miss Carter Stadium," and Martin was honored for his tireless efforts to raise $1.75 million of the $3.7 million project cost. South Carolina won the game 31-21 for their only victory of the season, thanks to a 98-yard touchdown by Bobby Bryant that still ranks as the longest punt return in ACC history.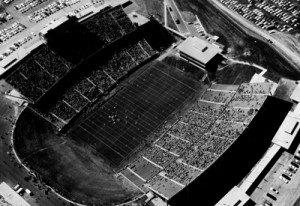 Oct 15, 1966: Eighth-ranked Florida, led by eventual Heisman Trophy-winning quarterback Steve Spurrier, played in Carter Stadium's second game. It was also the first game ever played at the same time as the annual North Carolina State Fair across Trinity Road. Spurrier threw two fourth-quarter touchdowns in a 17-14 comeback victory.
Oct. 29, 1966: NC State gets its first win in Carter Stadium, a 42-21 romp over Virginia. The Pack won its final three games that season, all at home, to finish 5-5 overall and 5-2 in the ACC.
Sept. 16, 1967: In the first and so far only double-header in ACC football history, NC State opened the 1967 season at home against North Carolina in the afternoon, beating the Tar Heels 13-7 thanks to a 55-yard pass from Jim Donnan to Harry Martrell. It was the debut of the Wolfpack's famed "White Shoes Defense," named in honor of linebacker Chuck Amato's successful effort to convince his teammates to paint their cleats white. Later that night, neighbors Duke and Wake Forest played on the same field, with the Blue Devils winning 31-13. That game was played on a neutral site because of a scheduling snafu between the Demon Deacons and Blue Devils. Despite the prospect of foul weather from Hurricane Doria, a combined total of 64,700 spectators took in the two games, and traffic for both games was manageable.
Oct. 19, 1968: On a field made soggy by rains from Hurricane Gladys, the Wolfpack defense posted the first shutout in Carter Stadium history with a 19-0 swamping of Virginia, shutting down Cavalier halfback Frank Quayle, who entered the game as the nation's third-leading rusher. The victory was followed by wins over Maryland and Duke to seal the Wolfpack's fifth and final ACC championship to be won under head coach Earle Edwards.
Sept. 5, 1970: Legendary quarterback Johnny Unitas brought the Baltimore Colts to Carter Stadium to face the Detroit Lions in the fourth-annual Jaycees Charity Classic, a preseason exhibition game played on NC State's home field. In front of 34,500 fans, the 37-year-old Unitas completed 11 of 24 passes for 102 yards, including an 8-yard go-ahead touchdown pass to Tom Mitchell late in the game. The Colts went on to finish 14-2-1 that season and to win Super Bowl V over the Dallas Cowboys in Miami.
Oct. 9, 1971: Trailing 15-14 with 22 seconds to play in a steady downpour, Wake Forest lined up to attempt a game-winning 52-yard field goal. The Wake kicker slipped on the kick, and the ball squirted into the hands of NC State's Bill Miller. As Miller ran down the sidelines for a touchdown, Wake Forest quarterback Larry Russell came off the bench to tackle Miller, who was eventually awarded the score. The Wolfpack won 21-14 and gave interim head coach Al Michaels his first career victory.
Nov. 18, 1972: NC State wrapped up its inaugural season under head coach Lou Holtz with a 42-17 victory over Clemson to finish 8-3-1 and earn an invitation to the Peach Bowl, where it faced Bobby Bowden-coached West Virginia.
Sept. 23-30, 1973: While Lou Holtz took his Wolfpack football team to Nebraska and Georgia, world-famous evangelist Billy Graham arrived in Carter Stadium for his eight-night Central Carolina Crusade. Beginning with 29,000 followers on opening night, the crusade soldiered on every night from Sunday to Sunday. In its next home game, perhaps with a little divine intervention, the Wolfpack beat North Carolina 28-26 and went on to win seven of its final eight games to claim its only ACC championship under Holtz.
Oct. 6, 1973: Out to a 21-3 lead behind the leadership of quarterback Dave Buckey, NC State fell behind in the second half and needed a fourth-quarter, fourth-and-one touchdown by 1973 ACC Player of the Year Willie Burden to take a 28-26 victory over North Carolina. The Pack won seven of its final eight games that season, including all six ACC contests, for the only league championship of the Lou Holtz era.
Oct. 24, 1973: In the final home game of his All-America career, running back Willie Burden rolled up 188 yards to become the first Wolfpack player to gain more than 1,000 yards in a season and to win the ACC rushing title, with a total of 1,018 on the season. The Pack gained a total of 407 yards rushing and 638 yards in total offense that day, both of which remain Carter-Finley Stadium records more than four decades later. The 52-13 victory completed the first undefeated mark in conference play in school history and the first of three consecutive undefeated home seasons under Lou Holtz.
Nov. 9, 1974: NC State's defense — under the guidance of coordinator Al Michaels, a Penn State graduate and former NC State interim head coach — stopped the Nittany Lions on four consecutive plays after starting at first and goal on the 6-yard line. The third-quarter goal-line stand was instrumental to ending an 11-game losing streak to the Nittany Lions. Running back Stan Fritts gained 112 yards, rushing for one touchdown and throwing an option pass to Pat Hovance for the other in the 12-7 victory. Michaels received the game ball for his defensive squad's performance.
Sept. 20, 1975: With his team trailing the 13th-ranked Gators 7-0 with less than four minutes to play, Wolfpack defensive back Dan Meier recovered a fumble on the Florida 38-yard line. On the next play, Dave Buckey hit Elijah Marshall on a post pattern for a late touchdown. Holtz sent sophomore Johnny Evans in as a fullback, and Evans took the pitch in for a two-point conversion to give the Wolfpack a much-needed 8-7 win. The victory came as an unexpected bounceback a week after the only home defeat of the Lou Holtz era, a 30-22 loss to Wake Forest.
Oct. 4, 1975: Freshman running back Ted Brown, after sitting on the bench for the first three weeks of the season and sitting out a road trip to Michigan State, made his first career start for the Wolfpack. He rushed for 121 yards and two touchdowns in this game, then added 106 yards and two touchdowns against North Carolina in the Wolfpack's next home game, a 21-20 victory that was saved when the defense stopped a two-point conversion attempt with 14 seconds remaining. Brown went on to become the ACC's all-time leading rusher with 4,602 career rushing yards, a title he has held for almost four decades.
Oct. 1, 1977: Senior quarterback Johnny Evans engineered a 69-yard drive in the final two minutes of the game, scoring a go-ahead touchdown with 27 seconds remaining on the clock to give his team a 24-20 victory and breaking Maryland's 21-game ACC winning streak.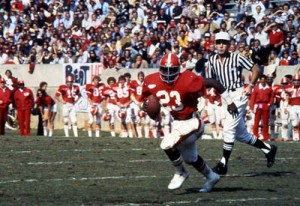 Nov. 5, 1977: Junior running back Ted Brown bulled his way through ninth-ranked Penn State's defense for a school-record 251 yards, a single-game rushing record that still stands for NC State and against Penn State. Brown ran through all of his No. 23 tearaway jerseys and finished the game wearing No. 19. However, Penn State capped off a late 83-yard drive with a go-ahead touchdown with 53 seconds to play to escape with a 21-17 victory.
Sept. 9, 1978: The terms of the $1.5 million, 40-year city bond that provided financing for Carter Stadium required that all revenue from football — the athletics department's biggest source of income — go to service the debt. Thanks to the generosity of Wolfpack fans, the mortgage was paid off a full 26 years early. Prior to the season-opening game against East Carolina, Chancellor Joab Thomas, athletics director Willis Casey and others held a ceremonial mortgage-burning at midfield.
June 2, 1979: The first major concert at Carter Stadium was called Summer Jam, an all-day event that featured, in order, Poco, Van Halen, Boston and the Outlaws.
Sept. 8, 1979: The home of NC State football was officially renamed Carter-Finley Stadium, recognizing the contributions made by Raleigh philanthropist A.E. Finley, the founder of North Carolina Equipment Company. Finley was a longtime contributor to NC State and other area colleges, providing financing for the A.E. Finley Fieldhouse when the stadium opened in 1966.
Nov. 10, 1979: After NC State engineered a remarkable 72-yard scoring drive to take a 7-6 lead against Penn State with 1:18 to play, Penn State had one last chance to win the game. Backed up on fourth and 24, the Nittany Lions converted with a 36-yard first-down pass. With one second to play, kicker Herb Menhardt's wobbly field goal attempt bounced off the crossbar and through the uprights to give Joe Paterno's team a dramatic victory and the Wolfpack its most heartbreaking home defeat.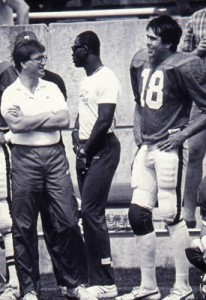 April 13, 1985: Former Wolfpack All-American quarterback Roman Gabriel, seven years removed from his 16-year NFL playing career, appeared in his only game at Carter-Finley Stadium as the starting quarterback for an alumni team against the Wolfpack varsity squad in an exhibition game marking the end of spring practice. The 44-year-old Gabriel joined former Wolfpack stars, including Buffalo Bills starting center Jim Ritcher, in a past-vs.-present game that was more fun than productive. Gabriel did throw a touchdown pass in the game, but only because wide receiver Ricky Wall lined up in the end zone behind the defense and was unguarded on the play. The tradition of the alumni exhibition game ended when head coach Tom Reed left after three years.
Oct. 25, 1986: In a season that was defined by comebacks and close finishes, the Wolfpack scored a virtual blowout with a 27-3 victory against the No. 16 Clemson in a state-fair game regionally televised by CBS. It was the first home win over a ranked team by first-year head coach Dick Sheridan, who guided the Wolfpack to an 8-3-1 record in his inaugural season. With Brent Musburger calling the action, Steve Spurrier scouting in the press box for the Hall of Fame Bowl and athletics director Jim Valvano hosting a highly ranked point guard recruit named Chris Corchiani in the press box, the Wolfpack overcame muddy field conditions to win the game. Erik Kramer hit Danny Peebles on a 50-yard touchdown in the second quarter to give the Pack a 17-3 lead, and then Haywood Jeffires rushed around the end on a reverse that took the Tigers by surprise. He romped 62 yards for a touchdown, and the Tigers never threatened again against a Wolfpack defense that was led by linebackers Fred Stone and Pat Teague and nose guard Sandy Kea.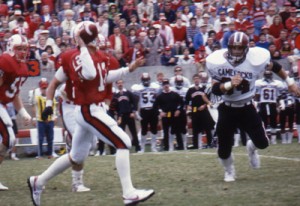 Nov. 1, 1986: With no time remaining on the clock, the Wolfpack had one last-ditch opportunity to beat visiting South Carolina, thanks to a Gamecocks penalty. Using a play literally drawn up in the dirt on the sidelines, future NFL quarterback Erik Kramer found dual-sport star Danny Peebles in the back of the south end zone on the Hail Mary throw to give the Wolfpack one of the unlikeliest and most dramatic victories in school history.
May 7, 1987: The university finished a year-long celebration of its centennial by moving the traditional commencement exercises from Reynolds Coliseum to Carter-Finley Stadium. Chancellor Bruce Poulton gave the commencement address. Subsequent speakers for the outdoor exercises included poet and author Maya Angelou (1990), the first female commencement speaker in school history; Sen. Elizabeth Dole (1994),  a North Carolina native; children's television host Fred Rogers (1996); and U.S. Army Gen. Hugh Shelton, Chairman of the Joint Chiefs of Staff and an NC State alumnus. Commencement exercises were moved back indoors in the winter of 1999 with the opening of PNC Arena.
July 17, 1987: A capacity crowd of 52,700 filled the stands for the opening ceremonies of the 1987 Olympic Sports Festival, an elaborate celebration of the state directed by Raleigh's Ira David Wood. The four-hour kickoff to the largest sporting event in the state's history needed 2,000 volunteers to produce and included a parade by more than 3,000 athletes from across the country, as well as musical performances by North Carolina natives Roberta Flack, Charlie Daniels, Shirley Caesar and the Four Tops. The Olympic-style games included 34 sports, lasted more than two weeks and included venues all over the state.
Sept. 5, 1987: Following a 32-14 victory by East Carolina, some 2,000 Pirate fans came down the grassy bank and stormed the field at Carter-Finley, causing damage to a chain-link fence, the playing surface and the goal post in the south end zone. A similar event had occurred in 1985, and a week after the '87 game NC State athletics director Jim Valvano cancelled all future home games in the rivalry. The two teams met again at the 1992 Peach Bowl in Atlanta and in a neutral-site game in Charlotte in 1996. The Pirates returned to Carter-Finley in 1997.
Aug. 20, 1989: The Philadelphia Eagles faced the New York Jets in an NFL exhibition game called the "Carolinas Kickoff," which was organized by Charlotte businessman Jerry Richardson as part of his push to attract an NFL team to the state. A near-sellout crowd of 52,855 spectators saw the Jets take a 19-10 victory. In 1994, the Carolina Panthers played their inaugural season, playing all home games at Clemson's Memorial Stadium. NFL exhibition games were not new to Raleigh. Carter Stadium hosted four games from 1967 to 1970, and Riddick Stadium hosted a preseason exhibition game in 1954.
Sept 23, 1989: The Wolfpack ended a 14-year drought in Raleigh against rival UNC-Chapel Hill by posting the largest margin of victory in a home game in the series' history, with a 40-6 victory.
July 10, 1990: Some 35,000 Deadheads endured thunderstorms and a power outage in the middle of a Grateful Dead concert on the soggy field.
July 22, 1990: Former Beatle Paul McCartney, returning to the United States for the first time in 13 years, made Carter-Finley one of the final stops on his 1989-90 world tour. His two-hour show included lasers and pyrotechnics.
Sept. 1, 1990: NC State's nationally recognized defense held Division I-AA Western Carolina without a first down in a 67-0 shutout. As of the 2015 season, it's the last game in the NCAA Division I record book in which a defense did not allow a first down to its opponent. The Wolfpack offense scored nine touchdowns and two safeties to post the most points ever scored by any team in the stadium.
April 6, 1991: Former Wolfpack All-America quarterback Roman Gabriel returned to his alma mater as the head coach of the Raleigh-Durham Skyhawks, one of 10 charter members of the World League of American Football, a spring professional football league that had three European franchises. Gabriel's team lost its home opener at Carter-Finley—along with every other game it played that year—and the franchise folded after just one season.
Oct. 5, 1991: The Wolfpack, celebrating its 100th year of football, scored its second consecutive win over a ranked opponent, defeating defending national champion Georgia Tech with a pair of defensive touchdowns. Linebacker Tyler Lawrence returned an interception 32 yards for a score, and Ricky Turner returned a fumble 26 yards for another score to post the 24-21 victory.
Oct. 19, 1991: Trailing Division I-AA Marshall 14-3 late in the fourth quarter, the 11th-ranked Wolfpack needed an 84-yard drive engineered by quarterback Geoff Bender—and aided by a couple of pass-interference penalties, along with a perfectly executed onside kick by Damon Hartman, who missed three field goals in the game—to pull off a comeback victory against the Thundering Herd. Marshall head coach Jim Donnan, the starting quarterback at NC State in the first game played in Carter Stadium in 1966, was disappointed with the officiating during the game. Afterward, he said, "I'm lower than a well-digger."
Nov. 15, 1994: With his team trailing 18th-ranked Duke 23-7 in the third quarter, Wolfpack quarterback Terry Harvey hit wide receiver Adrian Hill with an 82-yard touchdown pass to begin a dramatic comeback. Harvey set up another touchdown with a 53-yard bomb to Greg Addis to set up a field goal, then hit a 2-yard pass to Mike McGuffie with 5:50 remaining to give the Wolfpack a 24-23 lead. After the game, Wolfpack fans tore down the goal posts in celebration of the win that propelled Mike O'Cain's team into the Peach Bowl, where it beat Mississippi State 28-24 to cap a 9-3 season.
Sept. 7, 1996: A day after Hurricane Fran decimated most of Raleigh, NC State faced Georgia Tech in its 1996 season opener. Though power wasn't fully restored to the stadium, multiple generators were brought in to power a regional television broadcast in which the Yellow Jackets beat the Wolfpack 28-16.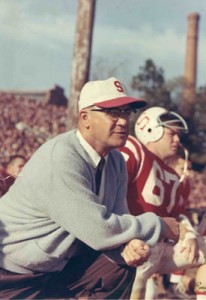 February 1997: The ashes of former football coach Earle Edwards, the man most responsible for promoting construction of a new stadium for the NC State football program, were spread on the field at Carter-Finley Stadium following his death on Feb. 25, 1997. Edwards, a four-time ACC Coach of the Year who won five conference titles, remains the winningest coach in NC State history, with 77 career victories.
May 29, 1997: Irish rock band U2, set to make its Raleigh debut as part of the band's worldwide PopMart Tour, canceled its planned concert at Carter-Finley Stadium when high winds from a spring storm damaged the group's multimillion-dollar video screen at an RFK Stadium appearance in Washington, D.C., three days before. The concert was not rescheduled.
Nov. 22, 1997: A year after NC State and East Carolina renewed their rivalry in Charlotte, a sold-out crowd saw a close game that was tied 24-24 with less than a minute to play. Quarterback Jamie Barnette scored a go-ahead touchdown from the 1-yard line with 51 s and linebacker Clayton White returned an interception for 34 yards to finalize the Wolfpack's 37-24 victory.
Sept. 12, 1998: Future NFL All-Pro wide receiver Torry Holt caught nine passes and returned a punt 68 yards for a touchdown as the Wolfpack upset No. 2 Florida State in the biggest home win in school history. It was the highest-ranked team NC State had beaten since defeating No. 2 Houston in 1967. Even though Seminole quarterback Chris Weinke threw a touchdown pass on the game's first offensive play, the Wolfpack intercepted the future Heisman Trophy winner six times in the game.
June 26, 1999: Emceed by comedian Billy Crystal, the Special Olympics Summer World Games held its opening ceremonies at Carter-Finley. Featured participants included singer Stevie Wonder, poet and author Maya Angelou, singer Shirley Caesar, evangelist Billy Graham and basketball player Grant Hill. Some 7,000 athletes representing 150 countries participated in the 12-day event, competing in 19 sports across the Triangle.
Sept. 4, 1999: Former Wolfpack coach Lou Holtz made a drenched return to Carter-Finley as head coach of former ACC foe South Carolina, thanks to a game-time deluge brought by Hurricane Dennis. Holtz's career got off to a miserable start as his team lost four of eight fumbles in the downpour and went on to lose all 11 games in his inaugural season. The Wolfpack scored the 10-0 game's only touchdown, on a blocked punt.
Sept. 25, 1999: Hurricane Floyd not only displaced much of the eastern part of the state, it also forced the East Carolina-Miami football game from flooded Greenville's Dowdy-Ficklen Stadium to Carter-Finley. The Pirates, behind the passing of future NFL quarterback David Garrard, beat the ninth-ranked Hurricanes in a stunning, goalpost-destroying 27-23 upset, bringing a little relief and joy to a devastated portion of the state. Miami was the highest-ranked team the Pirates had ever beaten at that point in its football history.
Sept. 21, 2000: The legend of quarterback Philip Rivers was born a few weeks earlier in a double-overtime win over Arkansas State in a driving rainstorm, but the 18-year-old sensation was introduced to a national television audience in this Thursday night ESPN thriller in Chuck Amato's first year as head coach. Rivers, the freshman quarterback, brought the Wolfpack back from a 13-0 halftime deficit with three touchdown passes to sophomore wide receiver Koren Robinson, including a 23-yard game-winner in overtime, for a 30-23 victory.
Nov. 11, 2000: The last fans to see a game from the general-admission seats on the grassy bank above the south end zone watched freshman Philip Rivers guide the Pack to a regular-season finale 32-14 win over Wake Forest. It was a sentimental moment for those who spent as much time sliding down the hill on cardboard boxes and lounging with friends on blankets as they did watching football games.
March 4, 2001: On a blustery Sunday afternoon, NC State head coach Chuck Amato, Chancellor Marye Anne Fox and hundreds of Wolfpack faithful gathered at the top of the grassy bank above the south end zone to break ground on the first tangible renovations and improvements to Carter-Finley Stadium in the 35 years since it first opened. Included in the $55 million first phase of the project was enclosing the south end zone and installing bleachers and chairback seats for an additional 5,500 spectators. Ground was also broken for the lavish five-story football operations building that was eventually named the Murphy Center, which opened following the 2002 season. Also added were three practice fields adjacent to the stadium, a scoreboard for the north end zone and site preparation for the second phase of what became almost $200 million in facility enhancements.
Sept. 1, 2002: North Carolina Central ended a 12-game losing streak to rival North Carolina A&T State in the ninth edition of the Aggie-Eagle Classic at Carter-Finley. The series between the two historically black colleges dates back to 1924, but it was played on NC State's home field from 1994 to 2005.
Oct. 19, 2002: The playing surface at Carter-Finley Stadium was officially dedicated as Wayne T. Day Family Field, in honor of a 1965 graduate of the School of Engineering who made the lead gift in the $50 million Goal Line Drive Campaign to improve and expand the original stadium complex.
Nov. 23, 2002: For the first time in 111 years of football at NC State, the Wolfpack finished the regular-season with double-digit victories, thanks to a 17-7 victory over 14th-ranked Florida State. The win, the second in a row over the Seminoles, broke a three-game losing streak for the Wolfpack and secured Philip Rivers and company a bid to the 2003 Gator Bowl against Notre Dame. The Pack beat the Fighting Irish 28-6 on New Year's Day in Jacksonville, Florida, to complete an 11-3 record on the year.
Sept. 27, 2003: Thirteen seconds into the second half, quarterback Philip Rivers hit wide receiver Jerricho Cotchery on an 80-yard touchdown pass, starting off a string of 20 unanswered points in a close game. Rivers set Carter-Finley single-game records with 423 passing yards and 463 total offense yards. Cotchery had a career-high 217 yards on nine catches in the 47-34 victory.
Nov. 1, 2003: Junior running back T.A. McLendon, hobbled with a leg injury throughout the game, exploded on a 38-yard touchdown run with just 23 seconds to play against Virginia, breaking a 37-37 tie between the ACC's two highest-scoring teams. The Wolfpack scored again following the kickoff on a 26-yard interception return by Victor Stephens in the 51-37 victory.
Nov. 22, 2003: Quarterback Philip Rivers capped off his brilliant Wolfpack career, in which he rewrote the NC State and ACC football record books and started an NCAA-record 51 games at quarterback, by having his No. 17 jersey retired prior to his final home game, a 26-24 loss to Maryland.
Aug. 20, 2005: More than 1,200 donors who purchased club-level and suite packages attended a black-tie-optional grand opening gala for Vaughn Towers, the $39 million facility that replaced the original two-story press box—the "double-wide in the sky"—after 37 years of service. Named for athletics benefactor Richard Vaughn, the four-story luxury tower included 955 club-level seats, 51 luxury suites, an expansive chancellor's suite, a press box, boxes for home and visiting coaches, broadcast booths and a full catering kitchen.
Dec. 9, 2005: Shortly after the regular season ended, the original A.E. Finley Fieldhouse was demolished to make way for the $18.5 million North End Zone project to install 7,000 new chair-back seats and upgraded locker-room facilities for visiting teams. It was completed in time for the start of the 2006 season.
Oct. 5, 2006: Quarterback Daniel Evans, making just his second career start, found wide receiver John Dunlap in the northeast corner for the second consecutive week to knock off visiting 17th-ranked Florida State 24-20 in a Thursday night contest. It was the final career victory for Wolfpack head coach and longtime Florida State coach Chuck Amato, who was let go after the Wolfpack lost its final seven games of the season.
Nov. 29, 2008: Freshman sensation quarterback Russell Wilson had a pair of 29-yard scrambles, one that set up a touchdown pass and one that scored a touchdown, as the Wolfpack won its fourth consecutive game in November to become bowl eligible with a victory over Miami. Wilson, the first freshman in league history to earn first-team All-ACC honors at quarterback, threw for 220 yards and ran for 58. His 32-yard touchdown pass to Owen Spencer gave the Wolfpack the lead for good in a 38-28 win.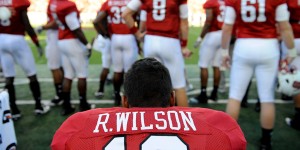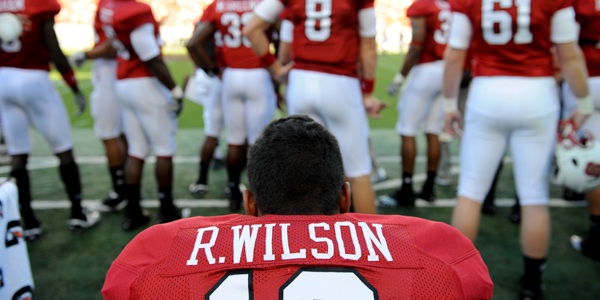 April 20, 2009: Two days after the annual Kay Yow Spring Game, heavy equipment began removing the last crowned playing surface at an ACC stadium. For its first 43 years, Carter-Finley had a pronounced hump in the middle to improve drainage from the center to the corners of the field. After thousands of cubic yards of topsoil were removed, a new drainage system and a perfectly flat sand-based field with 75,000 square yards of Tifway-419 bermudagrass sod was installed to give Wayne Day Field the ACC's most technologically advanced playing surface.
Oct. 3, 2009: U2 brought its worldwide 360-degree tour to the stadium, hauling rock-and-roll's most elaborate stage show into town on 51 tractor trailers and ending an 11-year hiatus on concerts in Raleigh's largest venue. The stage took five days to set up in the middle of football season and two and a half days to tear down. The tour's promoter installed a new turf field after the concert, and the Wolfpack hosted Duke just a week after the show.
Nov. 28, 2009: Russell Wilson threw four touchdown passes and Alan-Michael Cash blocked a field goal with four minutes to play as the Wolfpack beat archrival UNC-Chapel Hill for the third consecutive year. Wilson rallied his team from a 24-14 first-half deficit and dedicated the season-ending game to offensive coordinator Dana Bible, who had been diagnosed the previous week with leukemia. Bible watched the game from his hospital room at the UNC Lineberger Cancer Center in Chapel Hill.
Oct. 28, 2010: On fourth and goal from the 1-yard line, quarterback Russell Wilson hit tight end George Bryan for a go-ahead touchdown in a 28-24 victory over Florida State on a picture-perfect Thursday night. The Wolfpack defense forced Seminole quarterback Christian Ponder to fumble the ball away on its next possession to seal the victory that put the Wolfpack in position to win its first ACC title in 31 years.
July 28, 2011: As part of the second World Football Challenge — which featured 13 teams from seven countries playing friendly matches in 14 North American cities — Juventus of Italy and Guadalajara of Mexico played the first soccer match in Carter-Finley history. Juventus' Leonardo Bonucci scored the game's only goal in the 12th minute, in front of a crowd of 16,124 spectators.
Nov. 26, 2011: Mike Glennon threw a Carter-Finley record five touchdown passes and brought the Wolfpack, which had trailed 41-14 late in the third quarter, back for a 56-41 victory against Maryland. Glennon, who also scored a rushing touchdown, helped the Pack score 35 fourth-quarter points, completing the second-largest comeback in ACC history.
Sept. 27, 2014: Quarterback Jacoby Brissett made one of the most acrobatic plays in the history of Carter-Finley, escaping the arms of a Florida State defender and throwing a 16-yard touchdown pass to receiver Johnathan Alston in the back of the north end zone. The score gave the Wolfpack a 24-7 lead in the first quarter. The top-ranked and defending national champion Seminoles, led by reigning Heisman Trophy winner Jameis Winston, came back to win the game 56-41 for their first win in Raleigh since 2008.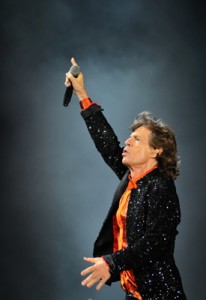 July 1, 2015: The Rolling Stones, celebrating the 50th anniversary of their first Raleigh appearance in Reynolds Coliseum in 1965, played in Carter-Finley for a third time, following appearances in 1989 and 1994. Mick Jagger asked the age-old question: "Do you support the Wolfpacks?"
May 3, 2016: Singer Beyoncé became the first female performer to headline a show at Carter-Finley Stadium when she brought her Formation Tour to town. A lightning delay stopped the show for about an hour, but she returned to the stage for a late-night encore.
Sept. 1, 2016: NC State's football team begins its year-long celebration of Carter-Finley's 50th anniversary with a Thursday night opener against William & Mary.