Events
Nile Project Builds Bridges Through Music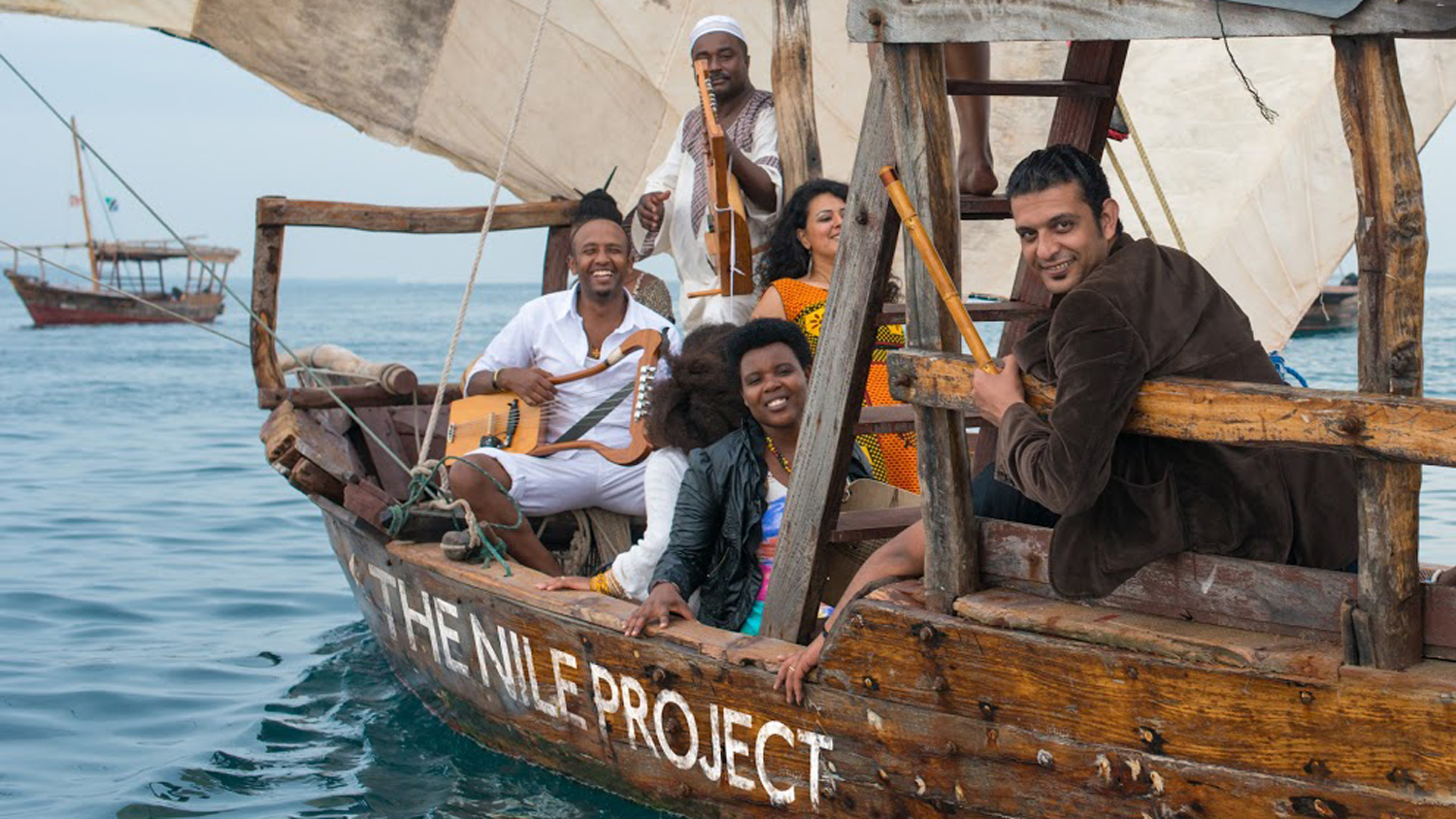 The Nile River, generally considered the longest river in the world, arises from headwaters in central Africa and flows northward for more than 4,000 miles before emptying into the Mediterranean Sea on the Egyptian coast. To promote a sustainable approach to water use among the peoples sharing the Nile, musicians from the 11 countries encompassed by the river's drainage basin have formed a collective called the Nile Project, which uses music as a way to build community and create opportunities for dialogue.
The Nile Project is coming to NC State for a full week of musical performances, workshops and lectures exploring the culture, history and politics of the Nile region.
"The Nile Project is a powerful force for social change," says Sharon Moore, director of NC State Live, which is bringing the Nile Project to campus. "It's about people coming together and finding commonalities through music. Everything starts with the music, which is why we're starting the week off with a concert."
For the first event of the Nile Project's residency at NC State, the group will perform in concert in Talley Student Union's Stewart Theatre on Wednesday, March 15, at 7:30 p.m. Tickets are available for purchase online, in person at Ticket Central or by phone at 919-515-1100. The concert will be preceded by a pre-show discussion with musician and ethnomusicologist Mina Girgis, co-founder of the Nile Project, at 6:30 p.m. in Talley room 3222. Girgis will give a presentation about the Nile River and the geopolitical reasons why the group was created. The discussion will also address the group's music and what listeners can expect to hear in the concert.
"Music is so important because once people come together to share that musical experience, empathy builds among them and they begin talking to each other, and that can lead to positive change," Moore says. "That's the model of change that the Nile Project is promoting through their music."
The week of events will also include a screening of the documentary film Refugee: The Eritrean Exodus, which explores the plight of refugees fleeing the repressive government in Eritrea. After the film, Dan Connell, visiting scholar at Boston University's African Studies Center and a retired senior lecturer in journalism and African politics at Simmons College, will discuss Eritrea's political and humanitarian situation. Nile Project musicians Ibrahim Fanous from Eritrea, Asia Madani from Sudan and Ahmed Omar from Eritrea/Egypt will give a live musical performance, and Raleigh's local Eritrean civic group will host a traditional coffee ceremony.
The screening, which is free and open to the public, will be held Sunday, March 19, 6-9 p.m. in Park Shops room 210. Seats can be reserved online.
The week's focus will shift from Eritrea to Uganda with a presentation on Music and Cultural Sustainability in Uganda on Monday, March 20, at 7:30 p.m. in the Piedmont/Mountains Ballroom in Talley Student Union. Visiting Ugandan scholars James Isabirye and Nicholas Ssempijje will share stories and perform music from their homeland. Isabirye is chair of the music education department at Kyombogo University in Kampala, and Ssempijje is a Fulbright Scholar in residence this year at NC State. He is also a lecturer in the fine arts department of Makerere University in Kampala. The event is free and open to the public.
The week will wrap up on Tuesday, March 21, with NileFEST, a free outdoor festival that will be held 5:30-7:30 p.m. on Stafford Commons outside Talley Student Union. The family-friendly event will feature a closing concert by the Nile Project; an interactive mural sponsored by the Craft Center and designed by guest artist Dare Coulter; Junk Jams, a drum circle featuring instruments made from scrap material by Durham's Scrap Exchange; food from the Nile region; and more.
Note: As of this writing, the Nile Project's concert on March 15 is almost sold out, so if you want to see the group perform, the free concert on March 21 might be your best bet. Information on free parking for this event can be found online.
This is only a selection of the week's events. For a full listing, visit NC State LIVE's Nile Project page.
"It's ultimately going to be a celebration of amazing music that will connect people in wonderful ways," Moore says.