Scientists in Training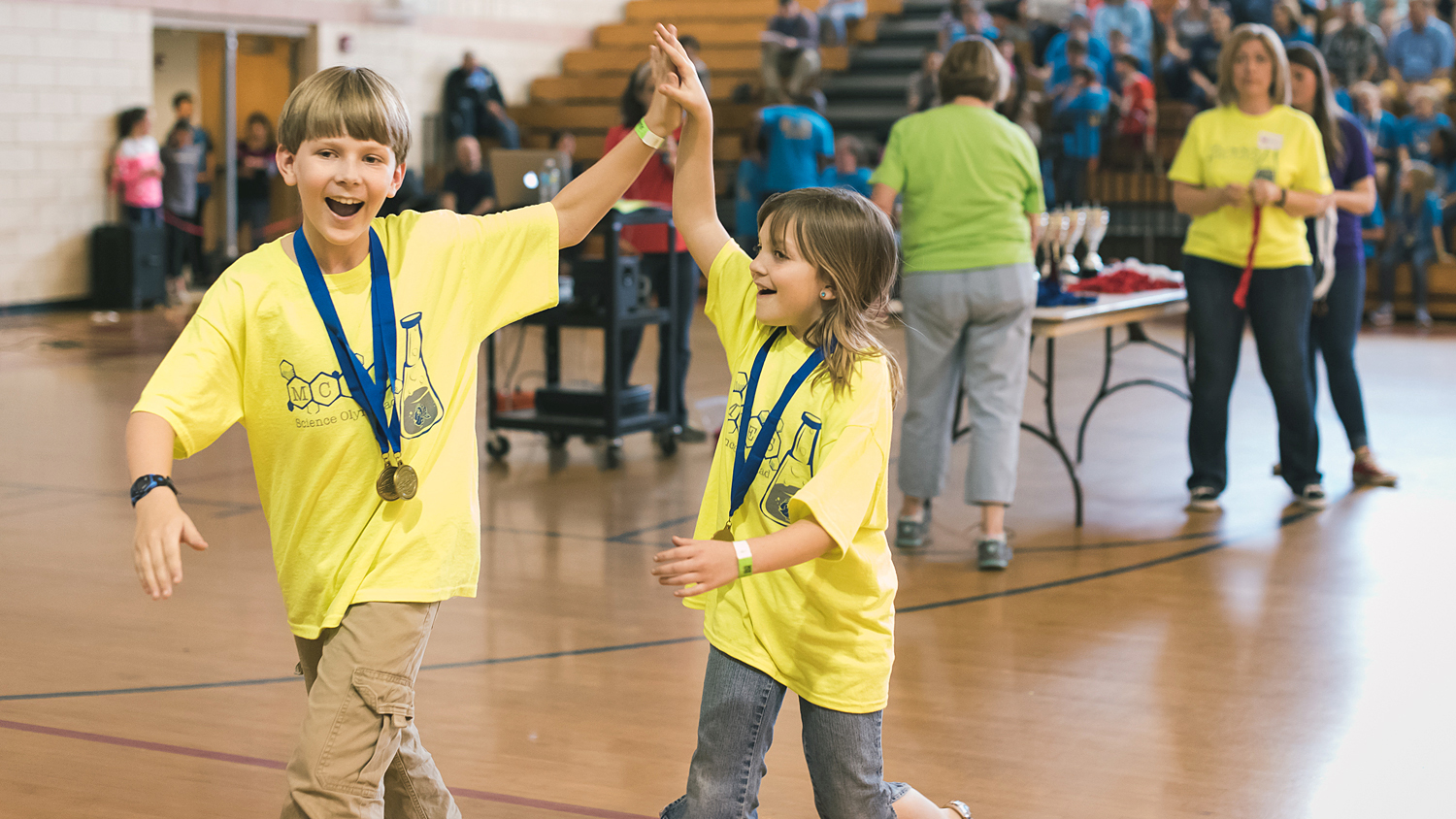 On Mondays this spring, NC State civil engineering student Miranda Mozick took a detour to Middle Creek Elementary, where she coached Science Olympiad teams in building strong, lightweight bridges with pasta and hot glue.
"All of a sudden, I wasn't the student. I was the teacher," says Mozick, a junior with a construction company internship. "I wasn't really sure how to build a bridge out of macaroni."
After exploring design options – "we figured out early on that triangles are the strongest shape" – the third- to fifth-graders experimented with building materials. They settled on linguine, strong but relatively light.
"The Bridge-a-Roni challenge is based on the concept of efficiency – using as little as we could to hold as much as we could," Mozick explains.
By the time the students entered their final bridges in regional competition at Middle Creek Elementary School, Mozick's teams had a keen eye, pointing out entries built with excess hot glue or lasagna noodles, which added weight.
Their lighter bridges captured medals for all three teams: bronze for the varsity, and gold and silver for the junior varsity.
"They were so excited to win they jumped up and down," Mozick says. "I felt a sense of pride after working with them over the past two months. I really enjoyed helping the kids learn about something that's important to me and an interesting career."
Fortunately, there's no Gatorade bath for winning coaches at Science Olympiad – otherwise, the 13 NC State students who volunteered this spring would have been soaked.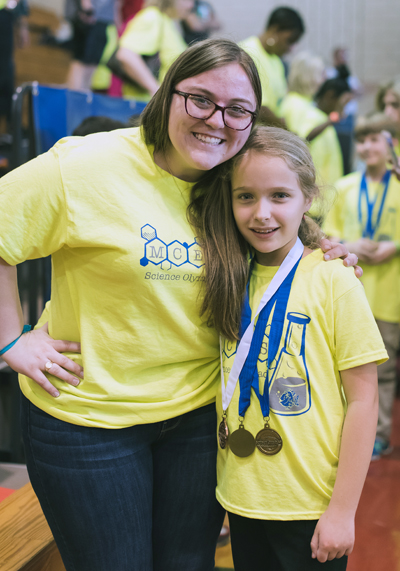 Natalie Gorensek's Backyard Biologist teams felt right at home waving sticks topped with fish during the boisterous awards ceremony. They'd been studying trees, amphibians and reptiles for weeks.
"The question I remember is getting is, 'Can we go over the reptiles again? They're so cute,'" says Gorensek, a junior chemical engineering major who created study guides and led weekly Jeopardy-style reviews with her all-female teams.
When the team's JV gold medal was announced, the atmosphere was electric. "The kids were cheering, stomping and screaming. It was insane in there," Gorensek says.
Madeline Downs' marshmallow catapult teams created one of the highlights of the competition. Elementary engineers took turns firing their custom-built marshmallow catapults at targets on the floor as coaches, families and competitors watched.
"The crowd went wild when Aiden and Owen hit the bullseye on their first try. Everyone was so impressed," says Downs, a computer science engineering major whose JV team won a bronze in her second year as a volunteer coach.
"I love working with young kids in STEM education because I remember having experiences like this at summer engineering camp at NC State. That's what got me interested in engineering, and not only engineering, but NC State."
Downs isn't the only one drawn to NC State's Think and Do approach. More than 1,300 NC State students mentioned Science Olympiad experiences in their applications for admissions, says Audrey Jaeger, an education professor, parent and one of two volunteer head coaches for Middle Creek Elementary. Jaeger plans to analyze the data to learn more about what influences students to pursue science and engineering.
NC State hosted the 2017 Science Olympiad state tournament for middle and high school students April 21-22.