Vice Provost, Director of Libraries Susan Nutter to Retire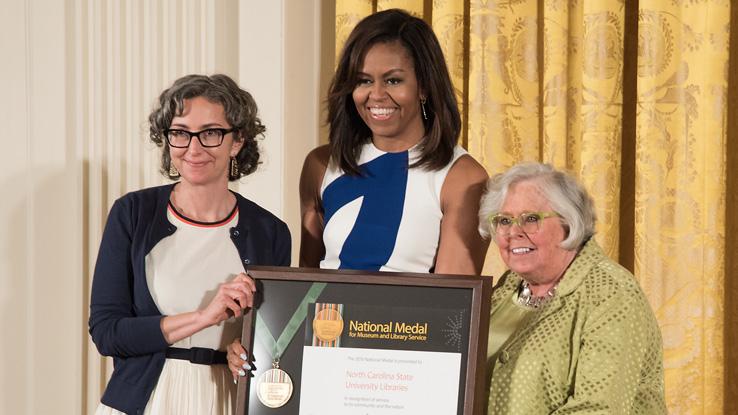 Susan Nutter, vice provost and director of the NCSU Libraries, has announced that she is stepping down this fall.
Nutter arrived at NC State in 1987 with a vision of creating a world-class library on Centennial Campus. Her vision was realized with the opening of the James B. Hunt Jr. Library in January 2013.
"I am honored to have had the opportunity to serve NC State for the past three decades," Nutter said. "The NCSU Libraries and the students and faculty of NC State will always hold a special place in my heart, and I look forward to seeing the Hunt Library, the D.H. Hill Library and the other libraries around campus continue to influence research, teaching, learning and service in higher education for years to come."
During her 30 years at NC State, Nutter was instrumental in guiding the NCSU Libraries to being the first university library to win the Association of College and Research Libraries' Excellence in Academic Libraries Award. Nutter was named Library Journal's Librarian of the Year and received the Hugh Atkinson Memorial Award — which recognizes a leader who has "contributed significantly to improvements in the area of library automation, library management, and/or library development or research."
"Susan has been an invaluable asset to our university," said Chancellor Randy Woodson. "She has revolutionized our libraries, transforming the way we perceive and use them — emphasizing collaborative space to think and do."
Nutter was foundational to the creation of the Hunt Library, which was awarded the 2014 Stanford Prize for Innovation in Research Libraries, the 2014 American Institute of Architects (AIA) Education Facility Design Award, the 2014 American Library Association (ALA) Library Interior Design Award, and the 2013 AIA/ALA Building Award for distinguished accomplishment in library architecture. It was also named a Library Journal New Landmark Library in 2016.
Last year, Nutter received the ACRL Academic/Research Librarian of the Year Award, while the NCSU Libraries was awarded an IMLS National Medal for Library Service from former First Lady Michelle Obama.
"Susan's national leadership in library sciences and her passion for educating and serving others sets a clear example for the all NC State faculty, staff and students to follow," said Executive Vice Chancellor and Provost Warwick Arden. "Her vision for the NCSU Libraries and three decades of dedication to higher education have immensely strengthened our world-class academics and elevated our ability to offer experiential education to the entire campus community."
Nutter previously served as associate director of libraries for collection management and technical services at the Massachusetts Institute of Technology (MIT), on the Council on Library Resources Academic Library Management Intern at the University of North Carolina at Chapel Hill and as a founding staff member of Project INTREX at MIT.
Nutter has also served as the Association of Research Libraries president, currently serves on the association's steering committee and is a founder of North Carolina Libraries for Virtual Education (NC LIVE), an unparalleled public-private venture that places a virtual library in the reach of every one of North Carolina's 7.5 million residents. Nutter is also a member of the Governing Board of the Triangle Research Libraries Network (TRLN).
She was honored as one of six foundation members of the Zeta of North Carolina Chapter of Phi Beta Kappa when the chapter was installed at NC State, and she was awarded an Alumni Achievement Award from the Simmons College Graduate School of Library and Information Science.
Nutter received her Bachelor of Arts in American literature from Colby College in Waterville, Maine, in 1966 and her Master of Science in library science from Simmons College in Boston in 1968.
Arden said the university will conduct a national search to find a new vice provost and director for the NCSU Libraries. Greg Raschke, associate director for collections and scholarly communication, will serve as Interim Vice Provost and Director of Libraries.