Energizing Public-Private Partnerships
Centennial Campus offers a unique research ecosystem to foster innovation.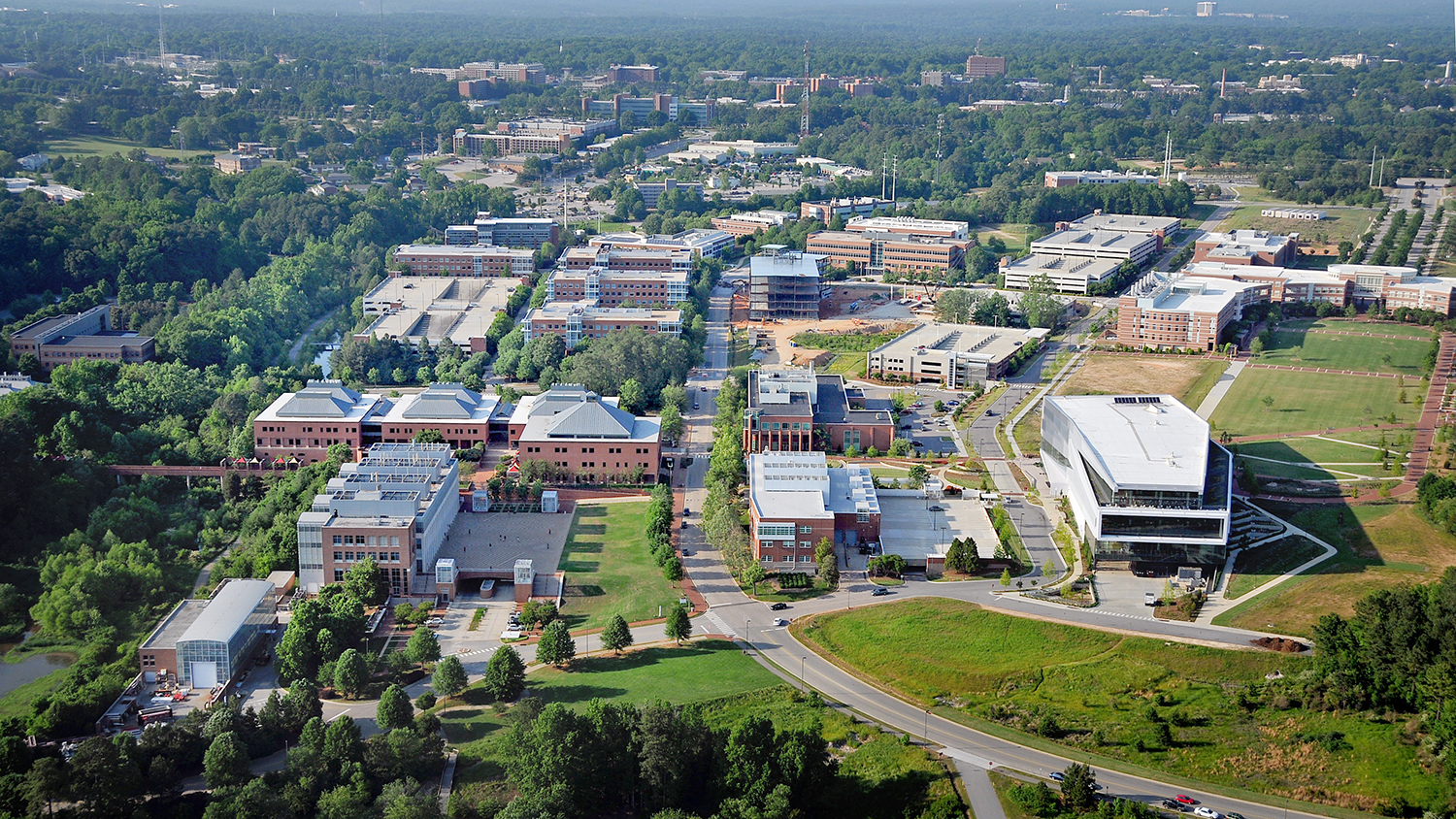 As he counts down the days till graduation, NC State senior Kobi Felton gives an upbeat report on his studies, predicting he'll complete his undergraduate degree in the rigorous chemical engineering program this May without a hitch. That's not to say it's been an easy journey.
One of the toughest parts of his academic career didn't happen in a classroom or lab in the engineering buildings on NC State's Centennial Campus in Raleigh. It was the summer he spent in Kingsport, Tennessee, interning with the Eastman Chemical Company.
It's been two years, but Felton recalls the project like it was yesterday. "I worked on something called molecular dynamics simulations," he says.
Essentially, the project involved running computer simulations to test the properties of thousands of chemicals, identifying the few that might help extend the life of solar-powered batteries. Felton laughs when asked whether the project related to his coursework at the time.
"This is stuff you usually learn during Ph.D. work," he says with a wry smile. "I'd only taken two college chemistry courses. So it was accelerated."
The internship at Eastman was a defining experience for Felton — "an experience I'll remember for the rest of my life," he says — giving him the chance to work shoulder to shoulder with industry chemists on some of the trickiest problems in the field.
Felton's advanced work at Eastman helped him score a prestigious Marshall Scholarship last year, which he'll use to begin work on a master's degree in chemical engineering and biotechnology at the University of Cambridge in the fall.
If Felton's internship at Eastman seems a cut above the typical college internship, that's because Eastman's relationship with NC State is anything but typical. Eastman, one of the university's 75 corporate, nonprofit and governmental partners on Centennial Campus, is also one of the 10 partners that operate corporate innovation centers — unique, dedicated facilities that give industry partners unparalleled access to university resources.
A model for innovation
Although no two corporate innovation centers are alike, they share a common goal: to create an innovation ecosystem on campus that benefits the university and its corporate partners, as well as society at large. The centers — enterprise investments by some of the nation's leading companies — are the linchpins of an innovation strategy becoming increasingly common in corporate America as firms candidly acknowledge that technological innovation is the key to success in the marketplace.
"It's not a one-size-fits-all model. Each partnership is developed based on the company's strategic business interests and the university's unique strengths."
"It's not a one-size-fits-all model," says Dennis Kekas, who heads NC State's Office of Partnerships and Economic Development. "Each partnership is developed based on the company's strategic business interests and the university's unique strengths."
Some partners, including Eastman, LexisNexis Legal & Professional and Mann+Hummel, have master research agreements with NC State. The agreements help speed research by formalizing all the key terms on the front end, including the ownership and licensing of intellectual property, overhead costs, the care of data and confidential information, compliance issues and the publication of research results.
With a master research agreement in hand, all a company has to do to initiate a new research project at NC State is to complete a relatively simple task order. "All the heavy lifting has already been done," Kekas says.
He leads a team of professionals that works hand in glove with NC State's industry partners to ensure that they seamlessly connect with the vast array of university resources on their doorstep, from faculty experts and top-performing graduate students in more than 100 disciplines to dozens of university centers and institutes that work on complex engineering, scientific and technological challenges.
The investment in on-site staff is important to the success of the innovation center model, says Barclay Satterfield, who heads Eastman's innovation center. "This partnership is my full-time job, and on NC State's side, there are people who are committed to making it work as their full-time job," she says.
Corporate partners sponsor research projects to add value to their existing products and to spur the creation of new products and technologies. Hanesbrands, a leader in the apparel industry, spun off its FreshIQ technology as a result of collaboration with NC State.
Mann+Hummel partners with NC State's Nonwovens Institute, a global public-private collaboration building next-generation nonwoven fabrics. Energy giant ABB works closely with several of NC State's advanced research centers to drive innovation in distributed energy, semiconductor technology and additive manufacturing.
Corporate innovation centers also collaborate with university faculty to identify new market trends, rethink the customer experience, test new business models and improve organizational performance — in short, to pursue any potential innovation that can give them a market advantage.
The centers offer benefits to students that go far beyond most internships by giving them opportunities to develop soft skills in leadership, communication, teamwork and problem solving, as well as practical experience in their fields.
For instance, IBM sponsors the Extreme Red project, in which students in multiple disciplines use IBM cloud services to solve problems defined by industry partners. Merck sponsors the NC State Grand Business Challenge, introducing MBA students across the globe to some of the real-world challenges facing the pharmaceutical industry.
Bandwidth and Republic Wireless give NC State students a chance to collaborate with employees to solve actual business challenges, often resulting in full-time employment opportunities for the students.
A common culture
Eastman's corporate innovation center, a small suite of offices on Centennial Campus, is the result of a multifaceted relationship with NC State.
Scott Armentrout, Eastman's director of external innovation, says the organizations share core values and a common culture. "NC State is very collaborative, very open," he says. "They are very willing to explore areas that aren't their traditional areas of expertise. When we engage other schools, we don't always see that."
When Eastman approached NC State about partnering, the company had just launched an effort to transform its business strategy, moving away from a diversified portfolio of commodities to focus on performance-based specialty products. The new strategy hinged on "accelerating growth through innovation," Armentrout says — quickly designing, testing and deploying new products and technologies to meet customer needs.
It was a bold plan, and it involved some risk.
"We didn't have all the capabilities, all the competencies, all the expertise that we needed to drive that transition," Armentrout explains. "We needed someone to help us along our journey." That's why they negotiated a master research agreement with NC State to work on projects to benefit both Eastman and the university.
Today, after an investment of more than $13 million in Eastman's strategic partnership with NC State, Armentrout says the effort has paid off. In business segments such as additives, advanced materials, fibers and chemical intermediates, Eastman has leveraged NC State research and innovation to anticipate market trends, accelerate the development of new products and outpace the competition.
"We've decreased the number of areas we're working in and started to focus on where we are going to win."
"We've decreased the number of areas we're working in and started to focus on where we are going to win," Armentrout says. "We've never done that before."
It's a classic win-win scenario, he explains. Eastman gets access to expertise in new and emerging fields while students get hands-on experience working on real-world challenges alongside industry professionals.
In addition to sponsoring research projects and hiring student interns, Eastman actively recruits NC State graduates — it's hired nine Ph.D. graduates since 2011 — and invests thousands of dollars a year in graduate student recruitment, undergraduate ambassadors, student organizations, journals and lectures at NC State.
Michael Dickey, a professor of chemical and biomolecular engineering, has successfully pitched several proposals to Eastman, including ideas for creating eco-friendly plastic bottles, self-cleaning windows and scratch-resistant automotive paint. "I titled that last proposal 'Watching Paint Dry,'" he says. "It's great science. We take it for granted, but paint is incredibly complex."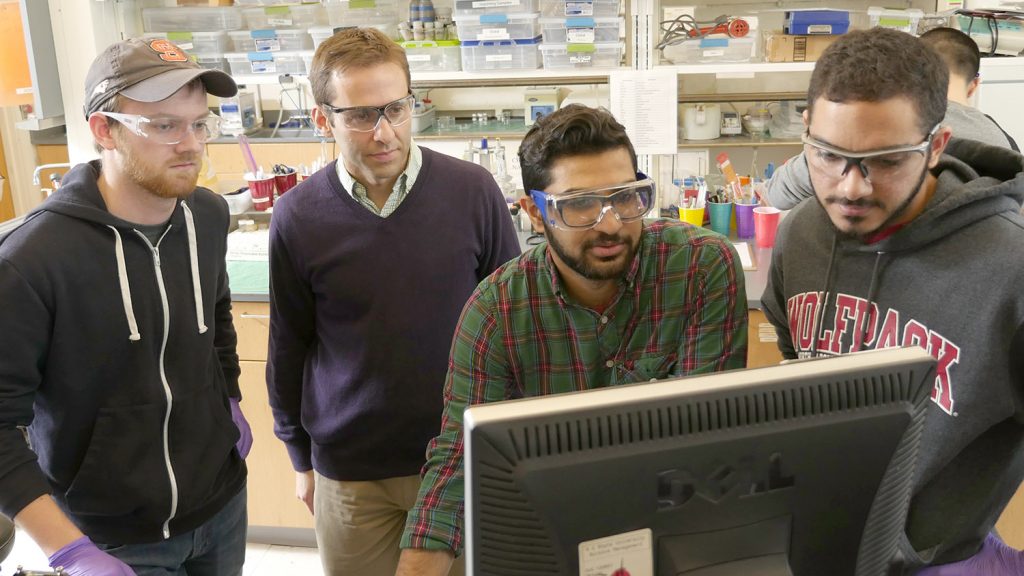 Dickey says Eastman carefully balances the interests of university researchers against the company's need for practical results. In the end, he thinks striking that balance helps students and faculty stay grounded. "A lot of times you see things that end up in the academic literature and people say, 'That's really neat, but it's not practical,'" he says.
Innovation strategy
One of the strengths of the relationship with Eastman, Dickey says, is the opportunity for students to work on projects that span the range of fundamental and applied science. "The fear among academics generally is that industry-sponsored research is going to have a short-term focus, that industry is going to be driven entirely by making the next gadget," he explains. "Eastman gives us problems that are relevant to industry, but they also allow us to answer fundamental questions and follow our scientific curiosity."
Jeff Pfeifer, vice president of product development at LexisNexis, says academia and industry can both benefit from collaborating to confront and solve the complex technical challenges of the digital age. From his office in the Raleigh Technology Center — the company's four-story, 120,000- square-foot innovation center on Centennial Campus — Pfeifer leads a dynamic, rapidly growing workforce of computer and software programmers, analysts, legal and business experts, sales and marketing professionals and support staff.
Five years ago, in what Pfeifer calls a "foundational moment" for LexisNexis, the corporation decided to shift the center of its worldwide innovation activities to NC State's Centennial Campus. "What we really want is access to world-class talent that is able to solve new problems with advanced technologies," he explains. "That is uniquely what we have access to here on Centennial Campus."
The company's innovation center on Centennial is at the heart of the LexisNexis innovation strategy. With 700 employees, it's also the largest employer on Centennial Campus.
"Our teams in Raleigh are helping to drive development in the legal tech sector globally," he says. "We're leveraging machine learning, cognitive computing, natural language processing and other artificial intelligence technologies to create connections between billions of data points and untapped insights through a fantastic visual customer experience."
Legal professionals can leverage those insights to formulate strategies, differentiate services, provide measurable value, win clients and win cases, Pfeifer explains. It's the kind of innovation that keeps the company at the forefront of the information analytics industry.
And it's driven by a close and collaborative relationship with NC State. LexisNexis sponsors research projects, hires student interns and recruits new employees from the ranks of NC State's top graduates — the company has hired more than 50 so far. "Our partnership with NC State fuels innovation by connecting us directly to diverse engineering and technology talent to bring ideas to life," Pfeifer says.
As LexisNexis' relationship with NC State has grown stronger, its involvement with the university has increased. The company has donated $645,000 to the College of Engineering over the past three years, and it supports career development programs, student organizations and student engagement events.
One of its most effective events is an annual hackathon that assigns tough problems to interdisciplinary teams of students mentored by LexisNexis staff.
Of the 15 to 20 student interns LexisNexis hires each year, most get to know the company through this event.
Pfeifer, who helped judge the contest, praised the quality of the students' work. "We had teams looking at chatbot and voice interaction with datasets, and one team's chatbot could understand the vagaries of language and syntax and other language-expression issues," he recalls. "That is very advanced, sophisticated work that some of the world's leading brands are exploring right now. So I was impressed to see undergraduate students tackling those problems."
As part of a $3 million renovation of its Centennial Campus headquarters, LexisNexis recently dedicated a 1,500-square-foot space — dubbed the Experience Innovation Studio — to support the emerging field of user experience design, or UX. The studio, operated jointly with NC State, is another example of the company's hands-on approach to engaging faculty and students.
Ben Watson, a computer science professor at NC State, has been collaborating with Pat FitzGerald, an art and design professor who specializes in interactive learning systems, to encourage student collaborations in the new studio. Despite the logistical challenges of getting students together outside normal class times, the results are encouraging. Five collaborative projects are in the works, including a project to design and build an augmented reality alternative to PowerPoint, the widely used presentation program.
LexisNexis staff regularly bring customers into the space to work with the company's UX experts, giving them a dedicated space to brainstorm on whiteboards and tables, design prototypes and redesign interfaces to improve the quality of their products. Other campus organizations such as nexUX — a UX networking group — meet weekly in the space.
LexisNexis isn't the only corporate partner at NC State supporting research in UX design. It's also an area of interest for Pentair, a technology-driven provider of products and services in the food, energy and water industries.
A growing relationship
Brian Boothe, an NC State alumnus with graduate and undergraduate degrees in mechanical engineering, has worked in the company's Centennial Campus innovation center for the better part of a decade. Under his leadership, Pentair has expanded its engagement with the university, which originally focused on mechanical engineering and now concentrates more on computer science and electrical and computer engineering.
"Today we're affiliate members of the Nonwovens Institute in the College of Textiles, and we're affiliate members of the Center for Innovation Management Studies in the Poole College of Management," he says. "We've also worked with some of the faculty in the psychology department to help us with a human factors project for an app we developed."
Computer applications play an increasingly important role in Pentair's market strategy. Customers who own pool pumps and filters manufactured by Pentair are more likely to remain loyal customers if they can download free smartphone apps to help them monitor and control the equipment.
Boothe explains how a well-designed app can become an indispensable tool for his customers. "If you're planning a pool party for the weekend, you need to know ahead of time when to turn on the heater and filter so the water is comfortable and clean for your guests," he says. "An app can tell you that based on the size of your pool, the weather conditions in your area and the type of equipment you have."
If the app is robust enough, it won't just collect data, Boothe says. "It will identify patterns, identify trends, recognize anomalies and then recommend preventive maintenance programs to optimize your system."
UX is crucial to all of those functions, he says. "We need to help our customers digest the information that we're collecting for them, because no matter how great that information is, if they can't figure out what it means, then who cares?"
Pentair has consistently maintained a focused engagement with NC State faculty and students. "We've sponsored at least one or two projects per semester for every semester since 2008," he says. The company has also hired student interns, sponsored events and made charitable donations to the NC State University Libraries.
"I couldn't be luckier that I have a company that recognizes the importance of us having a physical presence on campus. It's really helped us to engage more closely with the university and build our network," Boothe says. "The relationship has really flourished."
After nearly a decade working with NC State to enhance Pentair's products and services through customer-focused innovation, Boothe thinks his competitors that aren't working with universities are missing the boat. "I would encourage our competitors to have more academic engagement," he says. "I think it's crazy that they don't. They're missing out."