Reunited
Jerseys worn by NC State's legendary 1974 NCAA Championship basketball team were rescued from a surplus bin three decades ago by alumna Leslie Lewis. They'll soon be back together in Reynolds Coliseum as part of the Athletic Hall of Fame.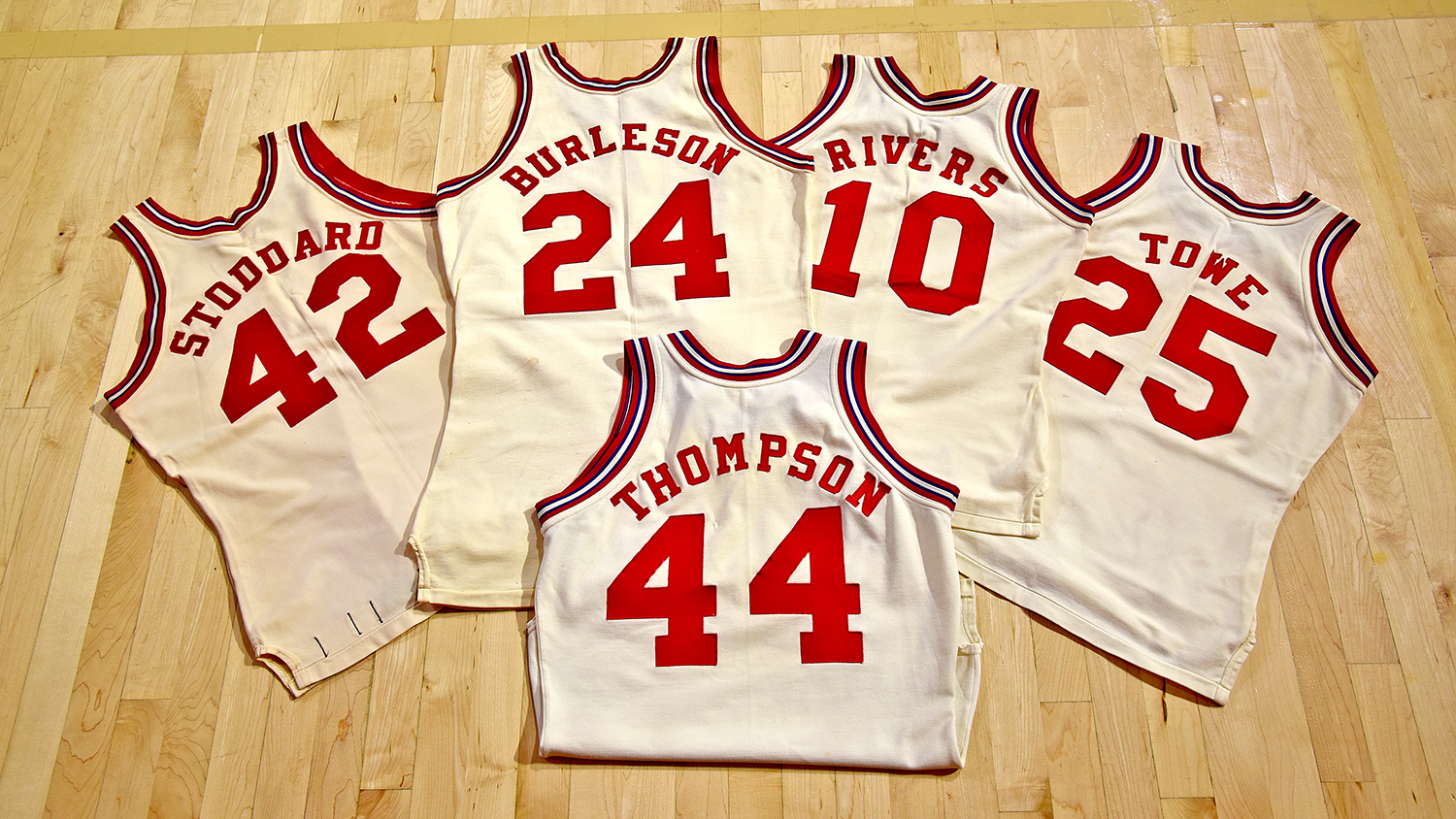 They haven't been together on the same court since March 25, 1974, even though the NC State players who wore them frequently participate in reunions of that remarkable, dynasty-bashing NCAA championship season.
But the home white jerseys with red, white and blue trim the Wolfpack wore that year – and in the Final Four against UCLA and Marquette at the Greensboro Coliseum that weekend – were thrown into a laundry bag, taken back to Raleigh to wash and put into storage in the dank and dusty basement of Reynolds Coliseum.
Then, on a fall day in 1985, four of them were thrown into a bin by the Reynolds equipment managers along with other collected game-worn uniforms from multiple other sports, as part of a state property surplus sale. Most of the items sold for $5 each, just to get them out of the unfavorable conditions of the basement, where dry-rot and mildew could ruin such items, and to create more storage space back when there was no hall of fame or memorabilia room to display them.
Leslie Lewis, a former NC State and women's tennis player and assistant coach, happened by that day, with a little bit of cash in her pocket. She rummaged through the bin and found a No. 44 basketball jersey. But there was no name on the back.
"That's David Thompson's freshman team jersey," she was told. "Those didn't have names on the back."
She kept digging.
Before she knew it, she had four more Rawlings action-tailored jerseys she wanted to buy along with Thompson's freshman jersey for $25 in cash. Having grown up in a Wolfpack family, she and her two sisters knew them all by heart.
Four had the last names stitched on the back: No. 24, (Tom) Burleson; No. 25, (Monte) Towe; No. 42, (Tim) Stoddard; No. 10, (Moe) Rivers. She looked for the No. 44 with Thompson's name on the back, but was told that it had long ago gone to senior associate athletics director Frank Weedon for preservation.
Thompson still has the only officially retired jersey in men's basketball history, which happened in a pregame ceremony before his final home game in Reynolds. That 1975 version was on display at various times at the Case Athletics Center, the Weisiger-Brown Building and in Reynolds, but mostly it was stowed in the bottom righthand desk drawer of Weedon's office desk.
When the Dail Basketball Center was renovated in 2011, Thompson's 1974-75 jersey was the centerpiece of a display outside the basketball coaches' offices. Now, however, it will be paired with the jerseys of the other four starters from 1973-74, with plans for them all to be on display at the Reynolds Coliseum Walk of Fame and History.
Lewis is well aware that the five jerseys she purchased that day are quite valuable, if not priceless. They might fetch a fair penny through an auction house or online marketplace. But that was never a consideration.
"There was no thought from anyone in my family of doing something like that," Lewis says. "Those jerseys rightfully belong to NC State, in our mind. What better place for them to be than in the hall of fame? We're true Wolfpackers. It's certainly not about the money, it's about the pride and the love of NC State."
Lewis graduated from NC State ('85), as did her father Jim ('60) and both of her younger sisters, LeAnna Lewis Beck ('86) and Jamieson Lewis Weeks ('88). Mother Elaine attended Meredith, but has been a lifelong Wolfpack fan.
"We are a passionate Wolfpack family," Leslie Lewis says.
After playing two years for and working two years for late tennis coach Crawford Henry, Leslie Lewis left NC State to begin a coaching career. She was the head coach of both the men's and women's tennis teams at Portland State from 1999 to 2003, when the school dropped both sports because of budget cuts. She was a tennis pro in Germany for a while, but returned to help her parents with the family farm about 10 years ago.
She gave the jerseys to her father for safe keeping not long after she graduated. They've been stored in a plastic bin under a bed on the family's Sampson County farm pretty much ever since. After a recent trip to see the Walk of Fame and History while watching a game at the renovated Reynolds, Leslie and her dad remembered the jerseys and thought they might make a nice addition. Jim Lewis called Wolfpack Club executive director Bobby Purcell offering to donate them back to the school.
"It's a remarkable gift to have the game-worn jerseys from one of the most iconic teams in NC State, ACC and college basketball history all in one place," Purcell says.
For the players on that team — the first in NC State history to win a national championship in any sport and the first team inducted into the NC State Athletic Hall of Fame as part of the Class of 2016 — having the jerseys together is something special because for all the individual accolades that three-time All-American and two-time ACC Player of the Year Thompson received in his career, they've always been a close-knit team.
From 1972-74, the Norm Sloan-coached Wolfpack compiled a 57-1 record, going 27-0 in 1972-73 and 30-1 in 1973-74. Along the way, they ended UCLA's seven-consecutive year run as national champions by beating the Bruins in the national semifinals in Greensboro and beating Marquette in the title game.
In both those historic games, they wore the white uniforms the Lewis family has now given back to the university.
"We are a Wolfpack family and we would do anything for the school," Lewis says. "That's where those jerseys belong, in the NC State Athletic Hall of Fame."