We Are the Wolfpack
Meet Benita Womack
The University Housekeeping employee — and beloved member of the College of Veterinary Medicine community — 'strives for perfection' in all she does.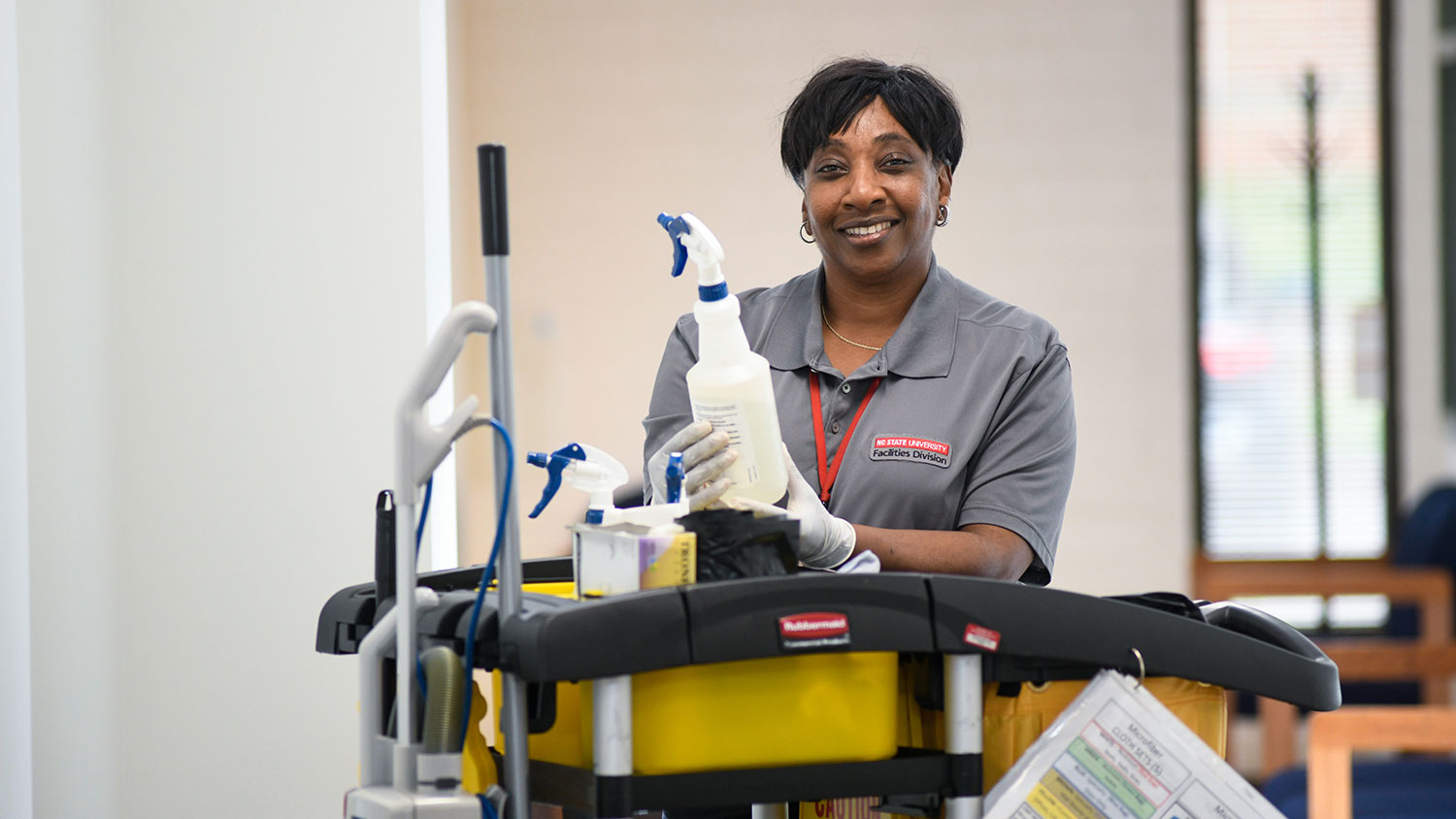 In the 23 years Benita Womack has worked at NC State, she's seen a lot of change on campus. New people, facilities, technologies — you name it.
But one thing remains the same.
"Benita strives for perfection, no matter what the job is," says her supervisor Hezekiah Henry, a housekeeping zone manager. "She always has."
That ethos — along with a lot of hard work and determination — led her to become an assistant manager in University Housekeeping, responsible for everything from purchase orders to staff transportation.
And she's only been late to work one time. In two decades. That's it.
Womack has become a beloved member of the College of Veterinary Medicine community, where she's worked since she started at NC State. Henry says her kindness has resulted in "excellent relationships" with the faculty, staff and students. "Everybody knows her, and they actually glow when they're speaking with her."
Read on to learn more about Womack, why she's a big fan of green cleaning, and what it's like to start her workday in the middle of the night.
How did you land at NC State?
Well, I needed a job, and most of my family members worked for NC State, so they were telling me about their great benefits and everything they had, so that's really what led me here.
What's a typical day like?
I have to be here at 4 in the morning, so normally I get up at 2. Once my coworkers are here, I pass out their keys and have them sign a key log sheet. And then I transport some of them to the buildings that they are assigned to. I also distribute supplies and assist the manager, and I assist my coworkers with any task on hand.
Is it hard to maintain that schedule?
I've been doing it for over 20 years, so I've gotten used to it. It really doesn't bother me that much now.
What are some of the changes in the job you've seen over the years?
There have been a lot of changes. When I first got here we weren't wearing uniforms. We were just wearing our regular clothes, and the chemicals that we were using before would get splattered on our clothes. Also, our uniforms are more professional.
The different machines that we are using now are more efficient than when I first got here. We were using buckets and mops, and sometimes we still use those for spills or other things. But now most of the machines are upgraded and the chemicals we are using now are not toxic.
In April, NC State became the first university in North Carolina to earn national Green Seal certification. Why is green cleaning important to you?
The harsh chemicals used to bother me a lot. Green cleaning is better for your health and safer for the environment of the faculty, students and the staff. Any equipment we use has to be under a certain decibel level for the safety of your ears. The mops we use have a chemical already on the mop, so we don't have to use a mop bucket and it's better for your back. Everything we use is environmentally friendly and also safer for people.
What's your favorite part of the job?
I like to do the administrative part of the job, like putting in work orders, responding to emails and ordering products.
When you think about retiring, what will you miss most about NC State?
I'll miss the faculty and the staff and the students I have gotten to know over the years and the conversations we've had. Another thing that I love about NC State is that you can get a higher learning, an education, and they assist you with classes here on campus. It's a great place to work. It's a beautiful place.