Campus Life
Ibram X. Kendi and the Call for Antiracism
The award-winning author and scholar visited NC State to explore the future of racial justice in America.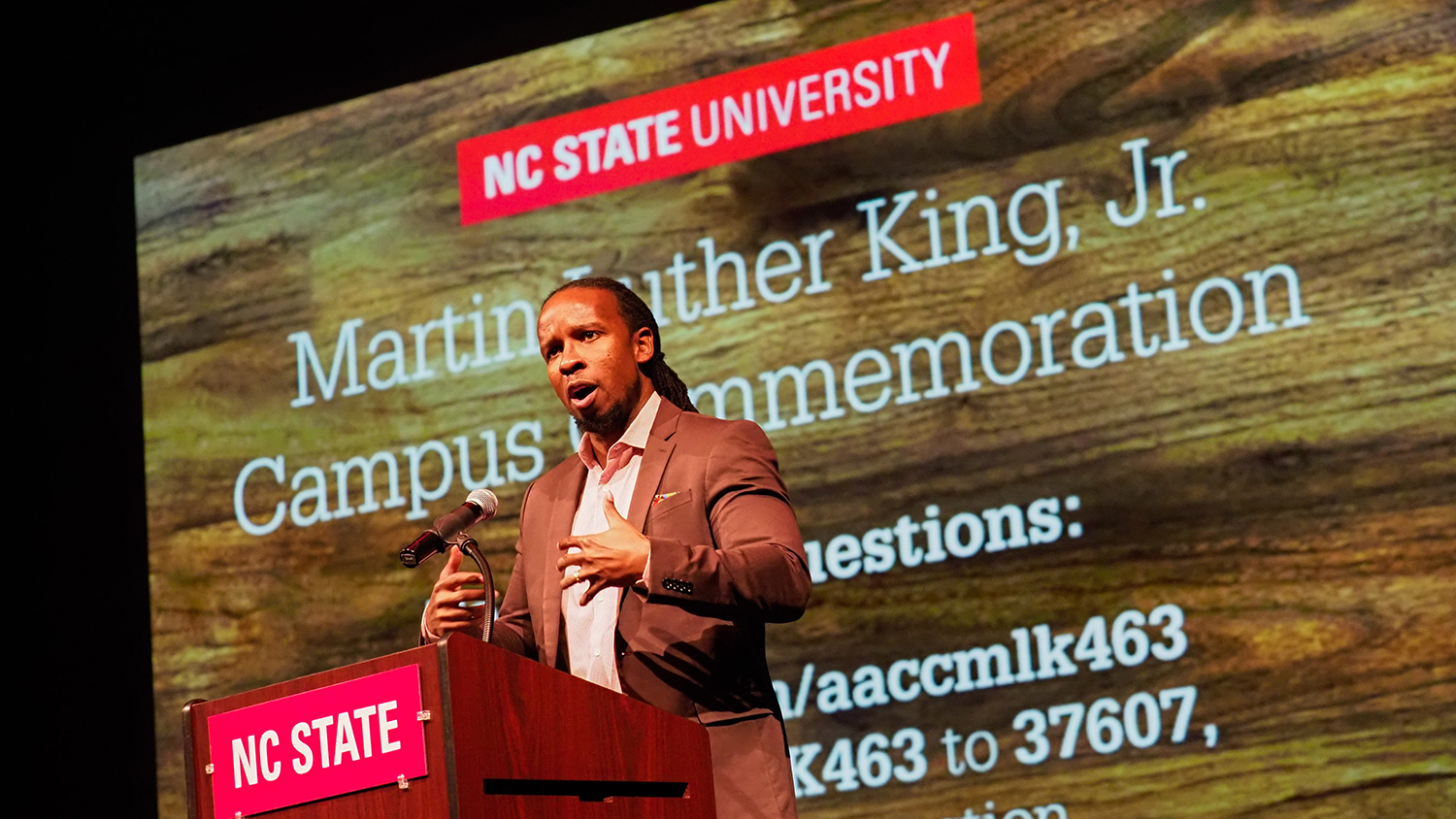 On Jan. 13, author Ibram X. Kendi visited NC State as part of the university's Martin Luther King Jr. campus commemoration events.
In 2016, Kendi became the youngest winner of the National Book Award for nonfiction for his first book, Stamped From the Beginning: The Definitive History of Racist Ideas in America. Still just 37, he is one of America's preeminent race-theory scholars, and was awarded a Guggenheim Fellowship in 2019. That same year, The Root listed him as the 15th most influential African American between the ages of 25 and 45, and the most influential college professor.
Kendi's most recent work, How to Be an Antiracist, a New York Times bestseller, examines how perceived racial inequalities shape public policy and play out in personal, social and academic arenas.
The MLK We Thought We Knew
Addressing a full house in Talley Student Union's Stewart Theatre, Kendi spoke first about common misnomers given to King — that he was "colorblind" and an assimilationist — and then discussed the challenges facing racial equity in America. Kendi also addressed audience questions submitted via text.
"Typically, when I speak about Dr. King, I spend most of my time challenging widespread myths about him," said Kendi. "Over the years, Americans have taken who they are from a racial standpoint and put it on King. But he had a very clear set of ideas."
Kendi argued that Americans' collective memory freezes King on Aug. 28, 1963, the date of his "I Have a Dream" speech on the steps of the Lincoln Memorial. In textbooks and elsewhere, that is seemingly the only King there is. Kendi noted that King lived another four years and would eventually go on to say, in an interview with NBC News, that "my dream has turned into a nightmare."
When he made that statement, King was referencing the steady march of racist policies that — while simultaneous with the march of different aspects of racial progress — would produce mass incarceration, unequal education and housing, health care inequality and more. "But," said Kendi, "we're more comfortable with 'I Have a Dream' than we are with the complicated King, and with King's 'nightmare.'"
In his final years, King became a champion of the Poor People's Campaign, which he started in 1967 at the suggestion of Marion Wright, then director of the NAACP's Legal Defense and Educational Fund in Jackson, Mississippi. Beyond desegregation and the right to vote, King understood that economic security was essential for full participation in American society.
"He saw that it doesn't matter if you have access to a restaurant if you can't afford the meal," said Kendi. Prior to his assassination in 1968, King broadened his horizon and pushed for nonviolent protest against a number of issues, including the Vietnam War.
"Not Racist" Versus Antiracist
Pivoting to the topic of his latest book, Kendi argued that the vast majority of people believe themselves to be not racist even when they might support racist policies. "Americans are in deep denial about how racist our institutions are. We use King to escape that denial. And the sound of that denial is, 'I'm not racist.'"
Antiracist presents a radical framework in which people and ideas are just two things: racist or antiracist. There is no "not racist" in this book, no neutral position. It has received sweeping praise for both the boldness of its premise and the depth of its scholarship.
"To be antiracist is to think nothing is behaviorally wrong or right — inferior or superior — with any of the racial groups. Whenever the antiracist sees individuals behaving positively or negatively, the antiracist sees exactly that: individuals behaving positively or negatively, not representatives of whole races. To be antiracist is to deracialize behavior, to remove the tattooed stereotype from every racialized body. Behavior is something humans do, not races do."

—Ibram X. Kendi
Our common belief that we are all "not racist," posits Kendi, is one of the major roadblocks to improving systems and laws that unfairly benefit one group over another. We can't see — or refuse to see — what's wrong with these systems because we're more comfortable believing there's something inherently flawed about the people penalized by them. Cited as one example: African Americans make up just under 13% of our nation's population, but they represent over 40% of those in prison.
Kendi was initially afraid to share his own past with racist ideas, and Antiracist opens with an unflinching recollection that still embarrasses him. As a high school senior, he made a speech that suggested black Americans were to blame for their own problems. It was met with enthusiastic applause by the mostly black audience. Further reflection led him to believe his speech made use of racist ideas and rhetoric to gain that reaction. In fact, he says some of the most revered African American thinkers and speakers have unthinkingly fallen back on racist rhetoric.
An Intentional Choice
John Robinson-Miller IV, program coordinator for the African American Cultural Center, says bringing Kendi to campus was part of a larger vision for the year ahead.
"We looked at not only who we wanted to bring in for the MLK commemoration, but what we wanted to say. We're very intentional about critically analyzing the issues of the [African] diaspora," says Robinson-Miller. "How could we introduce the concept of antiracism, and what does that look like? It's easy to get caught up in 'what does this mean for me personally?' versus 'what does this mean for society?'"
He says the center also wanted to examine how people of color and particularly African Americans carry internalized oppression and racism. "Dr. Kendi is an amazing speaker with an amazing book, one that allows us to continue the conversation even after he's left campus."
Robinson-Miller shared that, during Kendi's speech, volunteers received over 50 questions via text. Selecting which to pose to Kendi was done almost in real time. "Our team looked at the questions for commonalities and things we know need to be addressed on campus. It was just an incredible response."
The Work Ahead
Kendi heads the new Antiracist Research and Policy Center at American University, which hired him as a full professor following his National Book Award win. He hopes to grow the center into a thrumming academic hub aimed at developing public programs that undo racist policies.
Midway through writing Antiracist, Kendi received a diagnosis of stage-4 colon cancer, which has a five-year survival rate of around 12%. His scans are clear after undergoing treatment, but the diagnosis lit a fire under his already notable ambition.
Drawing a comparison to his cancer battle, Kendi calls America's problems with racism "metastatic" and argues that to do anything other than actively fight against racism is to let it grow and spread. He has often encountered the argument that if we just stop talking about racism, it will go away. But much like a spreading cancer, he says, ignoring the problem only feeds it.
He discussed his cancer during his visit to NC State, saying, "We have to do the painful work of coming to grips with the truth. I didn't believe I was someone who could receive this diagnosis. But if I had refused to address it, I wouldn't be here today. There is no sideline to the struggle," Kendi said. "We cannot have healing without pain."
We cannot have healing without pain.
A mix of students, faculty, staff and community members attended the talk. Alexis Steptoe, a wellness programs coordinator for NC State Wellness and Recreation, came with colleagues. "We serve so many different students, and to do the best job I can, it's important to have this lens and be reminded of these issues," she said. "We need to be able to see exactly what's happening so we can shape the future of NC State. I'm here to try to add tools to my toolbox for interacting with every student."
Sheri Schwab, vice provost for the Office for Institutional Equity and Diversity (OIED) called Kendi's latest book a call to action. "Our minds were both challenged and supported by this visit," she said. "And this isn't a one-and-done event. We're going to continue to explore these issues at OIED and the African American Cultural Center."
Kendi's visit is one of several Martin Luther King Jr. campus commemoration events, including a virtual experience at Hunt Library on Feb. 15 that immerses participants in a recreation of King's famous "Fill Up the Jails" speech.