Resilient Pack
Not the Same-Day Ops
Last weekend's NC State-Wake Forest football game was unlike any ever played at Carter-Finley Stadium, but the show went on — flawlessly, thanks to the athletics department's experienced game-day operations staff.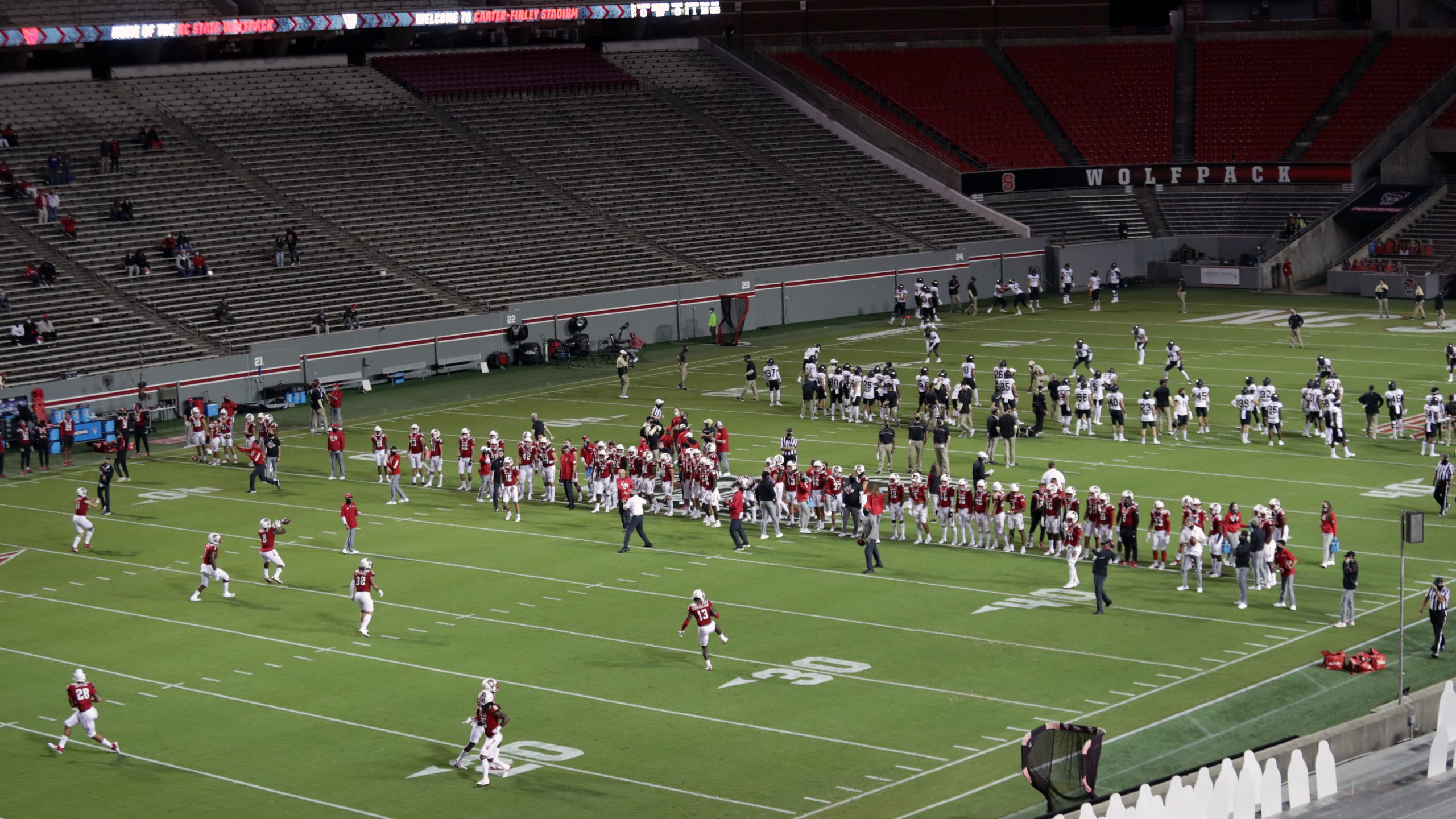 NC State Assistant Athletics Director for Operations Adina Stock hasn't seen an entire football game since she was a Wolfpack student-athlete nearly two decades ago.
Yet few people are as integral to making sure everything at Carter-Finley Stadium runs like clockwork the seven times a year when State's football team takes to the gridiron than this former varsity gymnast and her staff of two, Demar Bonnemere and Tyler Cox.
A vault and bar specialist during her gymnastics days, Stock spent years jumping over obstacles and through hoops. Now, every home football game is a floor exercise in managing the unknown. Up to a week before kickoff, she and her staff spend hours working with athletics facilities, marketing, security and officials from opposing teams to organize and oversee every element of what happens at the 57,600-seat stadium and its parking lots on game day.
The well-structured, day-by-day timeline includes such things as getting lists and information from the visiting school and relaying back all pertinent information; meeting with every unit in athletics involved in game-day setup and timelines of execution; communicating with game officials that are assigned by the Atlantic Coast Conference; monitoring the weather for heat, hurricanes or other hardships; and setting up appropriate barriers for spectator progress and egress.
Game days begin six hours before kickoff and end approximately three hours after the final seconds click off the clock, long before and after both teams take the field. It includes checking in the 90 law enforcement officers, the 30 highway patrol officers, the 300 Staff-1 security personnel and the dozen or so medical, fire safety and Rex Healthcare workers who are a part of safety measures required for every game. It includes an ACC-mandated 10-minute meeting 105 minutes before kickoff with athletics department and opposing staff, game officials and television production personnel. And continuously checking to make sure there are no holdups getting through the eight major gates into the stadium.
Her staff's only time of respite is during the second and third quarters and halftime of most games, when, if things are under control, they can maybe sit down and get something to eat and drink in the Vaughn Towers press box.
"It can be a little nuts," Stock says. "But I love the excitement and the chaos. We like to keep moving and stay on our toes."
A Team Effort
Frankly, Stock and her staff didn't know what to expect last Saturday when State's football team opened the unusual 2020 season, when all standards of operation were expected to be at their normal levels of excellence, but only 350 people were allowed to be in the stadium because of state-mandated restrictions caused by the global COVID-19 pandemic.
"It's harder than ever to prepare because of all the unknowns," Stock said prior to Saturday's historic 45-42 victory over longtime rival Wake Forest. "For the most part, our setup has been mostly normal, even though I expect it to be unlike any game we have ever had here."
All went well, however, even if Stock, her staff and most of the other essential few who worked the game arrived at 11 a.m. for the 8 p.m. televised contest and stuck around a little longer than normal to pick up the trash left in the stands of the expansive stadium.
"We were definitely more busy pregame because of the different staffing we had for the game," Stock says. "We had athletics department staff from marketing doing things they don't typically do. It was interesting, for me, to see how things worked under these circumstances."
They were also serving a different and select clientele, some 250 family members from NC State and 100 family members from Wake Forest, instead of more than 57,000 fans who would normally attend a home football game.
"In all honesty, the (non-attending) fans did a great job of listening and not attempting to come to the property," she says. "We weren't having to prevent them from coming into the stadium complex. Moms and dads did a great job of having masks on at all times. There weren't any issues, per se, other than making sure all the people were in the right seats, properly distanced from each other.
"It was definitely a team effort. Marketing was out there before the game, getting the fan cutouts into place. The facilities crew has been killing it since April, working their butts off to make sure the field is in perfect shape, even with limited resources to save some money."
Next time out — the Wolfpack is slated to play Duke at Carter-Finley Stadium on Oct. 17 — there will be more people on hand after the state of North Carolina changed its mandates, allowing up to 7% at outdoor facilities that seat 10,000 or more. That translates to about 4,000 spectators.
"We will add a little more staffing for the new scenario," Stock says, "and see what we kind of experience the patrons for that game will have."