Research and Innovation
After the Blaze: How Wildfires Can Impact Drinking Water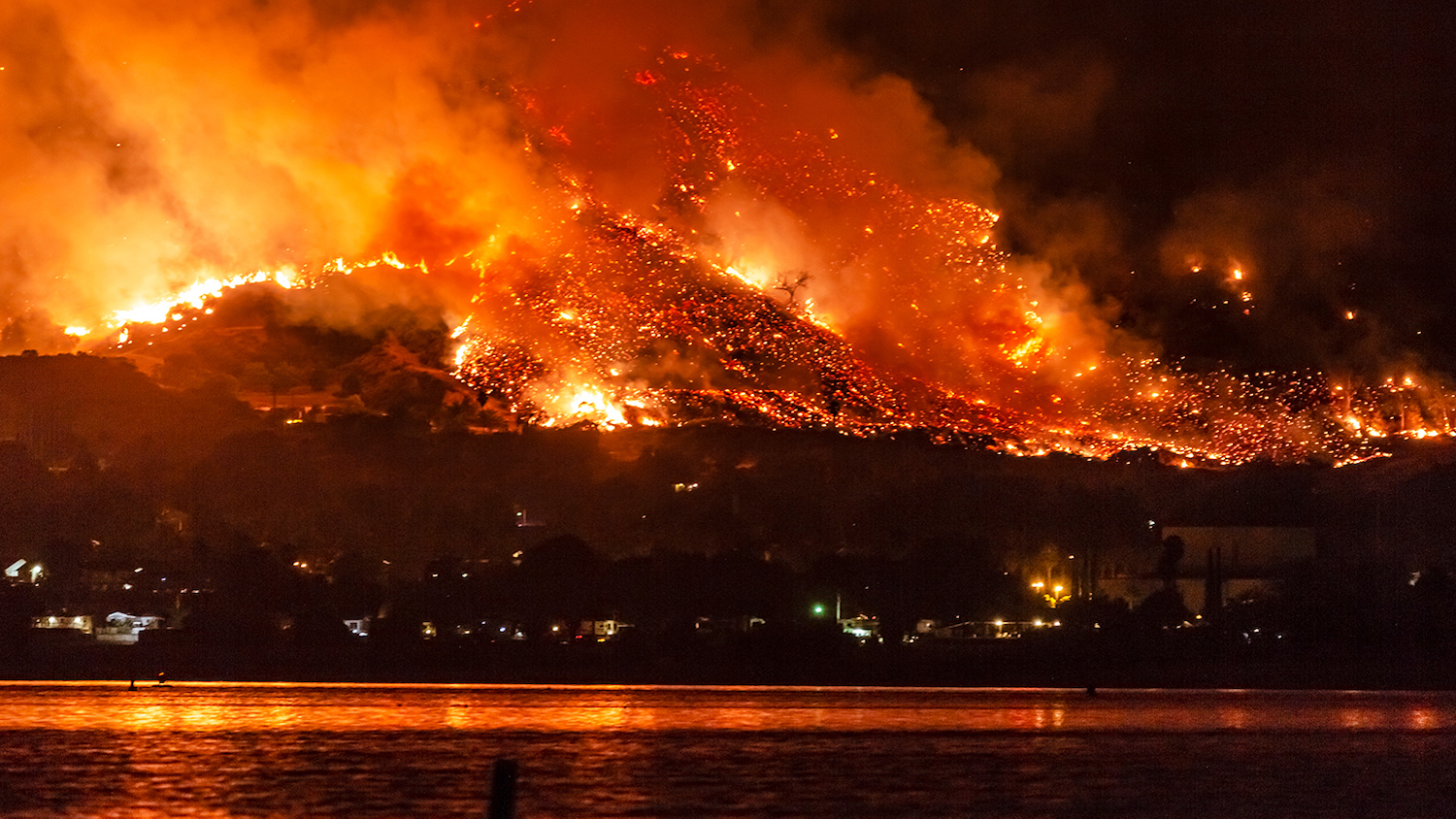 The Cache la Poudre River usually runs cold and clear as it flows more than 120 miles from the Rocky Mountains to the South Platte River. But in July 2012, the river's water suddenly turned pitch black. Heavy rain had filled the river with soot, ash and debris from a wildfire that burned thousands of acres of nearby forested land a month before. As a result of the pollution, cities downstream of the Poudre, including Fort Collins and Greeley, had to close their intakes on the river and use alternative sources for drinking water.
Now, eight years later, the city of Fort Collins faces a potential water shortage after once again closing its intakes on the Poudre River – in part due to poor water quality caused by the Cameron Peak Fire. The fire, which is the largest in state history, has scorched more than 130,000 acres across northern Colorado since igniting in August and continues to burn along the river in the Rocky Mountains National Park.
As climate change spawns hotter and drier conditions across North America and around the world, scientists are warning that intense and repeated wildfires could affect the quantity and quality of water available.
"Ninety percent of the world's most populous cities get their water from forested watersheds, and many of these cities already face potential water shortages due to drought, climate change and increasing water demand," said Dennis Hallema, a research assistant professor in the Department of Forestry and Environmental Resources at NC State's College of Natural Resources. "The increase in severe wildfire activity could make it much worse." 
Research shows that wildfires are getting bigger and more destructive as climate change intensifies drought conditions and creates large areas of dry fuels (leaves and other combustible materials) that are more likely to ignite and carry fire.
Since the 1980s, climate change — combined with an increasing number of human-caused ignitions — has roughly doubled the area of wildfires in the western United States.
Hallema, who uses machine learning to solve questions about natural hazards and water resources, said high-intensity wildfires can increase the susceptibility of watersheds to runoff and erosion and can have detrimental impacts on water supplies, including increased treatment costs, need for alternative supplies and diminished reservoir capacity. These impacts can last anywhere from months to years after a wildfire has been contained.
"The forest plays an important role in stabilizing the soil. It essentially prevents everything from falling downhill during heavy rain. That functionality is affected by wildfires," Hallema said.
Much of the precipitation that falls within a forest is intercepted by the tree canopy and forest floor. But high-intensity wildfires can remove vegetation and reduce the ability of soils to take up water, according to Ge Sun, a hydrologist with the U.S. Forest Service and professor in the Department of Forestry and Environmental Resources.
Sun, whose areas of expertise include forest hydrology and global change, said these changes to the forest floor can ultimately lead to an increase in runoff that can transport vast quantities of ash, nutrients, sediments, heavy metals and toxins into streams, rivers and downstream reservoirs used for drinking water supplies.
"When trees are killed due to fire, forests lose their capacity of evapotranspiration, the sum of intercepting rain water and transpiring water into the atmosphere," Sun explained. "Consequently, there will be more water flowing to the rivers once you have big storms after fire. When water flow increases and accelerates, bank erosion can occur."
The contamination from wildfires can have serious impacts on water quality and availability. A 2018 study published by Sun and Hallema in Nature Communications found that wildfires can change the amount of water that comes from upstream forests and the seasonal timing of water flows. Such changes could potentially cause water shortages for some communities as less water might be available during periods of high demand.
High-intensity wildfires can also impact the health of aquatic life and humans by releasing mercury from soil and plants into waterways, where it can travel downstream and contaminate watersheds and accumulate in fish, according to Hallema. Federal health agencies warn that people who consume fish containing high levels of mercury, especially pregnant women and young children, can experience brain and nervous system damage.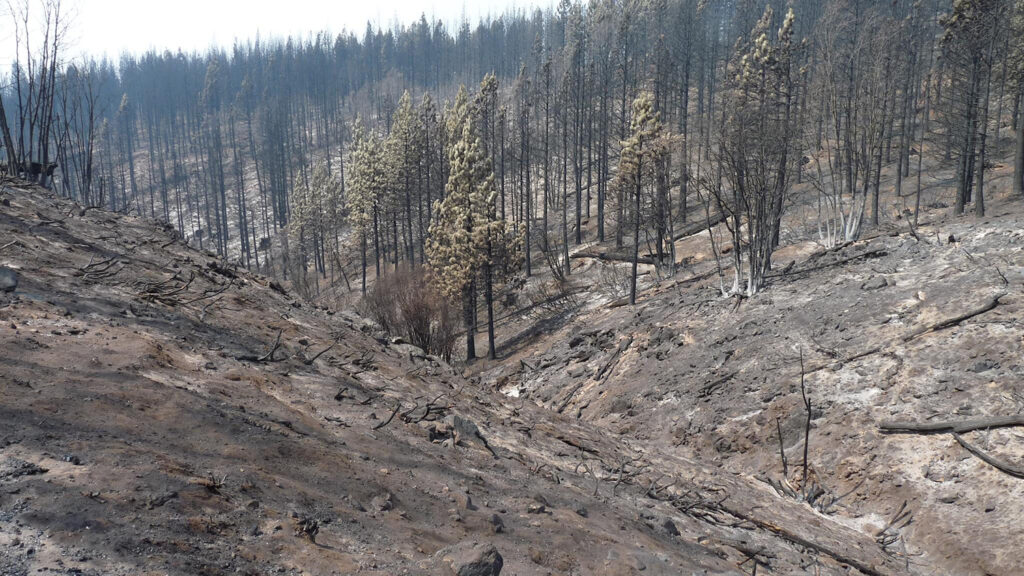 In addition to posing a public health threat, increased sediment loads in reservoirs can create a financial burden for utilities and taxpayers by causing increased processing costs and requirements for water treatment plants.
"When a reservoir is filled with sediment, it can become ineffective," Hallema said. "You either have to build a new one or clean it out. Both are really expensive."
A large and severe wildfire can increase drinking water production costs by $10 million to $100 million, according to Hallema. After the 2002 Hayman fire in Colorado, for example, Denver Water had to spend more than $10 million to remove sediment from its Cheesman and Strontia Springs reservoirs.
With the duration and extent of wildfires continuing to worsen, public utilities and policy makers face a considerable challenge in preventing added strain to existing water resources as the impact on water quality and supply depends on multiple factors, including the extent and intensity of the wildfire, post-wildfire precipitation, watershed topography and local ecology.
Hallema said geospatial and remote sensing data can help resource managers measure wildfire risk to water supplies by producing models of fire impacts and the hydrological characteristics of affected watersheds.
Resource managers can also employ forest restoration and management strategies to protect reservoirs and other drinking water sources, according to Sun. These strategies – which include prescribed burning, thinning of trees and shrubs, planting native trees and reducing the area of impervious surfaces – can "increase forest health and resilience and may increase water availability to people," he said.
Sun and other researchers are actively studying how prescribed burning as a forest management tool affects water quality, such as the mobility of mercury and other chemical concerns.
This post was originally published in College of Natural Resources News.