Centennial Campus
All Hands on Deck: Building Powerful Partnerships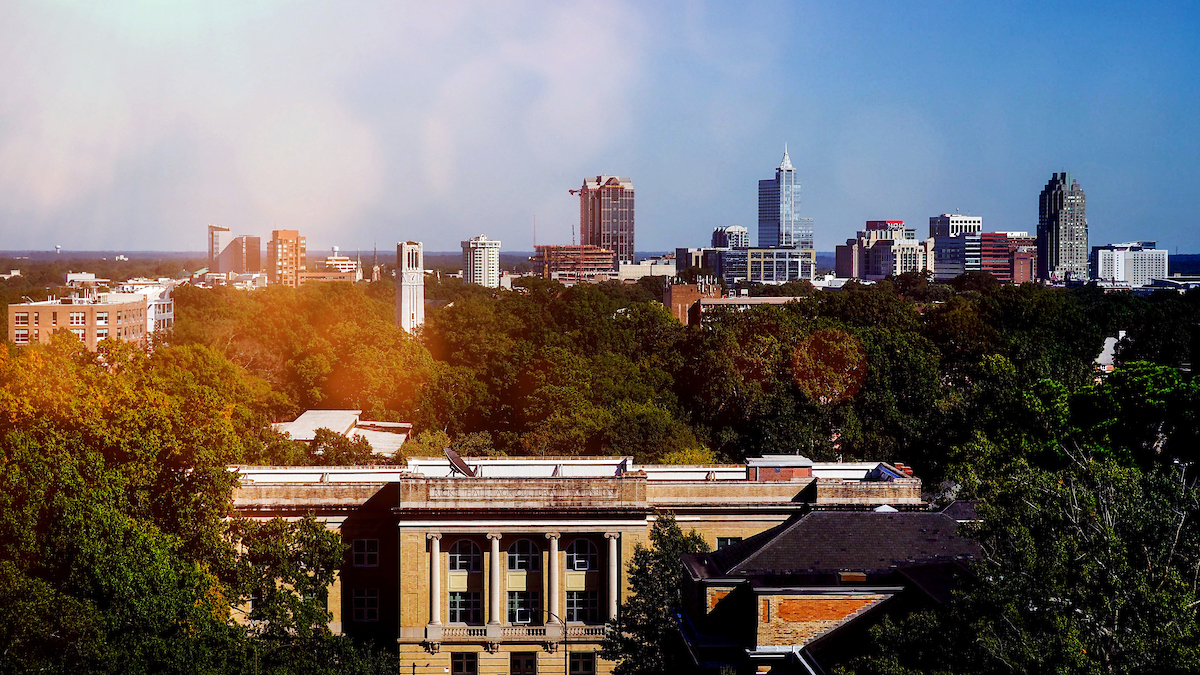 NC State has long been known for its work with the private sector — making it simple for our partners to access cutting-edge research and engage with top-notch student talent, while enriching the core mission of the university.
NC State lands at fourth among all U.S. universities for share of research supported by industry, according to the latest study from the Information Technology and Innovation Foundation. And we're often recognized as a top source for new recruits, ranking in the top 20 in alumni hired by Silicon Valley's biggest employers.
"As Raleigh continues to grow, NC State has played a critical role in equipping our region with a strong talent pool and world-class research expertise," said Adrienne Cole, president and CEO of the Raleigh Chamber. "NC State's hands-on approach to partnering with the business community is one of our truly unique assets."
NC State's hands-on approach to partnering with the business community is one of our truly unique assets.
Much of that work is done on the university's award-winning Centennial Campus and the 75 corporate, government and nonprofit organizations who partner with NC State researchers and students to solve groundbreaking challenges. But NC State also maintains strong ties with more than 100 entities who partner on talent recruitment and long-term project collaboration, and to access emerging concepts and research.
Brian Darmody, CEO of the Association of University Research Parks (AURP), oversees an international network of 50 innovation districts and research campuses. "NC State is a national model for public-private collaboration. Centennial Campus is seen globally as a gold standard in building partnerships with industry and government to drive economic growth."
"Today, many universities have teams dedicated to building and maintaining strong industry partnerships," said Leah Burton, director of NC State's Office of Partnerships, a unit within the Office of External Affairs, Partnerships and Economic Development. "Ten years ago, we were one of the few universities in the country doing this. We have thrived by learning what keeps industry executives up at night, then matching those needs with unique faculty and student expertise."
Universities are large, complex organizations with limitless resources and brainpower. Navigating them to forge a successful university-industry partnership can be overwhelming for even the biggest companies. Having teams focused on growing these relationships is key.
"Think of us as a concierge that can quickly connect with prospective partners to tour a facility, pull together niche researchers, or maybe help a startup solve a business challenge," said Dennis Kekas, NC State's associate vice chancellor for partnerships and a former IBM executive. "We can also facilitate discussions to clarify complex issues like intellectual property, as well as make it easier to engage with NC State by helping develop master agreements to more rapidly connect with multidisciplined researchers."
Broadening Partnerships
Many companies start collaborating with NC State in one area and then expand the relationship once they realize the benefits.
"GlaxoSmithKline was unique in that they initially started with more obvious connections like statistics, math and computer science, but then moved into the humanities when they found that philosophy students had a way of thinking that they needed for data mining," said Amy Lubas, director of strategic projects in NC State's Partnerships Office.
Today GSK and NC State are collaborating on multiple fronts, like providing scholarships to make a four-year degree more accessible and affordable for community college transfer students.
In 2012 Eastman Chemical started out mainly sponsoring research projects in the Colleges of Engineering, Textiles and Design. Upon renewing their Master Research Agreement for an additional six years with a total investment of $26 million to NC State, they broadened that engagement to sponsoring student design projects, as well as collaborating with other groups such as University Dining.
"Eastman continues to engage in ways that are very different from where they initially began," said Nanci Farrow, a partnership developer.
"Having a dedicated partnership manager has been a great value to Eastman," said Dawn Mason, global external innovation manager at Eastman Chemical. "This helps our company navigate the university in multiple ways, such as identifying and connecting with potential university and business partners, navigating the university processes, and generating positive exposure for our company."
A team of just eight, the Office of Partnerships isn't the only group on campus engaging with our industry partners. "With Eastman, for example, we work closely with the Office of Sponsored Research and Office of Research Commercialization as well as key teams within individual colleges, centers and institutes across campus," adds Farrow. "It's truly a multidisciplinary team effort so we can be as nimble and responsive as possible to the company's needs."
The office also steps in to collaborate with university units to win large-scale opportunities that require broad teams of expertise.
"NC State chose to embrace an emerging field like quantum computing, that is still very early, to get ahead of the curve in developing tomorrow's workforce," said Kekas. "We've been working with IBM for more than 30 years and this relationship led to a membership-based quantum computing hub partnership to help advance the field. The result is a hands-on approach to research and education in a very complex field spanning many disciplines, like electrical engineering, computer science, physics, mathematics and more. We view this as a long-haul investment."
Collaboration among multiple groups on campus is really what it takes to maintain long-term partnerships that generate the most benefits.
"Corporate and Foundation Relations, part of University Advancement, initiated the relationship with Delta Airlines due to a connection with an alum in a leadership position at the company," adds Burton. "We collaborate all the time so it was a natural next step when they brought us in to help bridge the gap with Delta's research interests."
"Students are incredibly motivated to solve real-world problems. We visited Delta's Operations Control Center in Atlanta and have had ongoing discussions with their meteorologists about the uncertainties in forecasting winter weather," adds Dr. Sandra Yuter, distinguished professor of atmospheric science. "The customized weather decision support system we developed for Delta's team of weather forecasters improves the quality of information going into decisions impacting flight schedules."
Delta is also a founding member of NC State's IBM Q Hub, working with NC State researchers to optimize complicated problems like gate assignments at major airports.
Driving Economic Success
The university doesn't just work with industry and large-scale federal partners. Close connections with local municipalities are also important drivers for economic success.
In 2016, the City of Raleigh and NC State signed an agreement to work together on Smart Cities projects. They've held three annual summits and are working together on research projects, like upgrading technology at key intersections in Raleigh and studying future preparedness for autonomous vehicles in urban parts of the state.
While NC State collaborates with global Fortune 100 companies, the university remains committed to helping smaller companies grow and scale.
Headquartered in Wilmington, N.C., Live Oak Bank makes Small Business Administration-backed loans, like PPP loans, accessible to underserved industries. Last year, the bank opened a satellite location for its technology arm, Live Oak Labs, on Centennial Campus.
"Live Oak Labs engages with students in a variety of ways, including senior design projects and hackathons," NC State Partnership Developer Keisha Demps underscores the significance of the relationship. "They are our first banking partner to secure a physical location on Centennial Campus. The fintech industry presents a new set of challenges for our students to solve real-world problems," Demps says.
As the university looks to increase connections between industry partners and NC State faculty and students, the Partnerships Office has launched a new website.
The Partnership Portal showcases the latest industry opportunities, like research challenges, student class projects, product testing and other specialized needs. These opportunities are distributed to NC State researchers so they can submit tailored responses. To sign up to receive notifications, visit partnerships.ncsu.edu/faculty.