Campus Life
Finding Your Wolfpack: Wellness and Recreation
NC State offers a wealth of resources to care for your body, mind and overall well-being. Ahead of the spring semester's wellness days, we share five things to know or remember.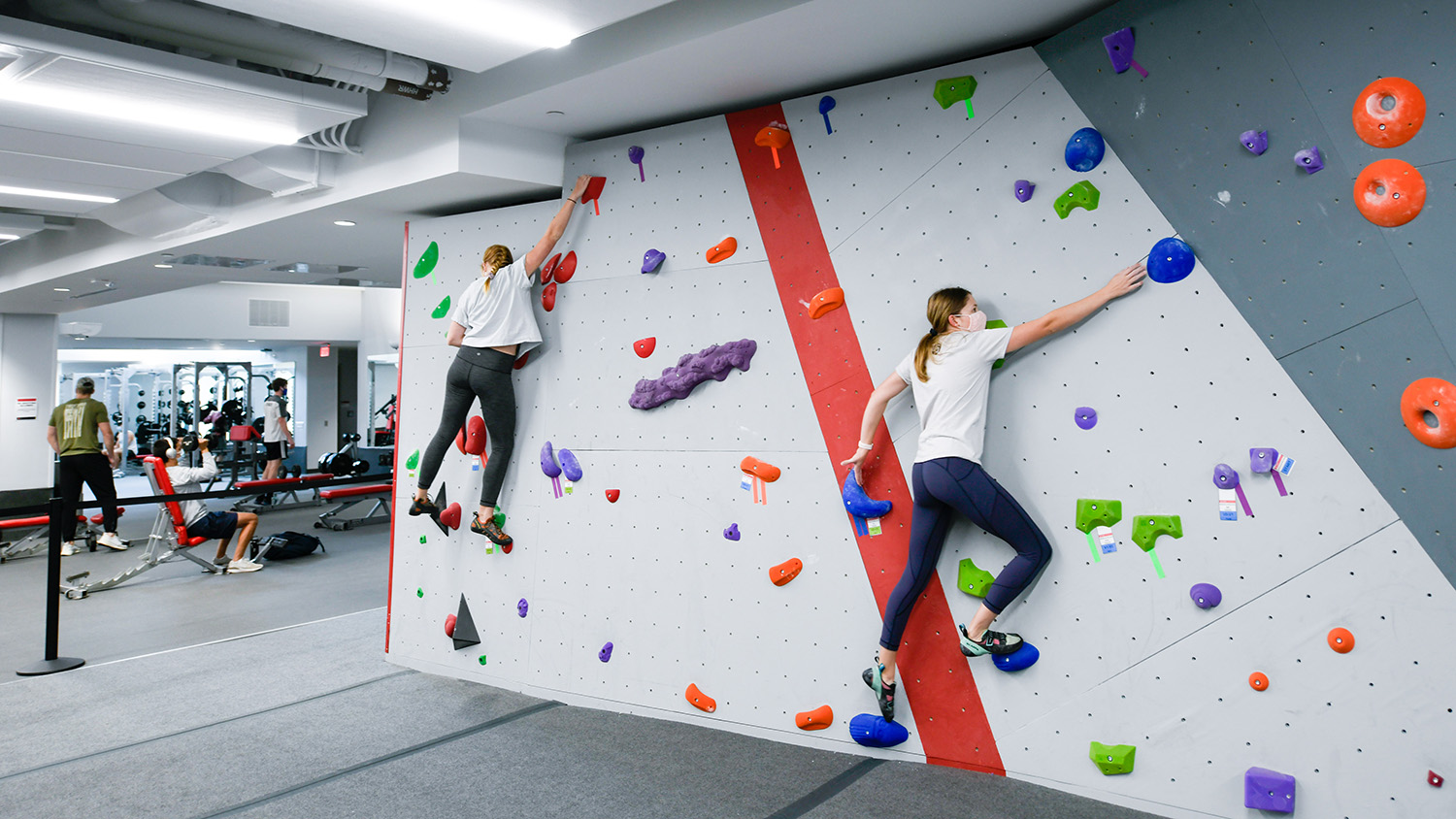 How difficult is it to take care of yourself while living through a pandemic, hustling through a condensed college semester and maintaining connections with others while staying at least six feet away?
It's not easy, but it's definitely not impossible. In an effort to minimize travel and maximize safety, NC State traded a weeklong spring break for wellness days scattered throughout the spring semester. These days are for students and faculty to take a breath, care for themselves and find balance among work, fun and health.
Members of the Wellness and Recreation team shared five things to know while you prioritize well-being.
1. Wellness isn't the same as fitness.
Physical activity isn't the only part of wellness. WellRec recognizes five other aspects: emotional, social, financial, purpose and community.
"We offer tons of workshops about goal setting, self-care and stress management," said Shannon DuPree, director of Wellness and Recreation. "We have a partnership with a financial planner and offer drop-in sessions to talk about money. We're a piece of wellness. There are tons of resources on campus."
Two WellRec programs are aimed at connecting those resources for the campus community: Exercise is Medicine, a nationwide program that incorporates physical activity into students' personalized health care, and student wellness coaching, a campus initiative in which certified student coaches help their peers make wellness plans and navigate the university's support systems, such as Feed the Pack, the Counseling Center and the Student Emergency Fund.
2. Self-care is dynamic.
"Self-care is such a big buzzword," said Zack Jenio, one of WellRec's student wellness coaches. "Everyone says 'Self-care, go buy a face mask.' If only it were that easy. Self-care includes preventative work, so if something stressful comes up, you have the resilience to deal with it."
Self-care includes preventative work.
Jenio, who's studying integrative physiology and neurobiology and comparative biomedical sciences, has worked as a personal trainer, but he enjoys the holistic approach wellness coaching embraces. His goal as a wellness coach is to teach his fellow students to become knowledgeable and self-sufficient in their personal development and well-being.
"It's like mama bird releasing baby bird," he said. "We're confident they'll be able to do whatever they need to do on their wellness journey," he said.
3. Wellness is for everyone.
Well-being is as unique as fingerprints. It changes as people change, and it doesn't necessarily have an end point. Wellness is a journey.
"We strive to create an inclusive environment for the community," said Adam Sardinha, WellRec's marketing and communications specialist. "Everybody is on a different path in terms of wellness. There's a spectrum of well-being, and we want to cater our services to a broad spread of the community."
WellRec started virtual fitness classes to keep the campus community involved at the onset of the COVID-19 pandemic. But DuPree and her team quickly learned that those classes were reaching people who haven't traditionally used Wellness and Recreation programs, whether because they felt intimidated by visiting a gym or were more comfortable working out at home.
Even though the Wellness and Recreation Center and Carmichael Gym are now open with safety protocols in place, WellRec plans to make virtual fitness classes a permanent service.
4. Your wellness day should be catered to your needs.
DuPree's ideal wellness day involves sleeping in late, taking a virtual fitness class and listening to music. Sardinha's ideal wellness day involves getting up early, going for a run and reading a book for fun.
Try to do something you don't usually have time to do.
Everyone's wellness day will look different. The purpose is to take a day for you and your happiness.
"We all get in the grind of the day to day," DuPree said. "Try to do something you don't usually have time to do. Be silly. Talk to a relative. Make time for joy."
5. There are loads of resources, in-person and online.
Wellness and Recreation is only part of campus's commitment to well-being. Think of Student Health, Dining, Prevention Services and Career Development Center.
"We pride ourselves on being this central unit that can help people find the resources," Jenio said. "There are lots of offerings year-round — not just on wellness days — and there are so many qualified groups and organizations at NC State that have the support you might need."