Students
From Landslides to Asteroids, Scholar Wants to Understand It All
2021 Goldwater Scholar Jack Featherstone conducts research into the physics of phenomena here on Earth and in outer space.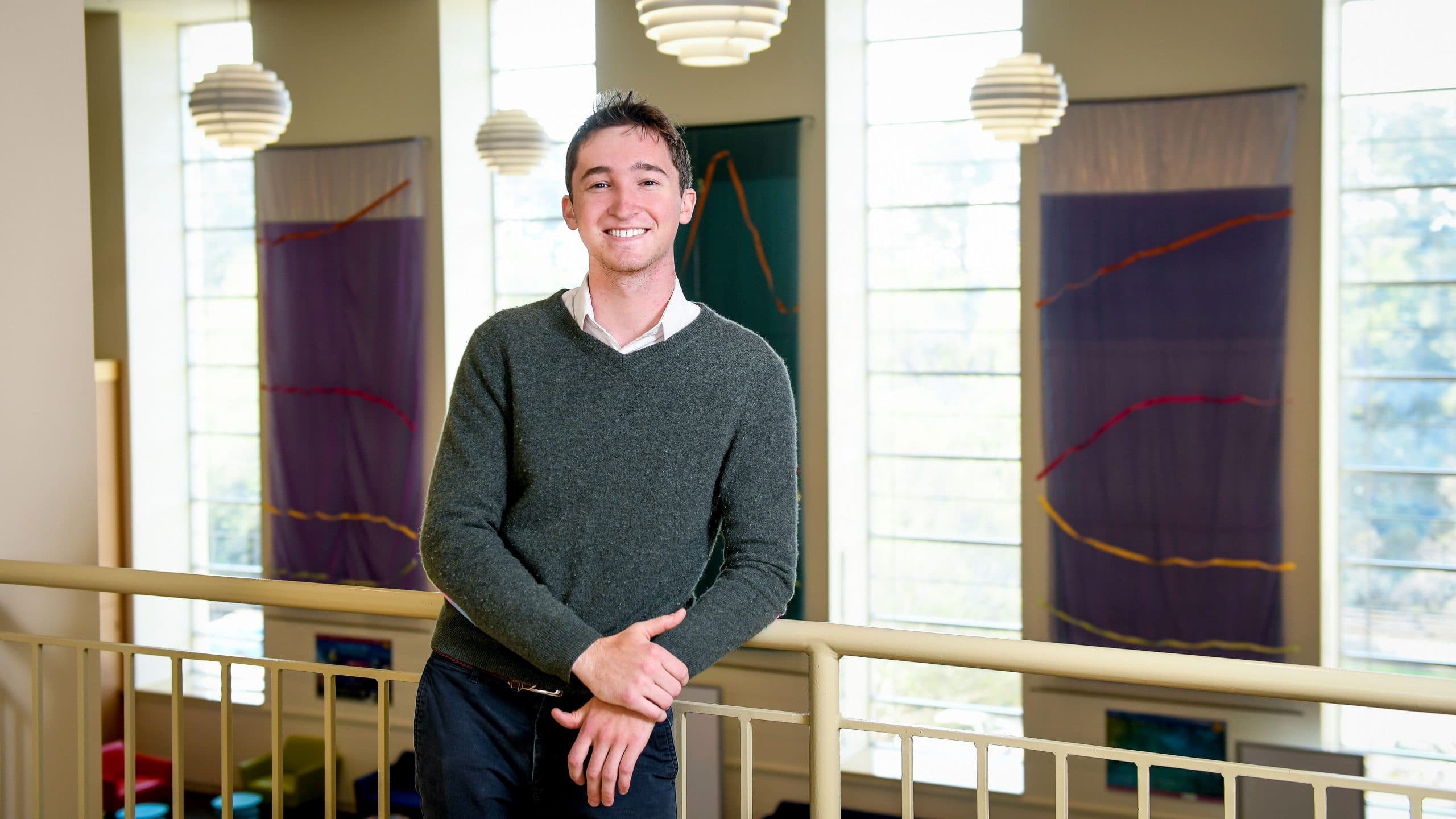 If you were to draw up a list of personality traits that help undergraduate students excel, "patience" might not be at the top. But physics major Jack Featherstone has patience in spades, and he drew upon it heavily the day he received an email telling him whether or not he had won a 2021 Goldwater Scholarship.
"When the email came in, I was in a class being taught by Professor Kenan Gundogdu, who helped me write the Goldwater application," Featherstone says. "I knew if I read it right away, I wouldn't be able to pay attention for the rest of the class — no matter what it said. So I didn't read it. I didn't even let myself look at the subject line to see if the first word was 'Congratulations.' I just turned my phone face down and kept it that way for the rest of the class. It was nerve-wracking."
Fortunately for Featherstone, at the end of the class he finally got to turn his phone over and read some good news: He had won a Goldwater Scholarship, awarded to college students who intend to pursue research careers in science, mathematics or engineering. The highly competitive scholarship provides up to $7,500 per academic year to cover tuition, fees, books, food and housing.
Asteroids: Handle With Care
Featherstone is currently doing research as part of a project in the lab of Professor Karen Daniels. The project is studying how to use the principles of granular physics to design equipment and instruments that interact with asteroids in outer space.
"People think of asteroids as big rocks or boulders flying through space, but they actually wind up being very grainy, kind of like a cloud of sand," Featherstone explains.
"If you touch an asteroid by landing a spacecraft on it or using an instrument to take a sample of the surface, you'll get a wildly different reaction from what you might expect on Earth — which makes asteroid missions a challenge. Plus it takes two or three years to get there, so once you do, you really, really don't want to mess up."
As part of the research for this project, Daniels took a team of students aboard a parabolic flight so they could study how granular materials behave in microgravity. Featherstone wasn't able to go on that trip, but he did participate in other aspects of the research, and he is first author of an article about the project that is currently under peer review at The Planetary Science Journal.
Featherstone is also studying how to predict when a granular material will fail, as in a landslide. Specifically, he's trying to use machine learning to predict landslides, and then he wants to analyze how the machine learning system made the prediction so he can learn more about the basic physics involved in such phenomena. That way researchers can apply those insights to a variety of other situations. This research project is funded by a grant from the Provost's Professional Experience Program.
In addition to working on his research projects, Featherstone participates in the University Honors Program, and he is a resident mentor in Honors and Scholars Village, where he won the Mentor of the Year award in 2020.
After he graduates from NC State, Featherstone wants to get a Ph.D. in physics and become a physics professor, allowing him to combine his interest in teaching and mentoring with his love of research.
"One of my basic motivations in life is that I just want to understand cool things," he says.
With a Goldwater under his belt, he's well on his way.