Campus Life
Meet the Incoming Class for 2022
In August, we welcomed our largest and most diverse class ever. Get to know five of our new first-year and transfer students and find out what they're most excited to Think and Do with us.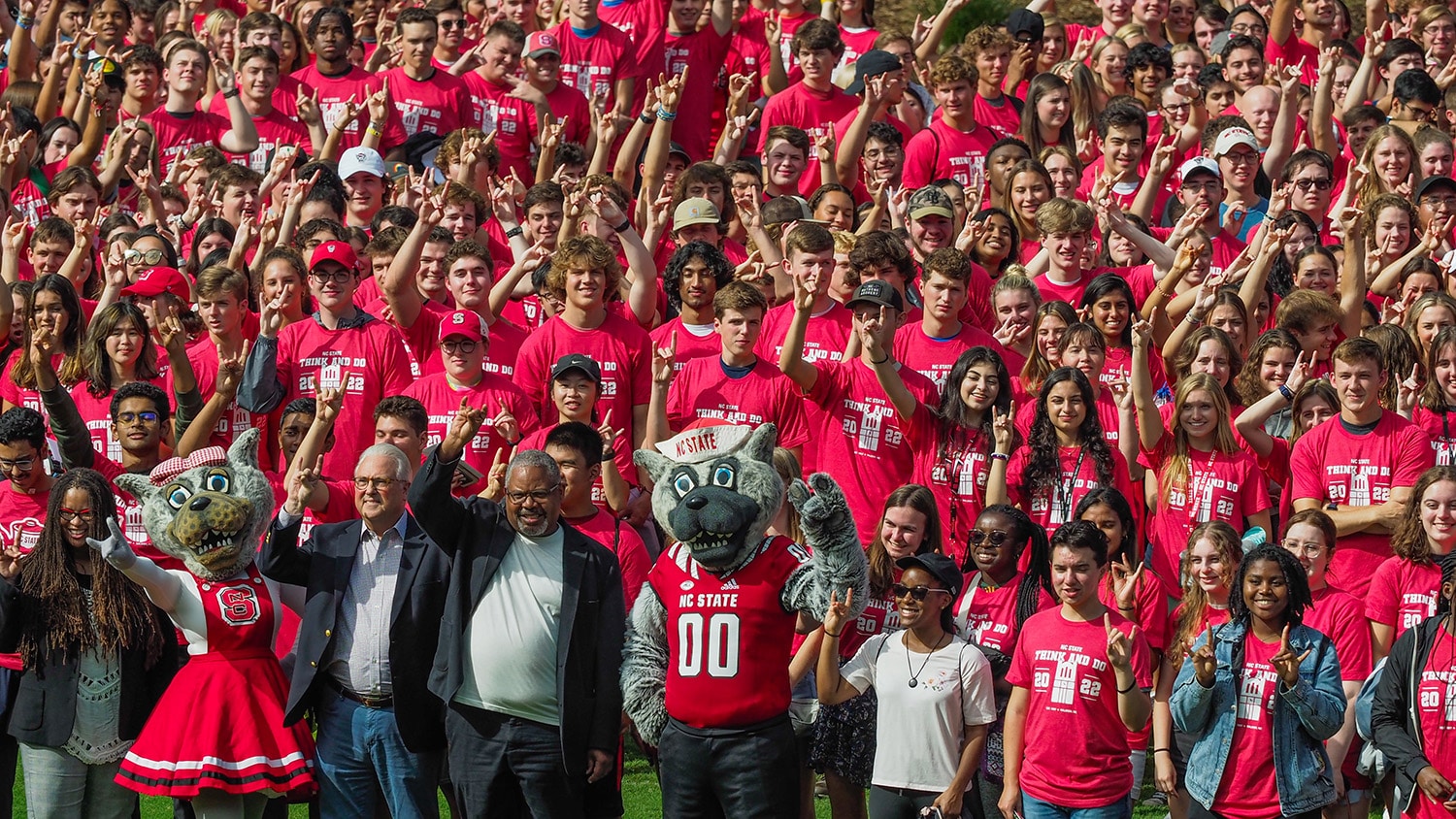 The newest members of the Wolfpack are experiencing all of their NC State firsts — their first classes, of course, but also their first time exploring the stacks at D.H. Hill Library, eating Howling Cow ice cream or cheering on the Pack in Carter-Finley Stadium.
The class of 2026 is our largest and most diverse in history. They represent 98 North Carolina counties, 43 U.S. states and 41 countries. Of the nearly 40,000 students who aspired to attend NC State this fall, 6,812 first-year, transfer and Summer Start students ultimately became members of our Wolfpack community.
5,601 New First-Year Students
39,874 First-Year and Transfer Applications
30% First-Year Students of Color
As they settled into campus, we connected with five new members of our Wolfpack to learn about their reasons for choosing NC State, their hopes for their time here and their plans for the future. Here are their stories.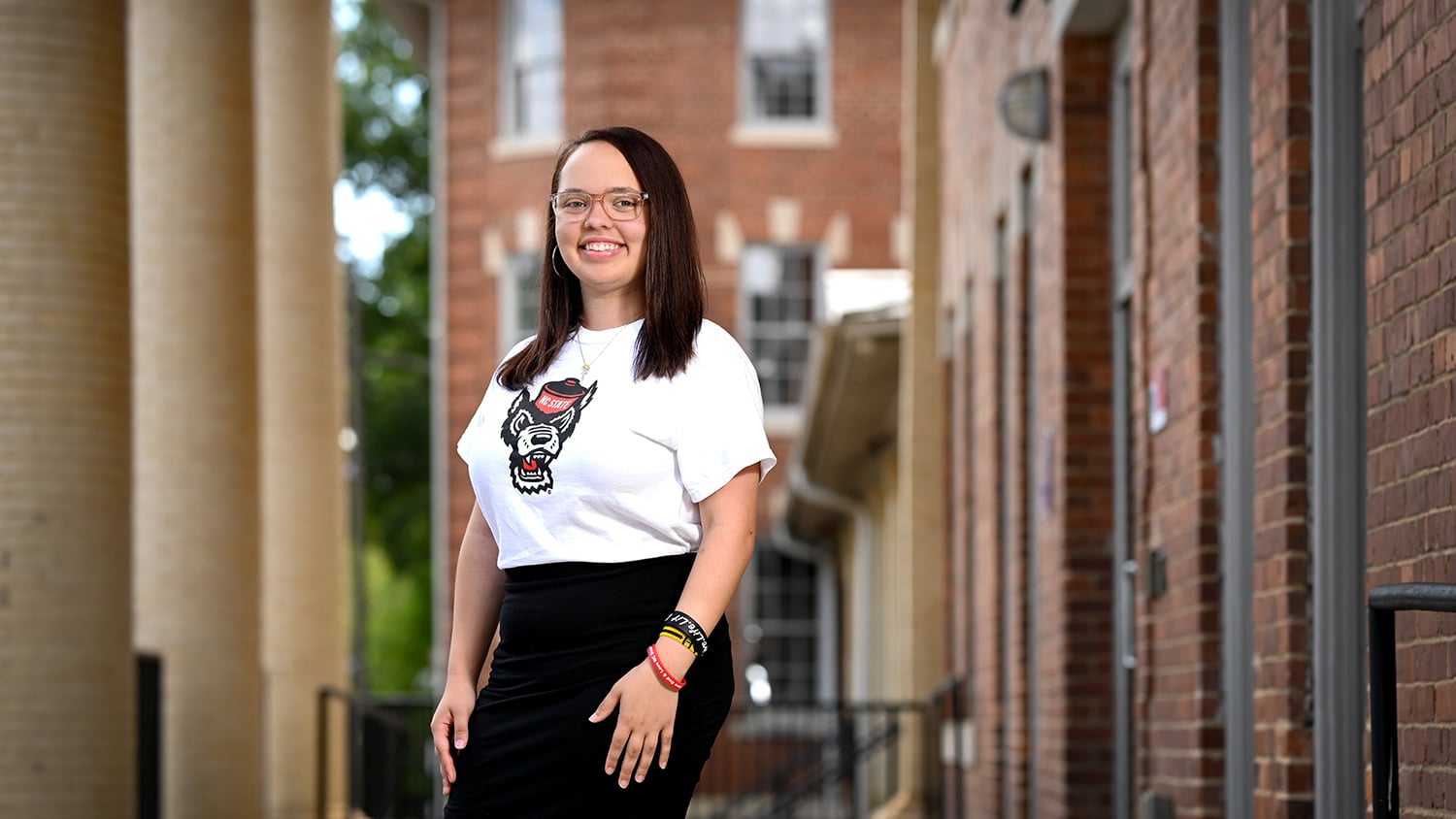 Leleah Maher: Taking Advantage of "Limitless" Resources
Leleah Maher has had a smooth transition from Nash Rocky Mount Early College to NC State's School of Social Work. But up until her sophomore year of high school, the first-generation college student wasn't sure that a large university like NC State was for her.
"It was kind of scary. I was afraid that I wouldn't be able to find people I could reach out to if I needed help, or that if I was drowning or not being successful, I would just be washed away," said Maher.
I realized that my cultural belonging mattered to the school … The resources are limitless here.
But a college fair hosted by the North Carolina Native American Youth Organization led to a change of heart. There, Maher met Justin Richardson, the assistant director of Enrollment Management and Services and program coordinator for the Native Education Forum (NEF) at NC State. He encouraged Maher to apply for NEF, a pre-college summer program for rising high school juniors and seniors that reinforces cultural identity and community ties.
"I realized that my cultural belonging mattered to the school," said Maher. "NEF was a major factor in my decision to come to NC State. It gave me an opportunity to see all that NC State offered for me as a Native American student — the resources are limitless here."
Since arriving at NC State in August, she's tapped into those resources. She lives in the Native Space Living and Learning Village and plans to join the Native American Student Association and Acts2Fellowship.
After finishing her bachelor's degree, Maher hopes to get a master's in social work and focus on individual and family relief services. Her passion for the field began during an internship two years ago at Ripple Effects, nonprofit organization that provides multi-generational services, community resourcing and personal development opportunities for residents of Nash and Edgecombe counties.
"Being able to be hands on with community members and their needs really showed me the love that I had for supporting and empowering people."
Aidan Dumain: Following Two Passions
Aidan Dumain was initially resistant to joining his middle school jazz band. He thought it would be too difficult. But once his band director won him over, he was quickly taken with the music, drawn to its harmonies and the freedom to improvise. By 11th grade, he was one of the best high school jazz trumpet players in the state of North Carolina. His musical resume includes his school's jazz band, the Triangle Youth Jazz Ensemble and the All-Region and All-State Jazz Bands.
Now, Dumain, a recipient of the Miriam Bailey Gardner Music Scholarship for trumpet performance, can add the Department of Music's premier big band — the NC State Jazz Orchestra — to this already impressive list.
"Music is something that makes me happy," said Dumain. "I'm not going to be doing it for my job so I don't have pressure about being the best in the world. I practice pretty much every day, so it's a big part of my life. It's something I can find a little bit of joy in every day."
Dumain is majoring in chemical engineering and has always enjoyed science and math. His interest in engineering puts him in good company in the jazz program — 58% of the student-musicians in jazz big bands and combos are pursuing engineering majors.
The pairing of a world-class engineering program and a thriving jazz program was what convinced Dumain to attend NC State. He's looking forward to traveling to Chicago with the jazz orchestra in December to perform at the 76th Annual Midwest Clinic. The big band is the first collegiate ensemble of any kind from North Carolina to be honored with an invitation to the prestigious music education conference.
"There are lots of great players in the top big band here at NC State, so it's really rewarding that I get to play with them," he said. "My motivation for practicing and becoming better is that I would like to be a player that my fellow band members can count on to be a good musician and handle anything that the music asks of me."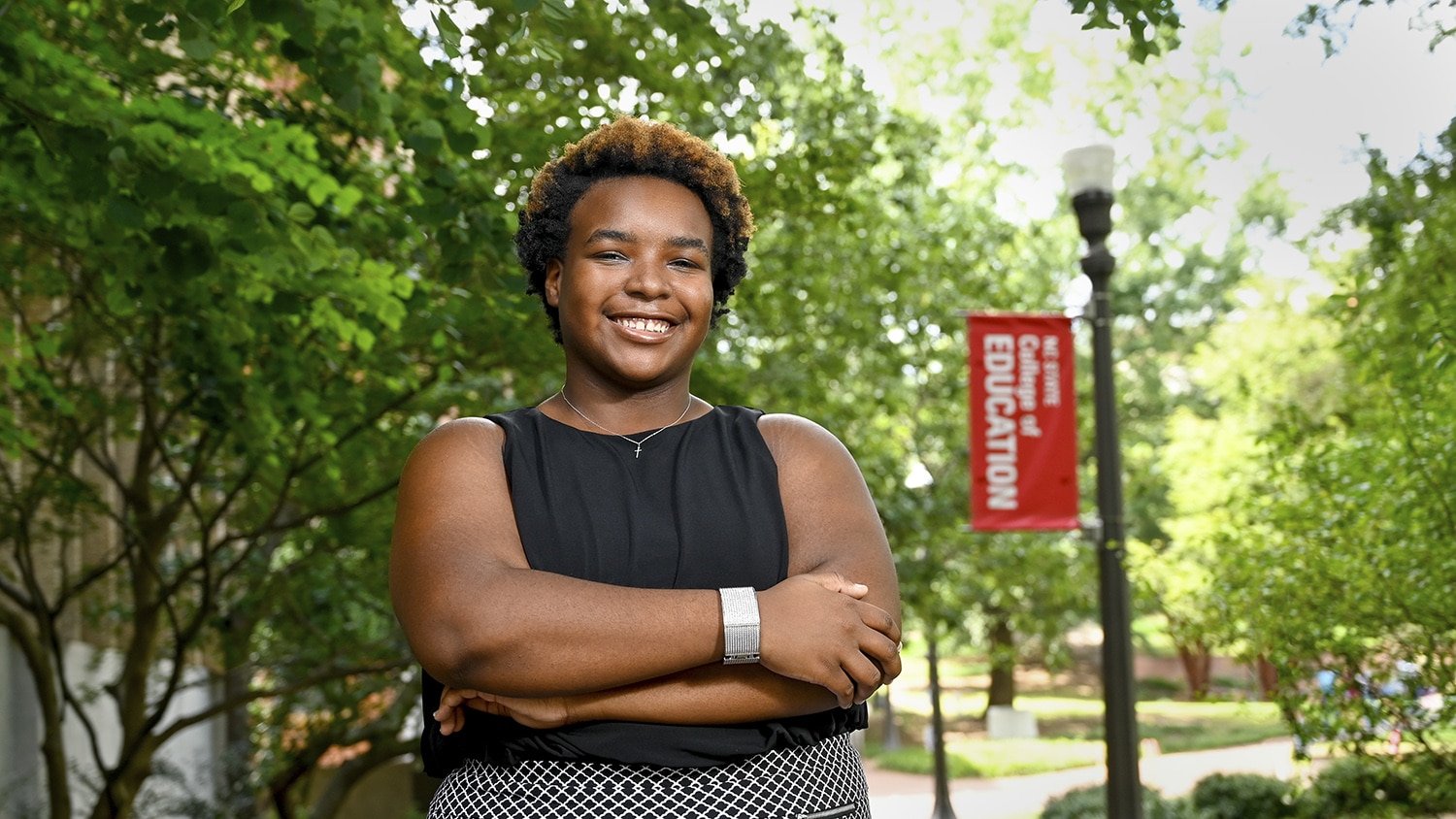 Alycia Morgan: From Visiting Toddler to Teaching Fellow
Alycia Morgan was a toddler when she first came to NC State. Her mother was a student here in the early 2000s, and Morgan would join her on campus, earning the nickname "campus baby" from her mother's friends. Now she's charting her own path here as a North Carolina Teaching Fellow.
Morgan has always wanted to be a teacher. Her own teachers would send notes home saying how helpful Morgan was during classes. Drawn to the College of Education's tight-knit community, she transferred to NC State this fall as a junior.
"My classes haven't been bigger than 25 or so students," Morgan said. "We discuss hard topics, but everyone wants to grow and understand each other's perspectives."
I want to experience other cultures and create a community of diverse learners and thinkers.
As she starts her own journey at NC State, Morgan is excited to build relationships with people inside and outside the College of Education. She's already joined the Black Campus Ministry's leadership team, and she'd like to join a dance organization, too. She's been dancing since she was a child, and when she first started exploring education careers, she wanted to be a dance teacher. When she realized the physical toll teaching dance can take on the body, she turned to another love: math.
"In high school, I had the most amazing mathematics professor," Morgan said. "Seeing her love for the subject, and my ability to understand these concepts and relay them to my peers, really solidified my desire to go into mathematics education." Morgan's favorite mathematics are statistics and probability. "Algebra is cool," she said, "but I like seeing how things in a real-world scenario relate back to us."
As a Teaching Fellow, Morgan plans to teach at an in-state school for the first two years after graduation. Afterward, she'd like to teach abroad.
"I want to experience other cultures and create a community of diverse learners and thinkers around myself, and getting to continue that in a different country would be great," Morgan said. "Going overseas is the main goal for the future, but teaching will be part of it every step of the way."
Carlos Alonzo-Montufar: Finding Community and Opportunity
When it came time for Carlos Alonzo-Montufar to decide on a college and career path, studying textile engineering at NC State seemed like the obvious choice. He had watched his brother, Yair, graduate twice from the university — in 2019 with a bachelor's in textile engineering and in 2022 with a master's in analytics — so he knew the Wolfpack offered everything he needed to succeed.
"Ever since I was a child, I've loved watching and playing sports — I even grew up coming to NC State athletic events," says Alonzo-Montufar. "I loved buying new athletic apparel to wear to my games and eventually, it grew into an interest in reading up on how it helped my performance. I wanted to know how the technology worked and how it was created."
After completing two years at Wake Technical Community College as part of the Community College Collaboration (C3) program, he's now an official member of the Wolfpack. The C3 program eased his transition to NC State by hosting workshops about housing, financial aid and academics. Now, as part of the textile engineering program — a joint degree program between the Wilson College of Textiles and the College of Engineering — Alonzo-Montufar is working toward his goal of a career in textile manufacturing.
Not only is he learning to apply scientific and engineering principles to the design and control of fiber, textile and apparel processes, but he has found a supportive environment.
"Coming to NC State, I've come to realize that there are a lot more Latinx engineers than I realized. It's been fun talking to them about their background," said Alonzo-Montufar. "We have a lot of things in common, and that definitely makes NC State a better place for me."
Outside of the college, he has found plenty of other opportunities at NC State to explore his passions and find community. He's joined an intramural soccer team and plans to join the Society of Hispanic Professional Engineers and Juntos, a program that provides resources to Latino students in grades 8-12 and their families that help make college accessible.
"I'm particularly interested in Juntos because looking at my journey, I realize I've had to receive help from many different people," he says. "Having the opportunity to be a mentor for another young kid is something I'd be interested in."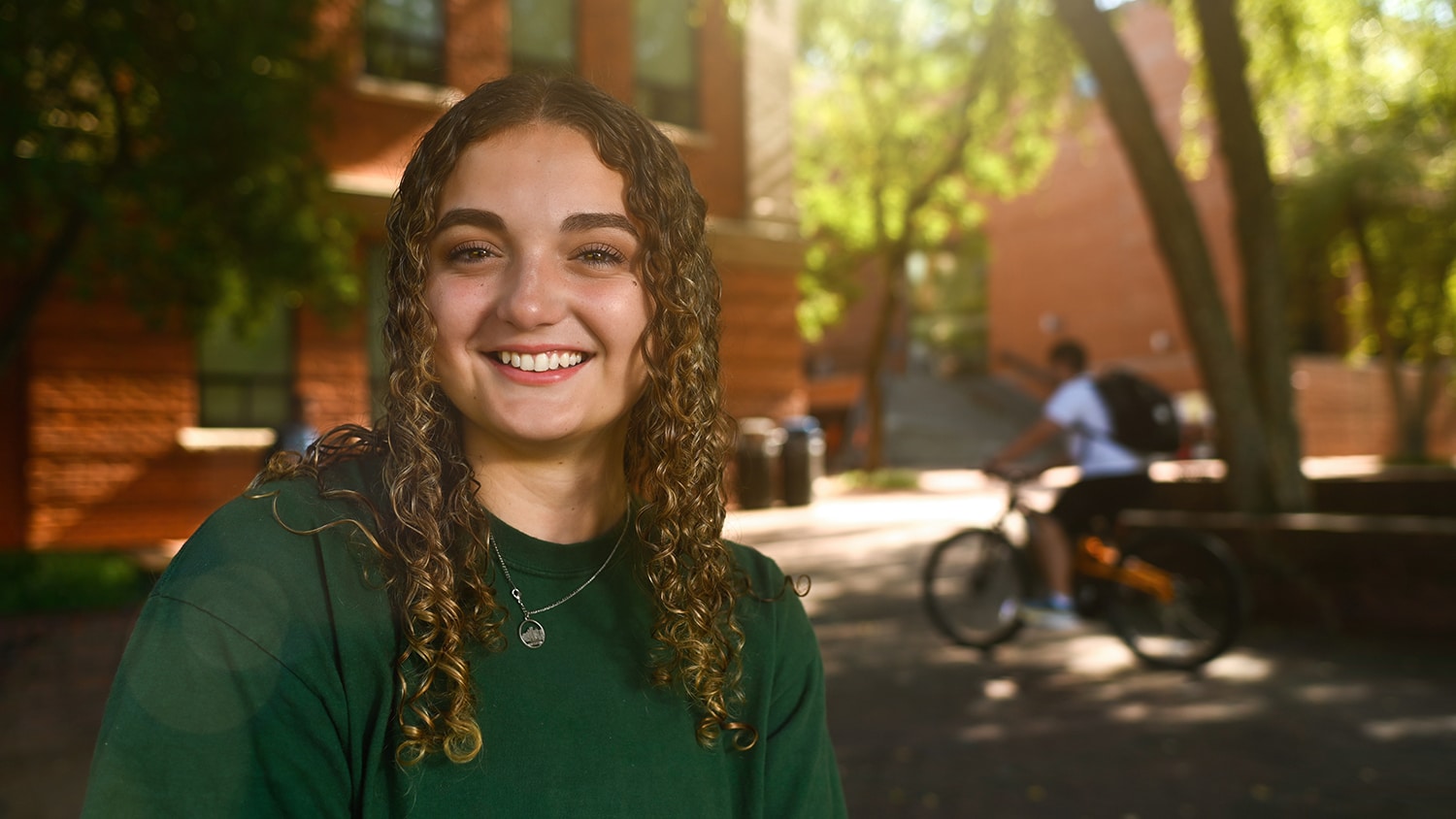 Molly Sue Smith: Putting People First
At first, Molly Sue Smith didn't want to follow her older sister, Miranda, to NC State. She was determined to chart her own course out of their small town of Robbins, North Carolina. But she was quickly persuaded to join the Wolfpack through her interview process for the Park Scholarship, which she said made her feel valued as a whole person.
"I really like that NC State is a great representation of the real world," said Smith. "It's not one type of person at NC State. It's a lot of different types of people that all coexist."
The Park Scholarship interview process was illuminating for Smith in another way — it inspired her to change her intended major from political science to social work.
"Picking political science as a major was motivated by my care for social issues," said Smith. "As time went on, I realized that I cared more about intimately helping people than legislatively helping people. To kind of experiment with that, I spent my summer volunteering at a nursing home with Alzheimer's and dementia patients, and that just 100% solidified that individual help and seeing progress with individual people mattered way more to me."
It's not one type of person at NC State. It's a lot of different types of people that all coexist.
Smith's advice for new students is to prioritize finding a community on campus. She is diving enthusiastically into her chosen communities: Park Scholars, her social work classmates and the Power Sound of the South — like her sister, Smith plays the trumpet in the NC State marching band.
"I do marching band because I care about building a community with other people who also have that shared love for music," she said. "People should prioritize finding their people. Without the bonds I've made in Park Scholars, it would already be so much more difficult to not have people to talk to or ask stupid questions to. I would definitely say to prioritize building at least a couple essential relationships, just to survive and maintain."