Athletics
Carter-Finley Meteorologist Helps Decide Weather or Not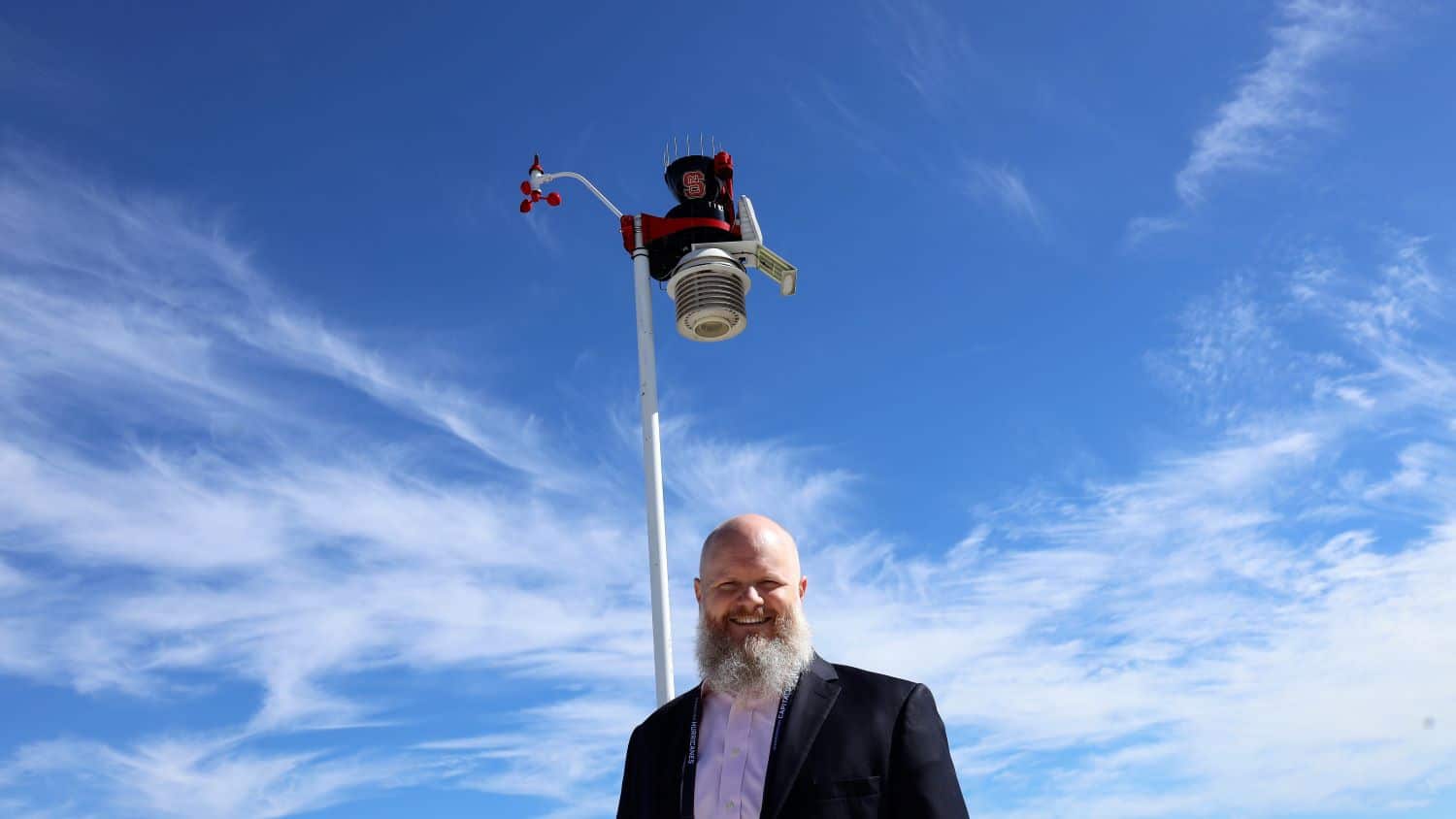 So who's in charge of the weather for Saturday's NHL Stadium Series Game at Carter-Finley Stadium?
After all, they're playing an outdoor hockey game in the South in February — when temperatures are just as likely to be 72 degrees as 22 — so ice-affirming weather is hardly guaranteed for the 8 p.m. contest between the Carolina Hurricanes and Washington Capitals.
It shouldn't really matter, says Nate Johnson, a multiple NC State graduate and the official meteorologist for big events at Carter-Finley Stadium. Sure, Mother Nature is officially in charge, but the NHL, which has hosted more than two dozen outdoor hockey games and has never had a Stadium Series game canceled since they began in 2003, will rely on Johnson and a third-party weather service for all necessary input to make sure the game goes forth as planned.
"The weather can make or break this," Johnson says, "so everyone is taking this seriously."
For the last eight years, Johnson has proven to be an invaluable complement to other online and subscription services when it comes to monitoring any adverse weather issues for football games and other activities, which have been affected by tornadoes, thunderstorms, lightning and, of course, hurricanes.
The Clemmons, North Carolina, native earned degrees from NC State in meteorology, computer science and communication. He spent time at Raleigh television station WRAL as a meteorologist and executive producer. He's now the director of weather operations at NBCUniversal Local, overseeing weather operations at 44 network-owned stations across the country.
He is also a weather consultant and game-day meteorologist for NC State athletics, one of an increasing number of such positions at Power Five schools who use their expertise to help inform and manage weather-related safety decisions for athletics departments that are responsible for the safety of athletes, coaches, staff and fans who fill stadiums across the country.
Johnson was officially hired prior to the 2015 football season, just after the Rolling Stones performed at a sold-out Carter-Finley. He also teaches a Media Meteorology class every fall semester.
"The role has expanded a little since then, to helping out whenever needed," Johnson says. "At the end of the day, I want people to be safe, so I am the guy who worries about incoming weather so others don't have to."
It's a valuable service that not every school provides, says John Portland, NC State senior associate athletics director for facilities, operations and capital projects, and it's a dramatic improvement over subscription weather services that use off-site meteorologists for game-day input.
I am the guy who worries about incoming weather so others don't have to.
"We feel it's best to have someone on site, someone we can talk to and someone who can be more proactive in tracking the weather," Portland says. "When we hired Nate in 2015, it was pretty simple: We wanted to have the best information at our events so that we can make the best decisions.
"We felt, and still feel, having someone on site provides us with the best information."
Johnson has a national reputation that he uses to help promote NC State's "small but mighty" climatology programs. In addition to the university's academic offerings, the state's climate office and the National Weather Service's local forecast office are located on Centennial Campus.
Both the acting director and the acting deputy director of the National Hurricane Center, Jamie Rhome and Mike Brennan, are NC State graduates, a strong endorsement for a program smaller than those found at land-grant peers such as Penn State, Florida State, Mississippi State, Oklahoma or Texas A&M.
"There's not a lot of us, but we do make some noise," Johnson says.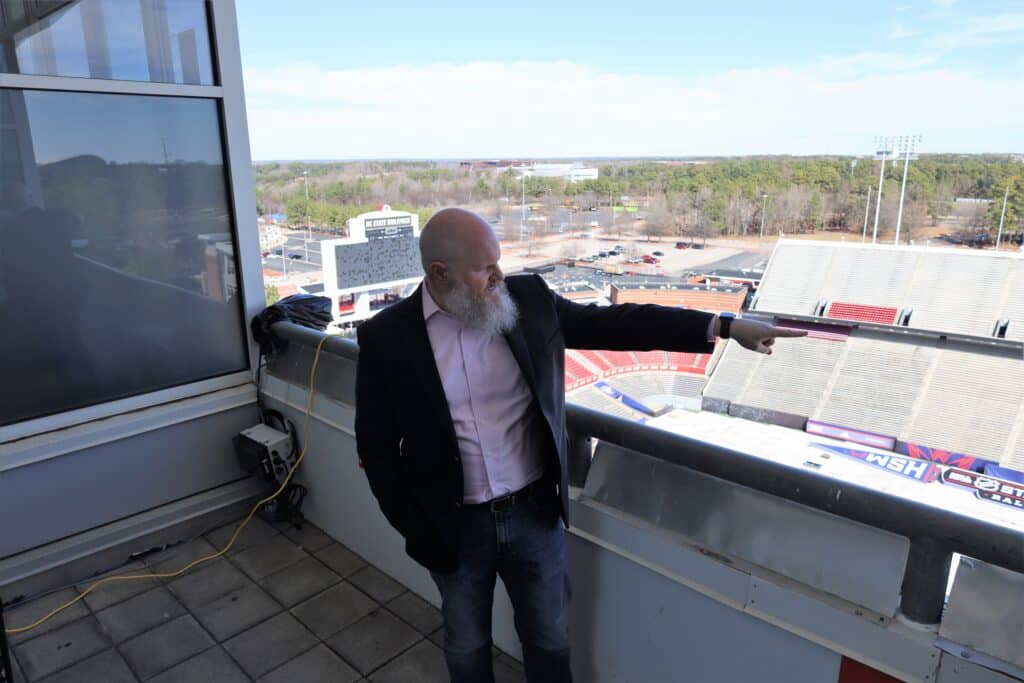 For Saturday's game, Johnson will work with an NHL meteorologist to monitor weather conditions leading up to the hockey game, the same way he does for football games. The current forecast looks favorable, so there should be no issues with outside temperatures or the possibility of heavy rain, which could cause a postponement or cancellation for a highly anticipated game that has been sold out for months.
Johnson has seen the full gamut of weather issues, including lightning that delayed opening the gates for his first game on the Wolfpack's game-day staff in 2015. And there was, of course, Oct. 8, 2016, when Notre Dame made its first-ever visit to NC State and arrived just about the same time as Hurricane Matthew.
"That was the most surreal day of my professional life," Johnson says.
The Wolfpack won the game 10-3 and celebrated by splashing all over the turf, as rain fell and winds howled around the few hearty fans who stayed in the stadium throughout the soggy game.
For now, Johnson says, there's nothing in the forecast that suggests something similar will be possible for the Hurricanes and Capitals for Saturday's hockey game.