Students
"You Can Be That Voice": Meet 3 Student Leaders
To honor Women's History Month, we sat down with three women in student leadership positions to learn about the challenges they face, the joys they find in their work and the marks they hope to make on NC State and the world.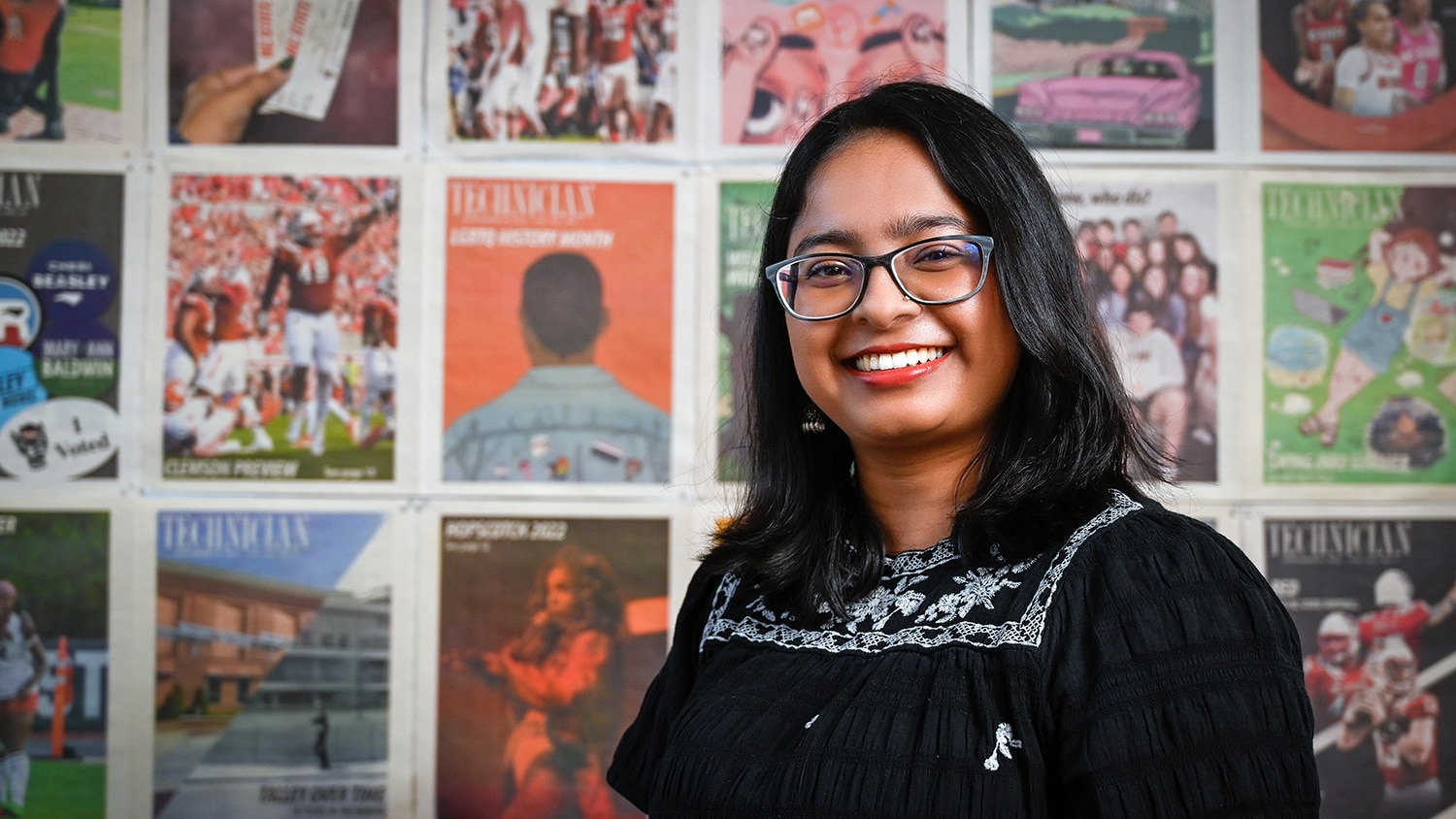 Every year, Women's History Month gives us opportunities to learn from the legacies of the women who came before us, who broke down barriers so that we can access opportunities they were denied. We're honoring those legacies by learning from the women in our lives today, like the students who are championing inclusivity and speaking up for one another here on campus.
49%
of students at NC State are female
51%
of 2021-22 degree recipients were female
See how three students are paving the way for future Wolfpack women to lead and to shine. They're changing the world one editorial, one aspiring veterinarian and one student fee appropriation at a time.
---
Lakhia Fuller: Showing Up As Your Authentic Self
Lakhia Fuller grew up helping her mother save injured baby birds and watching Steve Irwin rescue turtles from the road on his television show, The Crocodile Hunter. It was Irwin's passion for helping animals — and her mother's — that inspired Fuller to become a veterinarian.
But even as she worked toward this goal, earning a master's degree in agriculture and environmental sciences from North Carolina A&T State University, she didn't meet a Black veterinarian until her senior year of college. Veterinary medicine is one of the least diverse professions in the U.S. — only 2.2% of practicing veterinarians are Black, according to 2022 data from the Bureau of Labor Statistics.
Because of this lack of representation, Fuller and her peers sometimes struggle with imposter syndrome around becoming veterinarians. She credits one of her mentors — Andrea Gentry-Apple, coordinator of veterinary education and the clinical associate veterinarian at North Carolina A&T and an NC State graduate — with helping her overcome her doubts and apply to the College of Veterinary Medicine at NC State, where she is in her second year of the doctor of veterinary medicine (DVM) program.
"When you don't see anybody that looks like you doing the thing that you want to do, it really makes you question, 'Well, can I do this? Do I even want to enter this space, if nobody else looks like me?'" said Fuller. "So it's important for people like myself to tell our story so that the younger generation can see us. So kids that look like me can say, 'Oh, she's doing this. I can do this.'"
We do a huge disservice to ourselves and even to those that came before us when we don't show up as who we are.
Now, Fuller is learning to care for animals while helping her classmates thrive. As the founder of NC State's student chapter of the National Association of Black Veterinarians (SNABV), she has created a powerful network for Black veterinary medicine students. Fuller's DVM class of 2025 and the class of 2026 were each the most diverse admitted class in college history, a trend that she hopes to see continue.
"If you are constantly trying to increase your diversity, you're trying to show Black students that they belong here, that you have a place for them, there also needs to be an organization in place that is going to create and foster a safe space for those students," said Fuller. "I didn't know that I was going to have to be the one to charter the club, but I also understood that it's a lot bigger than me. It is also for the class that just came in, and the class that's going to come after them."
Showing up with authenticity in a predominantly white space and resisting the impulse to code switch — the practice of altering your speech or behaviors to make other people more comfortable — is one challenge Fuller and her peers work to overcome every day. Having the community of SNABV gives them a supportive space in which to unlearn habits that can drain the energy they need to succeed.
"We do a huge disservice to ourselves and even to those that came before us when we don't show up as who we are," said Fuller. "I know I'm amazing — I don't want to toot my own horn — and I know all of the other students that I go to school with are amazing, and I get to see them. I get to see the real them. And I just wish that everybody else could see how great they are, how great we are, if we didn't feel like we needed to condense ourselves. It just takes time."
I'm really grateful to be in a position and to have a platform to try to help move that needle forward.
Fuller serves in five other leadership roles within the vet school, including sitting on the Dean's Leadership Council. It's a heavy lift on top of an intense doctoral course load, but she is compelled to use her voice to help others. Now that she has NC State's chapter of SNABV up and running, she is focused on making sure the organization is serving the needs of its members and advocating on their behalf.
"Diversity in veterinary medicine has grown a lot," she said. "We just were talking to the first two black students to graduate from the vet school — that was only 30 years ago. And now there are 18 black students in my class, if I'm not mistaken. So, it's growing. But I've also learned there is a lot of work that still needs to be done, and there's still a lot of growing that needs to happen. I'm really grateful to be in a position and to have a platform to try to help move that needle forward."
Women's History Month is about honoring legacies, and Fuller hopes the safe space she's created through SNABV will be one of hers. "That is our hope," she said, "that it doesn't end with us."
---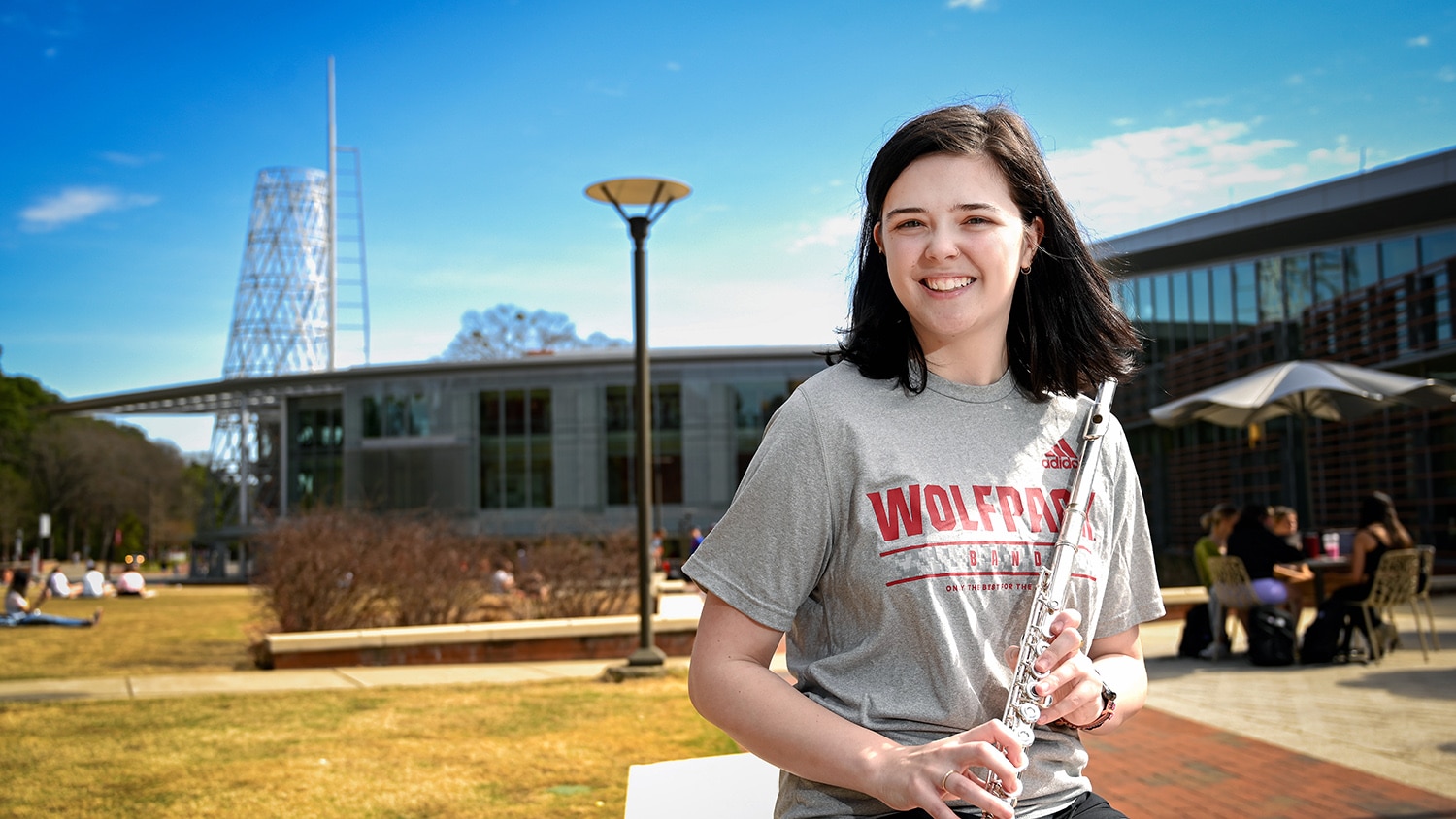 Katie Phillips: Using Your Voice
As president pro tempore of the student senate this year, junior political science major Katie Phillips was the only female student at the table when it came time to determine committee assignments. She lobbied passionately for the assignment to the Council on the Status of Women, an advisory organization that supports women at NC State — faculty, staff and students. She wanted the opportunity to be an advocate for her peers and to learn from women in different positions within the university.
"If I was to talk about the council to somebody who didn't know anything about it, I would say that there are people who are in your corner, as a woman," said Phillips. "There are people who understand and have been through those experiences and see you going through those experiences, and have empathy for that."
There are perspectives that I think people don't always account for. You can be that voice and stand up for yourself.
Through the council, she's been able to connect with women in faculty and staff positions at NC State, and has seen similarities between the challenges they face and those that female students face. She's learned a lot about the Title IX office and the resources available through the Women's Center that she can take back and share more broadly with students.
"It's really interesting to see what it looks like to be a woman in academia, and what that community looks like for them," she said. "It's fun to see what their issues are, and how similar they are to what students are going through, and their solutions, and our solutions, and kind of cross-referencing and everybody helping each other."
Phillips is learning to honor the things that set her apart from others through her work with student senate and as the head band assistant for the NC State marching band, the Power Sound of the South, where her passion for planning occasionally baffles her fellow student-musicians. She loves work that helps people, especially when the senate funds student organization projects through the student fee appropriations process. These roles have helped her build the confidence to be true to herself and to use her voice.
"It's not so much that being in my role [as a girl] is different than anybody else doing it," she said. "But there are perspectives that I think people don't always account for. You can be that voice and stand up for yourself. I think that's something that girls talk about a lot. Asking people to believe you, and asking people to make space for you, and remembering that you are capable of doing that for yourself."
From the moment she ran for office — as a first-year student when the senate could only meet on Zoom — to now, as she campaigns for student body vice president on an all-female ticket, Phillips has loved serving in student government, helping her fellow students to navigate challenges and bring their dreams to life.
"What I have learned about leadership is that people are watching you even if you don't know it — in the good way," she said. "Even if people don't tell you that they think that you're doing a great job, or that you are a role model for them, just by being in that space, and by being that person, you are inspiring somebody else and showing them that they can do that too."
---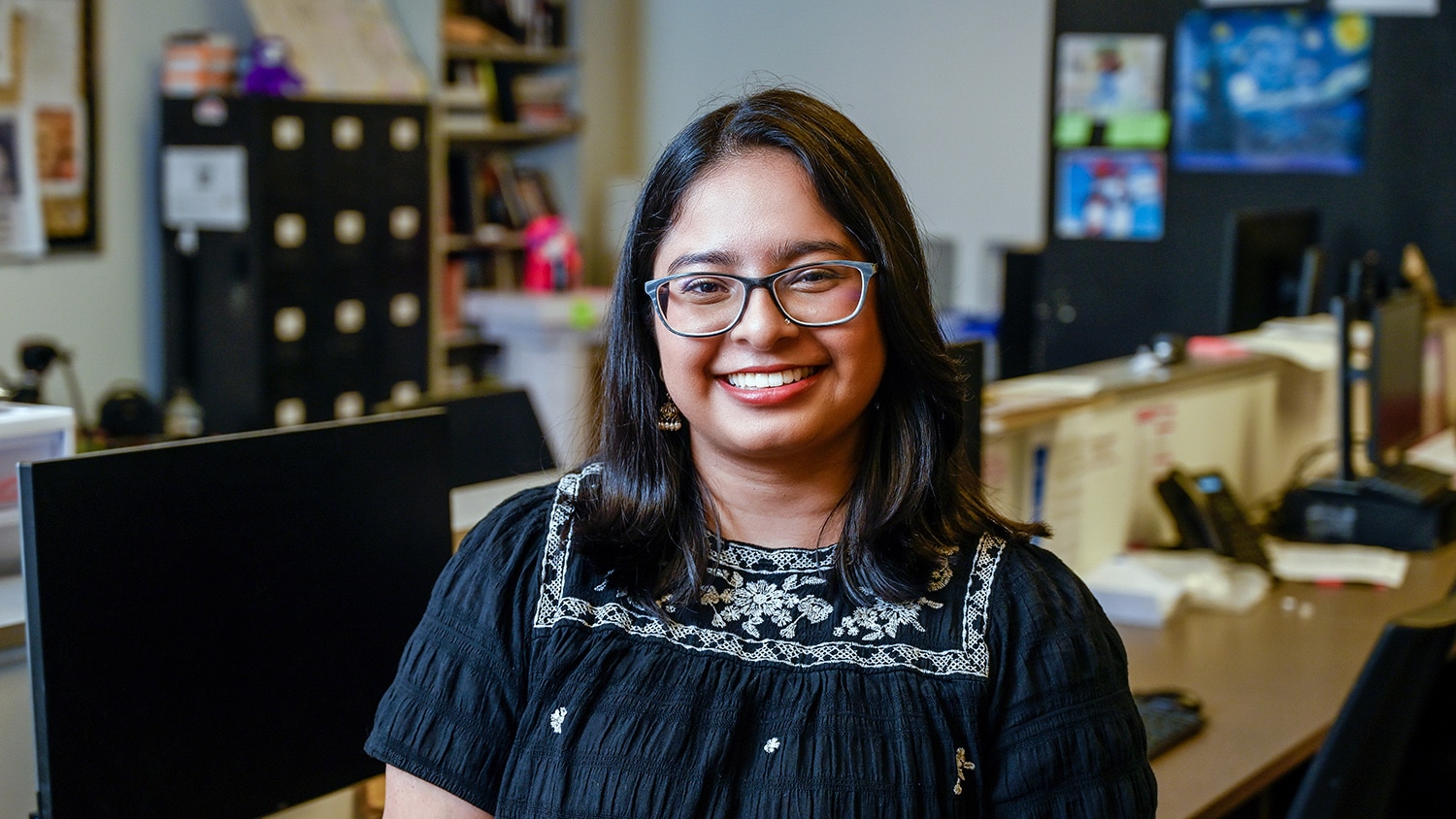 Shilpa Giri: Learning to Trust Yourself
As the editor-in-chief of Technician, senior human biology major Shilpa Giri manages the largest student-run publication on campus. Her decisions set the tone of each issue and ensure the quality of the final product. She knows that she and her colleagues at the paper are a voice for students on campus.
Giri is an international student born in the U.S. who lived in India with her parents before coming to NC State. She joined Technician as soon as she arrived on campus because she wanted to find a way to incorporate her love for writing into her life in college. She honed her skills for two years as editor of the opinion section before applying for the top position. What started as a hobby has reshaped her plans for the future. She's applying for jobs in health news that will combine her education in biology with her experience at Technician.
We're providing a place where everyone feels welcome, and it doesn't feel like this is just a predominantly white organization, or a predominantly male-led organization.
Her passion for journalism snuck up on her and solidified over the last year as editor-in-chief. As a woman of color, having only worked with one female editor-in-chief — remotely, during the early days of COVID — Giri had a hard time picturing herself in the role. But she's been purposeful about welcoming diverse perspectives onto the Technician staff, and she's proud of the message that inclusivity sends to other students.
"We have majority female leaders on our editorial staff," Giri said. "It's always great to see that and see that we're providing a place where everyone feels welcome, and it doesn't feel like this is just a predominantly white organization, or a predominantly male-led organization. I feel like everyone is equally represented, and that definitely makes me really happy."
Although Giri had doubts about the increased responsibility and whether she'd be the best person for the job, she was surrounded by a supportive group of editors and friends who encouraged her and helped her find her passion.
"As I was going through the whole application process and submitting my ideas for the paper, I got more and more enthusiastic about the position, and by the time I had finished my application I really wanted the job," she said. "I might be a little old-fashioned. I love just holding the actual, physical paper in my hands. It's really satisfying to see all our articles and the cartoons and the graphics and the cover that people make come together in one newspaper."
Giri observed that women learn to doubt themselves from messages they receive growing up, and those can be challenging to overcome. But pushing past those doubts, seizing opportunities to try new things and trusting yourself are important lessons she has learned during her time as editor-in-chief.
"Don't listen to the haters. Don't let the doubt creep in," she said. "Any female leaders out there, you've definitely got this, and you have tons of other people in the NC State community who support you and will support you, including myself. I think that is something that can definitely affect women, just because of the society that we grow up in. Sometimes, the ways people grow up, that doubt can overpower the feelings of confidence that someone might have.
"Don't let that happen."