Athletics
NC State's Most Accomplished Athlete in Three … Tuohy … One
Heading into the meat of the Outdoor Track and Field season, junior distance runner Katelyn Tuohy has already won national championships in three sports, set two national collegiate records and is living up to her billing as "America's Next Great Running Hope."
Katelyn Tuohy remembers the exact moment she decided to bring her running talents to NC State.
It was a cold and windy New York morning and she was trying to finish off an indoor workout on, of all things, the treadmill in her family's basement. The idea of warm Southern breezes and mild falls that stretched through November made Raleigh seem like the perfect place to locate her skills in cross-country and track and field.
She already knew several members of the NC State team, including high school rival Kelsey Chmiel of Saratoga, New York.
"I don't know why I was having such a hard time making a decision," she says. "I knew where the best place was for me all along. So I got off the treadmill, called my mom downstairs and said, 'I'm going to NC State.'
"It's where I was going to be the happiest."
It's been a mutually beneficial decision for Tuohy, who was once described by The New York Times as "America's Next Great Running Hope," and the Wolfpack women's cross-country and track and field programs.
There is no doubt that Tuohy has blossomed into a star for the Wolfpack and is on the verge of becoming the most decorated student-athlete in NC State history.
She's won individual national championships in three varsity sports: cross-country (2022), indoor track (2023, 3,000 meters and 5,000 meters) and outdoor track (2022, 5,000 meters). She's been on consecutive NCAA championship cross-country teams (2021, 2022). She's broken collegiate records in the mile and the 3,000 meters.
She's been named either the ACC Women's Performer of the Year or Scholar-Athlete of the Year in all three sports.
And she's just over a year away from her ultimate dream: the opportunity to represent the United States — and NC State — in the XXXIII Olympic Games in Paris.
Running Shoes To Fill
Overtaking some of the biggest names in the school's well-decorated running history is no small matter.
In the early days of women's sports, when it was governed by the Association for Intercollegiate Athletics for Women, NC State dominated in distance running, thanks to performers like Joan Benoit, Julie and Mary Shea and Betty Jo Springs.
They all helped establish the program and win both the 1979 and '80 team cross-country championships. Julie Shea set what seemed to be unbreakable standards when she won seven individual AIAW cross-country and track and field championships in her career, including three titles during a 36-hour period in 1980.
Springs won the first ever NCAA-sanctioned championship in a women's event, the 1981 NCAA cross-country title, plus the 1983 5,000-meter and 10,000-meter races and the 1983 cross-country title. She skipped her senior year in track in 1984 to turn professional, and then won four USA Track and Field Championships and three consecutive USA Cross Country Championships.
Though she spent a short time here, Benoit became a distance-running legend when she won the first gold medal in the women's marathon at the 1984 Los Angeles Olympic Games.
NC State has had other national champions in distance running, including freshman Suzie Tuffey in cross-country (1985), and the mother-daughter combination of Laurie (Gomez) Henes (1991) and Elly Henes (2021) in the 5,000-meter run. Laurie Henes has been the head coach of the women's cross-country team since 2006 and of the women's indoor and outdoor track and field team since 2019.
"I was kind of oblivious to just how strong the history of NC State running was before I got here," Tuohy says. "But it has definitely helped knowing that time and time again NC State has developed extraordinary female runners.
"Running with Elly and running for Coach Henes, who were both national champions, was just so cool."
Under the guidance of Laurie Henes, the women's cross-country team has reemerged as NC State's premier women's program with its two national titles (2021-22) and seven consecutive ACC women's championships (2016-22).
When Tuohy won the 5,000 meters at the NCAA Championships last spring — the same race the Heneses won in their careers — it gave the Wolfpack eight combined titles in that event, more than any women's program in AIAW or NCAA history.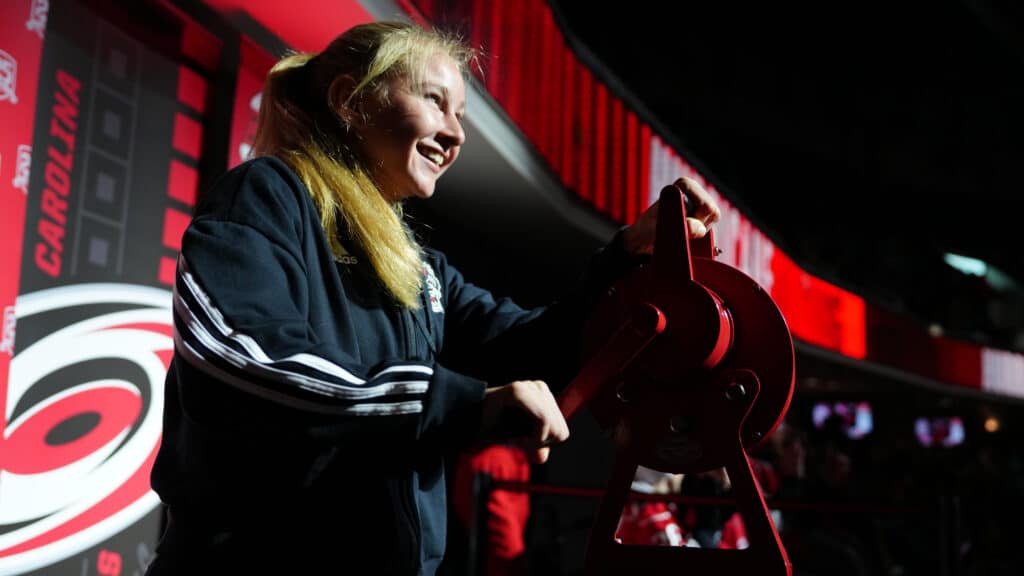 Living in the Spotlight
The spotlight has been blindingly bright for the 20-year-old Poole College of Management business major. She's been a well-covered phenomenon since just after she left middle school. She was on the cover of Sports Illustrated as a North Rockland High School sophomore and has earned breathless coverage from outlets like Track & Field News, Runner's World and, of course, The New York Times.
She won her first big 1,500-meter race as a sophomore in high school by almost half a minute. She set national high school records in the mile, the indoor 3,000 meters, the outdoor 3,200 meters and the indoor 5,000 meters. Before she arrived in Raleigh, some had called the three-time Gatorade Athlete of the Year the best high school runner of all time — an enormous burden to carry for any young athlete.
To be honest, those comments were not productive. She was recovering from an injury when she enrolled at State in the fall of 2020, and she did not compete in cross-country until the COVID-delayed NCAA Championships in March of 2021, the final meet of the year. She finished 24th overall, the only freshman in the field to earn All-America honors.
It was a surprise, really. Because of her recovery, she really wasn't expecting to be successful so soon, figuring it would be her junior or senior year before she would be competitive at the highest levels nationally.
"I never try to limit myself, though, so I guess success came earlier than I was expecting," she says.
With success, of course, came the limelight, something that has always made Tuohy a touch uncomfortable. It's part of the process of being an accomplished athlete, however, so she's learning to deal with it, trying to be a little less guarded, a little more fun, the way she is with her teammates when they're traveling together and are free to be a bit goofy.
"She just doesn't want the attention, but she has to learn to deal with it at the same time," Henes says. "She wants to just work hard, be the best and do what she wants to do to be successful, but there are other things involved in that."
Tuohy is definitely coming out of her shell. She spoke with wit and wisdom before Chancellor Randy Woodson's reception at a men's basketball game earlier this year, and she dined at The Point with her teammates to celebrate back-to-back national titles. She sounded the horn for the NHL Carolina Hurricanes final regular-season home game, and she was featured in a four-minute feature video from the NC State athletics department.
Even though she had legions of fans long before she enrolled at NC State, she is now one of the most recognizable personalities on campus, signing autographs even while she takes a break from the attention at a Hillsborough Street coffee shop.
What Makes Her So Good?
Tuohy started running in middle school to keep up with her older brother, Patrick, who became a cross-country runner at Fordham. She's also been a mentor to her younger brother Ryan, who is still in high school.
She quit playing both soccer and hockey to get better at running, and before too long she was leaving her dad in the dust. She just kept getting better and better, with good form and good training.
She also had a drive that made her unlike any high school or college runner Henes has ever coached.
"We have a lot of hard workers, so it's not fair to say she is the hardest worker on the team," says the veteran coach. "She does, however, work super hard to be the best. She's extremely determined. She's as good as anyone that we have ever had at learning things quickly and not making the same mistake twice.
"I think that might be it. You have to fail at times in this sport. You have to make adjustments. I think what she has is the ability to learn from things that have happened."

Left on her own, Tuohy would be content to run her 70-plus training miles a week without the distraction of conversation or the attention of young runners and parents who sometime hope to see her work out with the Wolfpack. But she's cautious about who approaches her.
She would just as soon stick to her 50-week training schedule, concentrate on her three sports and make sure she stays on her resting and recovery cycles of eight hours of sleep on school nights and 10 hours on the weekends.
"As Coach Henes tells us all the time, you can only run as fast and as hard as you recover," Tuohy says.
So far, the seasoned runner has improved her high school skills to become a mature collegiate runner, one whose future at NC State and as a professional seems to be unrestrained by the white lines and roped courses where she competes.
Heading into the heart of her third outdoor track and field season, she's really just tapping into her boundless talent.
"She's a quiet person, but she is driven to be the best she can be," Henes says. "If she can stay consistent, stay healthy and keep working hard, she is going to keep getting better."
And that's a possibility that scares the ink off the record books.