Students
Students Churn Out Dairy Creations From Farm to Table
Howling Cow is more than NC State's brand of fresh milks and ice creams. It's a hands-on learning opportunity for our students, who partake in the process every step of the way.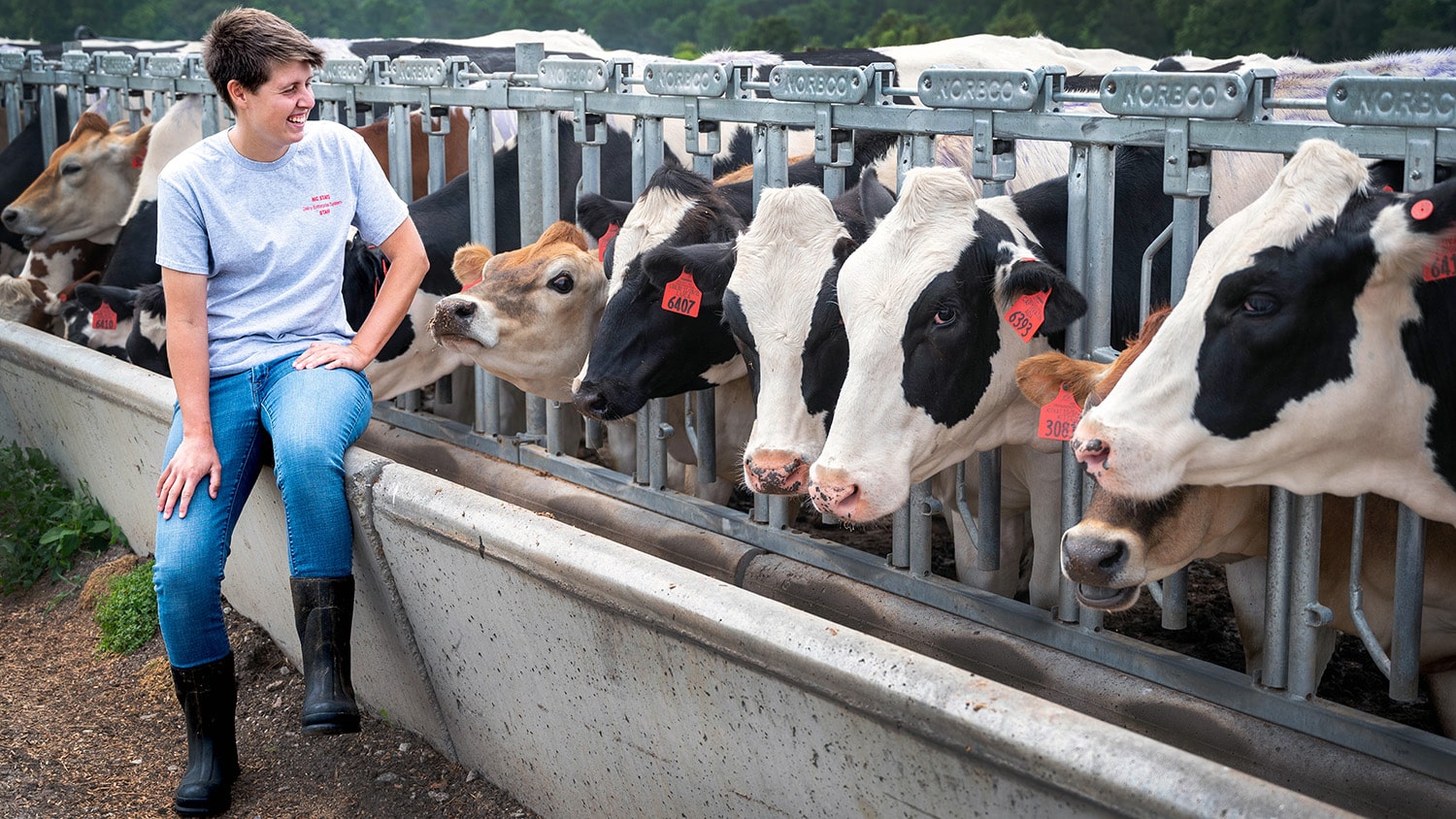 Mix NC State's agricultural expertise, entrepreneurial endeavors and unique hands-on learning opportunities and you'll get something sweet: Howling Cow, our line of mouthwatering dairy products. The lineup includes 17 flavors of ice cream, fresh milk, a protein drink and seasonal eggnog.
What could be better than eating Wolf Tracks ice cream, loaded with fudge and mini peanut butter cups? Making it.
More than 40 undergraduate and graduate students work for NC State's Dairy Enterprise System, which operates the Howling Cow brand and everything needed to make the dairy delights. Living out NC State's Think and Do spirit, students milk cows, sling sundaes and make farm-to-table a reality. Along the way, they learn hands-on skills that support their coursework, research and future careers.
"It's cool to know, 'I milked these cows, and this milk was processed in our dairy lab and brought back to our creamery," said Caroline Vande Berg, a graduate student who works at NC State's dairy farm. "It's neat knowing exactly where your food came from."
Follow Our Dairy's Journey
Students are essential to Howling Cow. From the dairy farm to the scoop shop, students care for cattle, perform quality control and serve treats.
Each Howling Cow product begins at the 389-acre Dairy Research and Teaching Farm, home to 300 cattle. Vande Berg, who's working toward her master's degree in animal science, started working on the farm three years ago, when she was an NC State sophomore. She's been trained in nearly every aspect of the farm — milking and feeding the herd, cleaning the barns and caring for sick animals.
"The longer you stick around, the more the herd managers teach you," Vande Berg said. "Whatever you're interested in, they'll help you learn and grow."
Vande Berg's favorite roles are feeding the calves — "The babies are really fun," she said — and milking the cows. Her favorite cow, Stella, is "calm and friendly but not overbearing."
Milk is driven from the farm, off of Lake Wheeler Road, to Schaub Food Science Building on Main Campus. In the basement is Feldmeier Dairy Processing Lab, where workers churn out packaged milks, protein drinks and ice creams. Zach Gabor, a junior studying applied nutrition, is a lab technician. He tests milk samples for bacteria, organizes inventory and prepares outgoing products.
"I really like chemistry, and I really like to bake and cook," Gabor said. "Working with the Dairy Enterprise System is a good way to blend my two favorite things."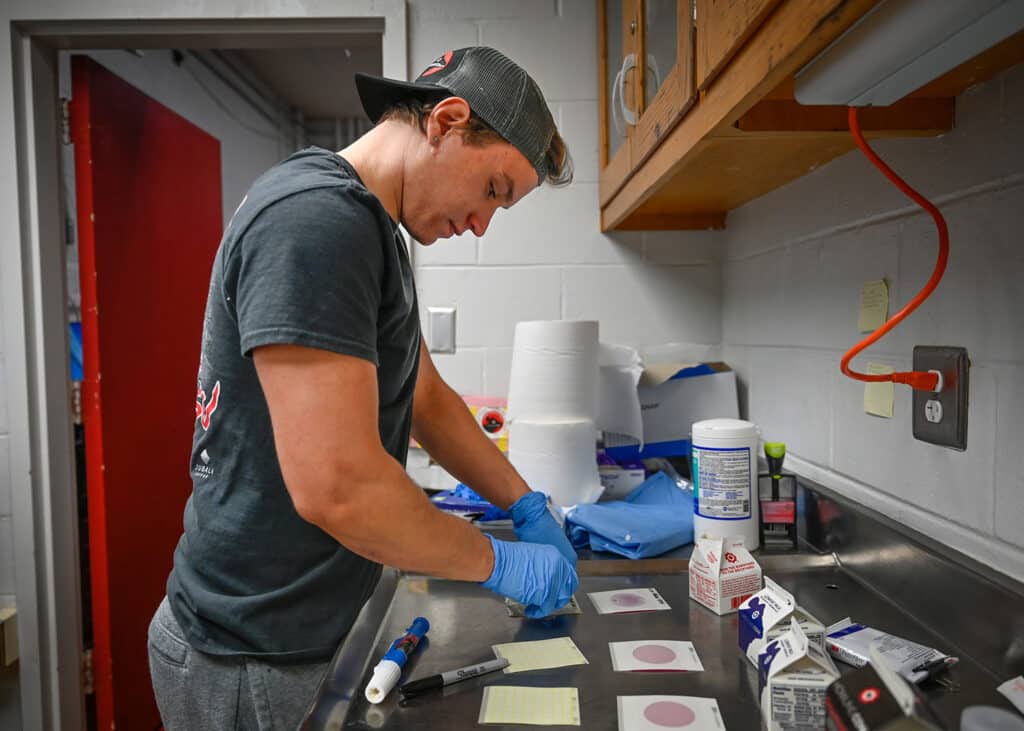 Howling Cow is "the best ice cream in Raleigh," he said. The products he prepares are distributed throughout the campus community, and a collection of recipes are stocked at local Harris Teeter grocery stores.
"It's really cool to go to places and see the tubs of ice cream in the creamery or the pints in Harris Teeter and say, 'I made that,'" Gabor said. "It's seeing the fruits of your labor."
Tubs with 2.75 gallons of ice cream are sent to Talley Student Union and to the Dairy Education Center and Creamery, right on the edge of the Dairy Research and Teaching Farm. Jordan Stanley, a rising senior studying agricultural business management, is a shift manager at the creamery. He unloads ice cream from Schaub, takes pictures for social media and makes sundaes, milkshakes, cookie sandwiches and other treats. His favorite part of the job is interacting with customers.
"I like making people's day better," Stanley said. He especially enjoys serving up Wolftrack split sundaes, featuring three flavors of ice cream topped with ground Heath bar, toasted marshmallow fluff, peanut butter sauce and whipped cream.
"Whenever I give it to people, they always say, 'Oh, my gosh, that's a lot,'" Stanley said.
1. Dairy Research and Teaching Farm

Kicking off the Howling Cow process, Vande Berg and the farm team feed, milk and care for 300 cattle.

2. Feldmeier Dairy Processing Lab

Next, Gabor and his coworkers ensure Howling Cow products are ready to be sent out into the community.

3. Dairy Education Center and Creamery

Students like Stanley create sundaes, milkshakes, cookie sandwiches and more. People can also get sweet treats at Talley Student Union.

4. Your Taste Buds

The final step in the Howling Cow process is you. Whether you're grabbing a pint of ice cream or a carton of milk, we're serving you our best work.
A Taste of Experiential Learning
Student roles within the Dairy Enterprise System are more than jobs: They're experiential learning opportunities that complement students' academic and professional goals.
"I'm particularly proud that we have fashioned the Dairy Enterprise System to have so many opportunities for student employees," said Carl Hollifield, executive director of the system. "They can gain relevant, on-the-job training that is important for jump-starting their careers after NC State."
After graduation, Stanley wants a career that "rides the line between business and the field," he said, perhaps in sales or management. He's learned marketing and leadership skills in his agricultural business management courses. At the Dairy Education Center and Creamery, he's honed these skills by promoting Howling Cow on social media, keeping track of product intake and outtake and helping train new employees.
"I'm soaking in every experience here so I can take that next step into a career," Stanley said.
Gabor plans to become a registered dietician, where he'll build solid relationships with incoming clients. At the Feldmeier Dairy Processing Lab, he works with professionals and fellow students, all from different backgrounds. When students join the lab each semester, Gabor enjoys getting to know them and showing them the ropes. He's become more confident in his ability to make strong relationships with new people.
"I've really developed a knack for making personal connections at NC State," he said. "I'm comfortable talking with new people, and I know I can develop good relationships."
For her research thesis, Vande Berg is studying sunflower meal as a protein source for cattle. She ferments the meal in vitro and notes how microorganisms affect the end product. By working at the Dairy Research and Teaching Farm, Vande Berg sees a holistic view of the feeding process, witnessing how rations are mixed for different animals' needs and how to feed animals of different ages.
"Every animal science student learns the same things in classes, but going on the farm and learning how it's applied was really important to me," Vande Berg said. "I understand how things actually work on the farm."
Students of any major can work for the Dairy Enterprise System. In addition to social and professional skills, students gain an important perspective on local agriculture.
"I hope that students who work in the Dairy Enterprise System come away with a knowledge of what it takes to get milk from the farm to the table," Hollifield said. "Even if they don't take up a career in dairy farming or dairy foods, at least they come away with an appreciation of the hard work of the folks in the animal agriculture industry."