Campus Life
The Class of 2023 Is Ready for Graduation
Four members of the graduating class share the defining moments of their time at NC State — building everything from race cars to fashion empires — and their plans for the future.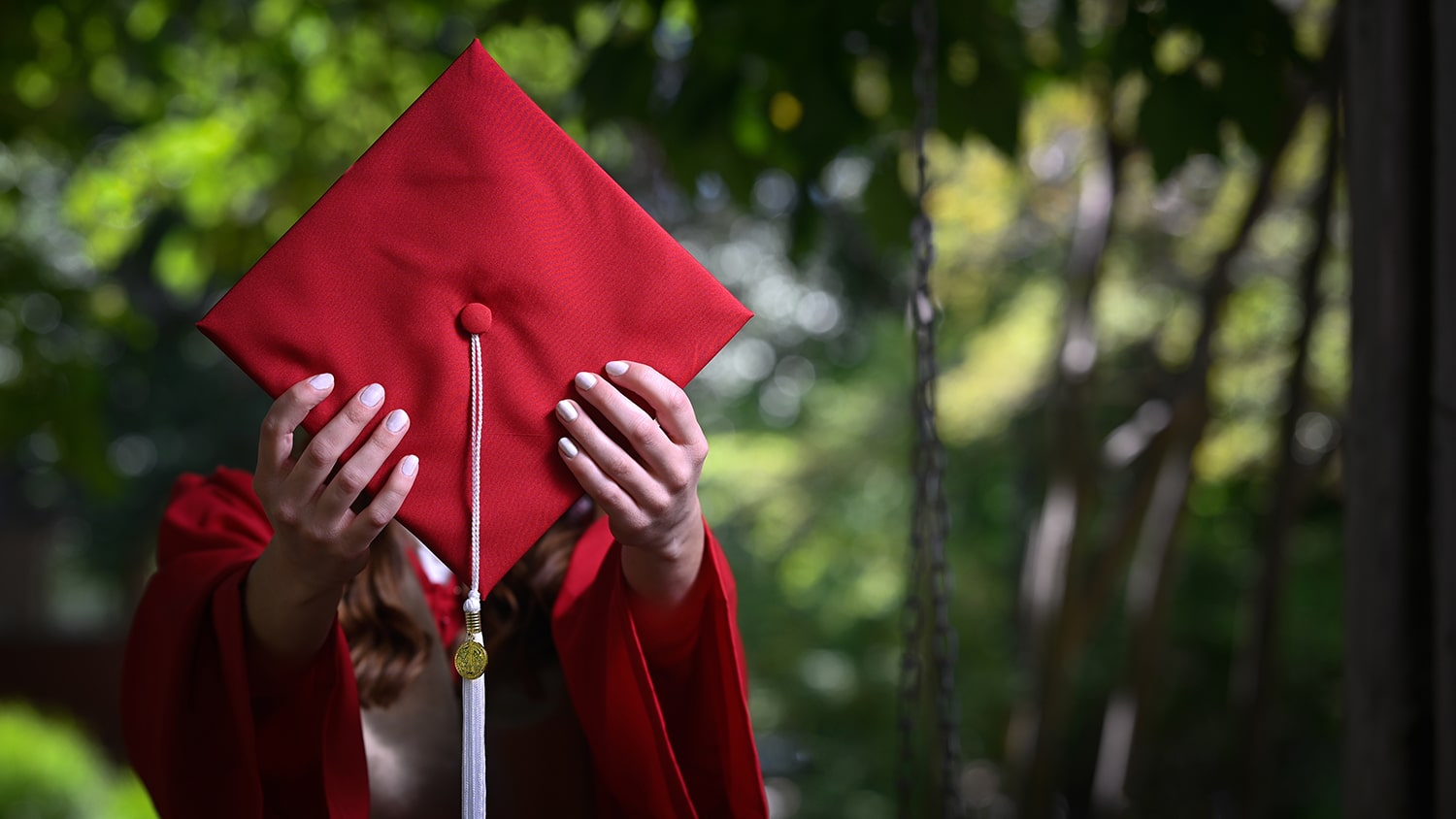 Every spring, as new leaves and flowers emerge all over Raleigh, we gather together at commencement to celebrate our newest Wolfpack alumni. This week will mark 6,320 new beginnings as our graduates turn their tassels and set out for what's next.
Our spring graduates, representing 43 states and 60 countries, will receive a total of 6,660 degrees. Our oldest graduate is 68 and our youngest is 18. The class of 2023 has an average GPA of 3.47.
767
First-generation graduates
108
Graduating student veterans
788
Graduating international students
Graduation is the culmination of years of hard work, focused study, connection and self-discovery. It's a milestone our graduates will celebrate together with their Wolfpack — the NC State family they'll belong to for the rest of their lives.
We sat down with four members of the graduating class to learn about the moments — big and small — that shaped their time at NC State, and everything they're planning to Think and Do next.
---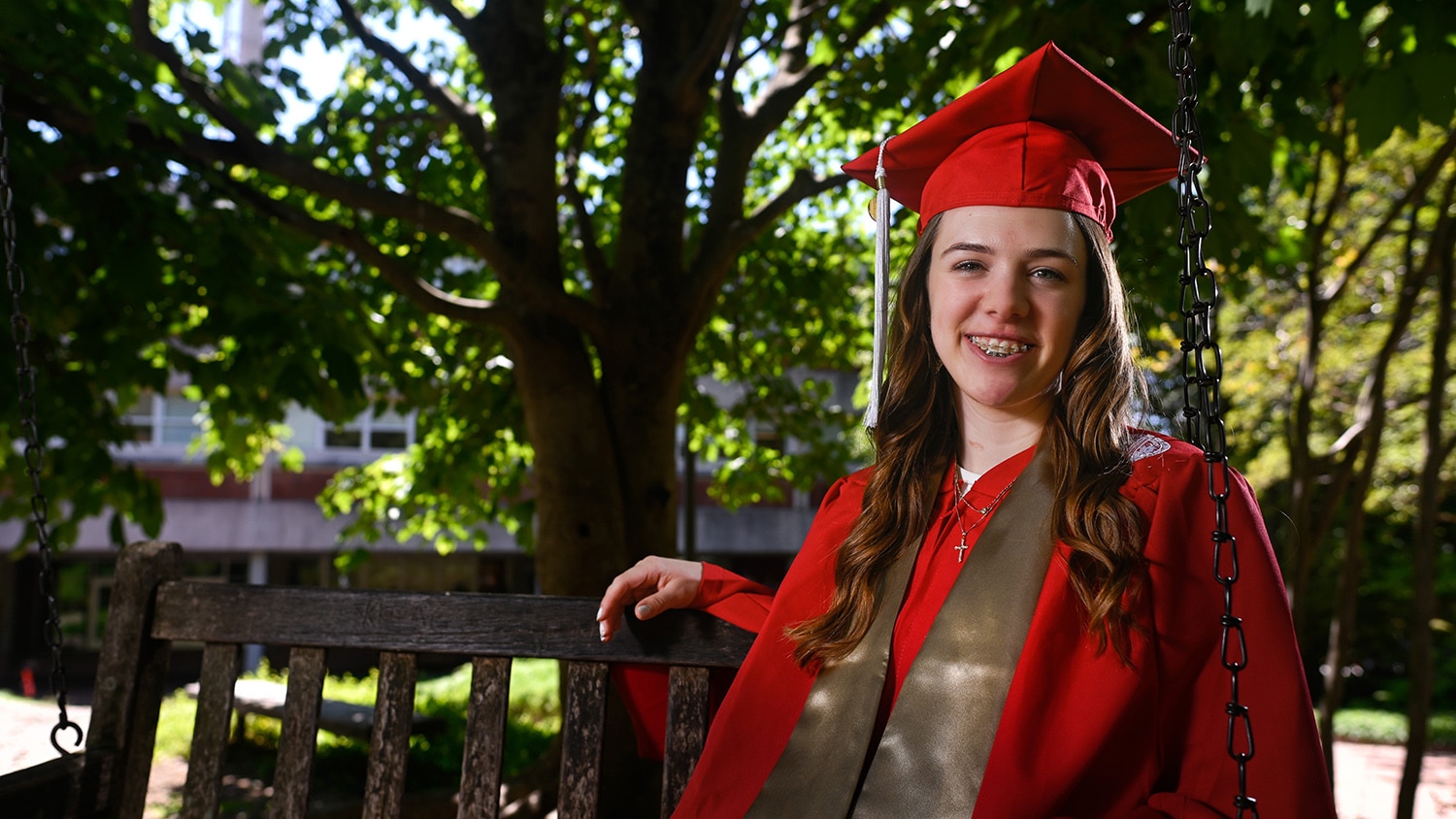 Kelsey O'Connor: Kindness Rebuilds a Sense of Self
As Kelsey O'Connor stepped onto the softball field for the first time, she knew she belonged to the Wolfpack. She had come from Illinois to play for NC State as a freshman in 2019, in love with the state's natural beauty and the university's fervor for sports.
"It was really exciting and so cool to be a part of NC State," O'Connor said. "The first time I put on the jersey, I felt like I was connected to the school, my dream school. It was such a highlight of my life."
Playing softball was an integral part of her identity — until a traumatic brain injury in 2021 took her off the field and shook her world. Suddenly, she had to learn how to live without the sport she loved. She couldn't exercise, let alone train for a game. The injury was so severe that she struggled to read, write and speak.
"Every single thing that I could do was gone," O'Connor said. "I had to figure out who I was outside of everything that I was doing before."
Her friends and family rallied around her. With their support and her own hard work, she's earning her bachelor's degree in social work. As the student commencement speaker, she'll share her story of rediscovery with her fellow graduates.
"I realized that I could still give people kindness and compassion even though I was hurt," O'Connor said. "I started valuing that in myself more so than valuing my status as a student-athlete."
She found a match for these values in the social work program. In her classes, O'Connor learned how to empower people going through their own challenges by having one-on-one conversations and leading group discussions.
"I really love that social work is all about people and relationships and helping others," she said. "The program here is so hands-on and pushes us to be out in the community. We learn from being exposed to so many different people and so many different stories."
O'Connor applied to be the student commencement speaker not only to share her story but to thank the people who stood by her when speaking itself was a challenge.
"I wanted to give them something that they could celebrate," she said. "I thought it would be so cool to speak at commencement and kind of honor them and the fact that they were so supportive of me. My family is really why I applied to be speaker."
O'Connor plans to go to graduate school to become a sports psychologist. She wants to help athletes transitioning out of their sport — providing counsel to support them on their own journeys of rediscovery.
---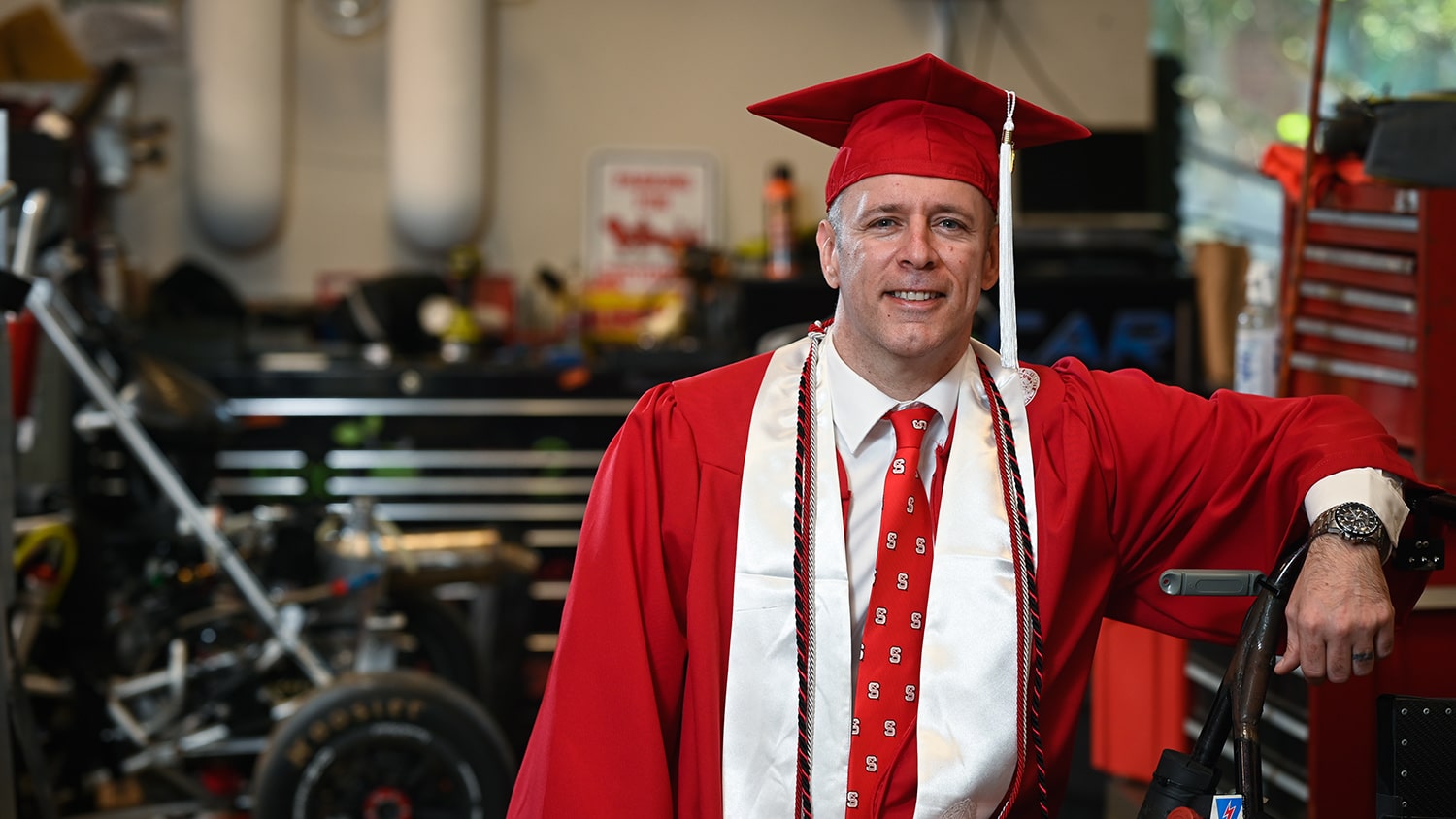 Isaac Mayle: Steering Toward Success, One Stop at a Time
After three years at NC State, Isaac Mayle has a lot to be proud of.
He's become an integral part of the Pack Motorsports Formula SAE team, which builds Formula-style race cars and pits them against teams from other universities. As a Goodnight Transfer Scholar and Chancellor's Aide, he's leveraged his life experiences to mentor others and promote the value of higher education for older students, like himself.
But the winding road he traveled to get here included a few detours.
A Rowan County native, Mayle's love for cars took him to Rowan-Cabarrus Community College after high school, where, in 2001, he completed a program to train students as automotive technicians. After a few more stops for training, he worked for several years servicing Volvos in Austin, Texas. All the while, however, Mayle had a different destination in mind.
I tell people, 'It's not always easy, and some days will be hard, but stay consistent. If you can make it through today, tomorrow might just be better.'
"I'd always wanted to be an engineer," said Mayle. "But right as I was about to start at Austin Community College, I ended up in the hospital for bipolar disorder. It set me back."
It wasn't Mayle's first struggle with mental health; in early adulthood, he'd faced down — and overcome — bouts with substance abuse, anxiety and depression. Knowing he needed support, he moved back to Rowan County to be near his family. There, a chance viewing of a television interview with astronaut Drew Feustel convinced him to reach for his dreams.
"He talked about how he's a car guy, how he started in community college and worked his way up," said Mayle. "I thought, if he can start there, then I can do it and get my engineering degree."
Back at Rowan-Cabarrus, Mayle earned his way into the Phi Theta Kappa Honor Society and the college's esteemed Ambassador program. In 2019, he was picked for the NASA Community College Aerospace Scholars program, which exposed him to the aerospace industry and made him a perfect candidate for NC State's prestigious Goodnight Transfer Scholars Program.
Leaving Rowan-Cabarrus with an associate engineering degree, Mayle arrived at NC State in the fall of 2020 to study mechanical engineering. But his journey with the Wolfpack began with another roadblock.
"I failed a thermodynamics class because I could only finish two-thirds of my exams," said Mayle. "But then I discovered the Disability Resource Office and I was able to get extended time through that. The Goodnight program also allocated money for me to undergo treatment for mental health care, which helped me to refocus."
With that support, Mayle thrived, landing a position with John Deere's engineering development program through his strong academic performance. As proud as he is to graduate, he's even prouder to share his achievement with his family — and with the people he's inspired along the road.
"I tell people, 'It's not always easy, and some days will be hard, but stay consistent,'" said Mayle. "'If you can make it through today, tomorrow might just be better.'"
---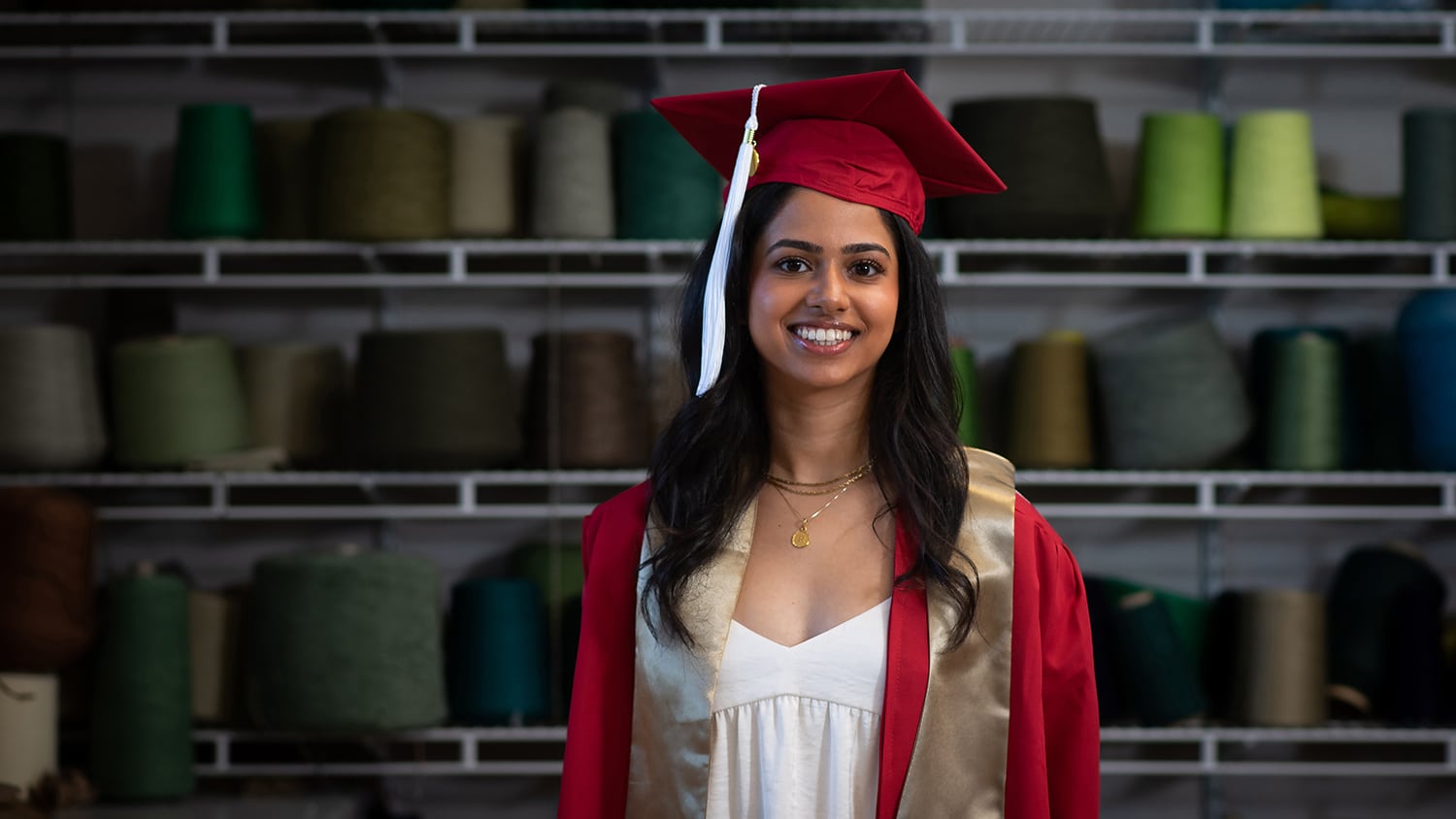 Ritika Shamdasani: eGames, Forbes and the Future of Fashion
When Ritika Shamdasani enrolled at NC State, her South Asian-inspired clothing brand, Sani, was already on the cusp of becoming much more than a "side hustle passion project." Over the last four years, the company she co-founded with her sister Niki has taken off — becoming the first South Asian brand to feature apparel on Rent the Runway and launching a new partnership with Nordstrom. In 2023, the success of Sani landed the sisters on the Forbes 30 Under 30 list.
"It's about bringing South Asian culture to the world in a way that's accessible and authentic," said Shamdasani. "Even though [the Forbes list] is a shiny accolade, it just goes to show that people are realizing that the mission of the brand and the company is important."
But this success, paired with the challenges of juggling her education with her growing business, caused Shamdasani to frequently question whether she needed to finish her degree.
"I can't tell you the amount of times I was like, 'What if I just dropped out?'" said Shamdasani, a Park Scholar who is majoring in fashion and textile management with a concentration in fashion development and product management. "And for a child of immigrants, that is never an option."
So she stuck with it. Along the way, she tapped into resources and opportunities available to student entrepreneurs on campus, including funding sources, the Entrepreneurship Garage and the Poole College of Management's Andrews Launch Accelerator. She competed in the eGames — NC State's annual student entrepreneurship competition — and won. She found mentors and peers in the Wilson College of Textiles and NC State Entrepreneurship who have been instrumental to her education and the growth of Sani.
"I think that's what college is all about," she said. "It's learning from everything and everyone around you."
Through it all, Shamdasani has leaned on her family for support — from accepting home-cooked meals to handing off work emails to Niki so she could study — and she knows they're proud to see her graduate. She's excited for the future and ready to focus on Sani full-time, but she knows she'll always feel a strong connection to the Wolfpack.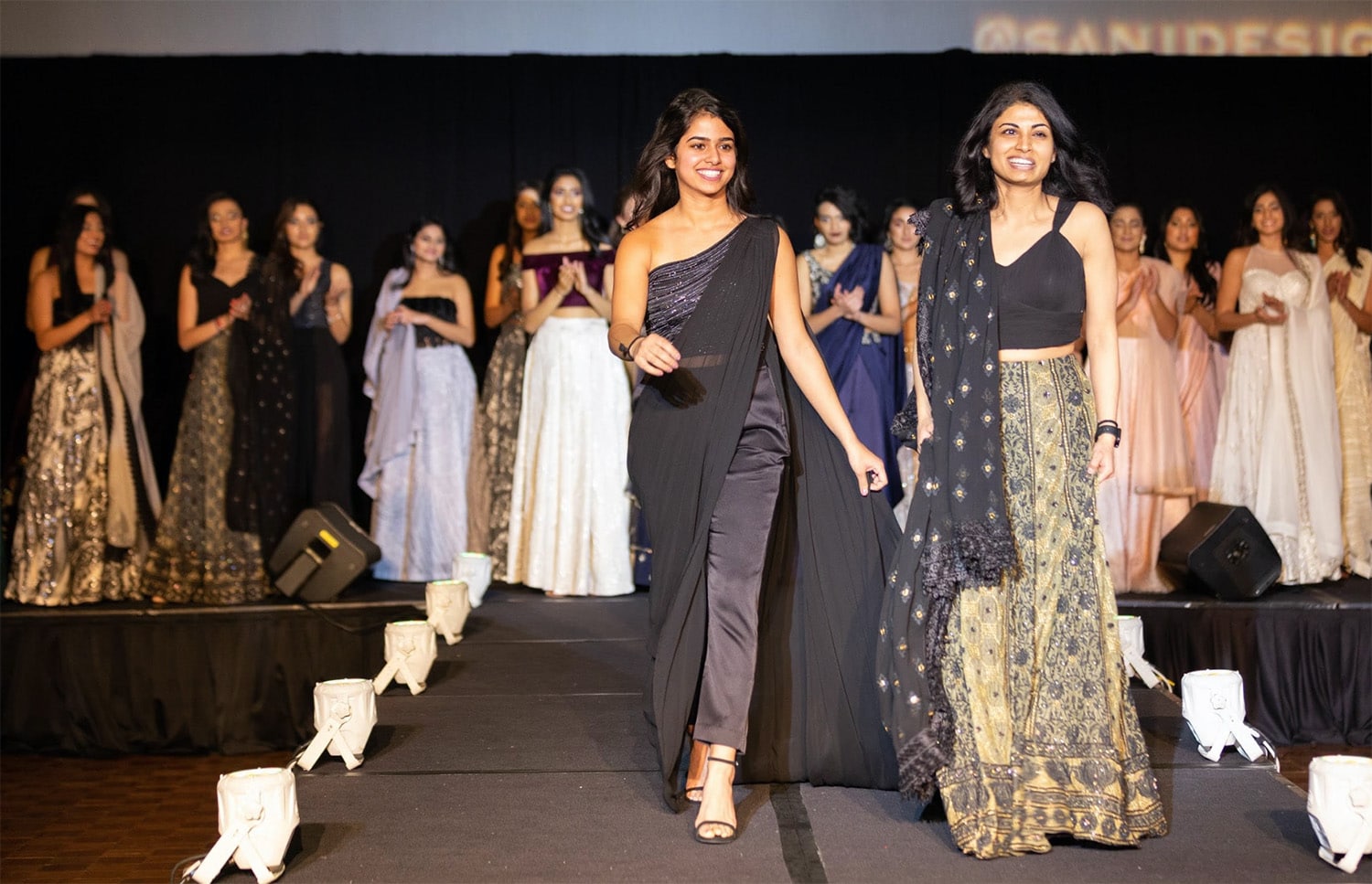 "I think graduating with this degree is a sign that things will always work out the way they're supposed to," she said. "It's definitely been a roller coaster, but I think that's what entrepreneurship is all about. It's about the highs and the lows — I just added school on to that, too.
"[Sani has] had a lot of cool opportunities come up. We've had a lot of growth. But a lot of that growth wouldn't have been possible without NC State and the people here."
---
Billy Fryer: From the Wolfpack to the WNBA
As an out-of-state student, Billy Fryer is used to packing up his belongings several times a year and moving between states. With graduation approaching, he's getting ready to leave NC State for the last time. Instead of going home to Columbiana, Alabama, he'll head to the Midwest to work as the first-ever basketball data analyst for WNBA team the Indiana Fever.
For Fryer, the role is a dream job. As the child of a math teacher and an accountant, he grew up with a love of helping others make sense of numbers and data. He's been working toward his goal of becoming a sports analyst since he arrived on campus.
"NC State's Department of Statistics is the best in the Southeast — that's why I came here," said Fryer. "It was going to help me get a job right out of college. It offers a nice mix of theory and practical skills."
The biggest thing you have to do is ask — everyone is always willing to help you out.
Classes in programming and statistical techniques — including regression and classification models — gave Fryer the skills he needed to secure data analytics internships at John Deere and Sports Reference, as well as a volunteer analyst gig with the NC State women's basketball team.
"A lot of my work with the NC State women's basketball team involves scouting future opponents, both through video and analytically," said Fryer. "My most recent project dealt with the player transfer portal. By accessing those statistics quickly, we can know which players to reach out to before other teams and hopefully welcome them to the Wolfpack."
As president of the Sports Analytics Club, he's provided similar statistical consulting for a handful of other NC State sports teams.
"More teams are reaching out to us, so it's super exciting," said Fryer. "Hopefully, the club's work will lead to more success on the field or court for NC State sports. I'm excited to continue the work I've been doing here with the Indiana Fever."
No matter where his career takes him, Fryer will always have a soft spot for the Wolfpack.
"It truly is a Pack. We all work together and want to see each other succeed," said Fryer. "The biggest thing you have to do is ask — everyone is always willing to help you out. I don't know if I can find that in other places."