Athletics
30 Years of Funding Young Researchers
The V Foundation for Cancer Research celebrated its 30th anniversary Saturday with a gala at Reynolds Coliseum. Among the cancer researchers featured at the gala was NC State College of Veterinary Medicine professor Matthew Breen.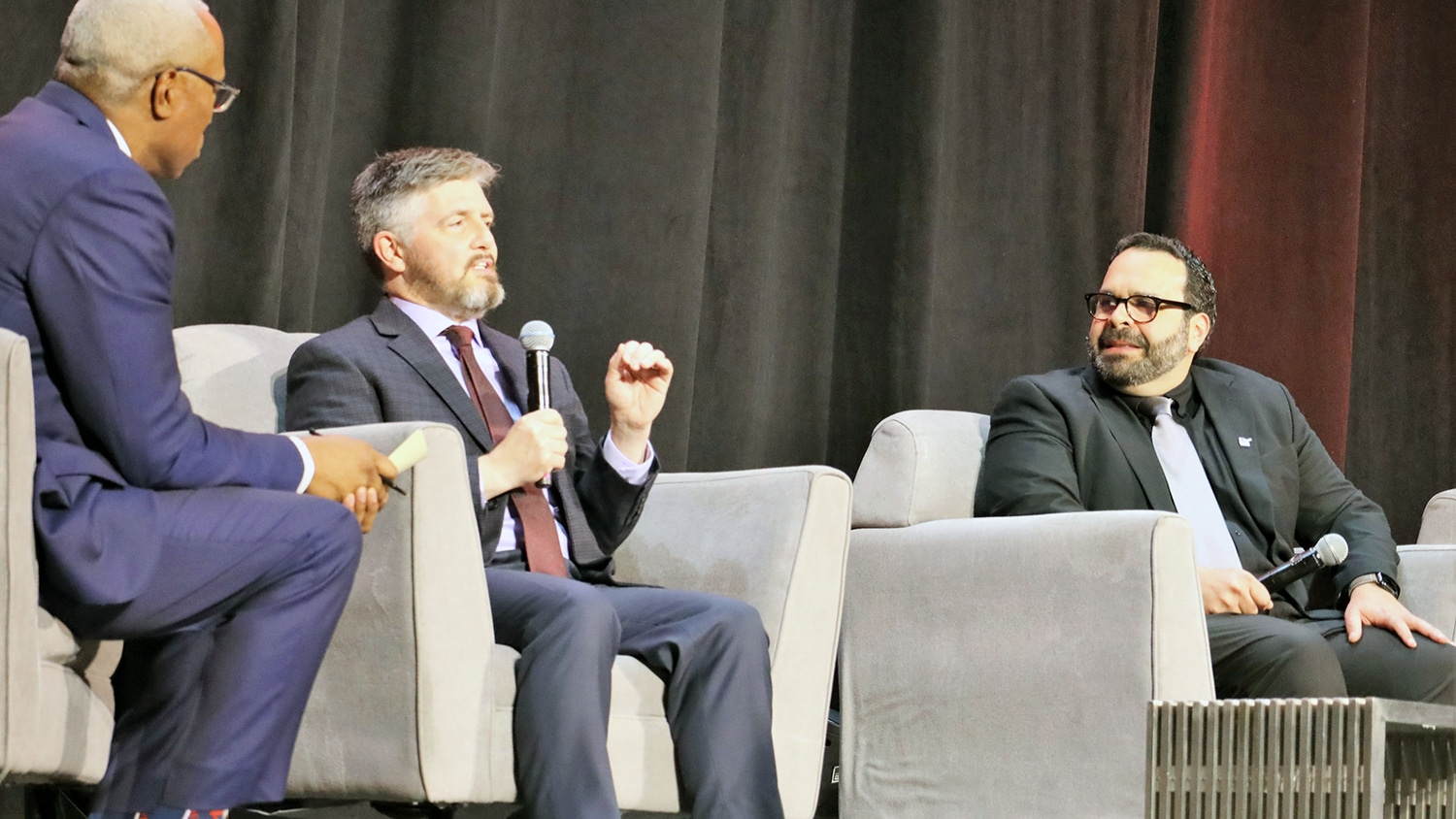 When Matthew Breen was growing up in Yorkshire, England, in the 1970s, his first experience with the loss of a pet was when the family dog, Penny, became very ill. The attending veterinarian indicated the most likely cause was cancer and suggested the most humane treatment would be to put the dog to sleep.
Breen recalls asking "So we just give up?"
Since then Breen has been on a mission to change this outcome.
After graduating with a bachelor's degree and a Ph.D. in genetics, Breen moved to Queensland, Australia, to continue his research on animal diseases.
Even half a world away, the future NC State College of Veterinary Medicine professor found inspiration from a speech he'd seen on ESPN, the network that had gained a foothold in cable television with international broadcasts of Australian Rules Football.
Breen remembers seeing repeated broadcasts of an ailing basketball coach speak the words "Never give up — don't ever give up" in a speech during something called "The ESPYs."
Little did Breen know at the time that he would end up as a world-renowned researcher at the same school the coach, Jim Valvano, had led to an NCAA championship in men's basketball in 1983.
Little did he know that his groundbreaking work in the field of human and canine genomics would lead to partnerships in cancer research.
Little did he know he would, like some 1,100 other cancer researchers globally, benefit from grants awarded by the V Foundation for Cancer Research that Valvano launched with the help of ESPN shortly before his death in 1993.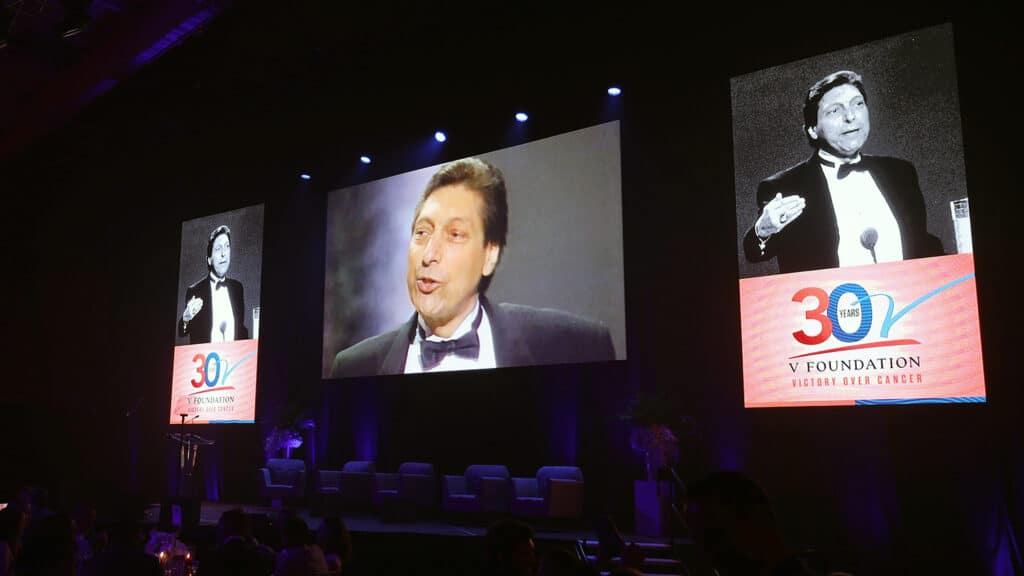 Saturday night, Breen was part of a four-person panel of researchers from North Carolina universities who shared how their work has been boosted by grants they've received from the V Foundation, which celebrated its 30th anniversary at Reynolds Coliseum, where Valvano coached all his home games during his 10-year tenure with the Wolfpack.
The other three panelists were UNC-Chapel Hill's Yuliya Pylayeva-Gupta, Duke's Michael Deel and Wake Forest's David Soto-Pantoja.
Attended by two of Valvano's daughters, former players, members of the '83 championship team, Chancellor Randy Woodson and more than 300 guests, the event raised $2.8 million for future cancer research grants, an appropriate kickoff for Cancer Survivor Awareness Month.
For Breen — an NC State genomics professor and the Oscar J. Fletcher Distinguished Professor of Comparative Oncology Genetics in CVM's Department of Molecular Biomedical Sciences — it was the opportunity to say "thank you" to those who have supported his research and for the opportunity to share why canine cancer research reveals important time-saving solutions for human research.
"Cancer is species agnostic," says Breen, whose postdoctoral research involved work on the Human Genome Project to unravel human DNA. "Cancer doesn't care if it is in a human or a dog. Over the past 20-plus years here at NC State we have demonstrated that changes in cells in dog cancers are often shared with changes in human cancers. By conducting studies of cancer specimens from both humans and dogs, a process known as comparative oncology, we aim to accelerate the path to better outcomes for cancer patients in both species.
"We breathe the same air; we drink the same water; we also sometimes eat the same food," Breen observes. "When we are outside with our dogs we are both exposed to things in the environment that can trigger cancer."
But there is a significant difference: In people, it can often take decades for those exposures to trigger the growth of cancer cells. In dogs, it can take just a couple of years.
"Because their aging process is seven to 10 times faster, we can work with the dog as a sentinel species, and our research has the potential to help benefit human research seven to 10 times faster," Breen says. "By looking at disease, including cancers, in dogs, we can actually see the changes that could happen in human populations next and thus aim to mitigate the concerns."
Breen is currently researching canine bladder cancer and prostate cancer as part of multiple comparative oncology research consortiums.
Valvano believed the most important purpose of the charitable organization that bears his name was to fund young researchers, those just getting started in their labs so they could spend a lifetime searching for treatments for devastating diagnoses like metastatic adenocarcinoma, the glandular cancer that took his life on March 4, 1993, at the age of 47.
In its 30 years, the V Foundation has funded grants for some 1,100 researchers like Breen, with each of them earning an average of $4.5 million in additional funding for their projects, according to current V Foundation CEO Shane Jacobson. The average additional grant total for non-V Foundation-supported researchers is about $450,000, Jacobson says.
Still, in 30 years, cancer has not been obliterated, which was Valvano's ultimate goal. Despite improvements in treatment, new pharmaceuticals and a dramatic increase in survival rates for certain cancers, there's still work to be done, both Breen and Jacobson say.
"I think Coach Valvano would be proud of what we have done," Jacobson says. "But he still wants the same thing now as he did when he began coaching: to win a championship. A championship in this case is not going to the Sweet Sixteen, the Elite Eight or the Final Four. A championship is curing cancer.
"We haven't done enough yet."