Podcast: Max Scott, the New World Screwworm, and Zombie Deer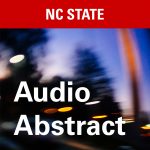 Join Max Scott on this Halloween episode of Audio Abstract as he discusses Cochliomyia hominivorax, or the New World screwworm (its name translates to "man-eater," by the way).
The man-eating worm starts its life cycle as a parasitic fly. Females can lay their eggs in the tiniest of wounds – tick bite tiny, for example – and when the eggs hatch, the larvae eat their way out, then fall out of the host and pupate in the soil.
Though it's been eradicated in the U.S., Mexico and Panama, the New World screwworm is still a very costly pest for farmers in South America and parts of the Caribbean. And while human infestations are fairly rare, they do occur.
Listen in as Scott talks about Panamanian fly factories, entomological emergencies, and a few really gross infestation cases – including the case of the "zombie deer."