Campus Life
NC State Big Part of Bond Package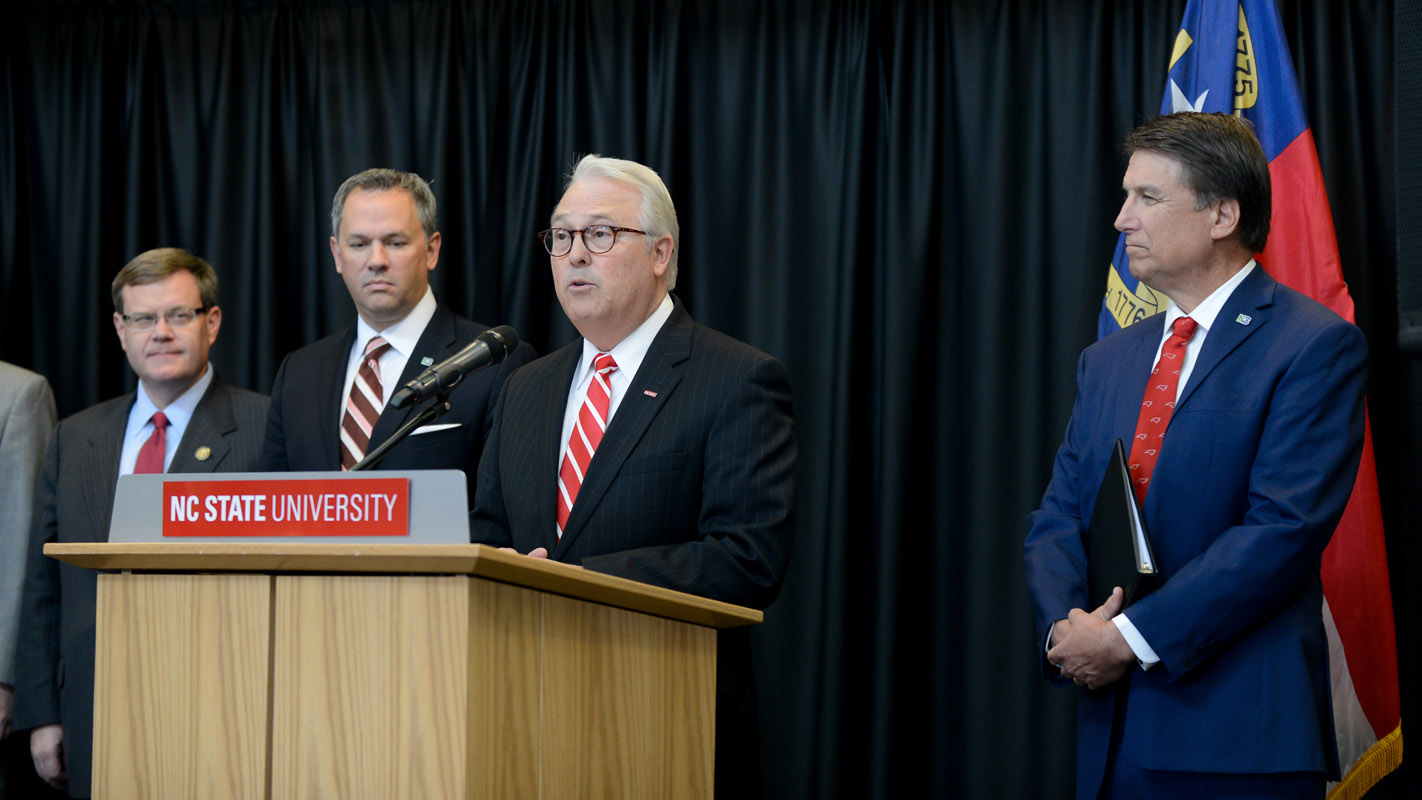 Chancellor Randy Woodson joined N.C. Gov. Pat McCrory, Commissioner of Agriculture Steve Troxler and other higher education and industry leaders from around the state on Wednesday to sign a referendum for the Connect NC Bonds Act, a $2 billion package that residents across the state will vote on next March.
About half the bond—$980 million—would benefit higher education, including some $160 million for two major building projects for NC State's Centennial Campus, the Engineering Oval and the Plant Sciences Research Complex.
The remaining amount would focus on building and repairs for parts of the UNC system that focus on STEM education, medical sciences and business.
Additionally, some $350 million would go to upgrade and modernize the state's 58 community colleges.
Voters will decide the bond's fate during North Carolina's March 15, 2016, primary.
"Investing in engineering and agriculture is so critical for NC State," Woodson said following a signing ceremony at the Golden LEAF Biomanufacturing Training and Education Center. "That's what built this place.
"We really are in position to be the pre-eminent university in both engineering and agriculture and this investment will ensure we continue to support people across the state."
At NC State, the Engineering Oval will be the next step in unifying all of NC State's engineering programs on Centennial Campus, as the home for industrial and systems engineering; civil, construction and environmental engineering and the engineering education center that will advise all engineering students on campus. The bond will provide half of the funds–$75 million—to complete the College of Engineering's move to Centennial Campus, with the other half coming from the NC State Engineering Foundation.
The Plant Sciences Initiative, led by the College of Agriculture and Life Sciences and its industry partners, will help North Carolina become the world leader in plant sciences research and innovation. The bond would provide $85 million for the research facility, which has a total projected cost of $154 million.
"These two facilities are important to the future of this great university and we couldn't be more grateful to the governor and the legislature for this," Woodson said.
The bond will also provide $94 million for a lab at the Agricultural and Consumer Sciences Building for veterinary, food, drug and motor fuel testing.
Other beneficiaries of the first statewide building bond since 2000 include the North Carolina Zoo ($25 million), state parks ($175 million), the National Guard regional readiness centers ($70 million) and rural water and sewer infrastructure.
"We are connecting all of North Carolina together in a team approach," McCrory said. "We are making strategic investments in our state's infrastructure that will cultivate a stronger economy and improve North Carolina's quality of life."